1960s
Kenneth Emil Scheck '63 and Maggie Newsome Scheck, writing as MK Scheck, announce the publication of "The Deadly Pearls of Josephine" the second in the Hippolyte Maxwell Mystery Series. Find it on Amazon where books are sold. Hip Maxwell never knows who'll wash up on the island of Martinique next. This time it's a woman with a problem she can't take to the police — her valuable pearl necklace and her no good boyfriend have disappeared. Join Hip for a mayhem, sunshine and run-soaked adventure in the French tropics. Follow them on facebook as MK Scheck and on Instagram as m k scheck. (8/23)
---
Carl Ortman '67 was inducted into the Baltimore Lacrosse Hall of Fame for his contributions as a great player, coach, mentor, and school leader. (1/23)
---
After internship and Residency at UCLA, Peter Rosen MD '68 retired after 43 years as an Attending Obstetric Anesthesiologist at Cedars-Sinai Medical Center in Los Angeles, CA. He is presently living in Marina Del Rey, CA cycling, swimming, and enjoying friends and family. Still going strong at 76. (3/23)
---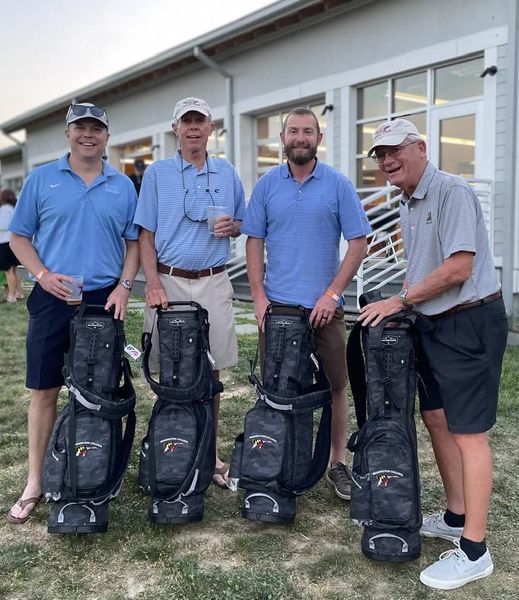 It was a beautiful day at the Chester River Yacht and Country Club on April 21 for the annual Athey Golf Tournament. The fathers and sons foursome of Charlie Athey '01, Ron Athey P'01, Tim Buckless '03 and George Buckless '69 won the afternoon tier! Shown here at the Spring Migration cocktail party with their prizes, Washington College golf bags. (4/23)
---
1970s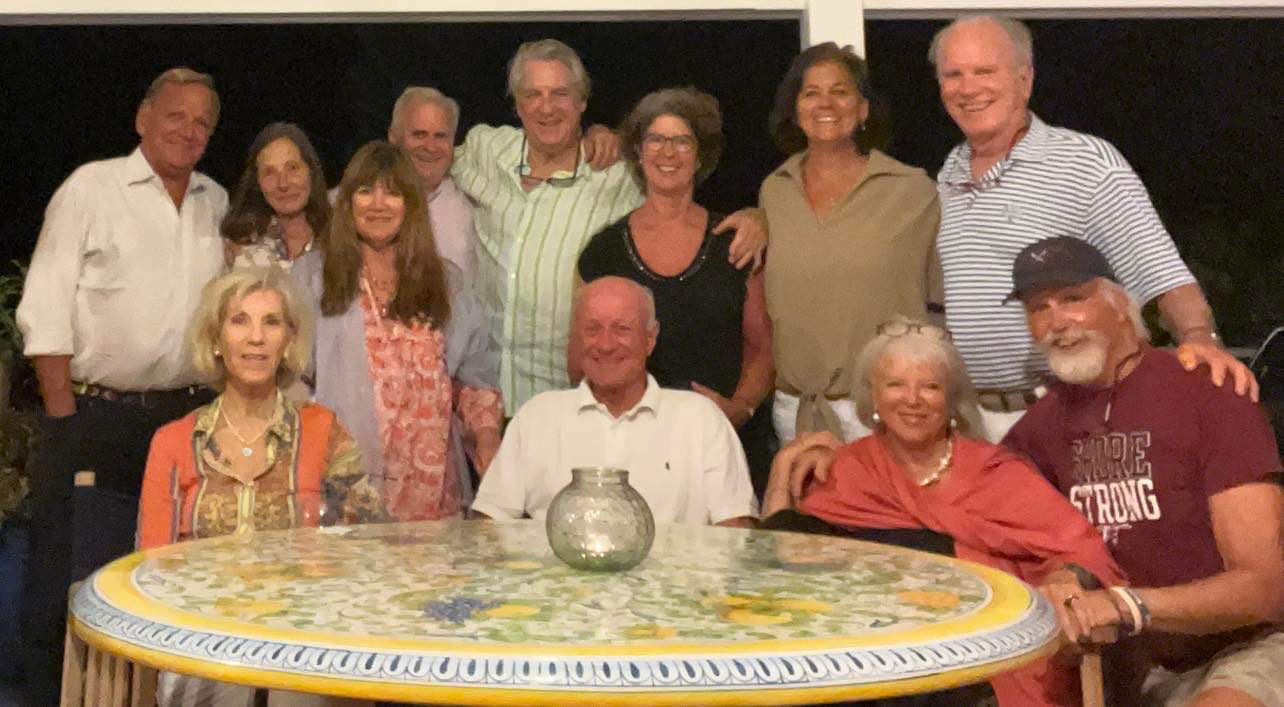 Washington College friends have vacationed on St. Barth, FWI for many decades. Still having fun together.
Front row: Neil Hall, Hon.David Bruce '70, Lynne Tobin '70, Taylor Wilde '70. Back row: John Wayne '73, Gail McPherson Boggs '73, JoAnn Van Dyke Marion, Peter Boggs '72, Frank Marion '70, Janet Bruce, Jennifer Wadkovsky Wayne '88, John Hall '70. (5/23)
---
Kim Kluxen Meredith '74 just published her third children's picture book in her trilogy about a hermit crab family and their adventures. "Heidi Saves the Day" (2023) joins "Henri's Home" (2020) and "Henri to the Rescue" (2021). Details can be found on her website. (5/23)
---
Richard Rogers '74 published on A Long, Look Back: A Sentimental Journey of an American Growing up in France (320 pages) on Amazon in December 2022. Visit rhrogers-author.com for background information of the book. (2/23)
---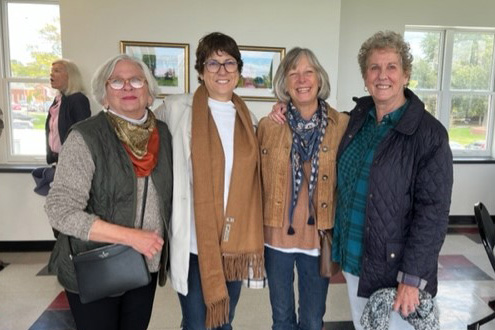 Return of the original Reid Hall Red Hots! Alumnae Jean Dixon Sanders '79, Maura Kelly Rogers '79, Daphne Fogg Siegal '81, and Jody Dudderar '77 recently returned to Washington College for a mini-reunion of their own. Their trip included a tour of Reid Hall (where it all began) and a lot of laughs. (10/22)
---
Drew Romans '78 hosted Chuck Black '77, Tim Norris '80, and Kevin Carouge '79 at Kings Creek Country Club in Rehoboth Beach for golf and some fun laughs about the the old days. A good time was had by all but Chuck left with an empty wallet. (8/22)
---
1980s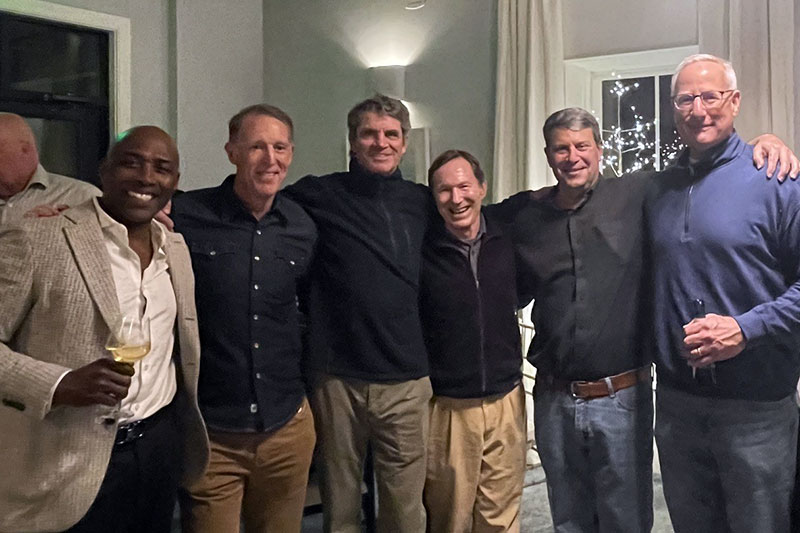 The crew from Charlottesville, VA — all came to WAC to play: Michael Woodfolk '88, Kevin O'Connor '82, Trap Macauley, Walker Taylor '86, Brian Corrigan '83, and Hugh Weeks '86. (3/23)
---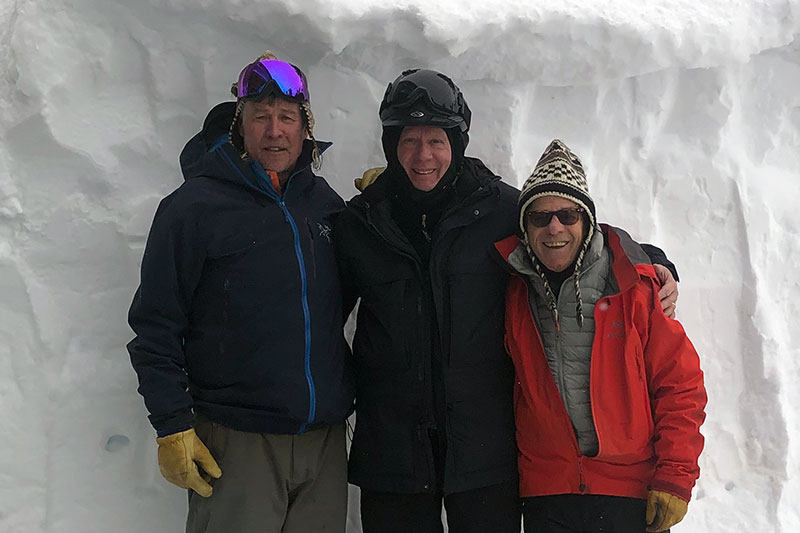 Paul Hooper '82 and Tommy Adams '82 recently "ski-united" with Coach Bryan Matthews '75 in Alta Utah. Paul says a fourteen feet base of snow made for some great skiing and all members of the party "ripped it up for a week." (01/23)
---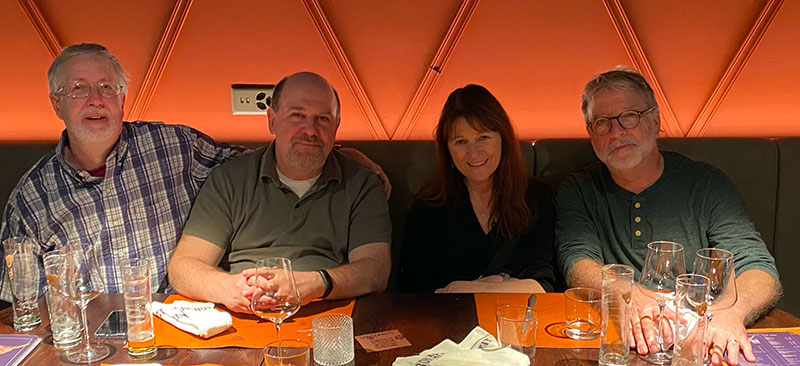 Norman Prentiss '84, Jim Gernert '85, Natalie Brown McKnight '84, and Jamie McKnight '84 in Interlaken Switzerland (8/23).
---
After 37 years as a Foreign Service Officer for the US State Department, Virginia Keener '82 retired to Monterey California. Life is good! (3/23)
---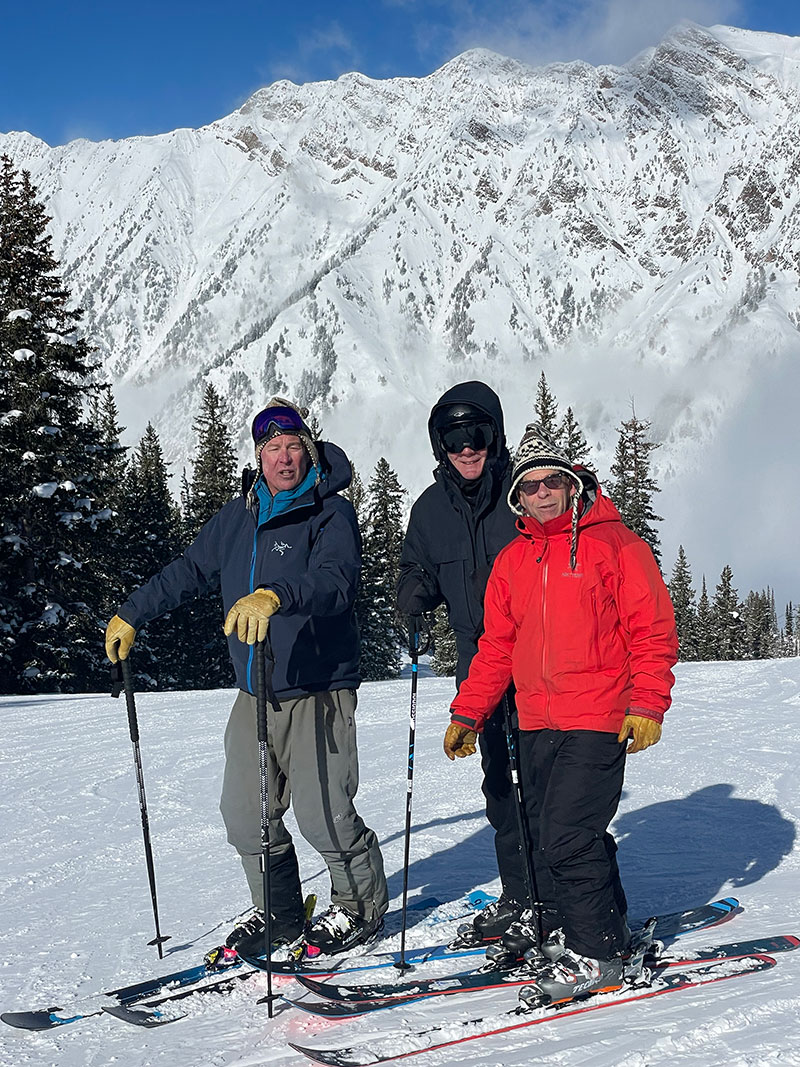 ---
Peter Turchi '82's latest book "(Don't) Stop Me if You've Heard This Before, and Other Essays on Writing Fiction," is forthcoming from Trinity University Press in January 2023. (12/22)
---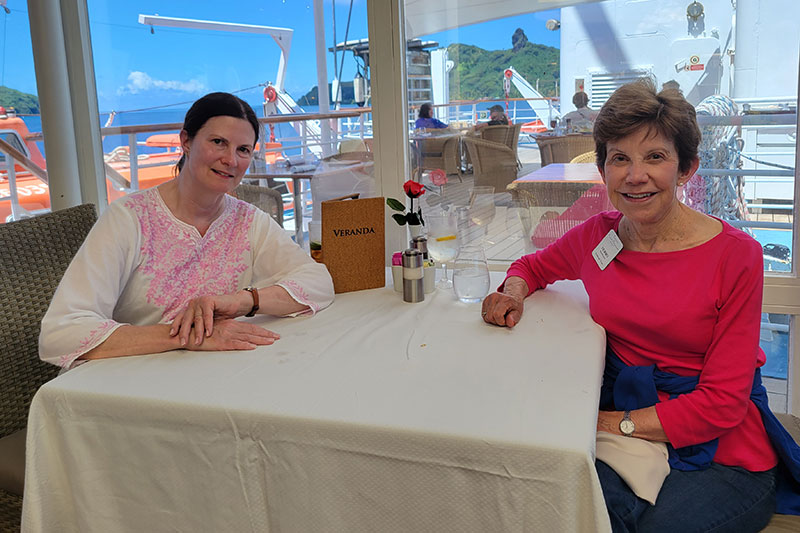 6,100 miles from Chestertown (as the crow flies), on a trip to Tahiti, Bora Bora and other South Pacific islands, Lois Ireland '84 was delighted to discover an unexpected Washington College connection with fellow passenger Terry Buchanan. Terry's late husband John graduated in the class of 1961 and daughter Lara Buchanan in the class of 1992.
---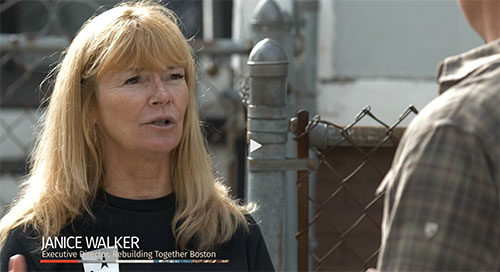 Janice Daue Walker '85 was featured in an episode of This Old House. (2/23)
---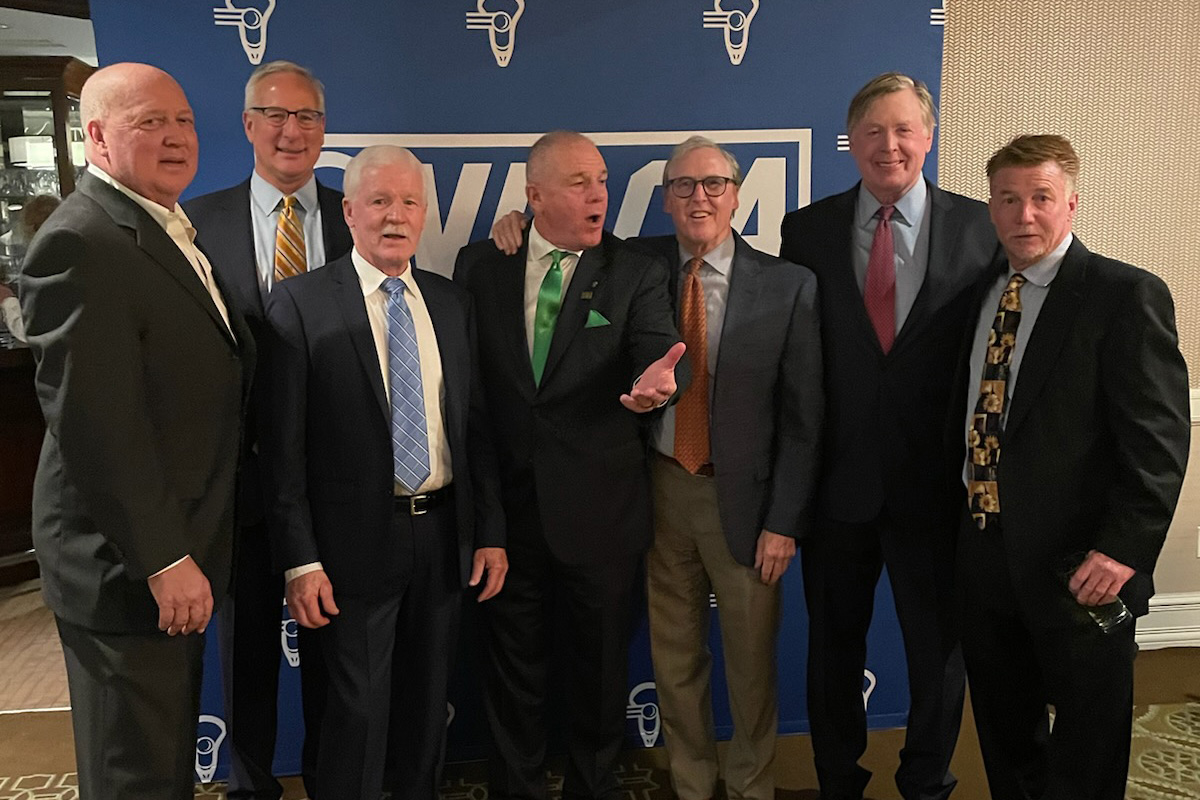 John Nostrant '86 and Kevin Giblin '85 were inducted into the NILCA HOF in Roslyn NY. Nostrant spent the better part of 30 years coaching at The Haverford School, Gilman and St. Albans where he won 500 games. Giblin was equally successful during his long career at Georgetown Prep. The two were teammates at WC and former Coach Terry Corcoran and teammates Steve Beville '85, Eric Geringswald '85, Don Giblin '87 and Hugh Weeks '86 along with fellow alums Bob Shriver '73 (inducted in 2019) and Greg Lane '74 were on hand to help celebrate the evening. (11/22)
---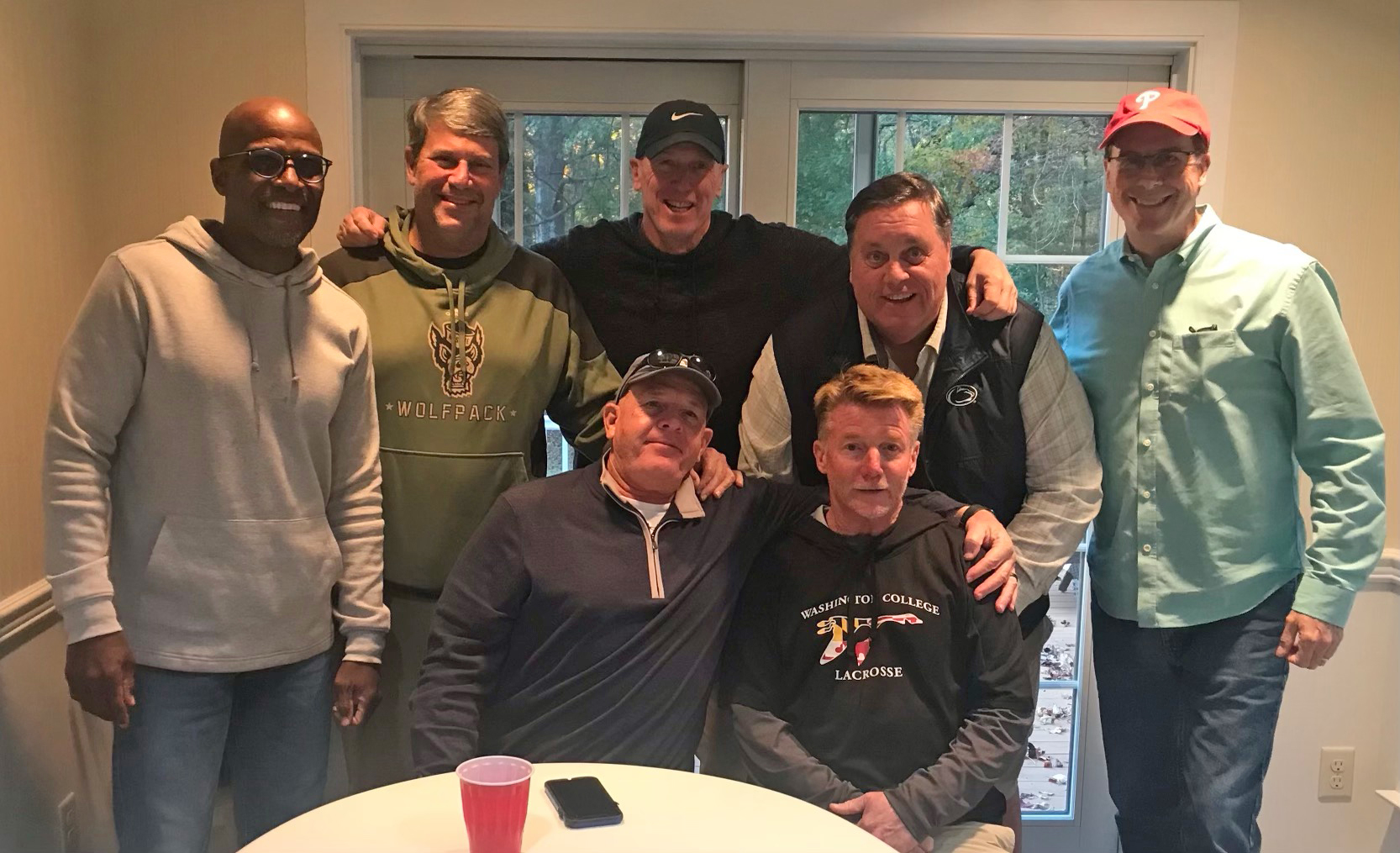 Rick Sowell '86, Philip Heaver, Jr. '83, Brian Corrigan '83, Tim Cloud, Sr., John Warrington '85, Kevin Giblin '85, and John Nostrant '86 got together during Hall of Fame Weekend. (10/22)
---
Sandy Hiortdahl 85
's scholarly book, "Grendel Recast in John Gardner's Novel and Beowulf," was published in summer 2022 by Cambridge Scholars Publishing. It's available on Amazon. (10/22)
---
John Porter '86
has joined the staff of Signature Theatre in Arlington, Va, as box office manager. In his spare time, he leads Yoga, Pilates and other group exercise classes at Army Navy Country Club and other gyms in the area. (9/22)
---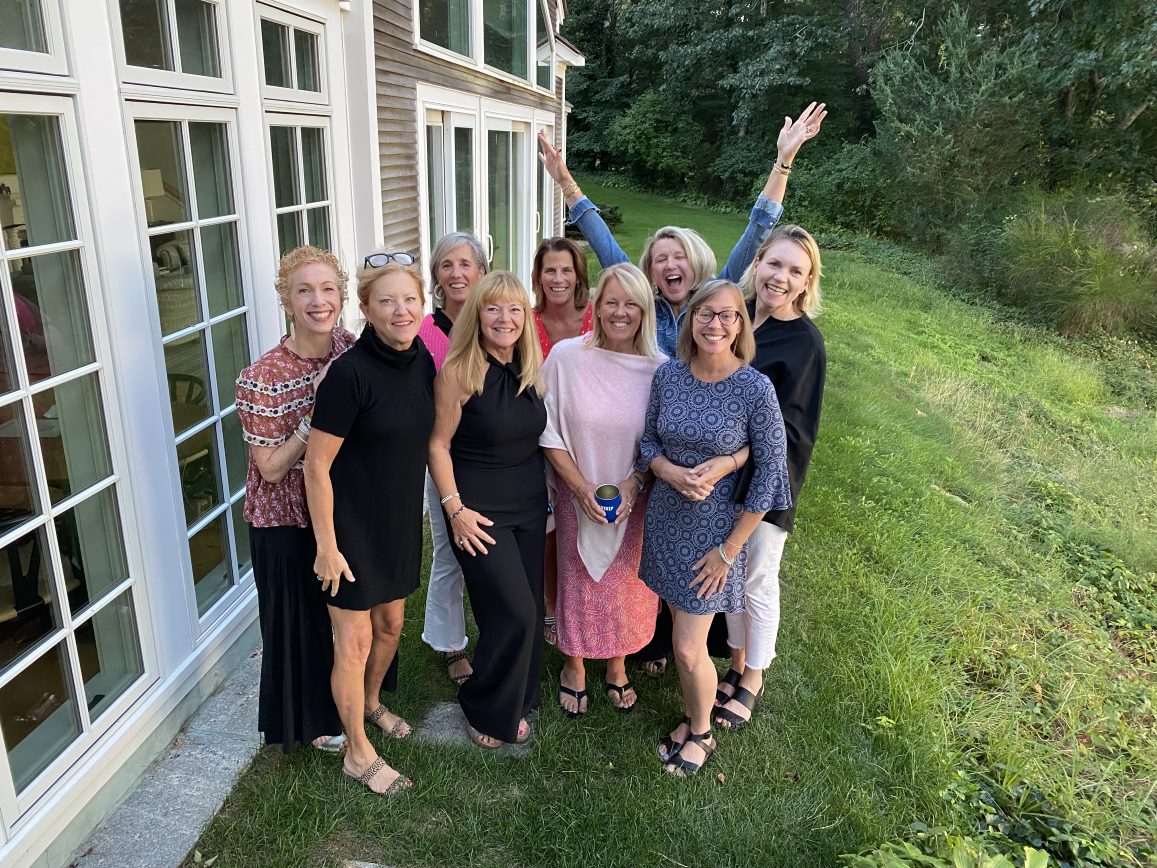 Amy d'Ablemont Burnes '85
hosted a mini reunion in Cape Cod, Ma. Those that were able to attend had a great time reminiscing, catching up and dancing.
Personalized shirts were made and provided by Molly Hussman Ellis '85 of Threadwell Monograms in Chestnut Hill, Pa.
Pictured in beach photo left to right: Karen Perkinson McGee '84, Theresa Dowdall '85, Polly Henjum '85, Janice Daue Walker '85, Megan Carlton'85, Molly Ellis '85, Amy d'Ablemont Burnes '85, Mary Beth Jenkins '85, and Fannie Hobba Shenk '84 P'15, '19. (9/22)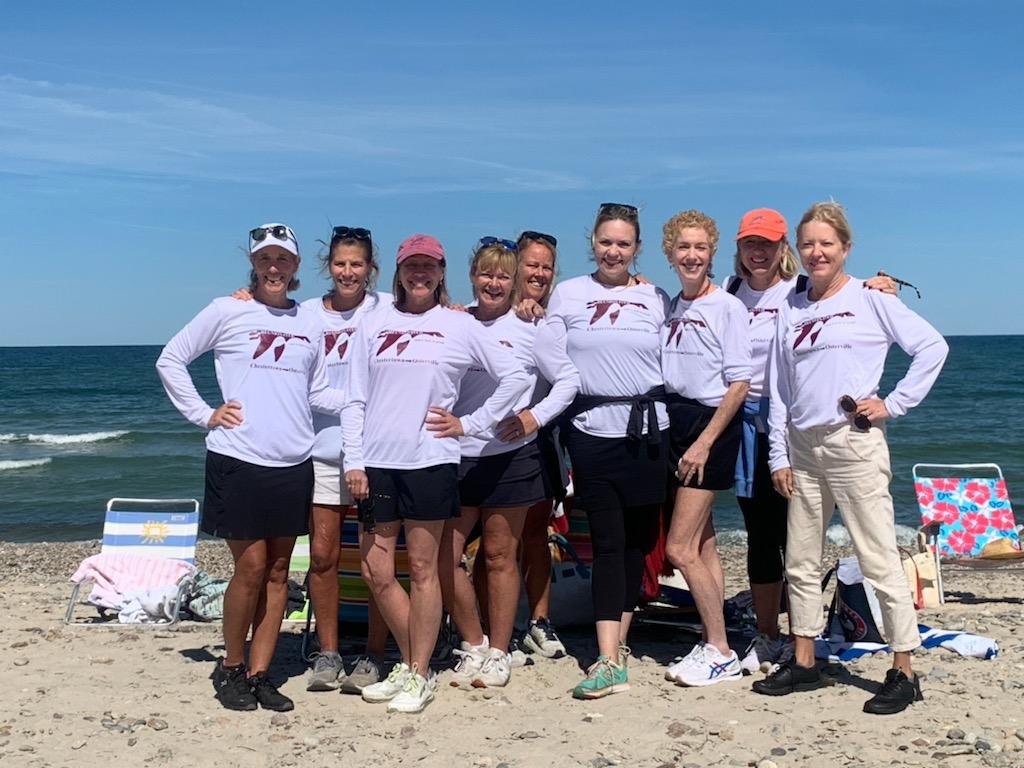 ---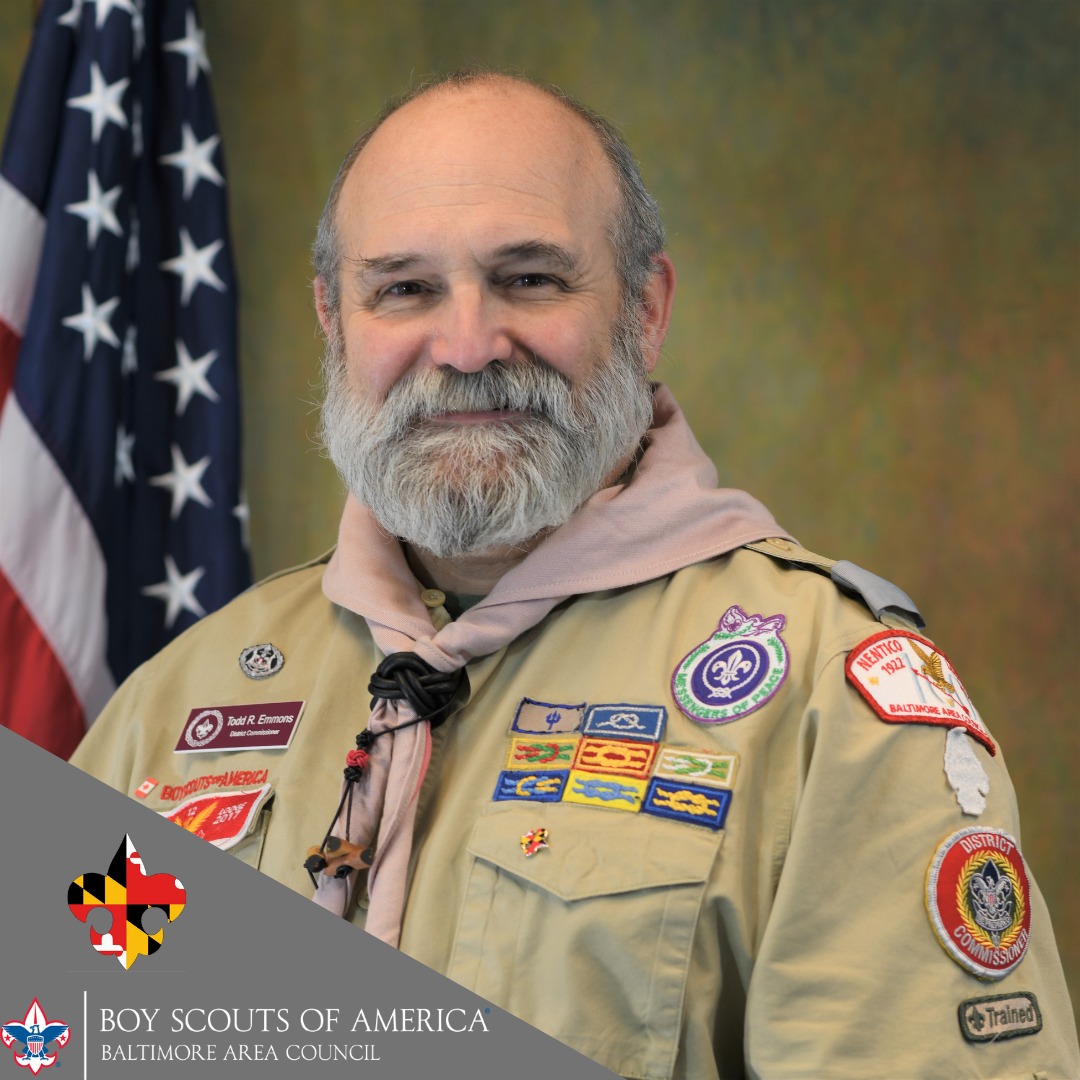 Todd Emmons '88 was honored with the Baltimore Area Council Silver Beaver Award for his contributions to scouting. (9/22)
---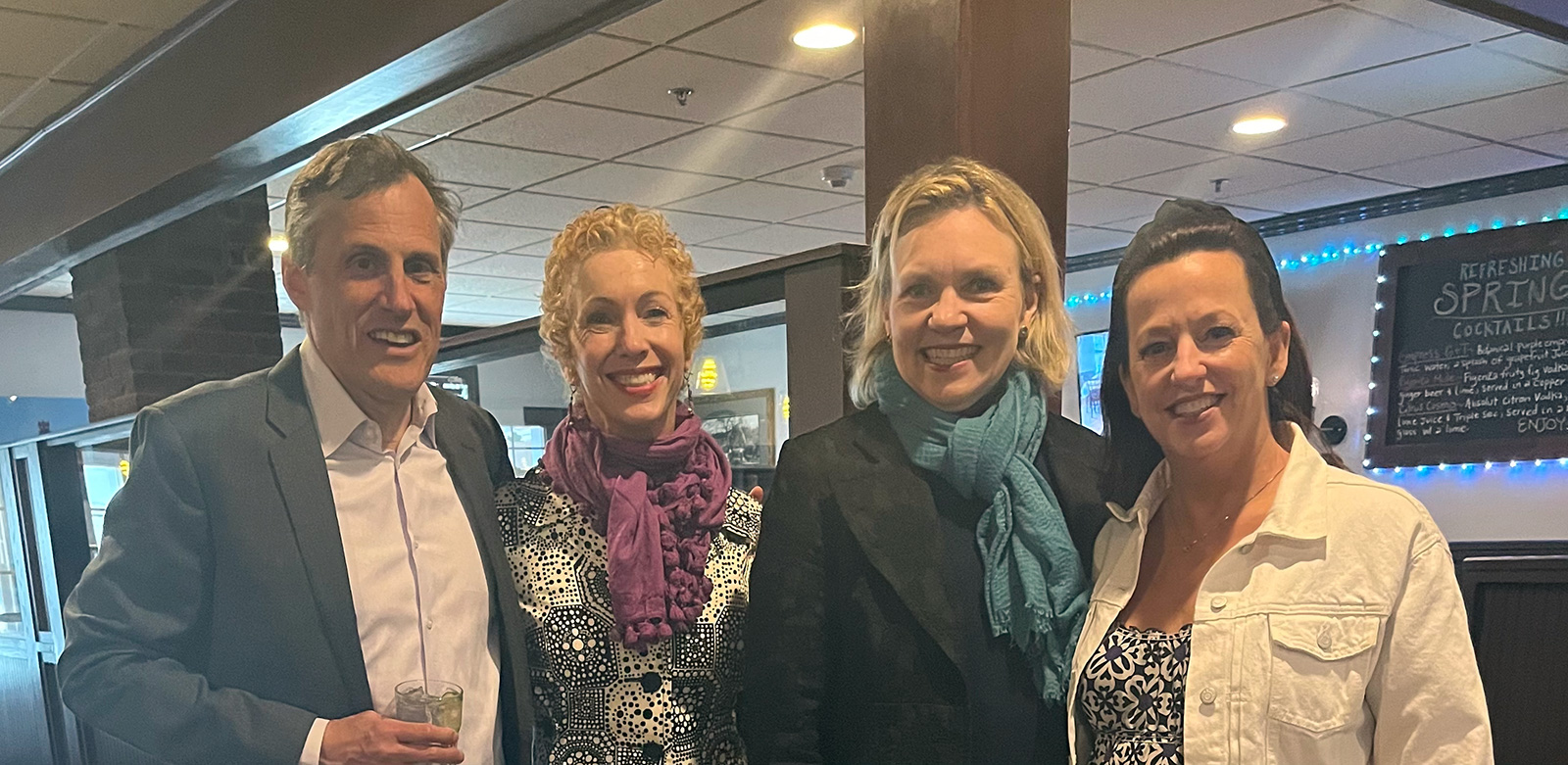 Tom Tansi '85, Amy d'Ablemont Burnes '85, Molly Hussman Ellis '85 and Leslie d'Ablemont Feeley '88 met in Connecticut this summer. (8/22)
---
Tim Gray '86 has been named the new head coach for the men's and women's tennis teams at Occidental College.
---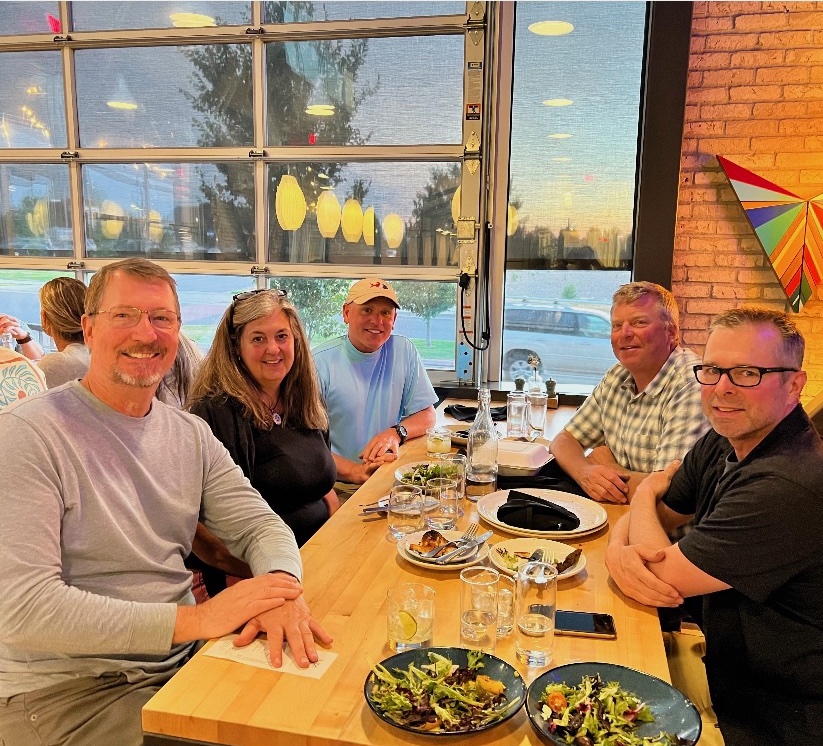 Carl Pohlhaus '87, Willy Thompson '87, Christine Charmack Thompson '86, Pete Emerson '90, and Dave Hecksher '90 caught up in July 2022.
---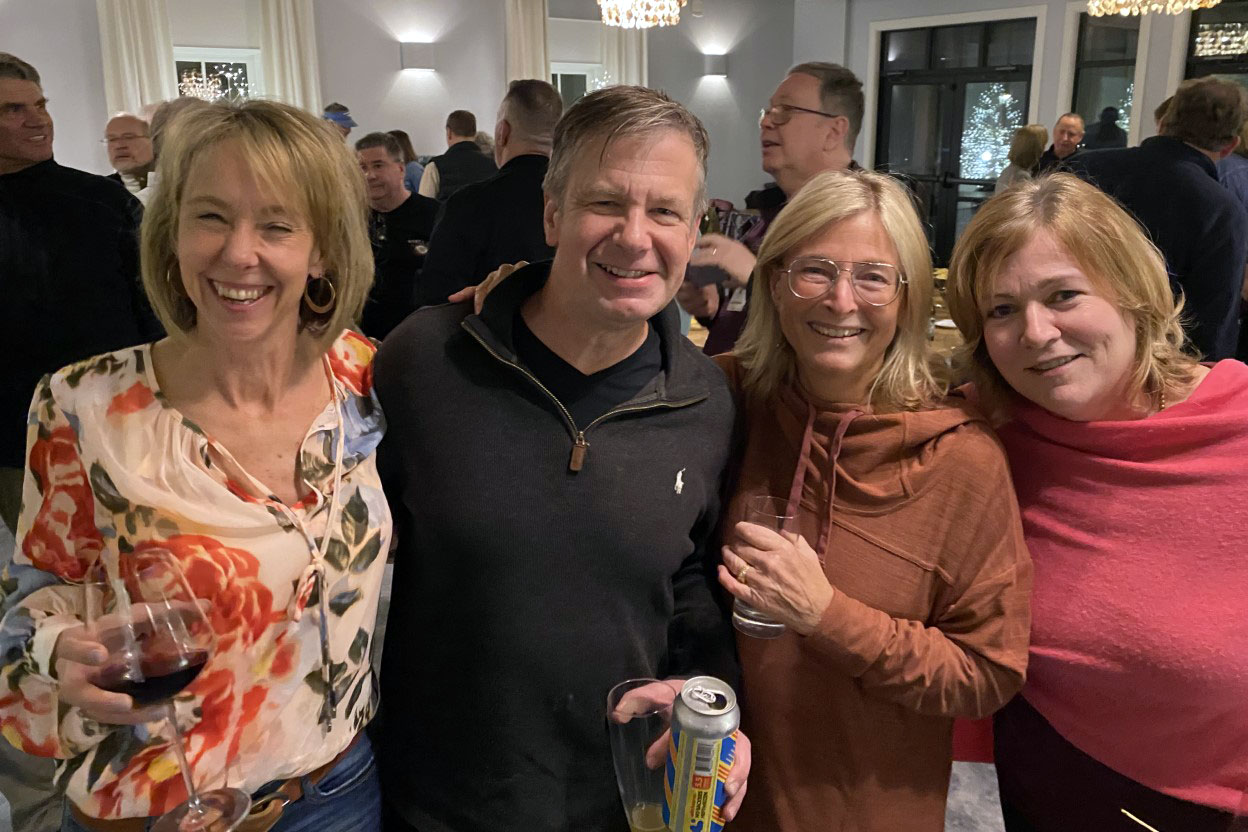 Past Presidents of Washington College's German Club — Karen Finch '88, Max Connover '87, Jessie Wittich '83, and Bevin Boyle Buchheister '88 — reunited at the "Back to the '80s" party sponsored by the Alumni Association on March 10. The group reminisced about their adventures traveling and studying abroad, professors and class projects... and especially Octoberfests with Professors Schulz and Salloch. (3/23)
---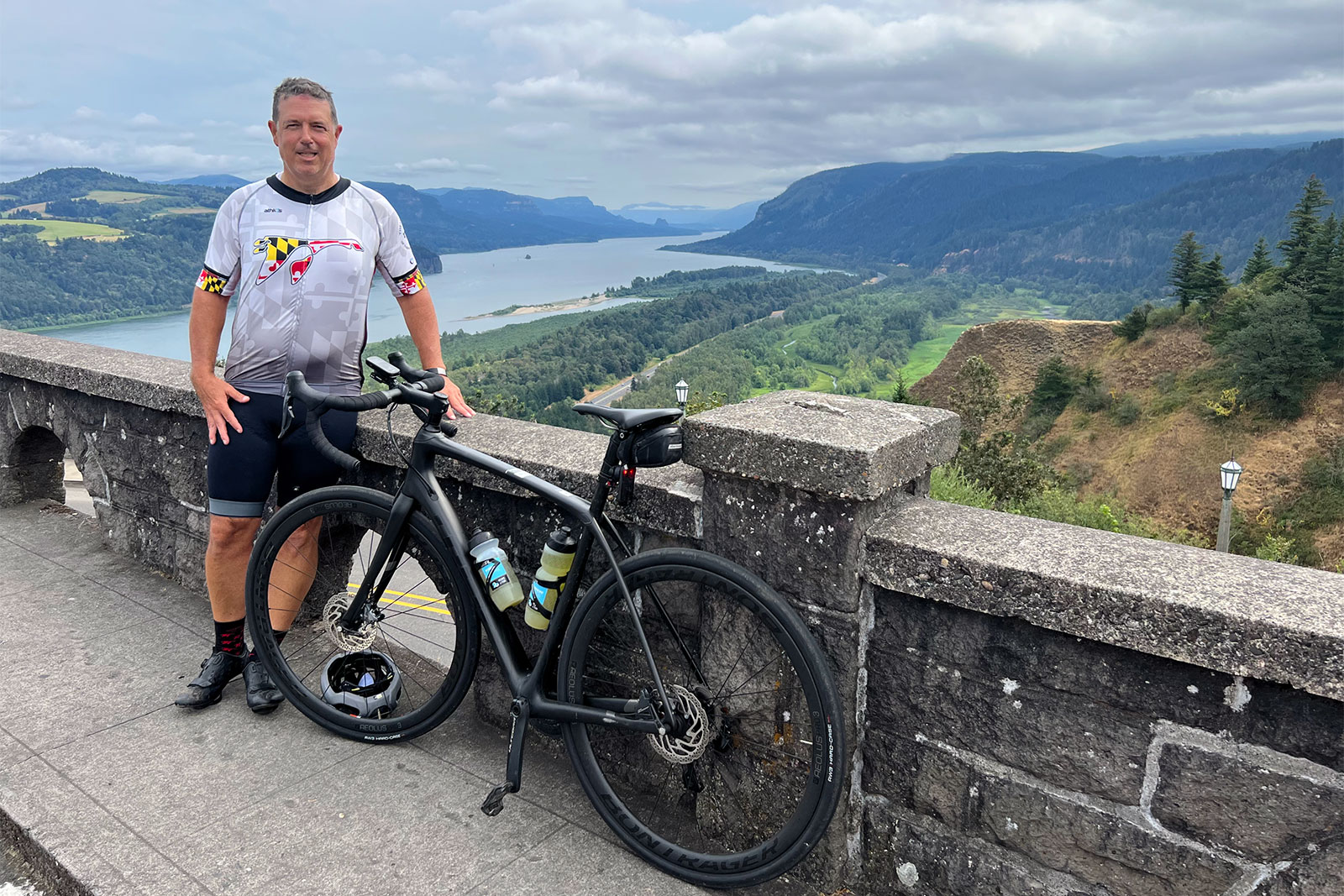 Rick Wheeler '86 started his bike ride across the US from Crown Point Oregon in August 2022. (8/22)
---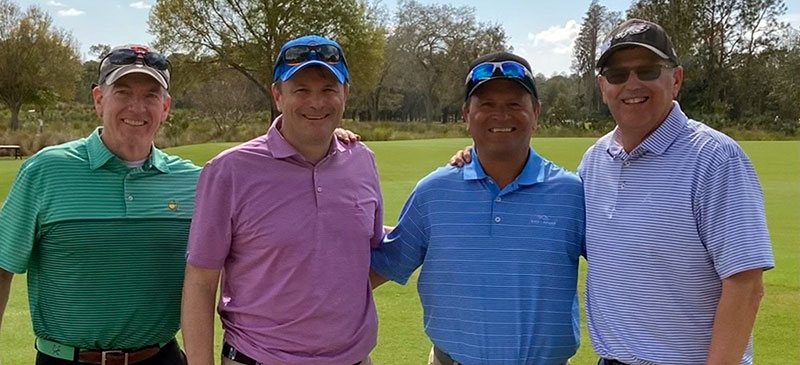 Lifelong friends and former roommates/teammates Scott Jones, Dave Puskar, Bill Bors, and Eric Becker, all from the Class of 1989, met up in Florida for a long weekend of golf and Super Bowl watching. (3/23)
---
1990s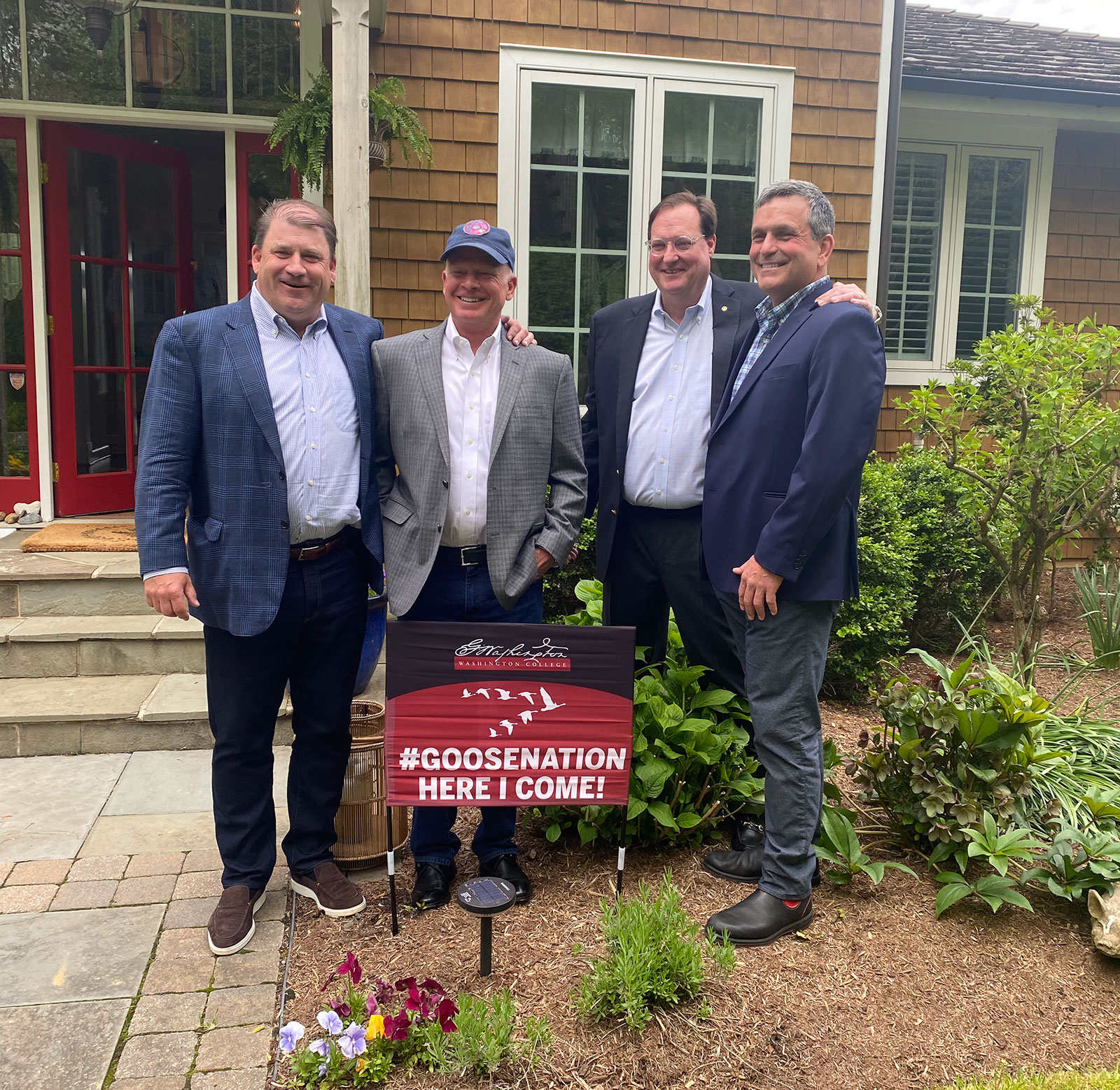 Rich Wood '91, John Kircher '91, Cliff Schroeder '91, and Chris Deegan '89 gather for a picture in celebration of Rich Wood's son enrolling at WC.
---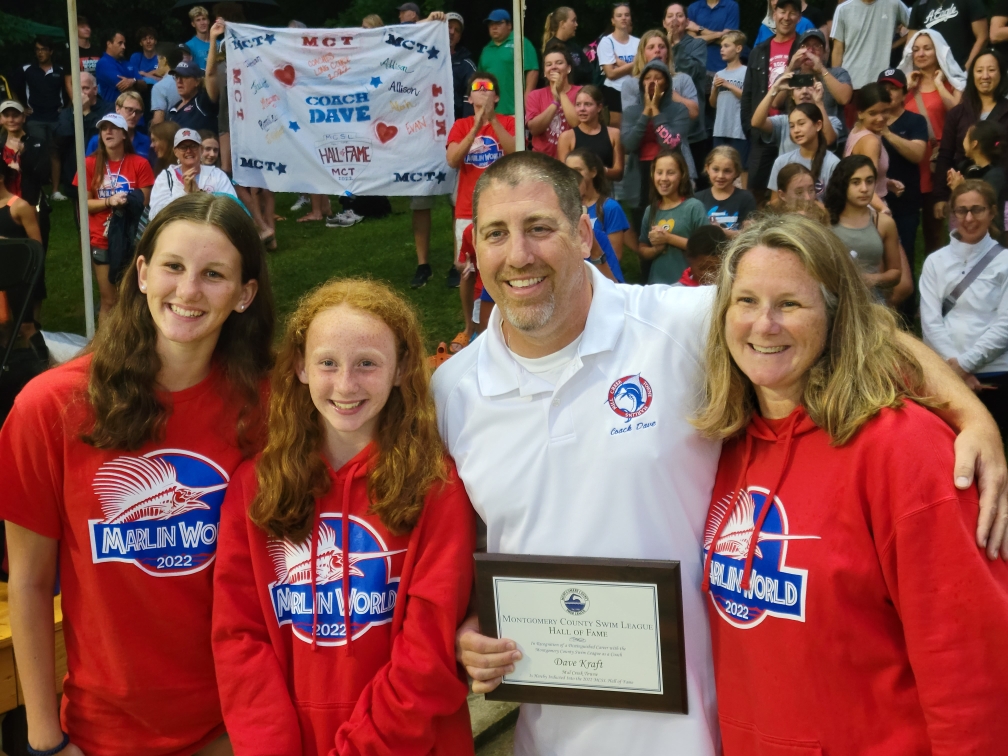 After his time on the WC Swim Team, Dave Kraft '96 began coaching for Rockville-Montgomery Swim Club right out of college. He coached the National Developmental Group for 13 years, and has been coaching the National Training group for the past 10, going all over the Country for meets. His Boys' team won the Junior National title this past March. He was also recently elected to the Montgomery County Swim League Hall of Fame (pictured). He has been married for almost 18 years, and has two beautiful daughters. To support his coaching habit, he also has been teaching Multivariable and AP Calculus for 20 years in Rockville, MD. He'd love to hear from any old friends from WC (dmkraft77@aol.com), and hope to make a trip to WC (and Procolino's) soon. (5/23)
---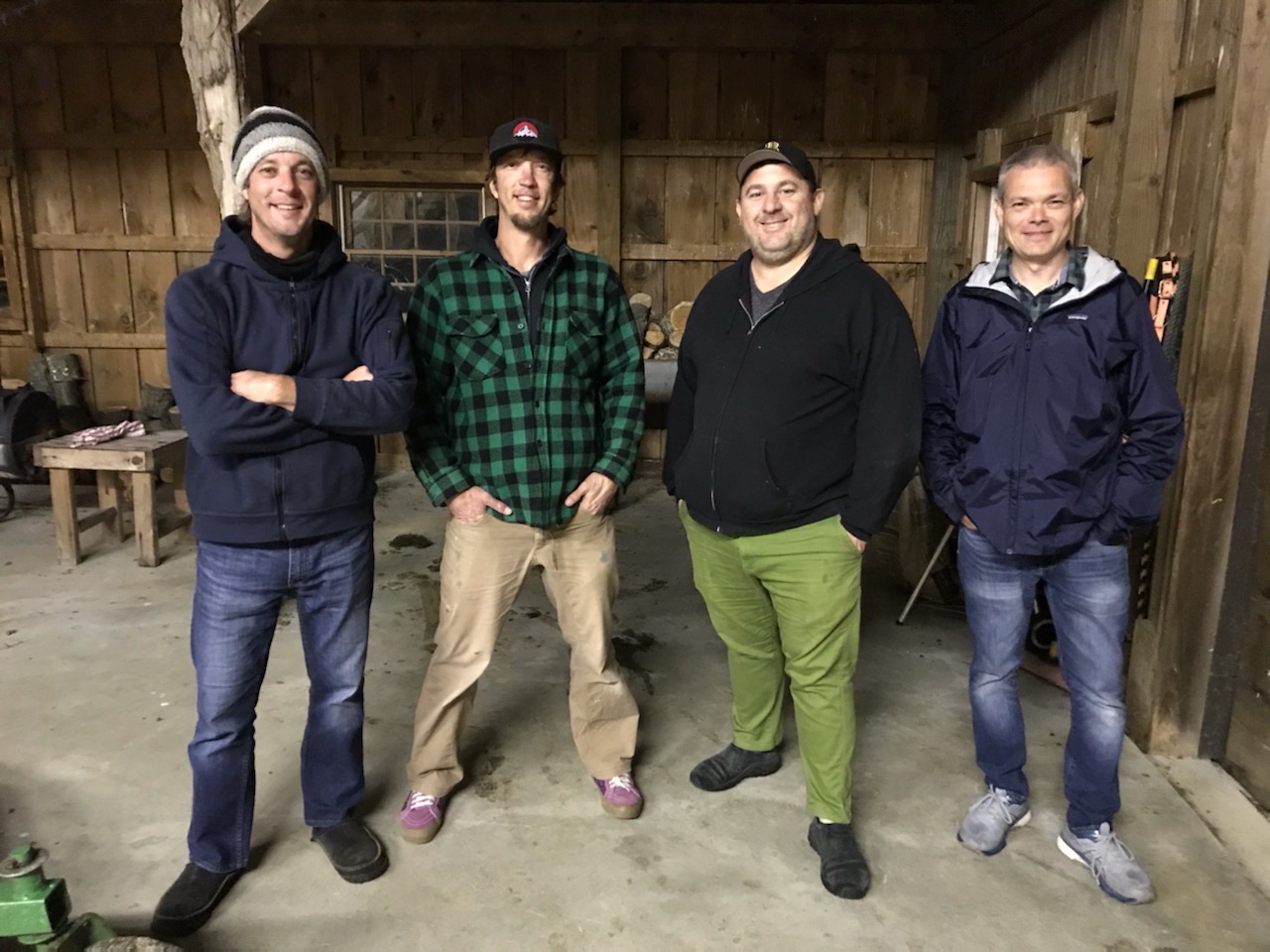 The student band Ghostbox reunited during the pandemic. Members include Mike Buccino '99 on bass, Ted Knight '97 on guitar & synthesizer, Greg Parent '00 on drums & percussion, Tim Parent '97 on guitar & synthesizer, Dermot Quigley '99 on vocals & percussion, and Andrew Stein '99.
The result is their just released album
Distant Sound
recorded in the barn of Thad and Renee Bench P'18 in Worton, Md. Marc Dykeman M'08 produced, mixed, and mastered the recording.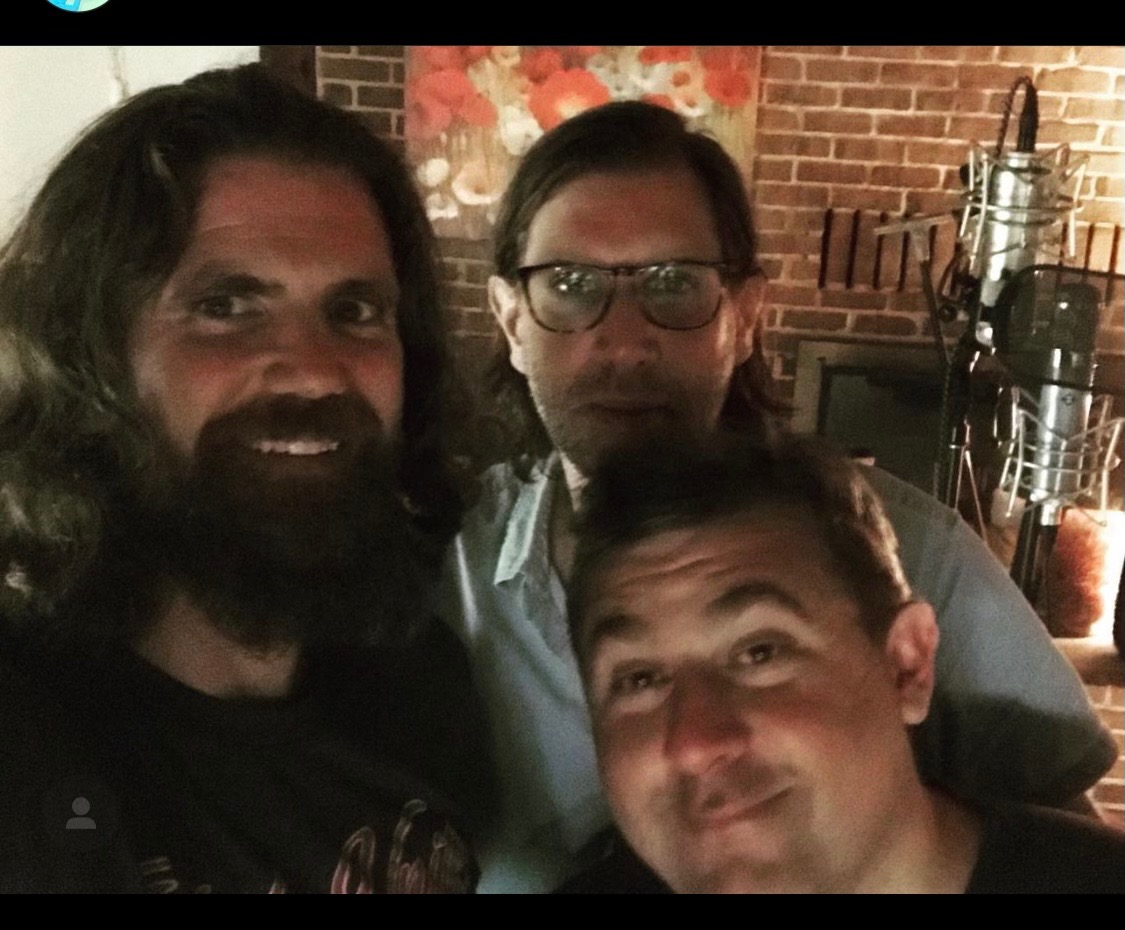 Ghostbox has played a wide variety of venues and music festivals over the years across Maryland, Delaware, New Jersey, Pennsylvania, and Virginia. The band also opened for bands such as Guster, The Disco Biscuits, and The Four Tops. (12/22)
---
In March 2022, Eleanor Shriver Magee '93 started a new part-time job with WC alum Donna White Wolk '91 at Austin Pharmacy & Medical Supplies in Cockeysville, MD. She works in the clinical document department for medical equipment orders. She loves helping people. In her free time, she loves spending time with family and walking her dog Dunkin. (10/22)
---
Missy Boyd '96 has formed her own law firm, Boyd & Early Family Law LLC, a boutique, full-service family law firm located in Plymouth Meeting and Malvern, Pennsylvania. Missy is excited to begin this new chapter, energized to continue to make a difference for clients and within her larger community. (10/22)
---
After 25 years of teaching early childhood education ranging from homeroom teacher, PE teacher, to Academic Technology teacher K-6th grades, Jennifer Saunders Myers '95 is moving into the world of private school admissions. She will be starting at The Primary Day School in Bethesda, MD in August 2023 in a role supporting Advancement and Admissions. Having been born and raised in the DC metro area, she is happy to be focusing on the admissions process and be promoting a great school for future generations. (6/23)
---
Ciaran O'Keeffe '94 is Head of School at BNU (Buckinghamshire New University). He is responsible for all undergraduate and postgraduate courses in Psychology; Education; Social Science; Sport & Exercise Science; Criminology; Sports Therapy. He also leads Parapsychology research and teaching — a subject which he frequently discusses in the media. Recent media projects have included BBC Radio 4's "The Battersea Poltergeist"; "The Witch Farm"; "Uncanny" and an upcoming series, "Uncanny TV" for BB2 (due out in the Fall). He'll also be touring live in the Fall with the "Uncanny Tour." Many of these paranormal media projects have come off the back of his successful co-authored text on haunting experiences, Ghosted! (6/23)
---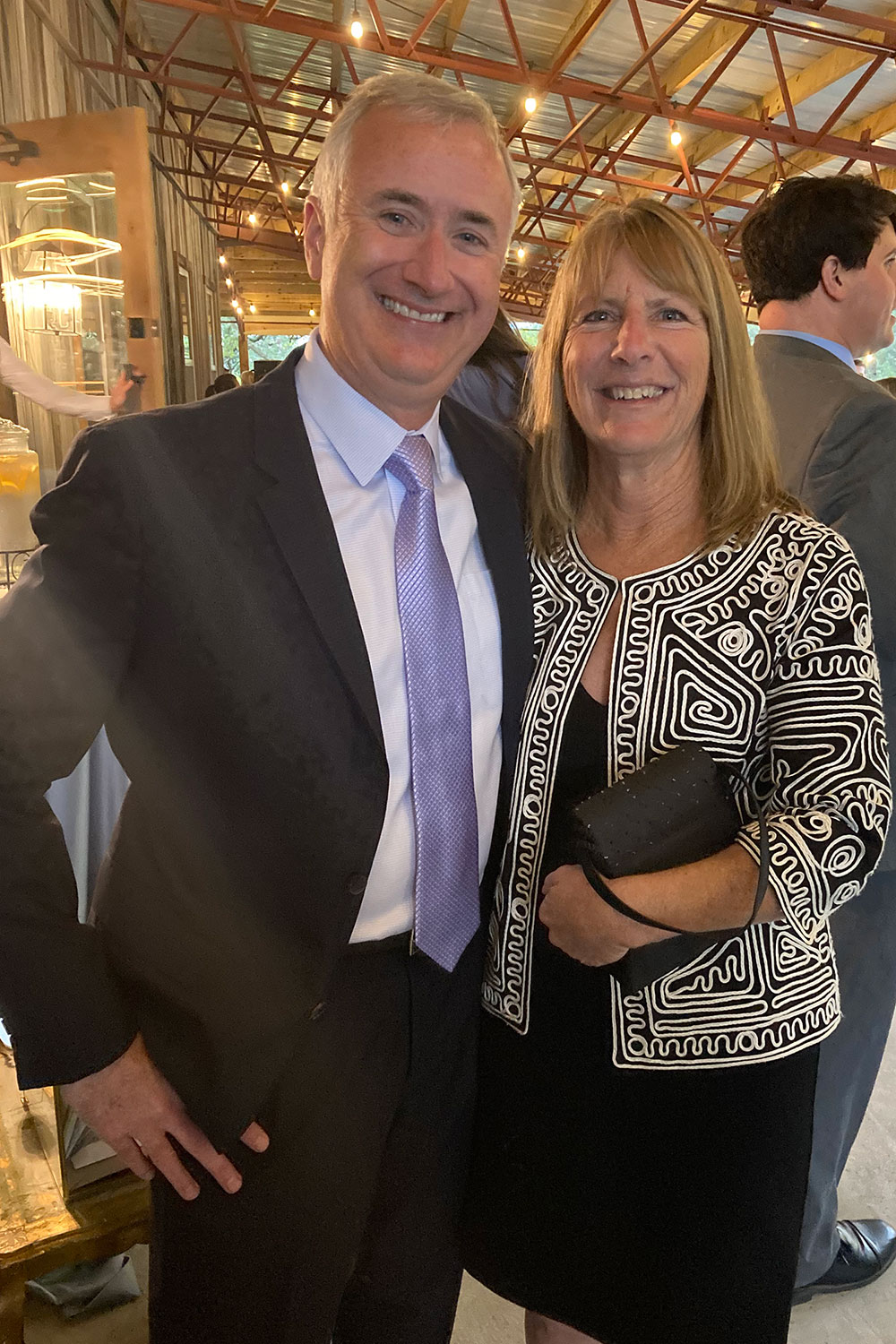 Brooke Frank '92 caught up with Head Swim Coach Kim Lessard at the wedding of Cody Weiler '18 and Katie Gorman '18. (9/22)
---
Carey Ann Smith '92
was Co-Producer for Animated Feature for "Mitchells vs Machines" and
her team went to the Oscars as Nominees
.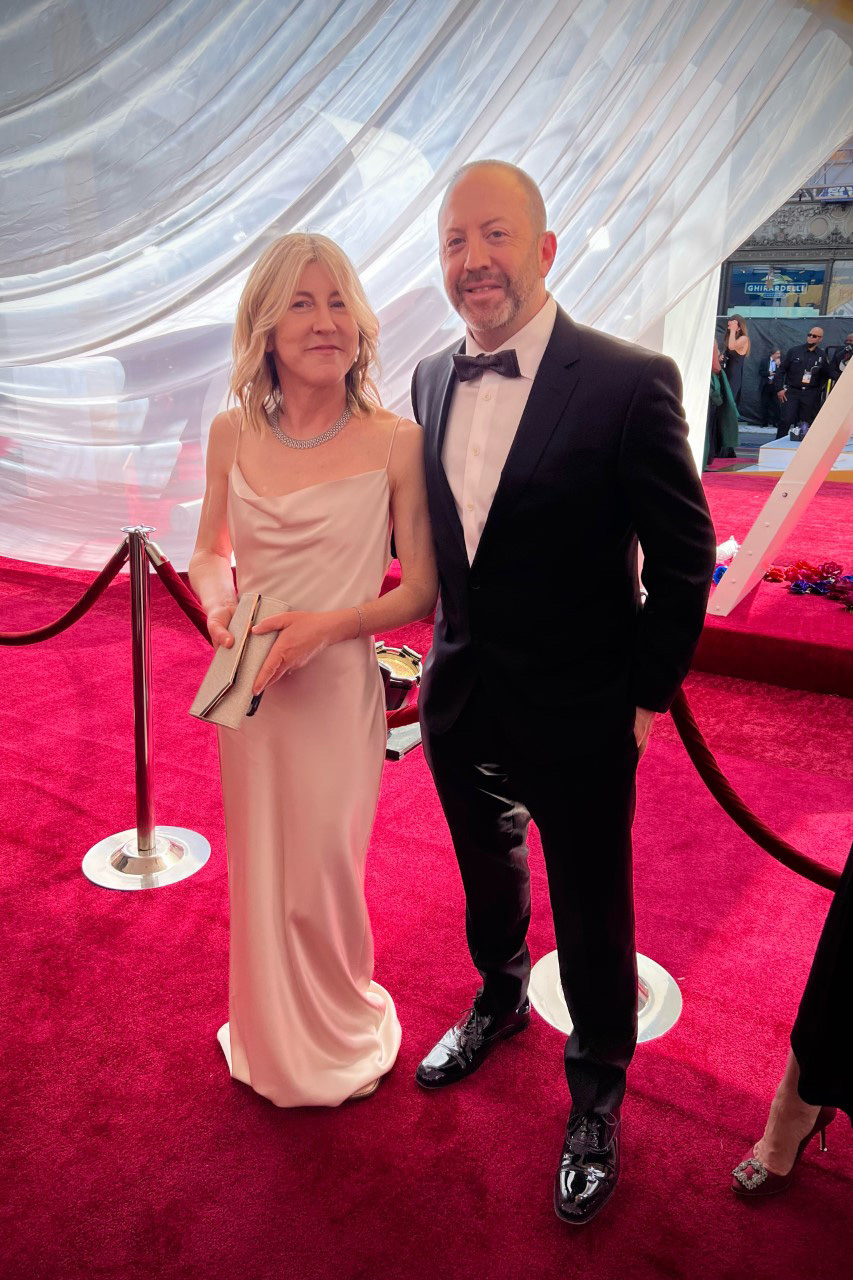 (3/22)
---
2000s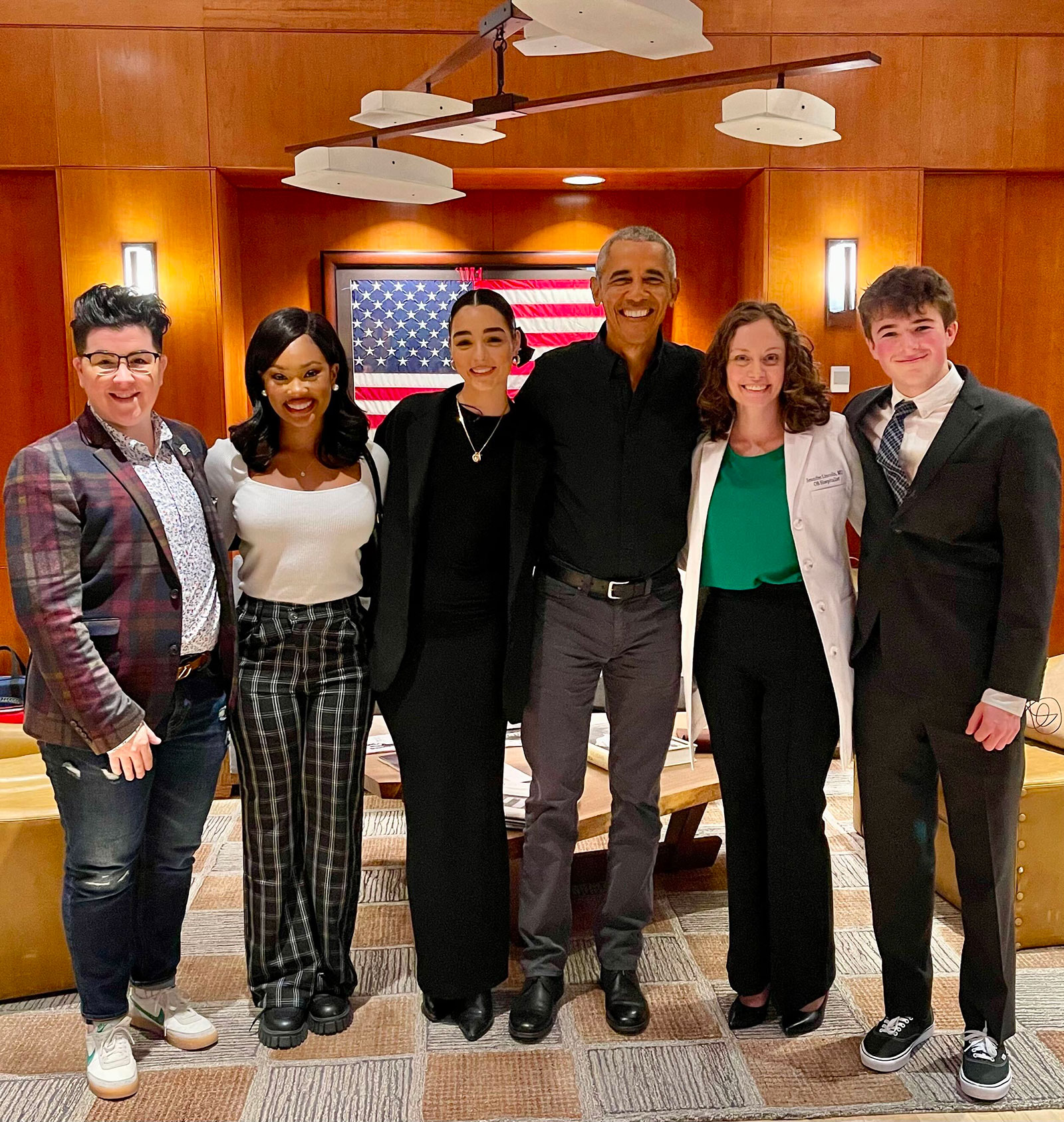 After the overturn of Roe vs Wade in June 2022, Jennifer (Hewson) Lincoln '03 felt the need to dive more into reproductive advocacy work. As a practicing OBGYN with a large social media presence (@drjenniferlincoln) that educates on reproductive health, she was able to provide education and empowerment in the difficult months that followed. This led to her being invited to the White House twice as well as the chance to meet with President Barack Obama to discuss why abortion bans are harmful and a violation of a personal freedoms. She has also become the Executive Director of Mayday Health, a reproductive health education non-profit that helps people learn how to access abortion pills in all 50 states. (6/23)
---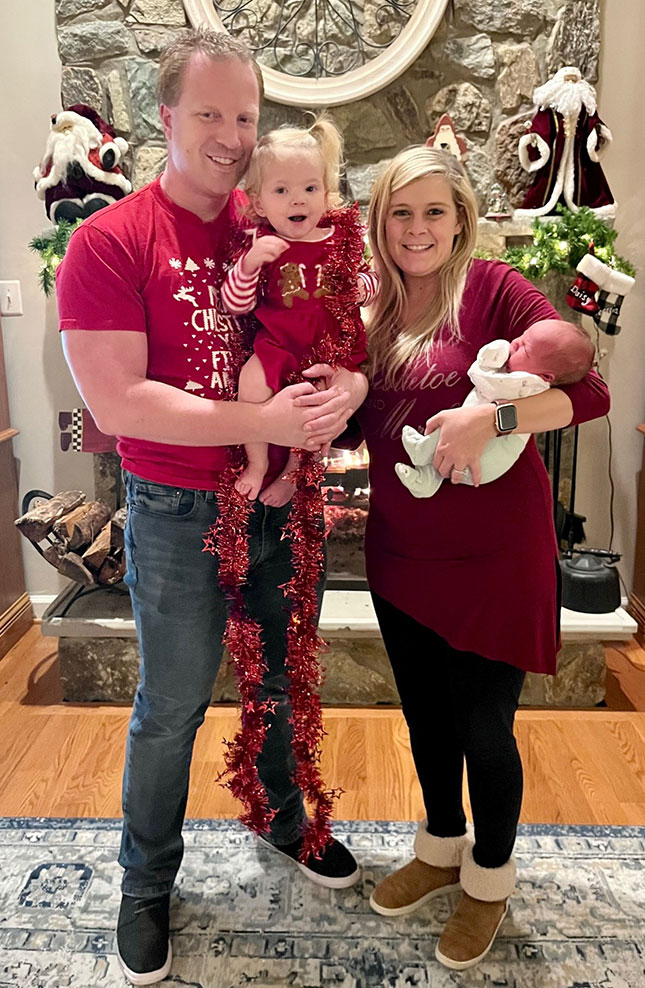 Darren Colananni '07 and his wife Kristen welcomed their second daughter, Gianna, to the world on December 17, 2022. In addition to reporting mega girl-dad power, Darren was just named Partner of his wealth management firm, Centurion Wealth Management. He was recently named a Top Wealth Advisor in Northern Virginia Magazine and awarded the 5 Star Wealth Advisor again. For the last year he has been featured in Yahoo Finance, Forbes, and other news publications on a variety of financial topics. (8/23)
---
Capella Meurer '09 graduated with a Masters/PhD in Counselling Psychology from Monash University in March 2022. She wrote her thesis on experiences of treatment and recovery for people with eating disorders. She is working as a specialist eating disorder psychologist at the Centre for Eating Weight and Body Image in Melbourne, Australia, where she has been living for the past twelve years.
---
Yukiko Omagari '05 is a Human Rights Officer of the United Nations Office of the High Commissioner for Human Rights and Joint Human Rights Office in Sudan.
---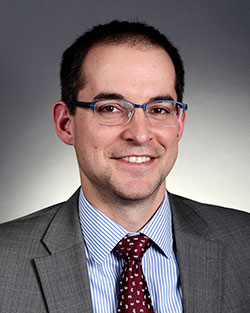 Brandon Righi '07 joined Deloitte's Advisory business to develop their ESG and climate risk work for the insurance sector. (3/23)
---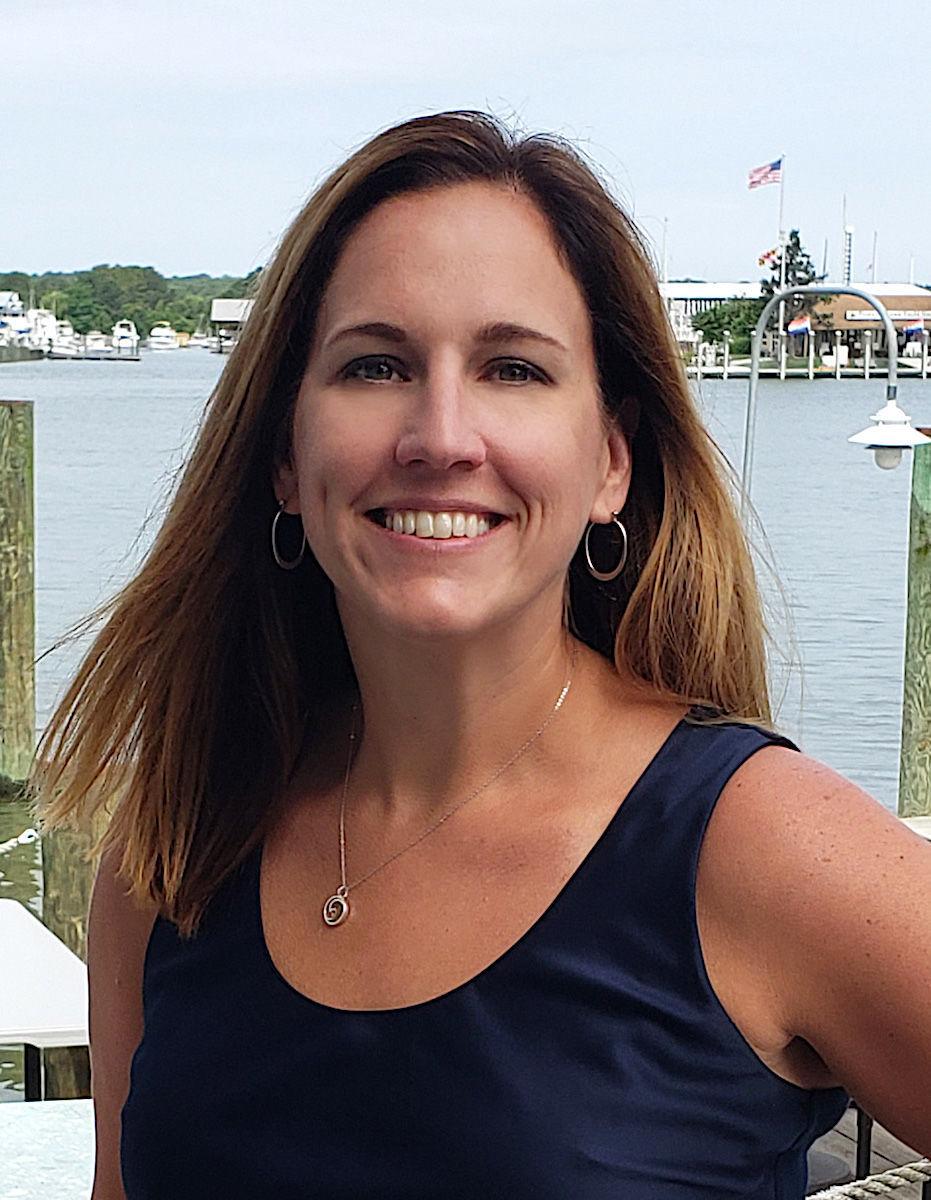 Crystal Richard '02 is a law partner with Thompson and Richard LLP in Centreville, Maryland, and has joined the board of directors of the United Way of Queen Anne's County. Richard earned a law degree from Catholic University Columbus School of Law in 2005. She was named a partner with her current law firm in 2014.
---
Heather Russell '03 shares two big developments! Heather and her partner welcomed their son Simon into the world. She reports that parenthood has been an amazing journey so far. Heather also earned tenure at University of Richmond and is an associate professor of mathematics.
---
Leslie Meredith '06 was made a partner of Partner at Orrick, Herrington & Sutcliffe LLP in the Strategic Advisory & Government Enforcement (SAGE) team (2/23).
---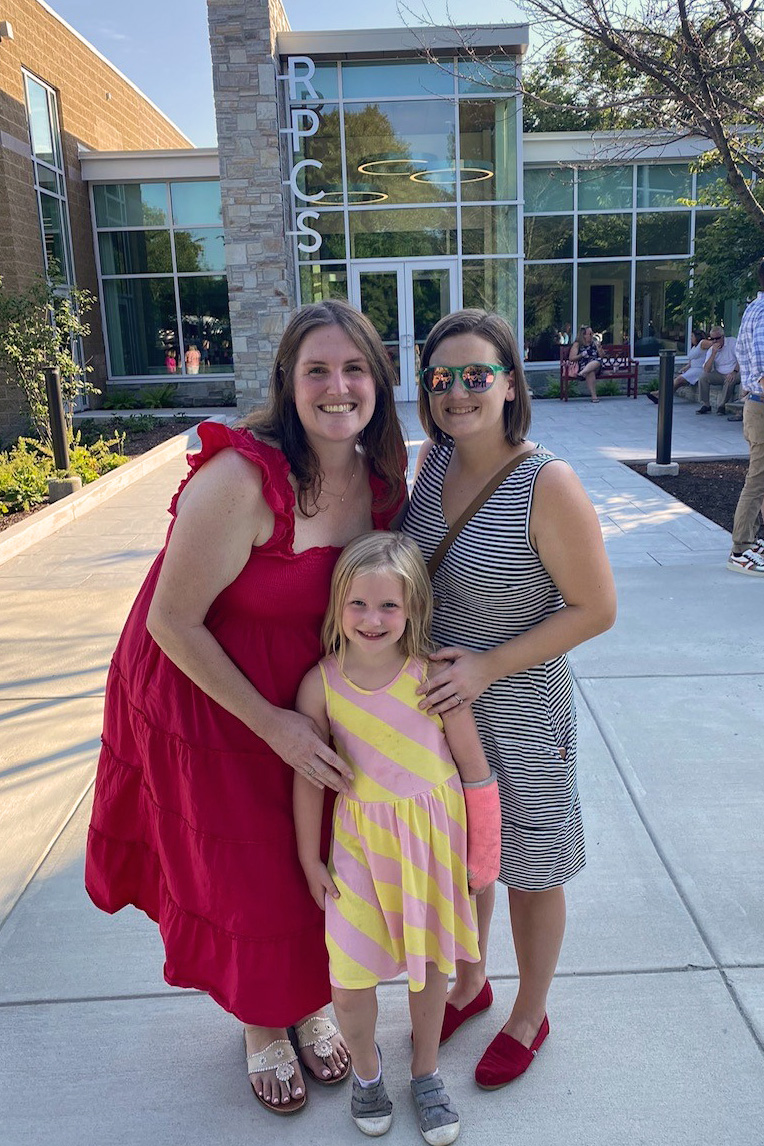 Lindsay (Dutton) Quinn '09 and fellow alum, Rachel (Holland) Oberlin '08, both work at Roland Park Country School in Baltimore, MD. They met and became friends at Washington College. Lindsay works in administration and Rachel teaches kindergarten. This year, Rachel is teaching one of Lindsay's daughters, Ella. (9/22)
---
2010s
Alisha George '10 graduated from the University of Pennsylvania with a Master of Science in Organizational Dynamics in May 2022. She earned concentrations in Sustainable Development and Leading and Managing through Change. (9/22)
---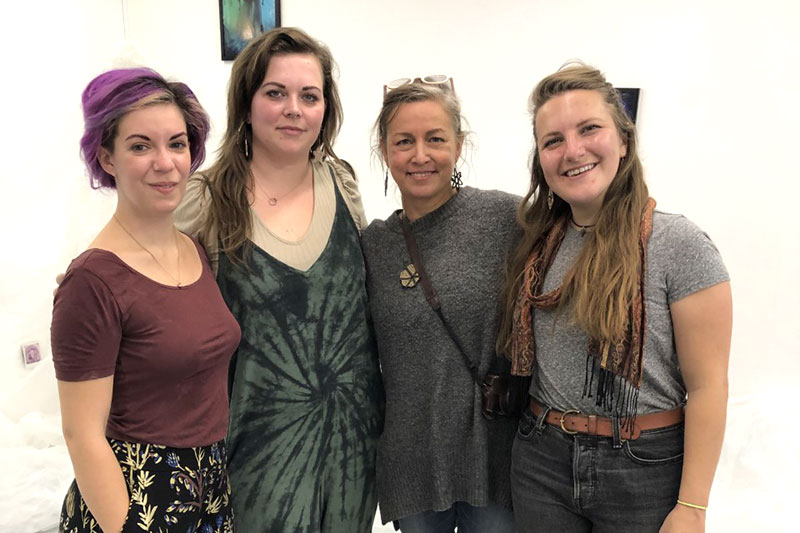 Professor Heather Harvey and two of her former students presented a collaborative art installation in Easton, Md at the Davis Arts Center. Pictured are Mimi King, Sydnee Schorr '16, Professor Harvey and Morgan Bench '18.
---
Anna Cowden '10 started working as the Producer of the Territory Expansion and Localization team at CCP Games, a video game studio in Reykjavik, Iceland that has created games like EVE Online and Dust 514.
---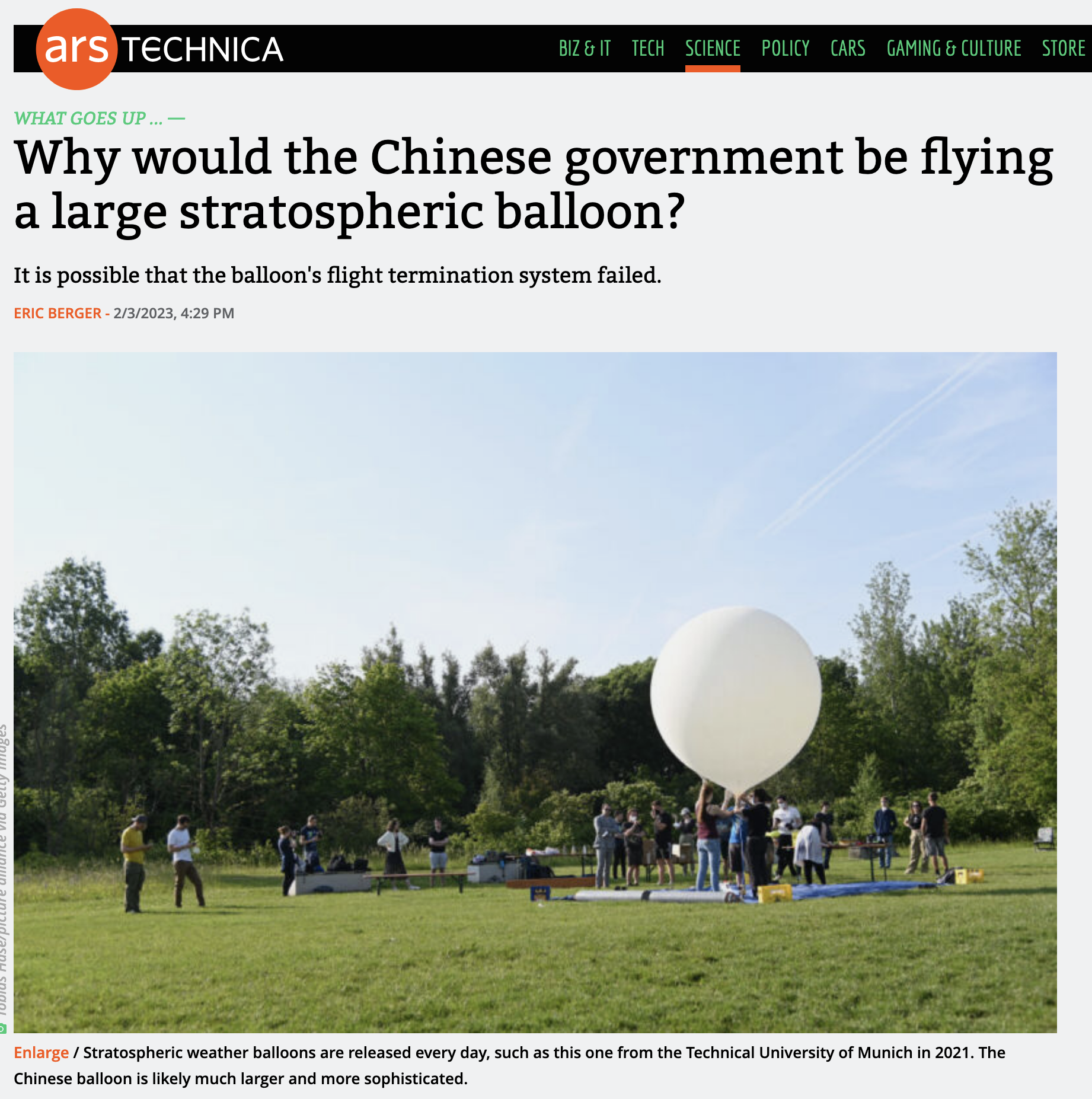 Andrew Antonio '12 was featured in an Ars Technica article about the Chinese stratospheric balloon. (2/23)
---
After working as the Miles-Wye Riverkeeper with ShoreRivers for the past five years, Elle O'Brien '12 is now the South, West and Rhode Riverkeeper at Arundel Rivers Federation, working as the Riverkeeper on the waterway that she grew up on. She recently moved back to Annapolis with her husband and two year old. (3/23)
---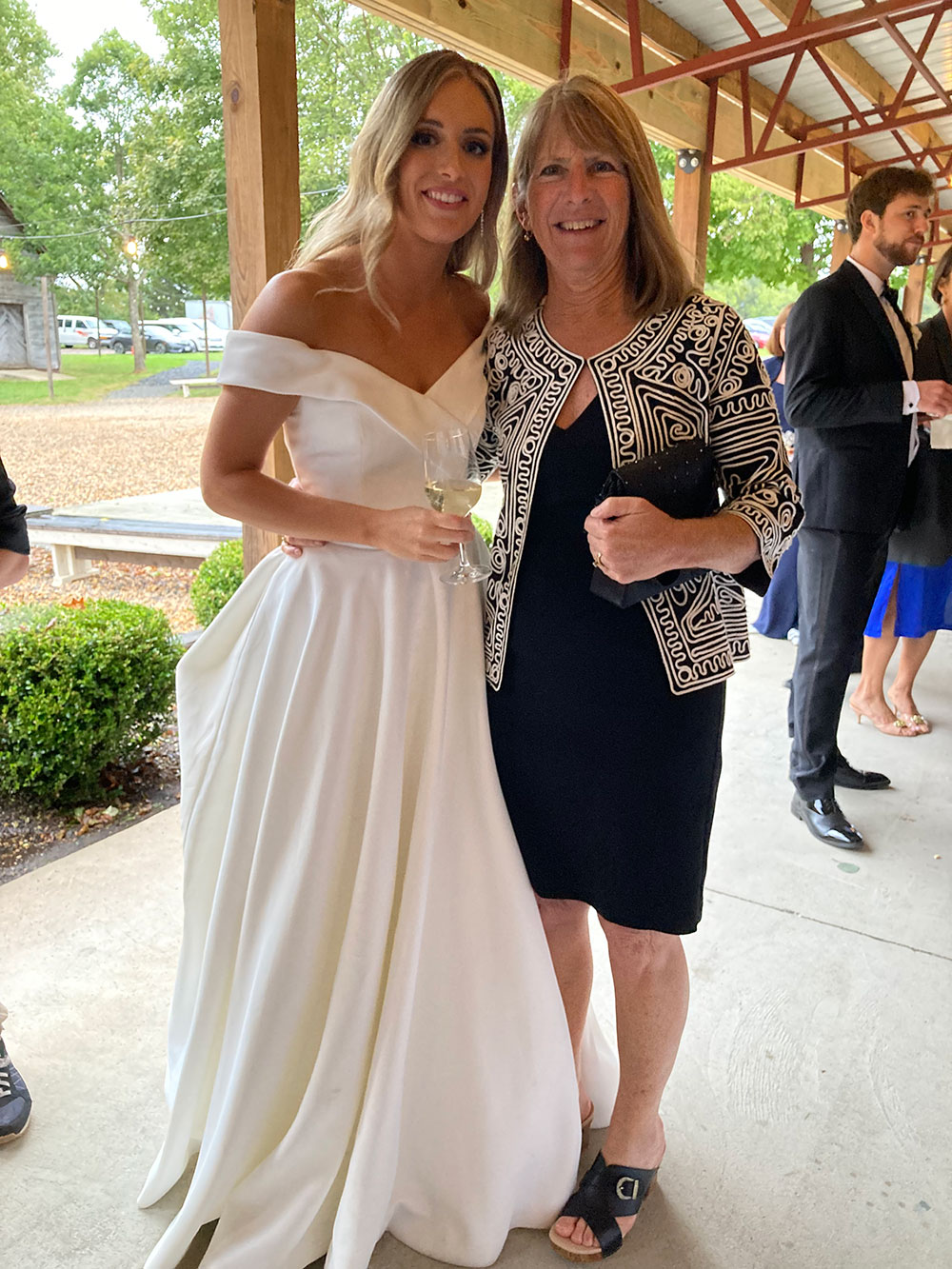 Katie Gorman '18 celebrated her wedding to Cody Weiler '18 with Head Swim Coach Kim Lessard in attendance. (9/22)
---
Claire Gardner '19 graduated from William & Mary Law School in May, where she managed a staff of 60 as Editor-in-Chief for the Environmental Law & Policy Review. She has interned for Justice Chafin on the Virginia Supreme Court and for International Bridges to Justice. While at William & Mary, Gardner participated in the Family Law, Domestic Violence, and Veterans Benefits Clinic. She is working as a corporate transactional associate for GreeneHurlocker, PLC, a boutique energy firm with a practice in the mid-Atlantic. She specializes in Solar Energy and ag-tech. (9/22)
---
Madi Shenk '19
is currently working on her M.A. in the History of Art at NYU IFA. She and a group of students have recently launched
Irradicant
, an online art
writing collective and collaborative learning space. (4/22)
---
2020s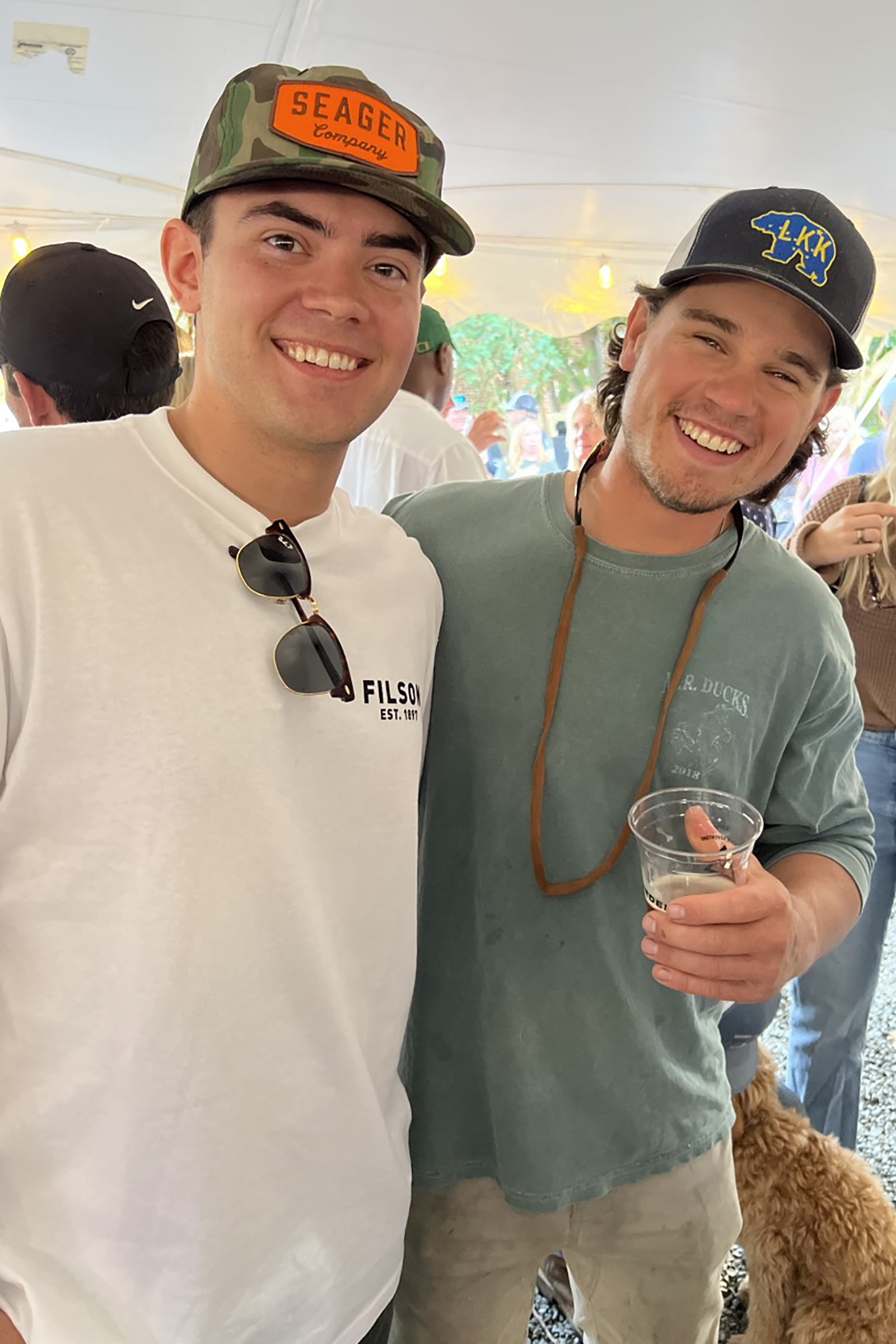 Brendan McNulty '21 and Bo Flint '20 celebrated a mini-WC reunion at the 51st Annual Waterfowl Festival in Easton, Md. (11/22)
---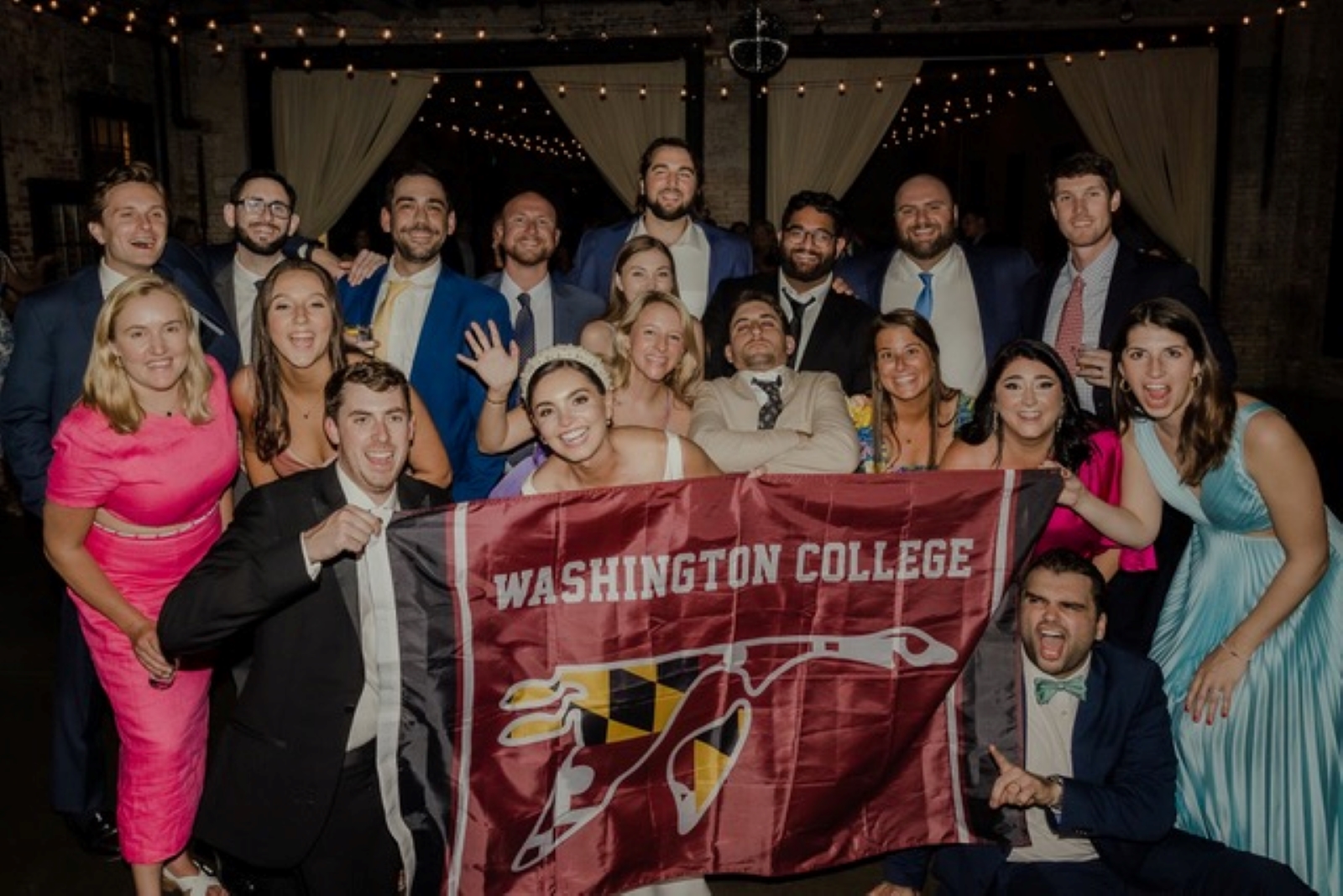 Stephen Sample '15 and Mari-Claire Bowie's '15 wedding on June 3, 2023.
Front: Stephen Sample '15, Mari-Claire Bowie Sample '15, Beth Warehime '13, Megan Young Nichols '13. Floor: Chris Rizakos '15. Middle: Kristen Gowing Parrish '11, Erin Gutkind '16, Peyton Kirkendall Ritter '13, Nick Parrish '15, Taylor Ecolono Kimball '14. Back: Max White '15, Sam Snyder '15, Joey Sliwka '13, Stephen Nichols '15, Ben Chase '17, Lindsay Heidelbach '18, Zeeshan Shad '15, Raymond Nichols '13, Brennan Kimball '14. (6/23)
---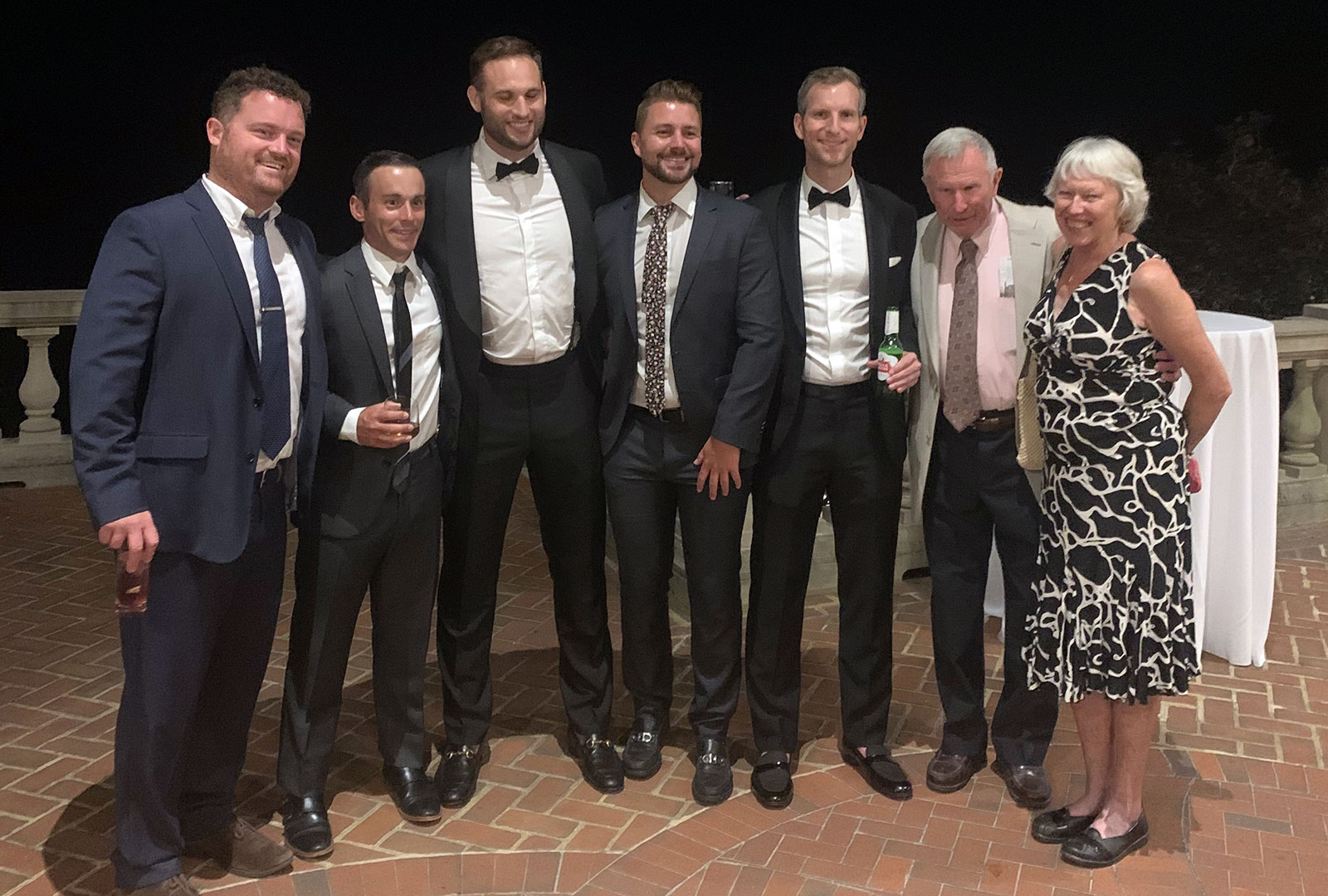 A great alumni gathering at Adam Cranford's wedding on June 3, 2023. Pictured left to right: Tim Parks '10, Kyle Lisco '12, Adam Cranford '11, Aaron Ellison '12, Conrad Olson, Fred Wyman, and Holly Bramble '74. (6/23)
---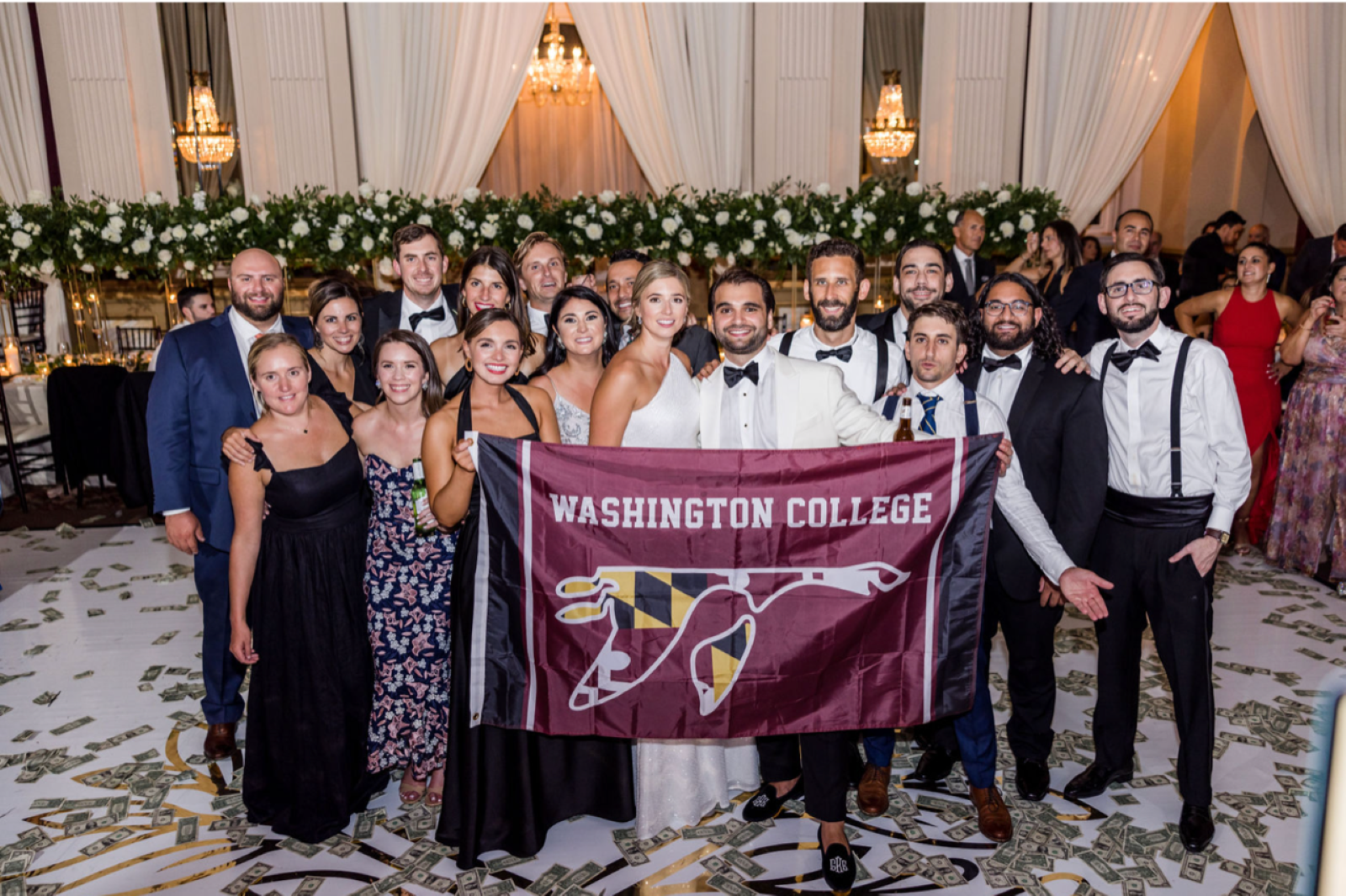 Chris Rizakos '15 and Angela Leasca Rizakos' wedding on August 27, 2022.
Front: Kristen Gowing Parrish '11, Claire Cobert '15, Mari-Claire Bowie '16, Beth Warehime '13, Angela Leasca Rizakos, Christopher Rizakos '15, Nick Parrish '15, Zeeshan Shad '15, Sam Snyder '15. Back: Raymond Nichols '13, Christine Horn Theodosakos '05 , Stephen Sample '15, Megan Young Nichols '13, Max White '15, Adam Smith '15, Spencer Evans '11, Joey Sliwka '13. (6/23)
---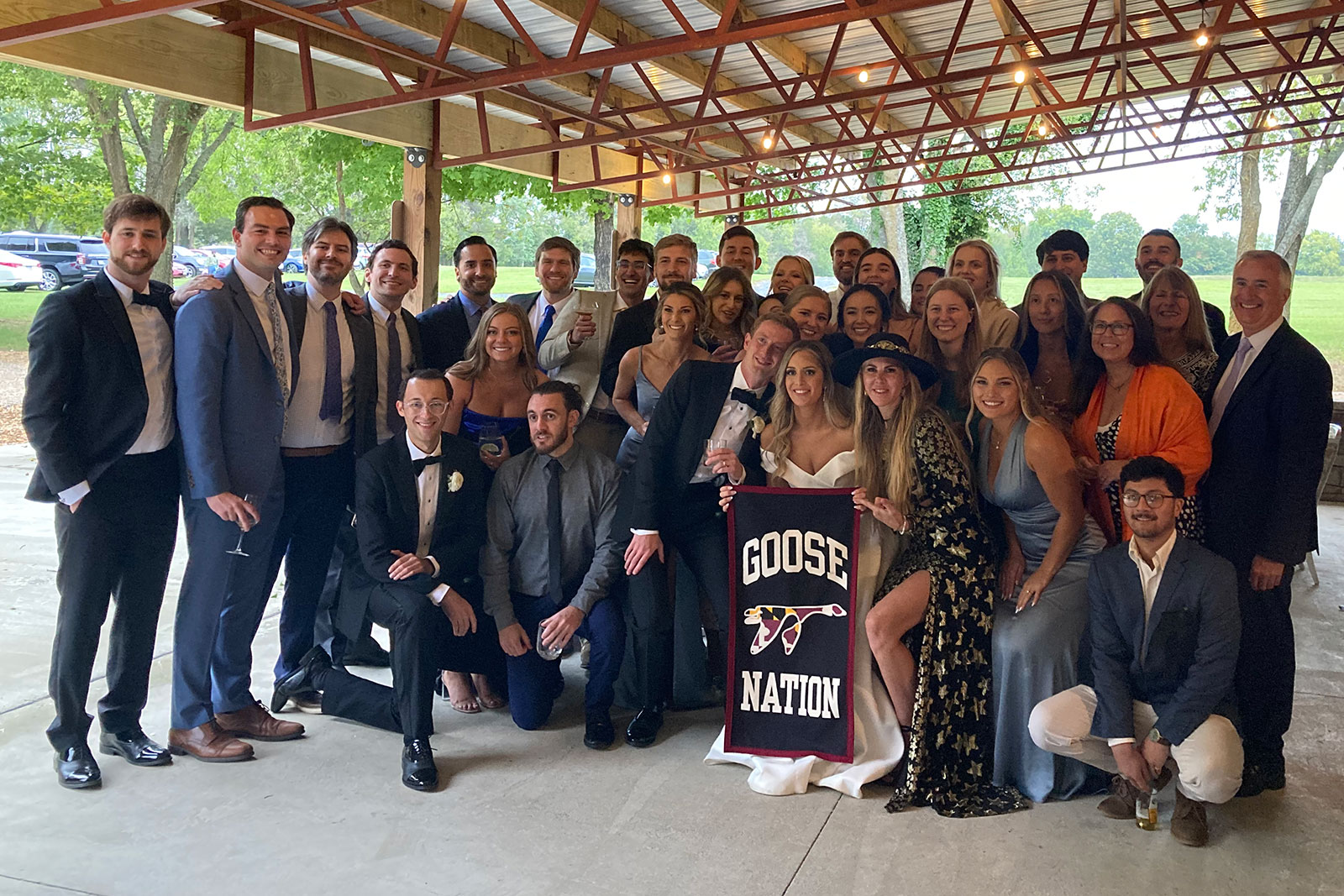 Cody Weiler '18 married Katie Gorman '18 at the Great Marsh Estate in Bealeton, VA. Many Washington College friends were in attendance. (9/22)
---
Graylin Hughes '16 married Cicily Strong Hughes '16 on June 18, 2022. Dr. Aaron Krochmal officiated the wedding. Josh Hyde '16 served as best man with Taylor Moore '16 and Muzamil Bashir '17 acting as groomsmen. Tess Garraty '17, Casie Jahnigen '17, and Nancy Malmquist '16 were all bridesmaids. Also in attendance were Erin Counihan and Vicky Sawyer. (9/22)
---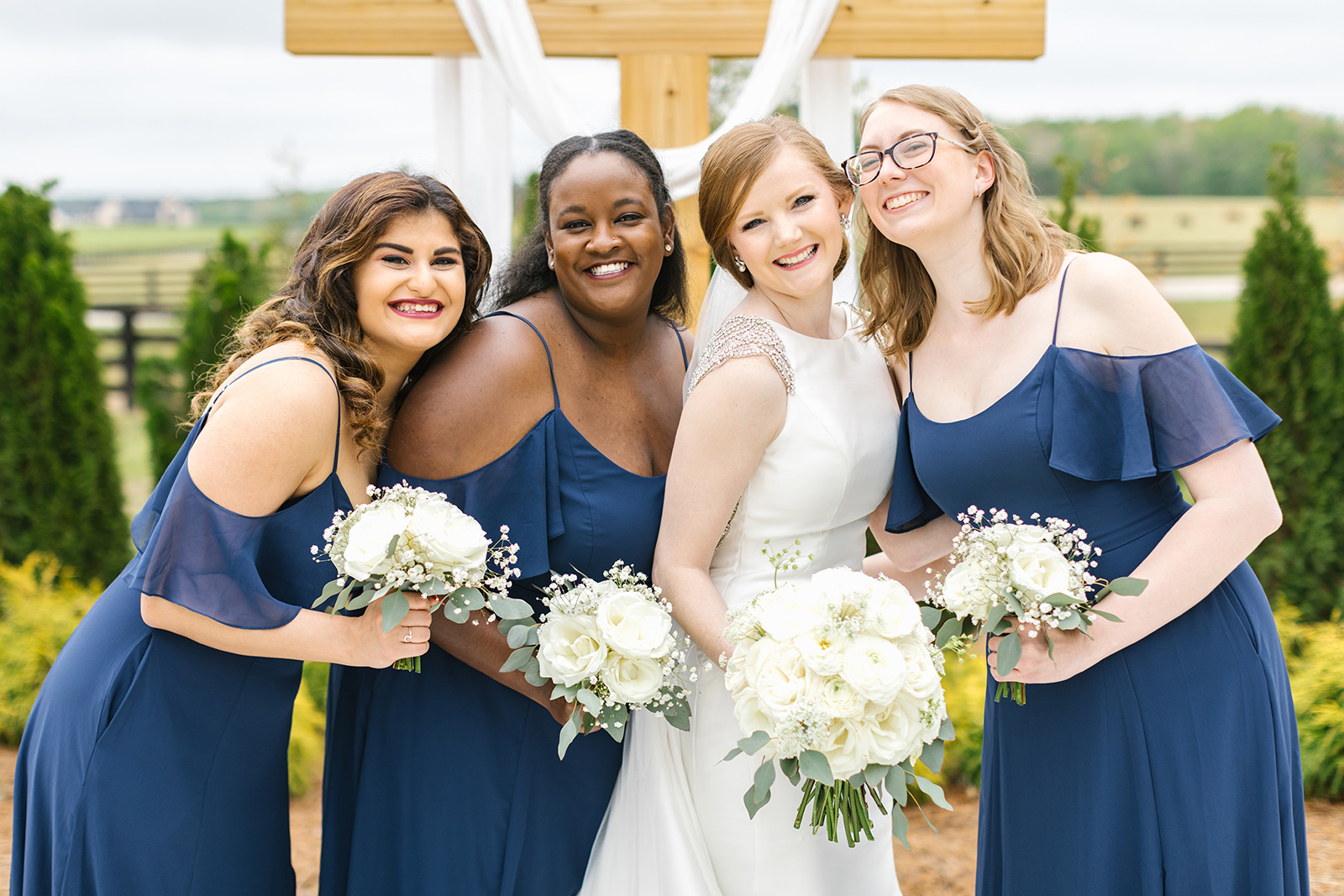 Victoria Cline Maas '19 celebrated her wedding with bridemaids Marah Tarawneh '19, Myssa Abusin '19, and Lisa Hamilton '19 on April 16, 2022.
---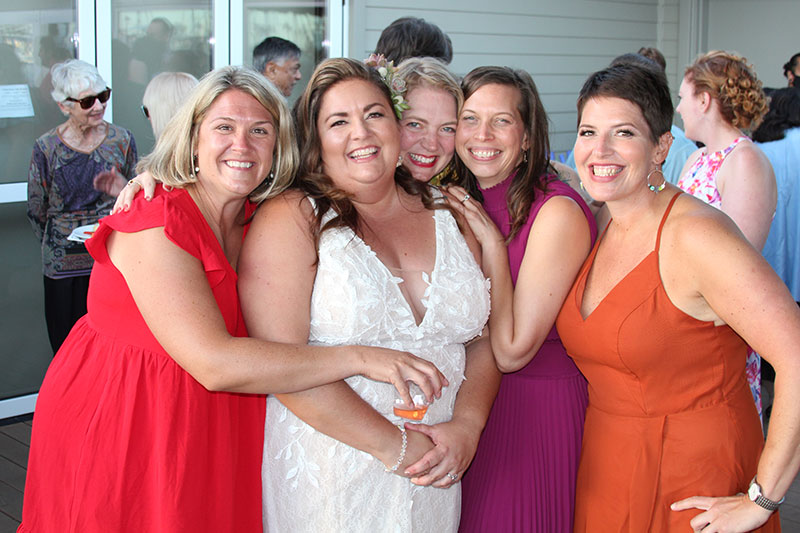 Bridget Cavaiola Stone '03 married Geoffrey Stone on October 9, 2021 in San Diego, CA surrounded by loving family and friends including Jill (Brewer) Bard '03 , Lindsey George '03 and two WAC attendees Erin (Dore) Miller and Emilie (Johnson) Fredrick.
---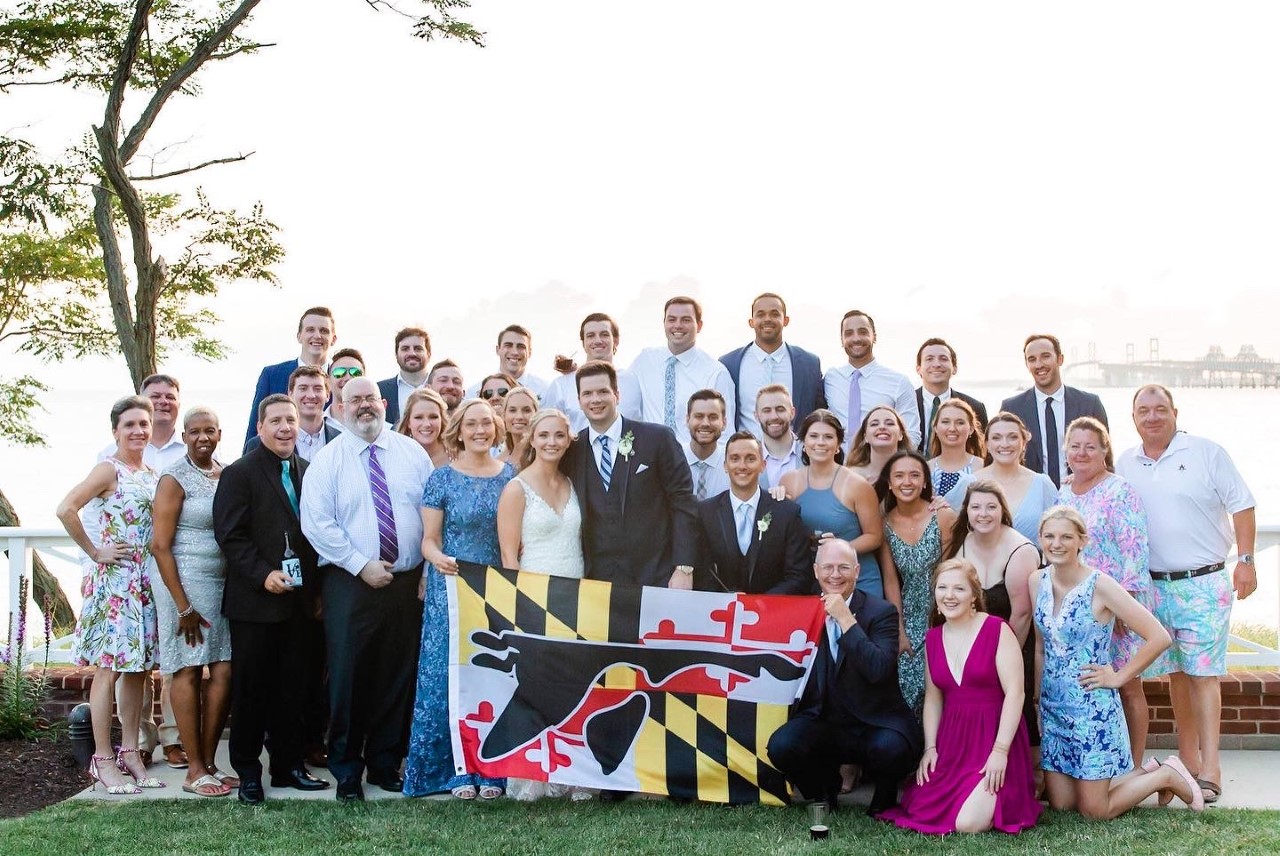 Cate McMenamin '16 and Neil Pervola '17 married on June 26, 2021, surrounded by their family and friends on a beautiful, sunny day at Chesapeake Bay Beach Club.
Photo by Alexandra Kent Photography (Alex Crawford '16)

---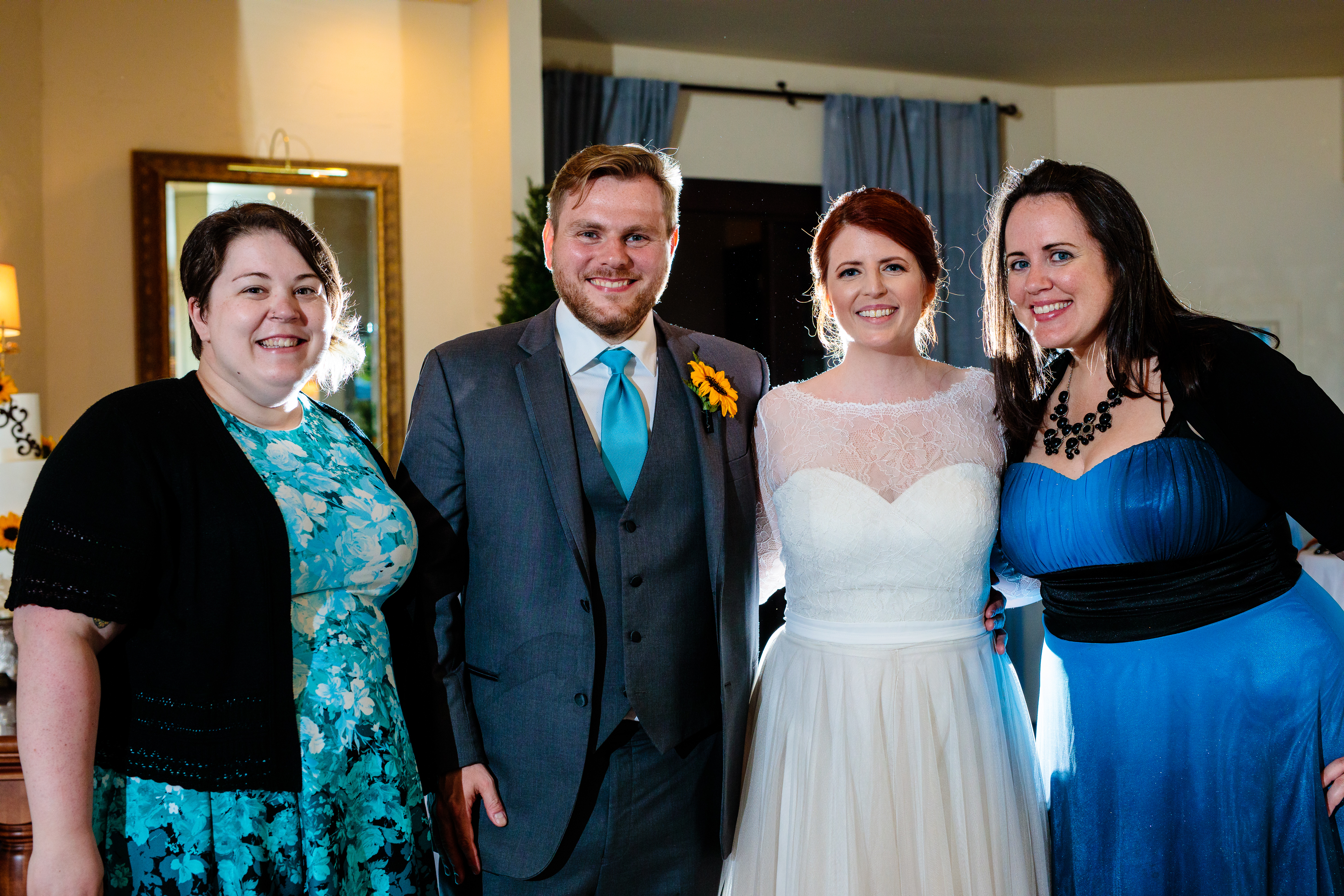 Erika Salomon '07 married Stephen R. Taylor in Leola, Pennsylvania, in June 2019. Alumni Lindsay Bergman-Debes '07 and Amanda (Barnes) Stevens '05 were in attendance.
---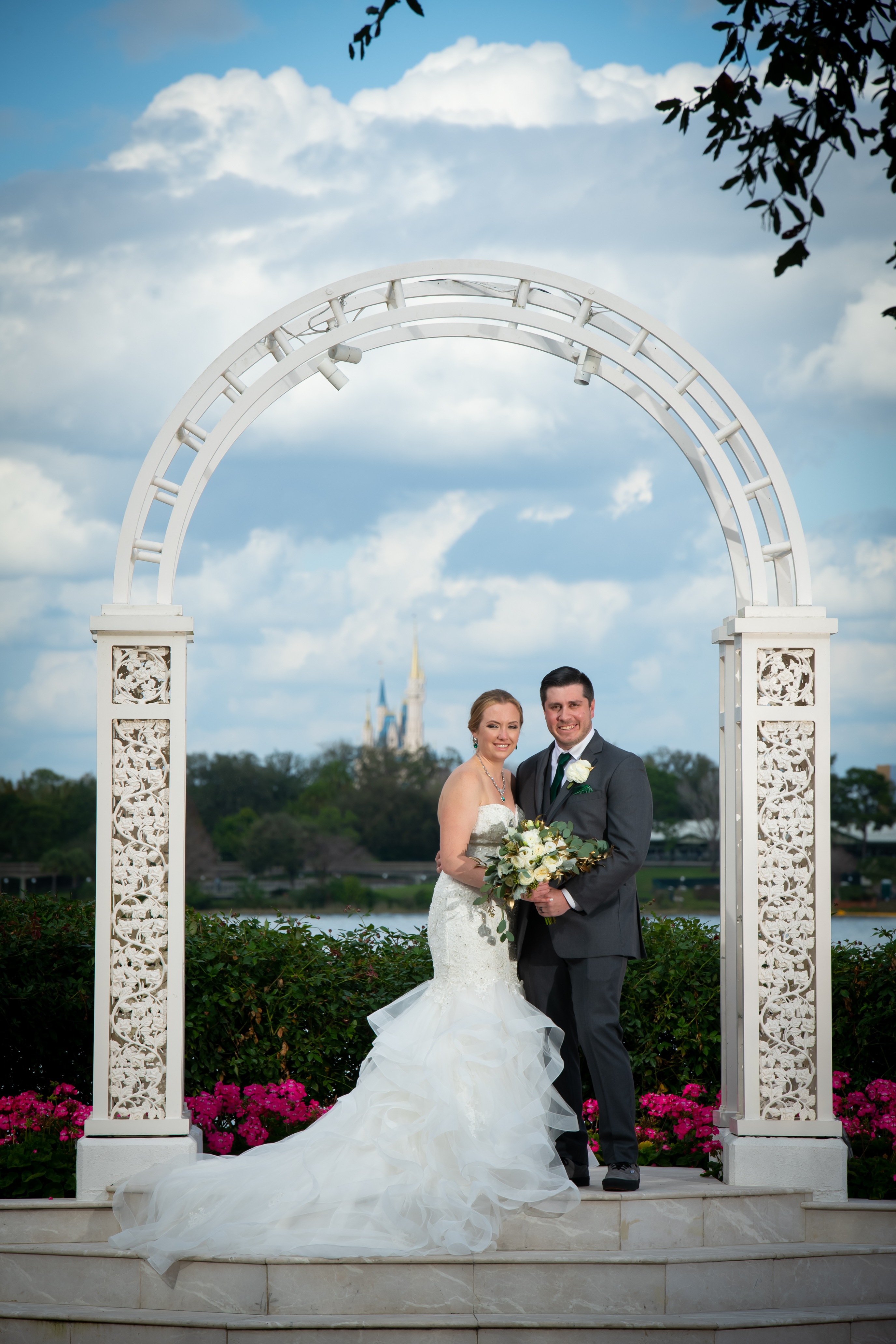 Jennifer Gustafson '07 was married Feb. 17, 2020, at Disneyworld to husband Clif. They have four "fur babies." She was also recently promoted to major in the U.S. Air Force.
---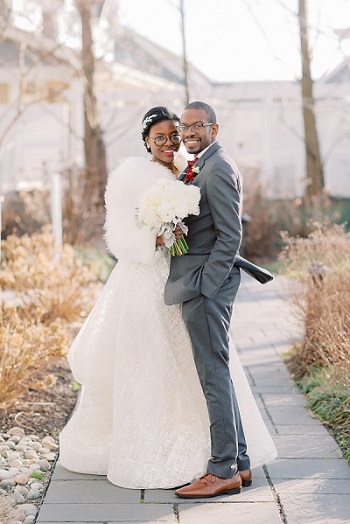 Carimanda Baynard '08, of Silver Spring, and Ivan Cephas, of Washington, D.C., were married Jan. 19, 2020, at the Chesapeake Bay Beach Club in Stevensville, Maryland.

A classically trained ballerina, Baynard has three master's degrees from American University, the National Intelligence University, and Georgetown University. She serves as a senior crisis communications professional in the federal government and is an adjunct professor. She is also a proud member of Alpha Kappa Alpha Sorority.

Cephas, who holds a Doctor of Pharmacy degree from Florida A&M University's College of Pharmacy and Pharmaceuticals Sciences, serves as a chief of pharmacy services in the federal government. He was a founding member and served as executive director and health administrator for CMS Health initiatives, a pharmacist-run health education nonprofit organization focused on HIV.
The couple honeymooned in southern California and live in Montgomery County, Maryland.
---
Wilson Bothwell Watson '60, passed away on April 24, 2023. He was a member of the Phi Sigma Kappa fraternity at Washington College and graduated with a B.A. in English. Read a tribute in his memory.
---
Colin Campbell Dickson, Professor Emeritus of French, died on May 21, 2022. Colin taught at Washington College from 1971 to 2003. After graduating from Amherst College (1959) and earning an M.S. in Physics from the University of Pennsylvania (1961), he switched disciplines, eventually earning a Ph.D. in French studies (also from Penn, 1972). His dissertation was a study of imagery in Montaigne's Essays.
Colin was thoughtful and kind—his family remembers him as "gentlemanly." He was a true Renaissance man, equally at home in the worlds of physics, geology, and mycology; crabbing on the Chester River; and introducing generations of Washington College students to the joys of French language and culture. Colin was promoted to associate professor in 1982 and to full professor in 1991. He served on numerous college committees and boards, and as chair of what was then called the Department of Foreign Languages, Literatures, and Cultures.
Colin is survived by his loving wife of 56 years, Janice Lind, his daughter Erica Dickson (Keith Hupperts), and many grandchildren, nieces, nephews, and other family members. Donations in his memory may be made to Kent County Public Library, 408 High Street, Chestertown, MD 21620; to Amherst College, P.O. Box 5000, Amherst, MA 01002; or to Friends Central School, 1101 City Ave., Wynnewood, PA 19096.
---
John Peter Rolewicz '12, of Odenton, Maryland, died July 24 after a courageous eight-month battle with a rare and aggressive cancer. He was 30. A natural athlete, Rolewicz was a two-time captain of the Shoremen baseball team and was proud to contribute to two playoff seasons, including one final playoff. After graduating cum laude with a double major in business management and economics, he worked as a financial analyst for Booz Allen Hamilton for seven years before starting a new position at Northrop Grumman last fall. He kept his love for baseball alive by umpiring for local high school and American Legion games on evenings and weekends. Among his survivors are his wife, Emily, his parents, two siblings, and numerous close friends who supported him through his illness. The family has requested memorial donations in support of the College's baseball program.
---
Scott Taliaferro' 87 passed away unexpectedly on July 18 in Baltimore, Maryland. He was 58 years old. Read a tribute in his memory.
---
Kurt Keller '86, of Mount Pleasant, South Carolina, husband of Cheryl Dianne Clagett Keller, entered into eternal rest on Saturday, September 10, 2022. Read a tribute in his memory.
---
Linda M. Benson '83 died on March 7, 2023. She was vibrant and effervescent, welcoming, often irreverent and always ready with a witty, slightly outrageous, imaginative comment. Read a tribute in her memory.
---
Robert McLain "Lain" Hawkridge Jr. '80 died Oct. 29, 2020. He was born on May 12, 1958, in West Chester, Pennsylvania. He attended St. Andrews Academy and St. James Academy. Seven years after graduating from Washington College, he settled in Kent County and never left. He worked for UPS and received his master's degree in education from Widener University. His career as a teacher included teaching in the Baltimore City and Kent County public schools before joining the faculty of Radcliffe Creek School, where he was an Orton-Gillingham teacher for 10 years. He retired from teaching to care for his parents, Robert McLain Hawkridge and Sally Middleton Hawkridge, who both predeceased him. During this time, he tutored and coached people with learning disabilities primarily through Washington College and Bowman Educational Services/LINKZ.

Hawkridge married Arlene F. Lee '82, his college sweetheart, in 1984 and again in 1999. He is survived by his wife and two sons, Ian McLain Hawkridge and Jennings Lee Hawkridge, and Ian's partner, Sarah Bradham; his sister, Sally Hawkridge, and nephew, Tim Beken; his godsons, Will Wood and Art Mason; and his many beloved Middleton and Hawkridge cousins.
During his time as a UPS delivery driver, Hawkridge marched in the 1997 Teamster's National Strike, an expression of a lifelong passion for economic, social, and racial justice. In recent years he became a founding member of the Social Action Committee for Racial Justice (SACRJ) in Kent County. He was a primary organizer of the SACRJ food delivery program during the COVID-19 pandemic, extending vital food aid to schoolchildren and seniors in need during the shutdown of regular services. He personally delivered food to the seniors in the Baywood community, whom he came to call his friends.
Hawkridge was deeply committed to family, community, young people, and equality for all. He loved chess, music, history, and books of all kinds. He was a dedicated member of Lani Parks' book club. Hawkridge started an afterschool Scholastic Chess Club with Michael Harvey that taught students in every Kent County school. He was devoted to his Library Chess Program every Wednesday afternoon and the Thursday Night Chestertown Chess Club. For years he played chess at the Tea Party Festival as Ben Franklin and served as a Tea Party Festival Committee member. He made many friends in his journeys throughout the county, including during his weekly trips to the Chestertown Farmers Market.
His fascination with music began as a child in the Holy Trinity Church choir and was evident every Thursday night during his Musicology Show on WKHS. He spent hours each week preparing to share his love for different artists and genres of music with his listeners. But he loved WKHS mostly for the opportunity to work with KHS students like "Johnny Rocker" and his fellow adult DJs. His most recent contribution to Kent County's music scene was his work as a board member for the Chestertown Jazz Festival.
The family requests that those who wish to express sympathy consider making a donation to the Social Action Committee for Racial Justice in Lain Hawkridge's name.
---
Patricia Owings Sinclair '74 worked as a retired French teacher in the Howard County Public Schools. She is survived by her husband Tim, daughter Shelly, and grandchildren Austin and Cali.
---
Jack Copeland '73 died in February 2020. A great lacrosse player, Jack was captain of the 1972 team. Read a tribute in his memory.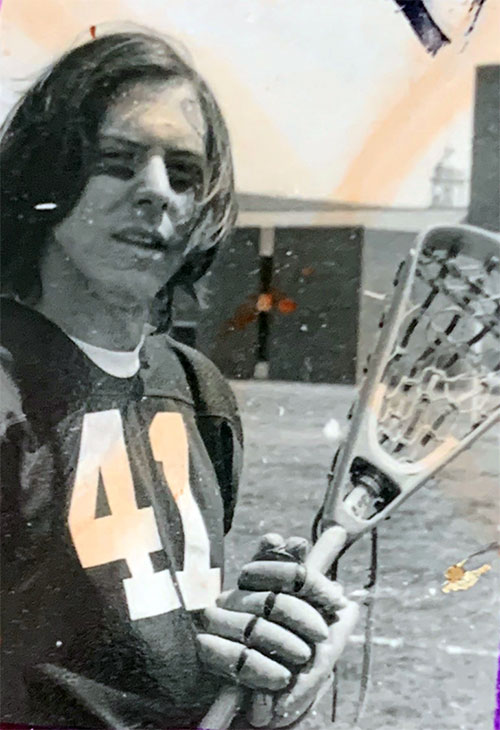 ---
Nancy Elizabeth Dailey Anderson '72
died suddenly at her home in Newport News Virginia on February 25, 2021. After raising her daughter, she received her master's degree in Special Education from the College of William and Mary in 1991 and taught high school in Yorktown (VA) for 26 years. She is survived by her husband, Daniel, a daughter, Jennifer, a step-son, Daniel, several grandchildren, and a brother, Tom.
---
Dr. John Alexander Conkling passed away in Austin, Texas on Saturday, December 18, 2021. He will be remembered not only as the world's leading expert on fireworks, but as a devoted husband, loving father and beloved grandfather.

A proud native of Baltimore, John was a 1961 graduate of Baltimore City College. He received his B.S. degree in 1965 from Washington College in Chestertown, Maryland, and in 1969 his Ph.D. in chemistry from Johns Hopkins University. Upon graduation from Hopkins, Dr. Conkling returned to Washington College as a chemistry professor, where he and his wife Sandra made Chestertown their home. During this time, he began consulting with Dr. Joseph McLain in energetic materials and pyrotechnics, which ultimately led to his storied career in the fireworks industry which spanned almost 50 years (with more than 40 trips to China).

Dr. Conkling is widely regarded as one of the world's foremost experts in pyrotechnics. He served as the Executive Director and Technical Director of the American Pyrotechnics Association for over 30 years, and was instrumental in drafting many of the nation's fireworks regulations. He holds 8 patents and conducted Pyrotechnic Seminars at Washington College for nearly 3 decades. He is the author of The Chemistry of Pyrotechnics: Basic Principles and Theory, and BOOM! America's Ever-Evolving Fireworks Industry.

A recipient of Washington College's Distinguished Teaching Award, Dr. Conkling retired from Washington College in 2012 and was awarded its Alumni Service Award in 2013 for his numerous contributions to the college. He and his wife were active in the Chestertown community supporting the college and local charities.

He is survived by his wife, Sandra, and their children – Melinda Conkling Hart and her husband Ed Hart of San Antonio, Texas, and John Conkling, Jr. and his wife Tavia Conkling of Austin, Texas. He is the beloved grandfather of John Maxey Hart, Edward Austin Hart, Julia Valliant Conkling, and John Alexander Conkling, III.

Nothing made "Poppy" happier than fishing with his close friends (the Fish Hawk Angling team), watching his grandchildren play sports, and enjoying the beautiful sunsets on the Chester River from his backyard surrounded by his family and many friends. His kindness, humor, generosity and keen intellect will be greatly missed.

Services will be held in Chestertown in the spring 2022. If desired, friends may make memorial contributions to Washington College or the Boy Scouts of America.
---
Richard James Carrington '67 of Accident, MD, passed away on Sunday, October 30, 2022, at the University of Maryland Medical Center, Baltimore, MD, where he spent his last days surrounded by his loving family.
---
Mortimer Vincent Lenane '60, passed away on May 26, 2022 in Columbia Maryland. Mort was a dedicated husband, father, grandfather, great grandfather, brother, uncle and friend to many. He was born in Baltimore Maryland and grew up in Harford County where he excelled as a three-sport athlete for the Bel Air Bobcats, earning a scholarship to Washington College. He gained All American honors in Baseball and Soccer and was inducted into the Washington College Hall of Fame and later graduated from the University of Baltimore Law School. Mort married his college sweetheart, Antonia (Toni) from Long Island NY and they settled in Maryland to raise their two sons, Brad (Denver Co) and Kevin (Sun Valley Id).
Mort had many interests, he traveled the world always immersing himself in the people and their cultures. He spent endless hours landscaping his beloved home on Amherst Ave. He loved Maryland seafood to the very end, especially Blue Crabs in the back yard. He volunteered for many years at the Maryland Special Olympics, loved his big and little dogs and believed in giving every one an equal chance.
Mort is survived by his wife and two sons, his brother Thomas "Pat" Lenane and sister Katherine "Kate" Smith of Street Md, two grandsons, Kyle and Brandon and granddaughters, Taylor and Kana, great granddaughter, Kaila and daughters in-law, Fran and Ann Lenane. A celebration of life will be held in his honor date TBD. In lieu of flowers, you can donate to the Alzheimer's Association or Maryland Special Olympics in Mort's name.
---
David Allen Sorflaten '60, age 88, paddled off into a final sunset peacefully on Oct. 9, 2020, from the shore of his home in Rock Hall with his life partner of 37 years, Pam Sine, by his side.
Born Jan. 23, 1932, in Sykesville, he was the son of the late Alvin Obert Sorflaten and Judith Vance Barton Sorflaten. He graduated from Sykesville High School and briefly studied voice at the Peabody Conservatory of Music before enlisting in the U.S. Navy during the Korean War. Sorflaten served from 1952 to 1956 as a Navy hospital corpsman and x-ray technician aboard the repair ship USS Amphion, AR-13, and later on the heavy cruiser USS Des Moines, the flagship of the Sixth Fleet, which operated in the Mediterranean region.
After his honorable discharge, he moved to Chestertown, where he attended Washington College under the G.I. Bill while working part time at Kent & Queen Anne's Hospital. After college graduation, Sorflaten married Anita M. Brown, raising three children together during their 19-year marriage.
From 1960 to 1972, Sorflaten worked for the Campbell Soup Company in Chestertown, where he was active in the First Methodist Church, Boy Scouts, and the Rock Hall Yacht Club, where he crewed for several years on the log canoe Mystery.
After returning to Carroll County in 1973, he worked for Telemechanique (later bought by the Square D Company) for 17 years. For several years during this time, he also wrote a weekly outdoor column for the Carroll County edition of the Hanover Sun.
In 1990, Sorflaten moved back to Rock Hall, on the Eastern Shore, where he was in sales for the Tri-State Electric Company for an additional five years. He enjoyed boating and fishing, and was an avid nature photographer. He was a member of the Rock Hall American Legion and an active volunteer with the Friends of Eastern Neck Island at the Eastern Neck Island National Wildlife Refuge.
---
Jane Rayner Massey '59 passed away on February 2, 2023, at the age of 85.
---
Bob Tyson '59 died October 4, 2022. He is survived by his wife Helen Hull Tyson '57.
---
Beatrice Clarke Griffith '58 passed away on February 8, 2022.
---
Marguerite May Kimbles '56 of Chestertown, MD died on October 1, 2021. She was 87.
She was born in Queen Anne's County near Church Hill on May 16, 1934, the daughter of the late John Seney and Eva Anderson Kimbles. She was a 1952 graduate of Centreville High School and in 1956 she earned her Bachelor of Arts degree in English from Washington College.
Ms. Kimbles worked as a teacher for 11 years with Stevensville Jr. High and Church Hill Elementary School until 1970. She lived the majority of her life in the Church Hill and Price area. Ms. Kimbles was active with her alumni class at Washington College and enjoyed her biannual luncheons with the "Girls of '52" graduating class of Centreville High.
She was a member of Washington College Alpha Chi Omega Sorority, Delta Kappa Gamma Society International, a former member of the National Teachers Association and the Maryland Teachers Association, and was also a member of the Price-Bethany United Methodist Church.
---
Anne Matthews Childress '60, a former News American editor and freelance writer, died Sept. 23 from heart failure. She was 81. Childress graduated summa cum laude with a bachelor's degree in English. Because her grades were the highest ever recorded by the College, she was the first recipient of the George Washington Medal, created to recognize this academic achievement. She also received the Alumni Medal, B. Fox Medal, and a medal from the College's Board of Visitors and Governors. She began her career in journalism as a $40-a-week "copy girl" working for the News American and eventually became a reporter; a feature writer in the paper's Sunday Department; and a second-string music, film, and drama critic.
In 1964, Childress was named film critic and columnist, and later became editor of the Sunday entertainment section and women's page editor. In 1974, she left the newspaper and became a freelance writer and consultant whose major clients included the U.S. Treasury Department and Health Care Financing Administration.
---
Eleanor "Anna" May Sewell DeVaux Briggs '59 passed away on September 5, 2021. She is survived by her husband Arthur Briggs.
---
Bill Litsinger '58 died peacefully in his sleep April 13, 2022.
---
Kathleen J. Brackett White '58 M'80 passed from this world on July 20, 2022 at her home in Queenstown MD.
---
Joseph Keller '56,
passed away peacefully January 2, 2022.
---
Joan Vanik Grim '56 died Dec. 18, 2020, in Berlin, Maryland, as reported by Joshua Carey '57.
---
Janet Middleton Macera '56, who earned dual degrees in sociology and psychology, passed away at her home in Waterville, Ohio, on April 16, 2020. She was 86. She was married to Sam '57 and the mother of Andy '83. She was very active in community theater, where she served as secretary-treasurer for 19 years, and was a skillful bridge and pinochle player and avid bowler for 40 years. Sam and Janet were married for 63 years.
---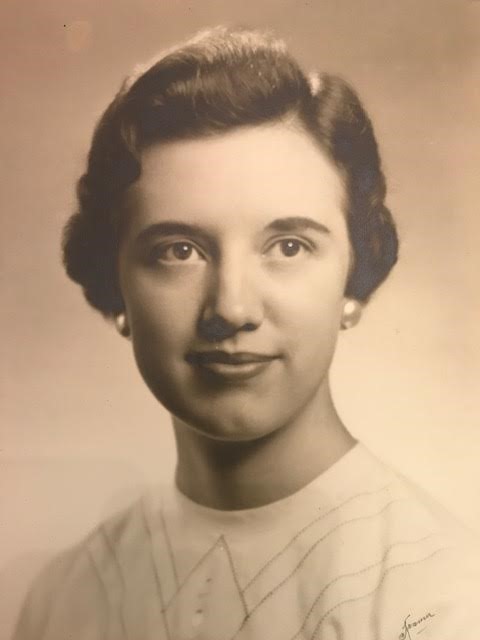 Saylee May Urig Kerr '54 died peacefully May 24, 2020, surrounded by family. She was born Sept. 4, 1932, in Baltimore, the daughter of Saylee Engel Urig and Joseph Logan Urig. She attended Amherst Central High School in Buffalo, New York, and at Washington College studied English, was president of AOPi sorority, and made lifelong friends.
Her daughter, Mary Lee Kerr, said in a note: "My mother's years at Washington College were some of the best of her life. She loved her AOPi sorority and enjoyed her excellent professors. She spoke of her college years fondly until her death. One of her best friends was Sigi Whaley '54, who still lives in Chestertown and volunteers at the College."
After working for Hutzler's Department Store and the Noxema company, she worked in the placement office at Johns Hopkins University in Baltimore. There, she met Robert Kerr, whom she married in 1959. They lived in New Jersey, California, and Alabama before settling in Durham, North Carolina, where they lived for 55 years.
When Kerr moved to Durham, she joined the Duke Campus Club and was a founding member of the Eno River Unitarian Universalist Fellowship. In spite of having multiple sclerosis most of her adult life, she cheerfully and tirelessly cared for her family, her home, her beloved cats, and her garden. She was a devoted and caring daughter, wife, mother, and friend.
Kerr is survived by her husband, Robert Kerr; her daughter Mary Lee Kerr; son-in-law Timothy Bralower; and grandchildren Alex and Kate Bralower.
---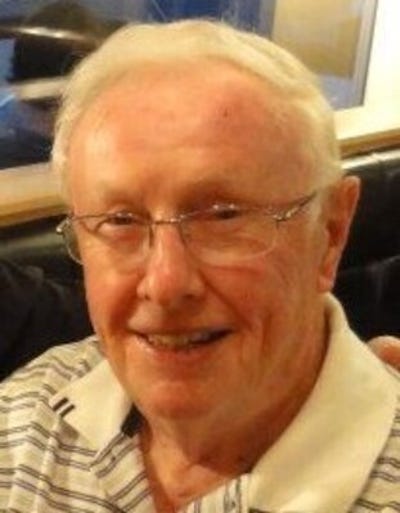 Thomas "Tom" Lowe Bounds '55, 88, of Timonium, MD, passed away peacefully at home due to heart failure on January 4, 2022. Tom was unfailingly kind to all, had a wonderful sense of humor, and was well-liked by everyone. Tom grew up in Mardela Springs, MD, and graduated in a class of 12 from Mardela High School. He graduated from Washington College in 1955, where he met Sue, his wife of 66 years. Tom was drafted into the Army in 1957 and stationed in Frankfurt, Germany, where his official duties included traveling around Germany and Europe playing third base for the 8th Armored Division baseball team. After the Army, he moved back to Maryland's Eastern Shore and lived in Salisbury, MD where he managed the Farmers Bank of Mardela Springs for more than 20 years. He loved to travel and instilled that love in his children and grandchildren. Tom was fortunate enough to see most of the U.S. and many beautiful places in Europe, including his favorite, Switzerland's Bernese Oberland, where he celebrated his 50th wedding anniversary surrounded by family. Tom loved baseball and coached Little League teams in Salisbury for many years. He also enjoyed watching baseball, soccer, and other sports on TV.
Tom's intellect, inquisitiveness, and memory made him a master of geography, trivia, and statistics, and he could beat most people at Jeopardy. He was a member of the Freemasons for over 50 years. He is survived by his devoted wife Dorothy "Sue" Reichlin Bounds, his children Kathleen Bounds Smith of Timonium, MD, William (and Diana) Bounds, of Pasadena, MD, and 3 grandchildren Andrew Warren Smith, Rebecca Ann Smith, and Arianna Sienna Bounds.
---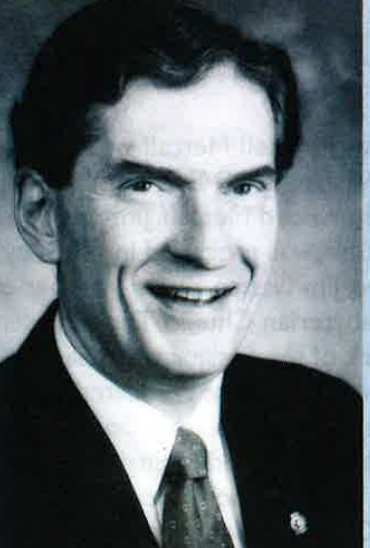 James Metcalf '53, passed away on April 19, 2019. He was 86. While at Washington College, he graduated with a degree in biology and minors in English and chemistry. He was a member of the Vernon Literary Society, earned a Mary Lu Chamberlain medal, and was a member of the Science Club. He was also active in the Washington Players, on the staff of the Pegasus, and leader of the band "The Washingtonians." After graduation, Metcalf served in the U.S. Army, and then was a stock broker and financial planner. He and his wife of 50 years, Colette, retired to the Eastern Shore to enjoy life by the water.
---
James R. Wright '48 of Silver Spring, Maryland, passed away on February 21, 2022.

Born July 7, 1922 in Shawsville, Maryland, he was the son of the late James G. and Rose A. Wright, both lifelong residents of Harford County, Maryland.

Surviving are his sons James A. Wright (Patricia) and Ronald K. Wright (Susan); grandchildren Nicholas R. Wright, Nolan C. Wright, Rebecca Zulema Wright, and Gina Valdes; brother Kenneth R. Wright and a number of nieces, nephews and their families. He was predeceased by his beloved wife, Blanca Guerrero Wright.

He attended public schools in Harford County, Maryland. His undergraduate years at Salisbury Teachers College (now Salisbury University) were interrupted by World War II when he enlisted in the U.S. Army (1942). He served as a commissioned officer in Tank Destroyers and in the Infantry in the European Theatre of Operations in the Second Infantry Division. He was a Purple Heart Veteran, and wounded in the Battle of the Bulge.

Following his discharge from the Army in 1946, he again became a full time student. He earned degrees from Salisbury (B.S. Ed), Washington College (B.S.) and the University of Delaware (M.S. and PhD). His major academic field was organic chemistry. Subsequently, he completed the Harvard Business School Program for Management Development and was a graduate of the Federal Executive Institute.

He was married to Blanca Zulema Guererro of San Marcos, Texas in 1950.

In his professional career, he first spent eight years as a research chemist in the laboratories of Standard Oil Company of California (now Chevron). Following that, he accepted a position with the Department of Commerce, National Bureau of Standards (now NIST) in Washington, D.C. first as a senior research chemist and subsequently, as a manager of research programs. His final position in NBS was that of Deputy Director of the National Engineering Laboratory. He retired in 1985.

He was a Charter Member of the US Senior Executive Service, an Emeritus Member of the American Chemical Society, a Fellow in the American Institute of Chemists, an Honorary Member and past President of the International Union of Laboratories for Research on Materials and Structures (Secretariat, Paris, France) and a Member of the Loyal Order of Kappa Alpha Fraternity. He was awarded the Department of Commerce Gold Medal for "Distinguished Achievement in The Federal Service"

Power boating on the Chesapeake Bay with family and friends, travel throughout the USA and many foreign countries, the Antique Car Hobby (Buicks) and family genealogy were all activities he pursued over the years.

He was a Charter Member of Saint Mark Presbyterian Church in North Bethesda, Maryland where he served in various capacities for more than 50 years.
---
Betty Ann Lussier '43, of Rock Hall, passed away on Nov. 30, 2017, at her home. She was 95.

Lussier was born Dec. 20, 1921, in Alberta, Canada. Her family moved to the United States when she was 4. Her father had been a flying ace for the Royal Air Force in World War I, and after the war, he became a farmer. Lussier grew up in Rock Hall and Chestertown, and briefly attended Washington College. She transferred to the University of Maryland to study journalism but was anxious to join the war effort. She hopped a freighter to England in 1942, where she joined the British Air Transport Authority as a pilot.
After a year, she joined the Office of Strategic Services (OSS), precursor to the Central Intelligence Agency, and served there as a counter-spy until the end of the war. She recounted her wartime experiences in a book she wrote five years before her death, "Intrepid Woman." Lussier married Ricardo Sicre, a captain in the U.S. Army, in England at the end of World War II (1945). At the time, they were both assigned to the OSS in Europe, where they met.
After the war, Lussier moved to Spain and started a family with her husband, who had founded an import-export business with some wartime friends. However, she grew restless as a housewife, and after the birth of her fourth and last son, she moved to Morocco, where she started a corn farm and championed workers' rights. Her activities got her expelled from the country. She recounted these experiences in her book "One Woman Farm."
As her children grew older, she moved to Switzerland, where they were studying. Concurrently she finished her B.A. degree at the University of Maryland. When her sons moved to the states for their college studies, she moved with them to New York and got a master's degree in social work from Columbia University. Upon graduation, she separated from her husband and became a social worker in the New York area, alternating with similar work in Africa for the United Nations and for Christian charity organizations. She also worked for AID in Senegal and in Morocco, where she spent three years teaching single and divorced women how to make a living and lead independent lives.
Lussier divorced in 1975, but she and her husband remained best friends; neither ever remarried. Sicre died in 1993.
After retirement, Lussier lived in Staten Island, New York, for a number of years before settling in Pacific Palisades, California. She spent most of her later years there, active in community affairs and busy writing her wartime memoirs. She was a frequent visitor to Rock Hall, where her older sister, Jane Strong, lived, and moved there in 2015 after developing Alzheimer's disease. She was cared for by her niece Joan and her two daughters, Rosalind and Holly.

Lussier was predeceased by her eldest son, Ricardo Sicre, in 2011. She is survived by three sons: Emile Sicre, of Mallorca, Spain; Jay Sicre, of Madrid, Spain; and Penn Sicre, of Santa Monica, California. She had nine grandchildren and seven great grandchildren.
---
Dr. Frederick William Shillinger '43
passed away on January 31, 2022 at his residence in Charlottesville, VA. He was a lifelong member of the Catholic Church. He attended Washington College for two years at the age of 16 before being selected for the U.S. Navy's V-12 College Training Program because the war had accelerated the need for physicians. After serving in the U.S. Navy, he specialized in pathology, and later returned to government service working as Chief of Pathology at Bath, NY, and Martinsburg, WV. He is survived by his children, grandchildren, and great-grandchildren.
---
Virginia Nock Hague '41 of Millington, MD, died at her home on February 5, 2023. She was 102. Read her obituary.
---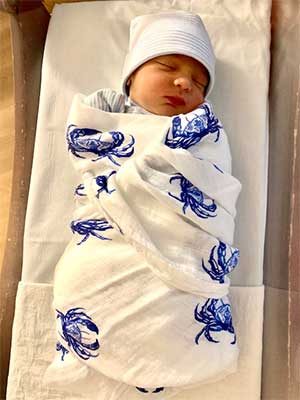 Lindsay Haislip Mehta '13 and her family are happy to announce the birth of their baby boy Cameron Alexander Mehta on October 12, 2021.
---
Darren Colananni '07 and his wife, Kristen, welcomed their baby girl, Alice "Ali" Colananni, to the world on March 12, 2021. Darren was also named to the board of Chance for Life, a nonprofit charity that raises money for pediatric cancer research.
---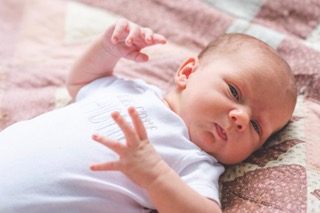 Jeanne (Clark) '07 and Travis McCormack M'05 are happy to announce the birth of their son James Sutton. Born July 29, 2020, in Rockville, Maryland, James joins his 2-year-old brother, Patrick.
---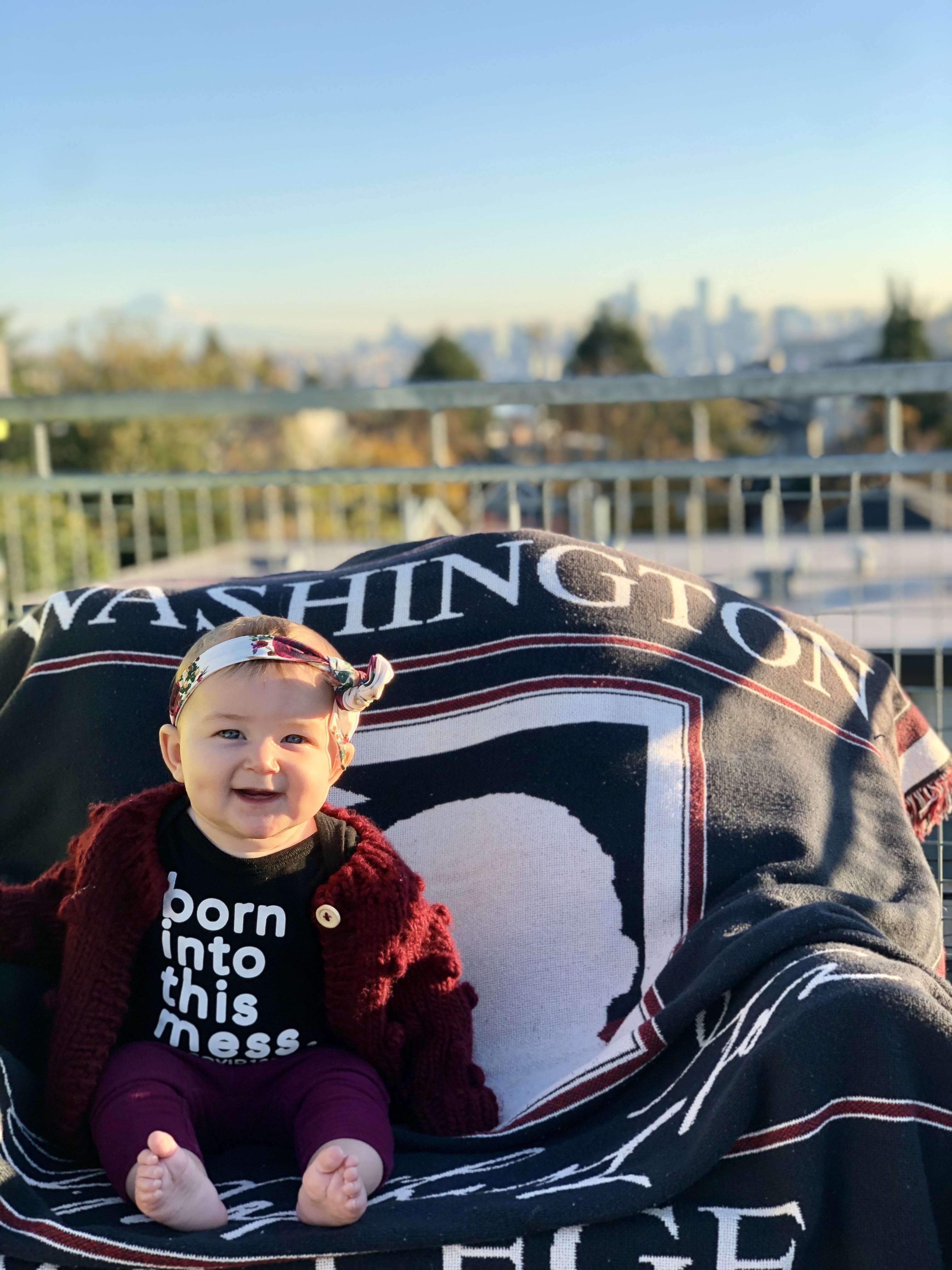 Nick Faherty '04 announces the birth of daughter Hazel Sunflower "Sunnie" Faherty, born April 3, 2020. Faherty and his wife, Bridget, moved from the East Coast three years ago to Seattle, where he is currently a global business director at Xenon Arc Inc.
---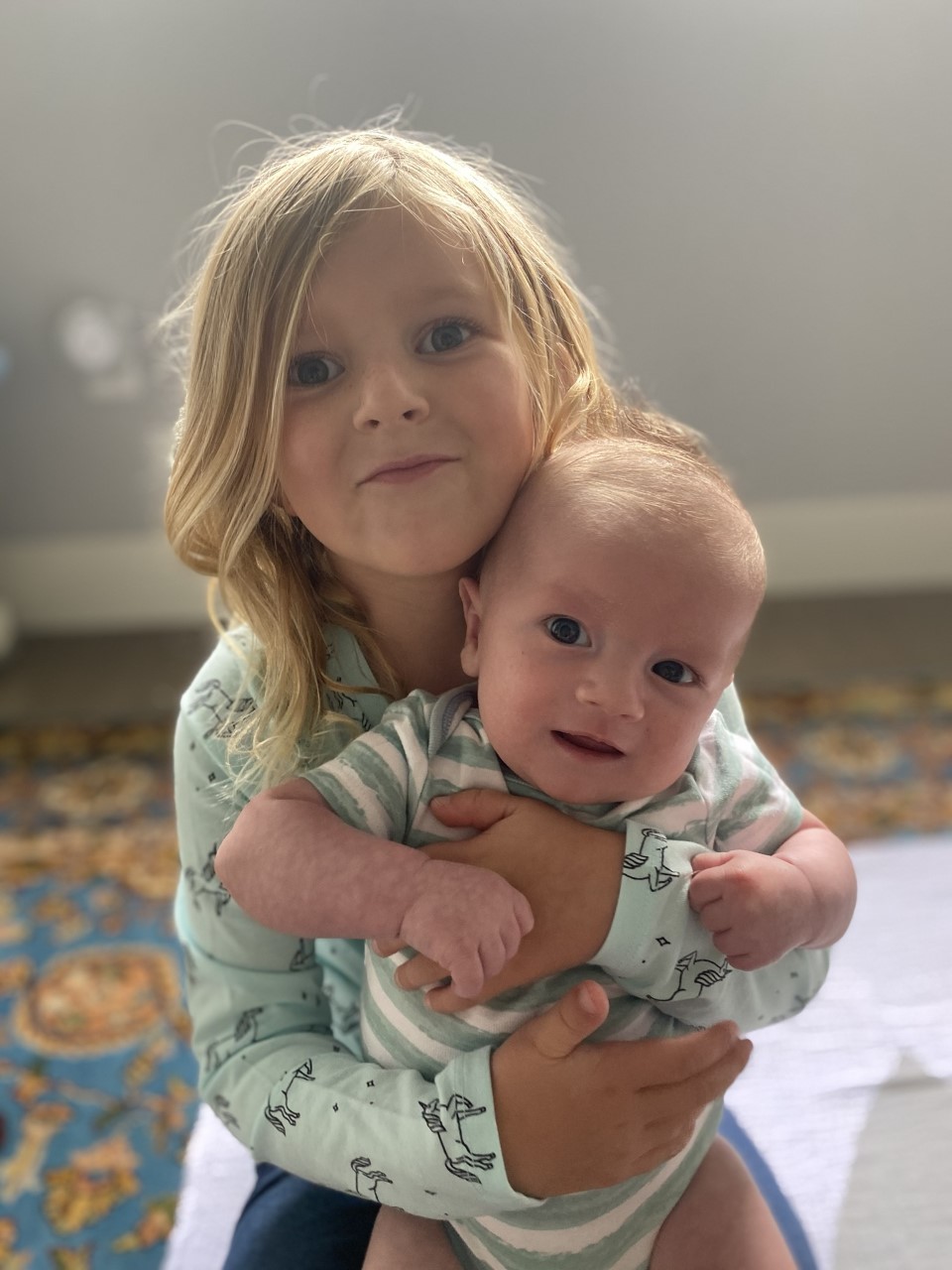 Jonathan '04 and Amy Lange '04 are happy to announce the birth of their son, Hudson Charles Lange. Hudson was born July 25, 2020, and welcomed with open arms by his big sister, Henley.
---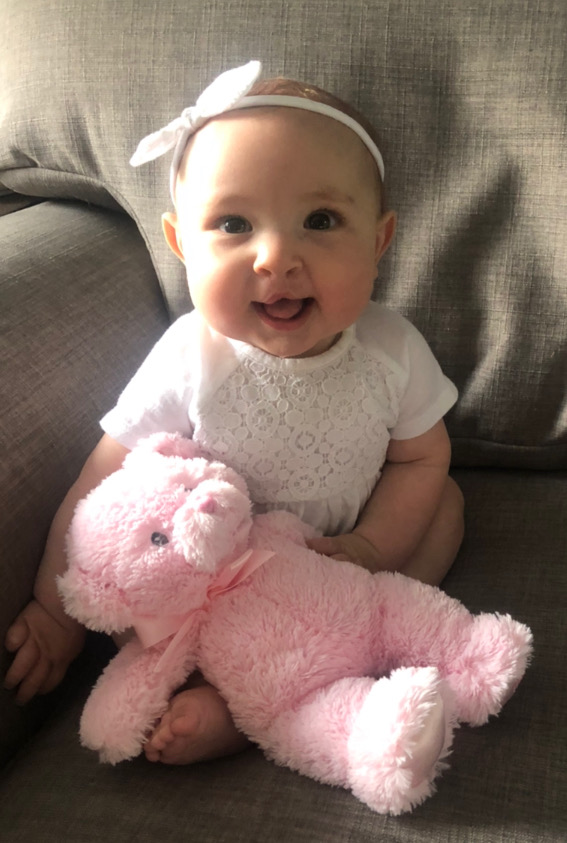 Greg Ordile '04 and his wife, Kathleen, welcomed Annaliese Barbara on Dec. 6, 2019.
---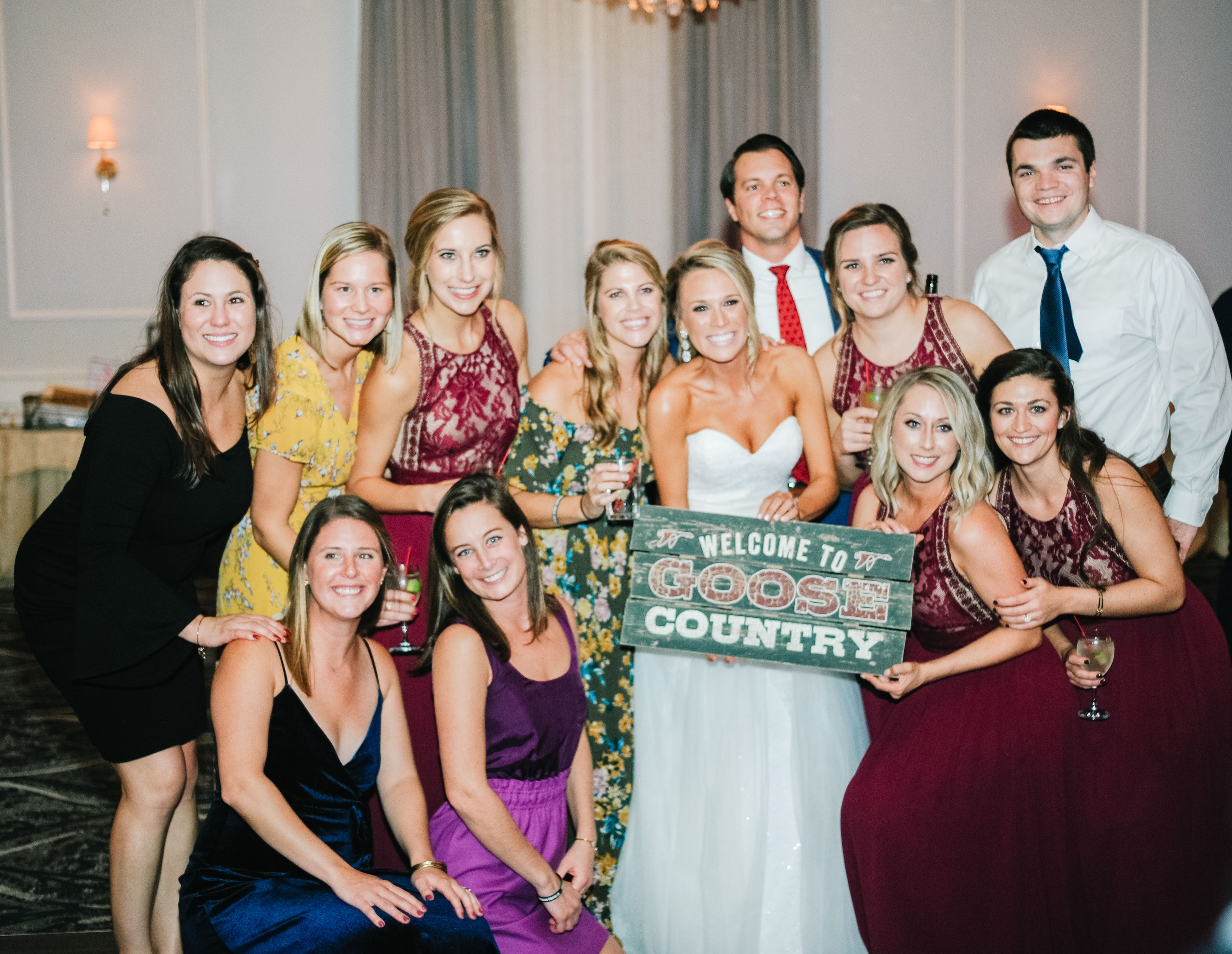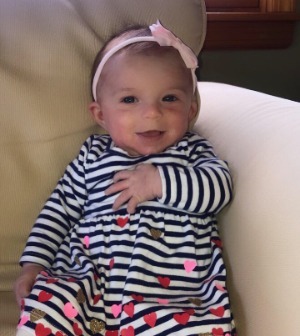 Mollie (Shipley) Smith '13 married Garrett Smith on Oct. 27, 2018, with her Washington College women's lacrosse teammates attending and participating in the wedding. The couple welcomed a baby girl, Collins Frances Smith, on Oct. 21, 2019.