Oct. 2, 2021
Five alums were welcomed into the Washington College Athletics Hall of Fame during the 40th Annual Induction Ceremony.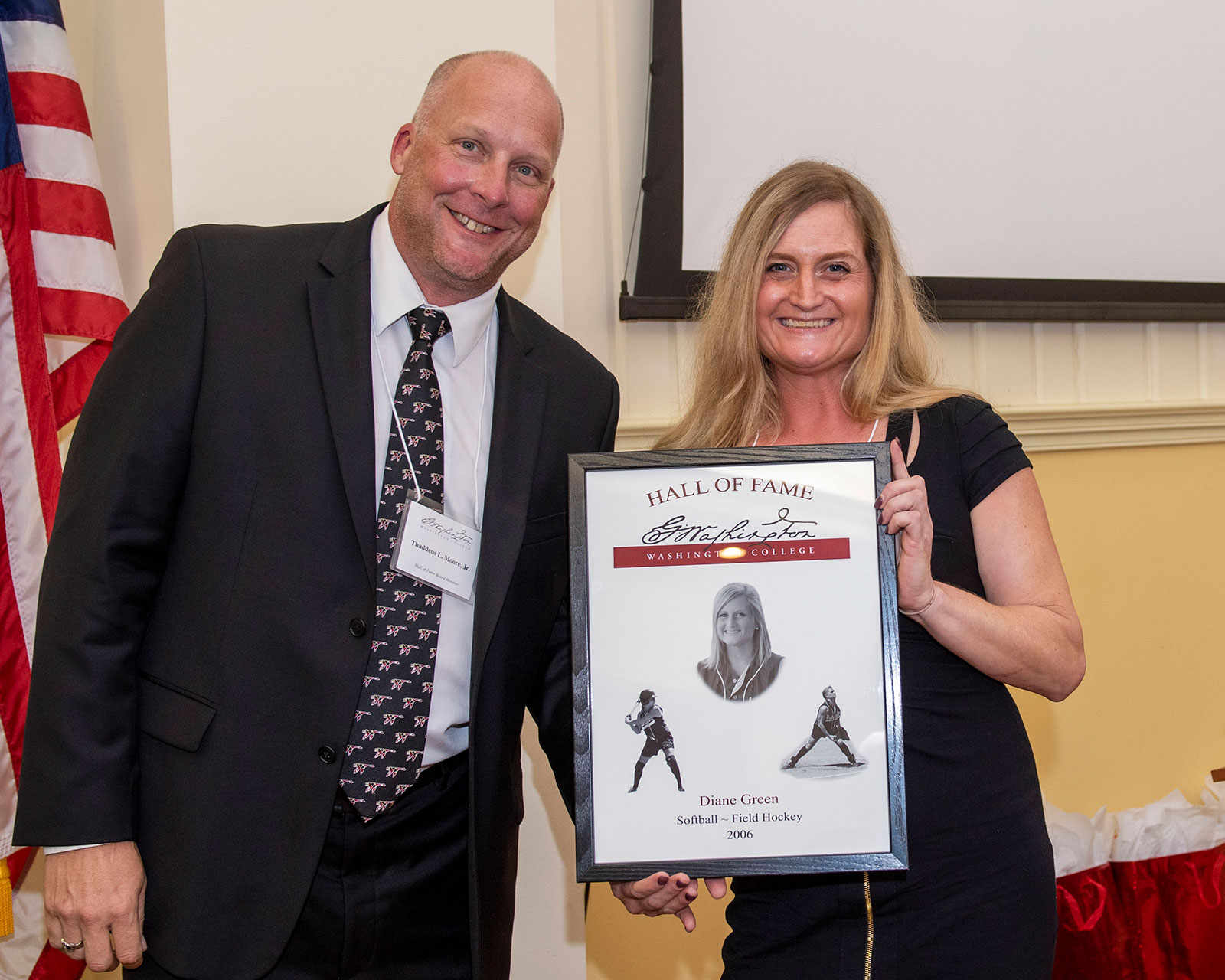 Diane Green '06 - Softball/Field Hockey
Green, who ranks among the top 10 in many hitting and pitching categories, enjoyed a career .379 batting average and had a 2.67 ERA on the mound. In 2005, she led the Shorewomen to their first Centennial Conference Tournament berth. Green was a 2004 & 2005 All-Centennial Conference first team pick and earned 2004 All-Region second team honors. A three-time Team Most Valuable Player, she received the 2006 Senior Athletic Award. Green still holds the career record with 46 complete games and hit .474 in 2004, the second-highest season mark in program history. Green slugged .784 in 2004 (still a single-season record) and hit a then-record seven home runs in 2004. She also played field hockey as a sophomore and junior.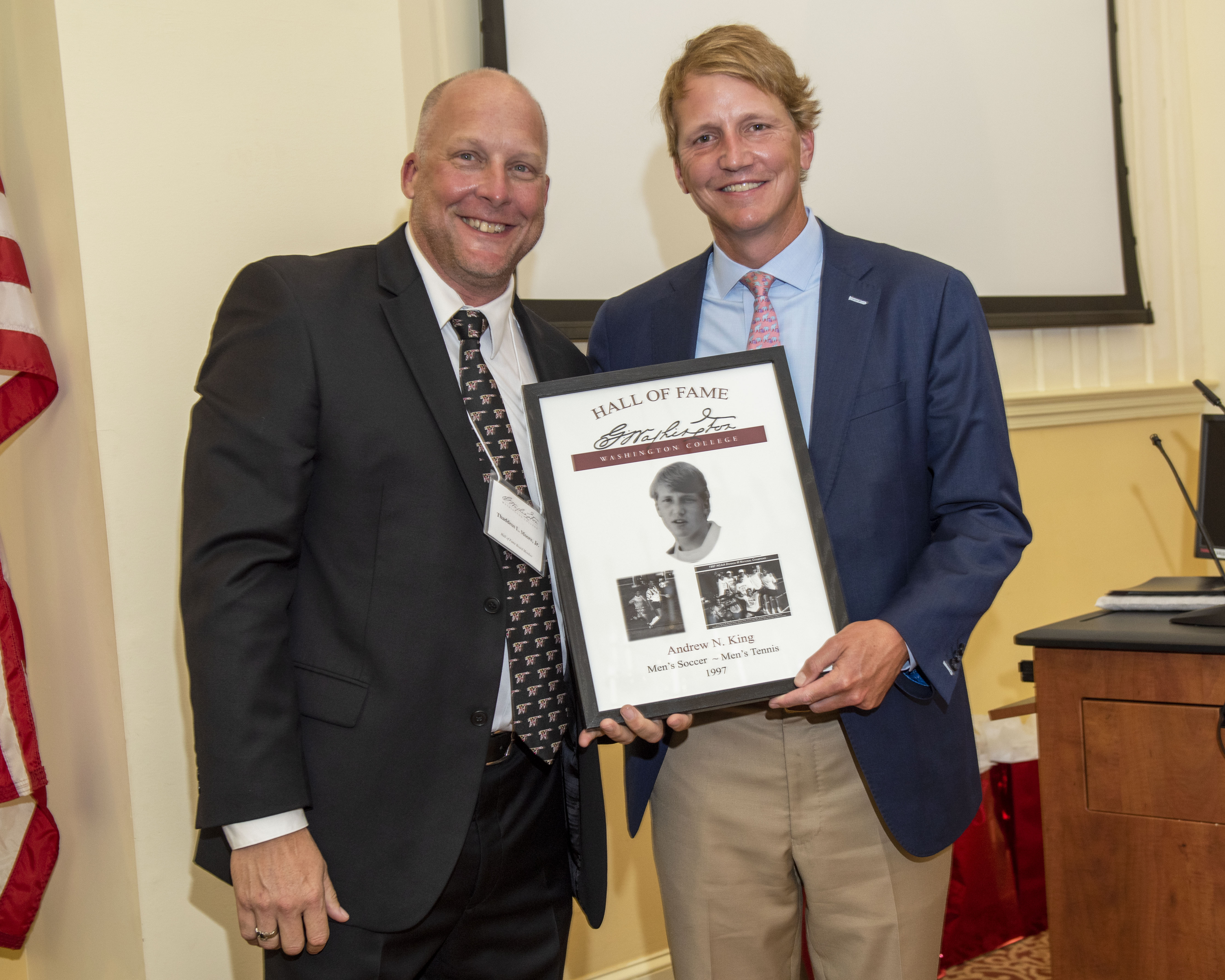 Andrew King '97 - Men's Tennis/Soccer
King is one of the top two-sport athletes in the history of the athletic program. He played for two NCAA Division III National Championship teams in men's tennis (1994 & 1997) and helped lead the Shoremen to four Centennial Conference championships (1994-1997). In 1995, King qualified for the NCAA Division III Doubles Championship and captured the Centennial Conference doubles championship in 1996. King also was a two-time All-Centennial Conference singles pick (1996, 1997) and a 1997 All-Centennial Conference doubles selection. He finished his outstanding career with a record of 47-9 in singles and was 39-13 in doubles. The squad went 72-9 during his career. King led the men's soccer team in scoring three straight years (1994-96) and finished with 26 career goals and 22 assists. He was a two-time All-Centennial Conference pick and helped lead the Shoremen to a record of 38-29-10 during his tenure.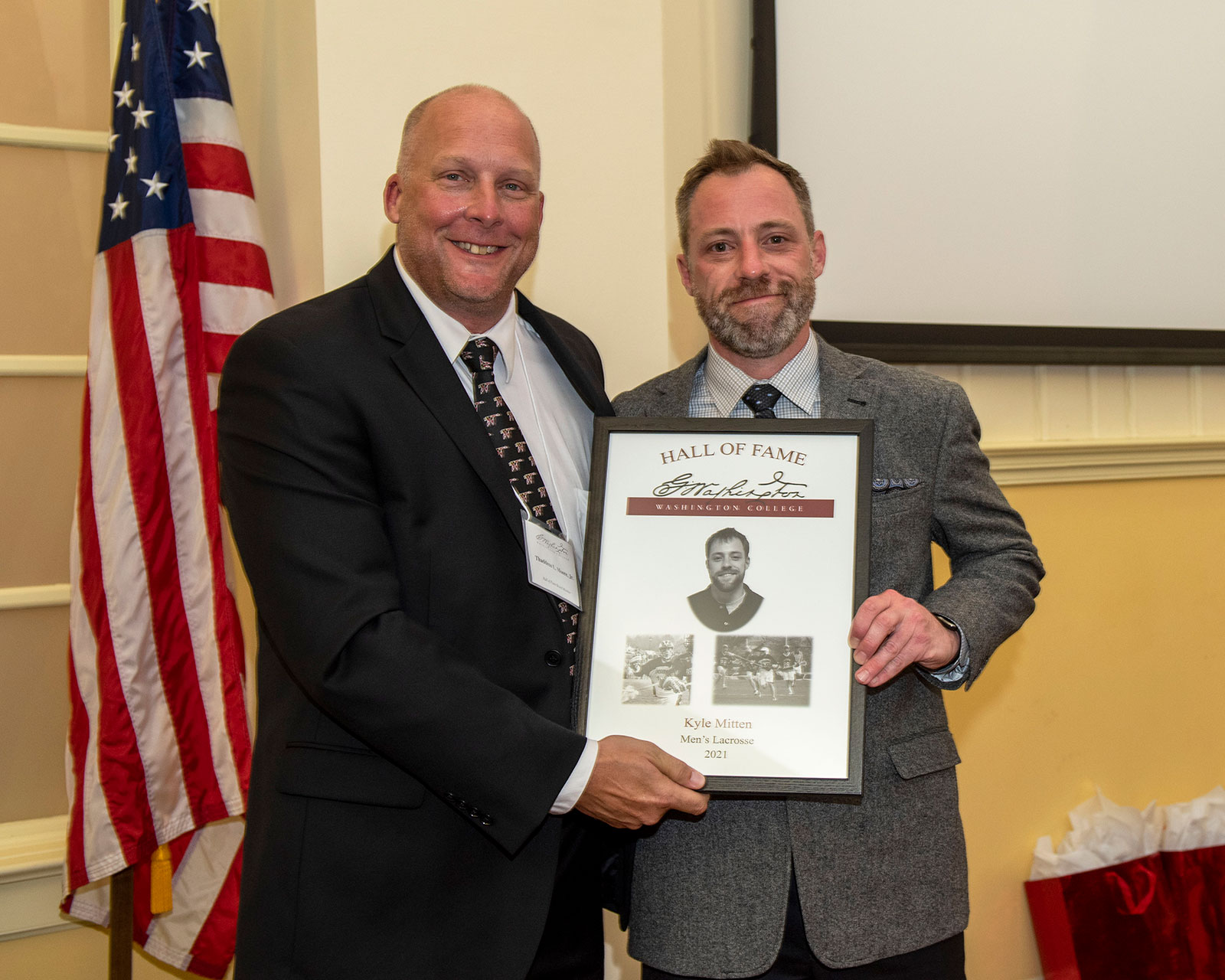 Kyle Mitten '21 - Men's Lacrosse
Mitten made a major impact as a dominant long-stick midfielder and defenseman after transferring to Washington College prior to his sophomore season. He led the Shoremen to a NCAA Division III Tournament appearance in 2003 after the squad captured the Centennial Conference Championship. The following season, the Shoremen advanced all the way to the semifinals in the NCAA Division III Tournament after the team finished with an 18-3 mark. The team went 10-5 and advanced to the Centennial Conference Finals in 2005. Individually, Mitten was a 2004 All-American first team pick in 2004 and earned second team accolades in 2003 and 2005. He was a Centennial Conference first team pick all three years as well as an ECAC South All-Star. Mitten was selected to compete in the prestigious 2005 North-South Senior All-Star game and earned the athletic department's Senior Athletic Award. He finished with 101 ground balls during his career and led the team to a combined record of 40-12.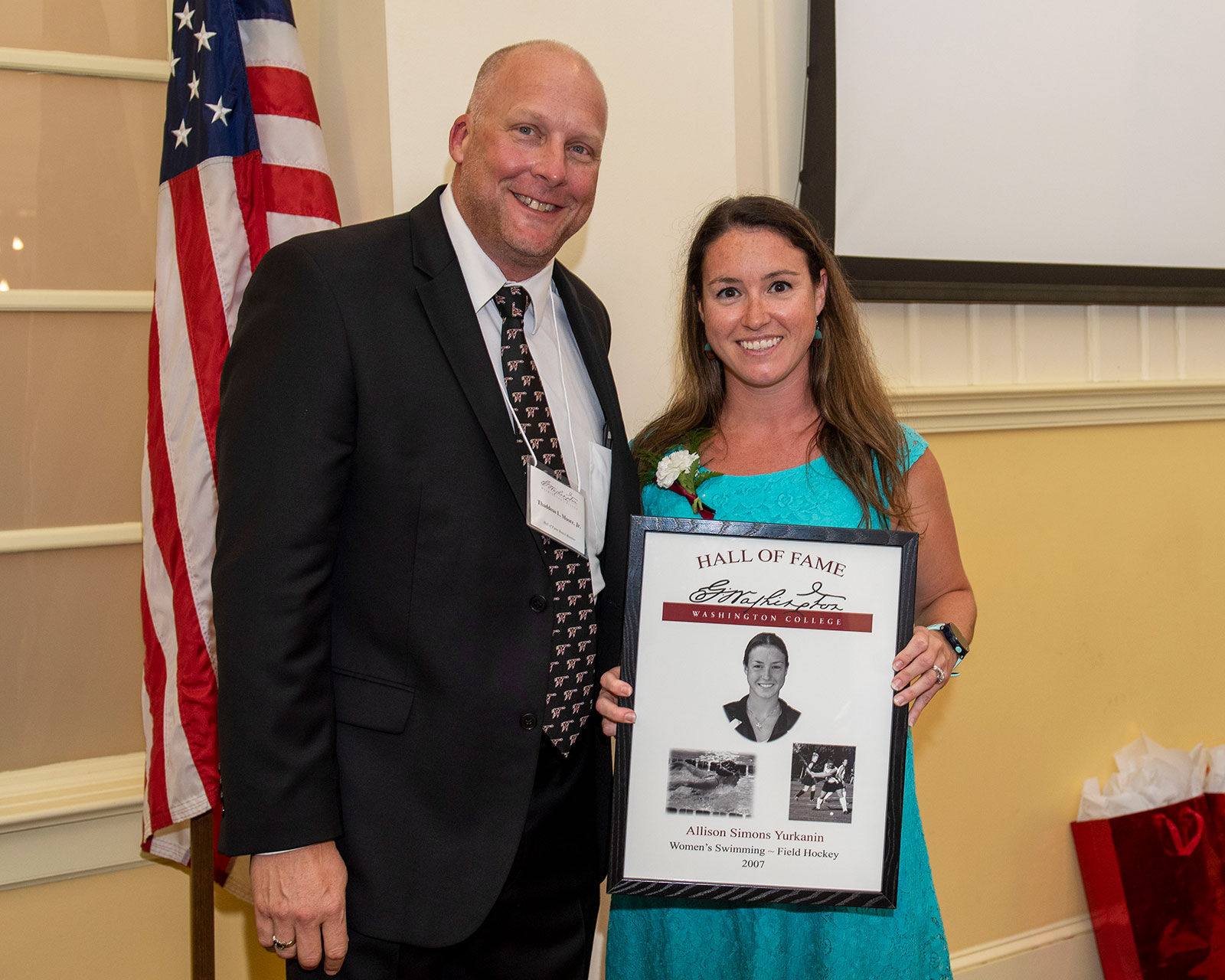 Allison Simons Yurkanin '07 - Women's Swimming/Field Hockey
Simons-Yurkanin, a two-time Scholar All-American (2004 & 2005), enjoyed a tremendous four-year career in the pool and was a solid field hockey player. In total, the team-captain amassed nine individual Centennial Conference Championship medals and took home seven medals in the relays. Simons made an instant impact as a freshman in 2004, earning All-America accolades in the 200 butterfly and honorable mention honors in the 100 butterfly. Simons, a two-time NCAA Division III Championships qualifier (2004 & 2005), was the Centennial Conference champion in the 100 butterfly, 200 butterfly and the 200 individual medley in her initial campaign. The following season, she struck gold at the 2005 Centennial Conference Championships in the 100 butterfly, 200 butterfly and 200 individual medley and was a member of the 200 medley relay squad that took first-place. Simons, who helped lead the team to a 33-14 record, still holds the school record in the 400 individual medley and held school marks in the 200 individual medley and 200 butterfly at the time of her graduation. The 2007 Senior Athletic Award winner made 69 career appearances in field hockey and finished with eight career goals and added 11 assists.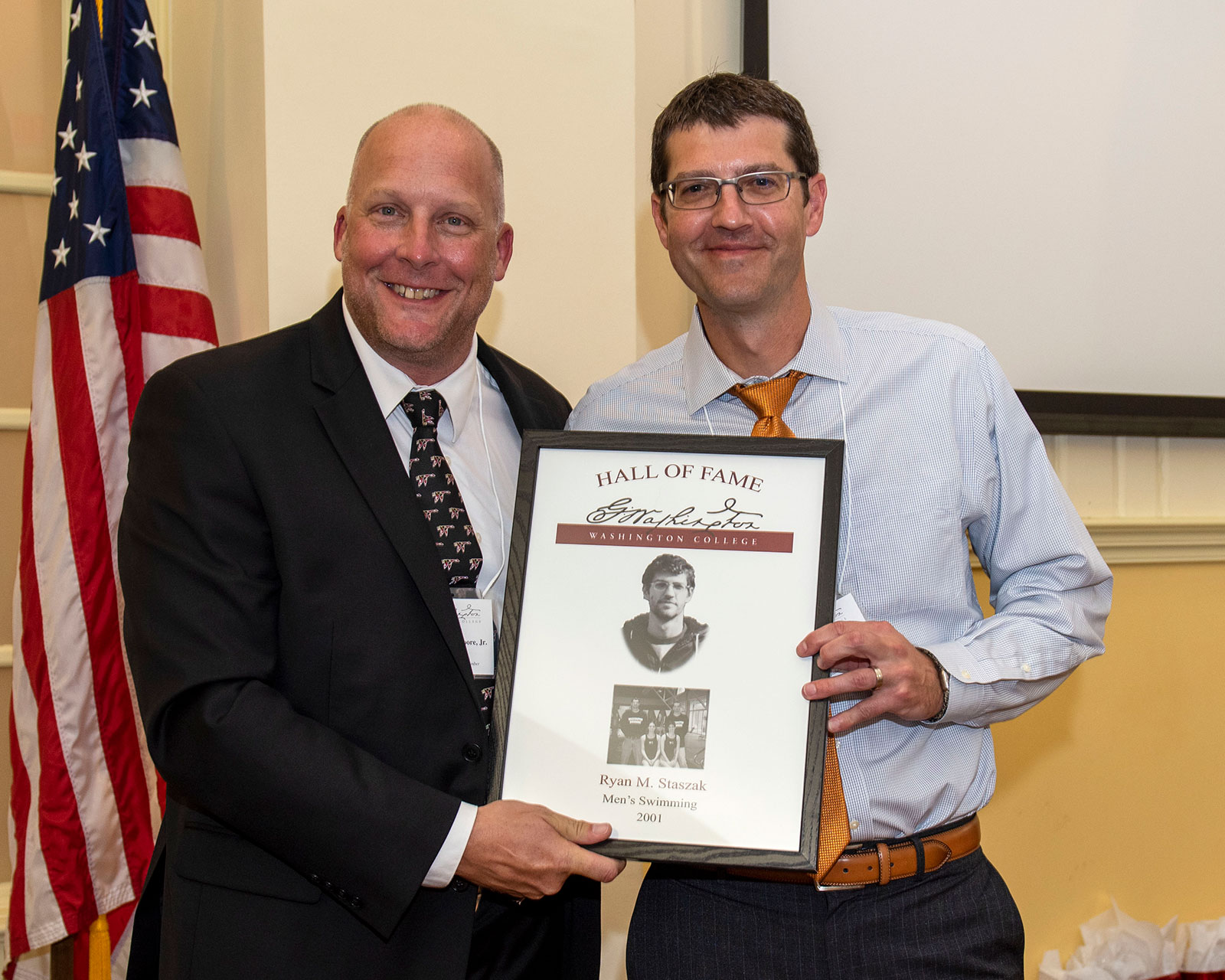 Ryan Staszak '01 - Men's Swimming
Staszak, who was the 2001 Eldridge Eliason Award honoree, was a 16-time Centennial Conference Championship medalist. The team-captain led the Shoremen to a team dual meet record of 27-14-1 during his tenure. Staszak was a 2001 NCAA Division III Championship participant in the 50 freestyle, 100 freestyle and 100 butterfly. A three-time individual Centennial Conference champion (50 freestyle, twice, 100 freestyle), he was also a member of two gold medal winning relay squads (400 medley, 200 freestyle relay). In addition, Staszak grabbed six silver medals (two individual, four relays) and five bronze medals (one individual, four relays). His school records in three relay events stood for many years and he currently ranks fourth in the 50 freestyle (21.21).
Since inductions began in 1981, the Washington College Athletic Hall of Fame serves to preserve the College's sport history, to honor excellence within the game, and to make a connection between the generations of people who cheer on our student athletes.