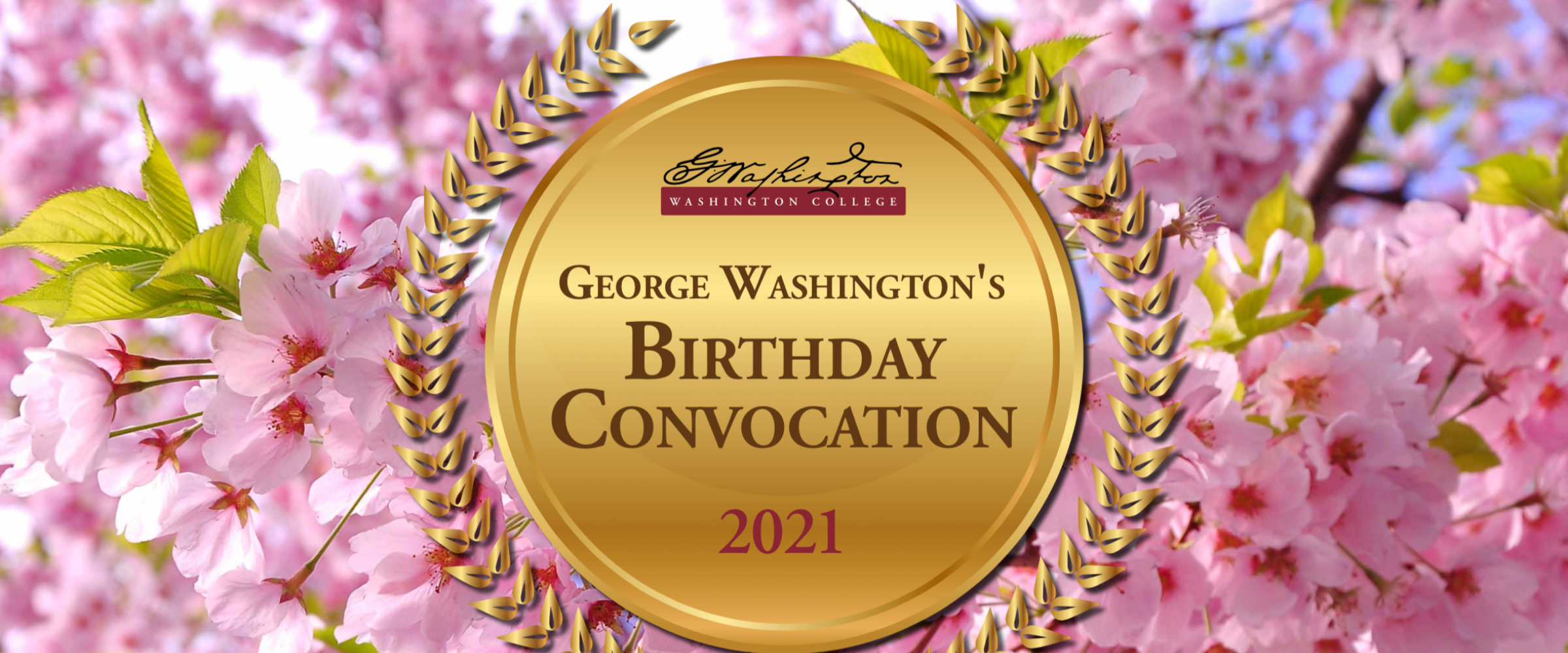 People & DepartmentsOfficesPresident

Service and Celebration
Service and Celebration
Throughout the week of February 22, Washington College celebrates the faculty, staff, students, alumni, and community members who represent the ideals of service and dedication to the greater good.
Welcome
Stephen T. Golding '72, Chair of the Board of Visitors and Governors
On behalf of the Washington College Board of Visitors and Governors, it is my honor to offer both greetings to the entire community, and congratulations to all of our Convocation honorees. By definition, a convocation is a large, formal gathering of people, in order to take part in a special purpose. While we are foregoing the large, formal gathering this year, this time-honored celebration certainly still fulfills a special purpose. It is through this event that we share in the energy, excitement and possibilities that arrive with the start of the new semester. In the face of ongoing adversity, this new beginning is a beacon of hope and evidence of your resilience. And celebrating the outstanding service of those in our midst reminds us that big, important things are still being accomplished, every single day. I applaud each and every one of you for your contributions and your service to this wonderful institution.
This award recognizes achievements in the use of new instructional technologies, the use of traditional technologies in creative ways, novel approaches to instruction, and new ways to engage students in the learning process. As such, the award seeks to reward instructors who have a particularly powerful positive impact on student learning, student readiness, and student retention.
Alisha Knight
Associate Professor of English and American Studies
Dr. Knight specializes in African American literature and print culture at the turn of the twentieth century. Her teaching and scholarship favors interdisciplinarity, as she aims to expand the canon with lesser known authors and bring new perspectives to well-known ones. She recently co-edited a scholarly edition of Pauline Hopkins's novel, Hagar's Daughter, for Broadview Press, and ​she is currently researching the early twentieth-century African American book trade. ​She is the 2020 recipient of the Alumni Association's Distinguished Teaching Award ​and the 2020 Cromwell Award for Innovation in Teaching.
"I am elated to receive the Cromwell Award for Innovation in Teaching.  It is an honor to earn this recognition from Professor Kitty Maynard and colleagues who are fine teacher-scholars in their own right. "
Meet Alisha Knight
This award recognizes exceptional performance, leadership and service by an employee of Washington College. Recipients have a record of exemplary performance and distinctive contributions to the operation of an administrative, academic, research or service unit on campus. They have clearly demonstrated initiative toward the improvement of the College's programs or campus activities and have shown commitment to the campus community as a whole.
Lisa M. Marx, CRNP
Director of Health Services
Trauma care. Infectious disease control. Charge nurse. Clinical instructor. Nurse practitioner. Team leader. Lisa Marx brought an array of skills and talents to her post at Washington College. After earning an associate's degree in nursing from Wor-Wic Community College, Lisa pursued her bachelor's and master's degrees in nursing from Wilmington College, where she was an honors graduate. She gained experience in emergency medicine as an air flight nurse and at regional hospitals on the Eastern Shore—experience she then shared with nursing students as a clinical instructor at Salisbury State University and Peninsula Regional Medical Center. Lisa began working part-time at Washington College in February 2011, while still working at the local emergency department at University of Maryland Shore Medical Center in Chestertown. A year later, she was named Director of Health Services and set out to build a team of medical and mental health care clinicians to better address the needs of Washington College students. Over the past decade, Lisa has distinguished herself as a medical practitioner of exceptional skill. During the pandemic, her expertise and her guidance have been invaluable.
"I'm humbled to share this award with my team and honored  to collaborate with such dedicated staff. Moreover, I'm grateful that my family has picked up my slack and shared me so I can do my job here during this pandemic."
Katherine "Kitty" S. Maynard
Professor of French Studies
Kitty Maynard arrived at Washington College in 2003 after completing her PhD studies at the University of Washington. She earned tenure in 2009 and was promoted to full professor in 2017. In addition to publishing several peer-reviewed articles on the French renaissance, she is the author of Reveries of Community: Epic in the Age of Henri IV (2018) and the editor of Polemic and Literature Surrounding the French Wars of Religion. In her time at Washington College, she has taken on leadership roles across campus, serving as chair for the Department of World Languages as well as the inaugural chair of the International Education committee. She has been a champion for co-governance in her roles on the Faculty Council, the committee for tenure and promotion, and as the faculty representative to the Board. Dr. Maynard's true passion is teaching and learning. In 2017, she was named the Director of the Cromwell Center for Teaching and Learning, a role which she continues to hold. As director, she has established several signature programs to support excellence and teaching, deepened the Center's commitment to inclusive education, launched an annual first-year faculty workshop, created the Cromwell Award for Innovation in Teaching, and organized faculty support efforts for the shift to remote learning during the COVID-19 pandemic.
"I am truly grateful to President Powell and to the colleagues who nominated me for this award. It's an honor for me to be able to work with so many talented, caring, and dedicated faculty, staff, and students here at Washington College. Thank you so much."
Meet kitty maynard
Valerie L.V. Stewart
Associate Director, Institutional and Government Giving
Valerie Stewart has a long history in the grant-seeking field, having worked in the Development Office at Winterthur Museum, Garden & Library from 1990 to 2005, first as a writer/researcher, then eventually as assistant director for grants and donor communications. From February 2010 until July 2014, she served as grant writer for the National Council on Agricultural Life and Labor Research Fund (NCALL), in Dover, Delaware, and she is president and owner of her own prospect research and grant writing company, ValueWrite, Inc., which was launched in 2005. Valerie is a graduate of the University of Delaware, where she majored in English and Journalism. Her responsibilities at Washington College include foundation/corporate research, faculty grants liaison, grant application/proposal writing, and grants management/reporting.
"I could not be successful in the work I do without the help of so many others. I am honored to receive The Joseph L. Holt Distinguished Service Award, but even more honored to work with such a great group of dedicated and supportive colleagues."
Robyn Moore
Former Assistant Controller, Business Office
After joining the Washington College staff in 2014, Robyn Moore has proven herself to be the campus expert in finding cost-effective solutions and deciphering a sometimes-confusing budget system. She is also an outstanding member of the campus community and a selfless member of Chestertown community. When the College was struggling to meet financial reporting requirements last semester, Robyn was thrust into a challenging role - working countless hours in addition to her role as Assistant Controller. At the expense of her personal time, Robyn continues to put the College and community's needs above her own. Whether it's a travel question or a postage problem, Robyn is always available to help - clearly answering questions while explaining the financial rationale behind it. Working with various departments on campus, Robyn continues to prioritize the College's finances and individual departments' needs, while implementing new cost-saving approaches. Apart from her work on campus, she has done a tremendous job of encouraging the staff to get involved in the community, especially with the annual Kent County Christmas Basket Program. Leading by example, Robyn spends countless hours planning the collection, organization, and distribution of food and toys for the event, while involving not only the local Lions Clubs and the 4-H program, but Washington College students and staff as well. Her humbleness is evident to all, as she constantly deflects any personal credit, instead praising everyone working together. Expertly delegating to highlight an individual volunteer's skills, Robyn's natural leadership gives everyone involved a feeling of accomplishment. Above all, Robyn considers what is best for Washington College; her committed, humble, and selfless nature on campus and beyond have distinguished her service to Washington College, time and time again.
Because this award was decided prior to Robyn's leaving the College but being presented after the conclusion of her employment, we wanted to share the recognition that an alumna and parent of alumni earned while she was our employee.
This award is given to an individual or organization with an exemplary record of sustained and acknowledged contribution to the quality of life in Chestertown, Kent County and Washington College. The successful candidates demonstrate service to their fellow human beings and these contributions have exerted a wide-ranging and positive influence upon the greater community.
Clinton R. Daly
Clinton Daly, who is head of business development at Brown Advisory investment firm in Baltimore, was integral to his firm's efforts to help raise the funds needed to construct the Semans-Griswold Environmental Hall at Washington College. All told, Brown Advisory friends contributed nearly $1.3 million. A friend of the building's namesakes—conservationists Truman Semans and Jay Griswold—as well as Washington College's former Board Chair Larry Culp '85, Mr. Daly is widely regarded for his philanthropic efforts throughout the region. He serves on the boards of the Baltimore Chesapeake Outward Bound Center (formerly chairman), the Institute for Christian and Jewish Studies, and Mercy Health System. In 2019, nominated by the Outward Bound Foundation, the Association of Fundraising Professionals Maryland Chapter named him the Outstanding Volunteering Fundraiser of the Year. Mr. Daly was recently appointed Board Chair of the Maryland Center for History and Culture, and continues to serve on the Advisory Board for Washington College's Center of Environment & Society. Before joining Brown Advisory in 2005, he worked for First Union/Wachovia as head of institutional sales. He has also worked for Deutsche Bank and spent 20 years with Alex. Brown & Sons in international sales. A graduate of Johns Hopkins University, Mr. Daly lives in Baltimore with his wife, Diana. They have three grown children: Sophia, Benjamin, and Nicholas.
"I believed in the work undertaken by CES and was motivated not only by John Seidel but by Truman Semans' and Jay Griswold's endorsement of him as the architect of a holistic program that would deliver the next generation of environmental stewards. By focusing on the undergraduate level student, CES is better positioned to capture the mind and spirit of our future environmental entrepreneurs and leaders, vital to our future sustainability. In the final analysis, it is all about the people, with whom the unimaginable is reimagined. "
Bayside H.O.Y.A.S., Inc.
Bayside H.O.Y.A.S. ["Helping Our Youth Achieve Success"] is a non-profit organization dedicated to promoting academic excellence, positive character development, and civic responsibility among secondary school age youth and young adults in Kent and Queen Anne's counties. This mission is achieved through educational enrichment, mentoring, leadership training, health promotion, and public service projects with youth of limited opportunities. Since the youth program began with an inaugural basketball camp in February 2013, it has grown to encompass seven different programs. One key program targets those aged 16-24 who are out of school and without a job, helping them either get back to school or gain employment. The second largest program endeavors to redirect the energies and focus of disadvantaged and disillusioned young people whose family members are incarcerated. H.O.Y.A.S. programming for these students includes tutoring, mentoring, leadership building, cultural field trips, and college prep. A third initiative addresses hunger and nutrition. The organization recently established a permanent base of operations on Park Row in downtown Chestertown, giving young students a place to congregate, socialize, plan future events, or see counseling from staff members.
"On behalf of the Bayside Hoyas, I would like to thank Washington College for recognizing our organization. We graciously accept the 2021 President's Award and appreciate the college's support. We will continue to be a mainstay in Kent and Queen Anne's counties – Helping Our Youth Achieve Success. " —John Queen, Founder and President of Bayside H.O.Y.A.S.
This award is given annually to an alumnus who has given outstanding and continued support to the College. Recipients have enthusiastically participated in the life of Washington College through personal involvement on leadership committees, association with the student body and engagement of fellow alumni. Their selfless commitment of time and talent as been augmented by their willingness to enhance the financial welfare of the College.
Ann Dorsey Horner '80
Ann Horner, who recently completed eight years of service on the College's Board of Visitors and Governors, was instrumental in the successful conclusion of the $155 million Forge A Legacy campaign. She not only served as Chair of the Advancement Committee and as a member of the Campaign Steering Committee, persuading others to support her alma mater, she herself directed more than $1.7 million toward the campaign that concluded six months ahead of schedule, in December 2019. Ann, who stepped down from the Board in 2020, continues to serve as a member of the College's Center for Environment & Society's Advisory Board, and remains an active volunteer supporting efforts in alumni relations, advancement, and career services. A former biology major, Ann served in the Student Government Association and was inducted as a member of ODK. After earning an MBA from Wilmington University, Ann enjoyed a long career as a Managing Director with DuPont Merck Pharmaceutical Company, UK subsidiary. She and her family lived in Hertfordshire, England. She also served as a Director of Bourne Leisure, a British company that owns vacation resort parks. Now in retirement, she lives in Charlottesville, Virginia. She has two grown children, Eleanor and Richard.
"It is an honor to be an alumna of Washington College. It is due to my education that I am able to give back to this fine institution- and that I desire to do so. I humbly accept this award with gratitude. "
John Bruce Alexander '94 M'00
Bruce Alexander, a Program Manager with the Federal Bureau of Investigations (FBI), has been connected with Washington College for 30 years. Originally from Chestertown, he earned his undergraduate degree in history in 1994 and joined the College staff, first in the Admissions Office and soon after in the Office of the President. Bruce served as Special Assistant to President John Toll and later to Baird Tipson. In 2000, Bruce completed a master's degree in history at Washington College, and in 2005 left the College for other career opportunities. After administrative posts with Johns Hopkins University, the Department of Natural Resources, and the National Security Council, Bruce joined the FBI in 2010. He is a former member of the Alumni Board, a former member of the Alumni Alliance, and has served as co-chair of the Annapolis Alumni Chapter and as Reunion Chair. In addition to representing the FBI at career fairs, Bruce has helped with internships for Washington College students and continues to lend his support in any way he can. He lives in Washington, D.C.
"On behalf of Annie, Joe, Pat, Laura, Bennett, Bob, George, Mike, Kevin, Jeannie, Rick, Nate, Dan, Carol, Maria, John, Barbara, Joachim, every Athey, and all those dedicated to WC that I've missed, thank you. "