No Matter What...You Matter
In an effort to broaden the conversation and raise more awareness about mental health and suicide prevention, Washington College is teaming up with For All Seasons and the Chestertown business community to bring the campaign "No Matter What … You Matter" to Chestertown.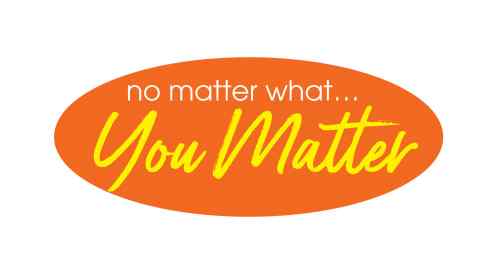 Washington College is joining forces with For All Seasons and the Chestertown business community to bring the campaign "No Matter What … You Matter" to Chestertown this fall to raise awareness around mental health and suicide prevention. For All Seasons debuted the campaign in Easton last fall in conjunction with Mental Health Awareness Week and partnering with Easton Business Alliance, and it was part of Easton's First Friday stroll through the local galleries and shops.
"Partnering with For All Seasons is just one more step we can take to support the mental health of our students and specifically to raise awareness about suicide," says Sarah Feyerherm, vice president of student affairs and dean of students at the College. "When we pool our resources we further a community of care on the Eastern Shore and bring about change in ways we could never do alone. As we continue to add programs and initiatives on our campus, we're excited to work hand in hand with For All Seasons on such a critical issue that impacts everyone."
The suicide prevention campaign was inspired by the soundtrack of the Tony Award-winning Broadway musical Dear Evan Hansen.
"The musical has created increased awareness about how prevalent suicide is in our nation," says Beth Anne Langrell, executive director of For All Seasons. "According to the Centers for Disease Control (CDC), every 13 minutes someone dies by suicide and for every suicide, 25 suicide attempts are made."
For All Seasons hopes through this campaign to create an ongoing dialogue with agencies and educators in Chestertown about this growing issue in our communities. The campaign will include dialogue circles, educational outreach, and community events.
"We want people to know that no matter what, they matter," Langrell says.
For All Seasons regularly partners with National Alliance on Mental Illness (NAMI) Kent and Queen Anne's to provide services and training on mental health issues.
"NAMI Kent & Queen Anne's is eager to work with For All Seasons and Washington College to address the prevalence of mental health challenges facing college students today," says Lainie Surette, NAMI Kent and Queen Anne's steering committee chair. "Providing education, support and needed services can reduce the stigma and encourage students to reach out for help. Suicide is not the answer. No one should feel alone."
For further information about the "No Matter What … You Matter" campaign or becoming a partner in Chestertown, call Beth Anne Langrell at 410-822-1018.
For All Seasons provides individual and group counseling to those struggling with depression, anxiety, phobias, addiction, PTSD, ADHD, etc., and those who may seek therapy to treat the problem and/or learn healthy ways to cope. For All Seasons has six offices across the Eastern Shore, including an office in Chestertown. To make an appointment, call 410-822-1018 or visit www.forallseasonsinc.org. For All Seasons also provides urgent care services, rape crisis response, rape crisis counseling and support, 24-hour English and Spanish hotlines, and education and outreach programming. For the 24-hour crisis hotline, call toll-free 800-310-7273.