Washington College Earns Bird Campus Designation
New recognition highlights efforts ranging from restoring avian habitat to offering bird-focused courses, research, and capstone support.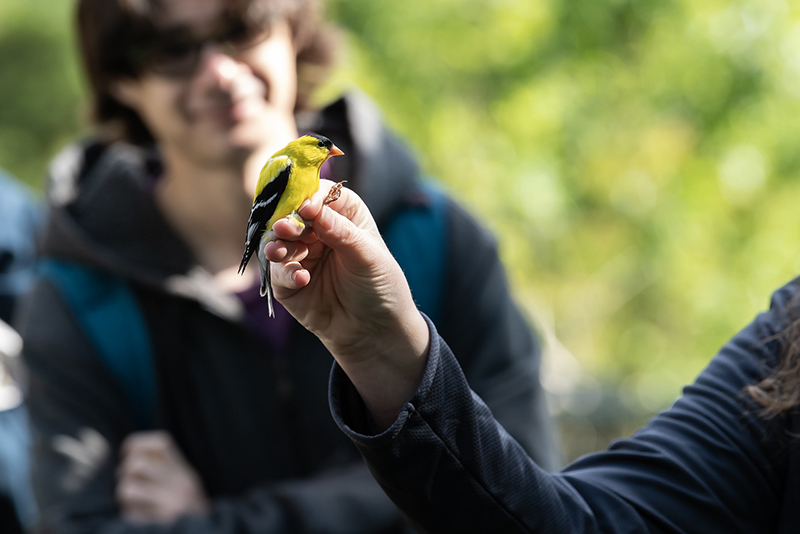 Maren Gimpel holds a goldfinch during World Migratory Bird Day celebrations at Washington College's River and Field Campus.
Washington College has a new feather in its sustainability cap. In early May, it was named a Bird Campus by the Maryland Bird Conservation Partnership, just the third school to gain the designation in the state. The Bird Campus designation joins Washington's status as a Tree Campus (bestowed in 2020 by the Arbor Day Foundation) and as a Bee Campus (since 2018, administered by Bee Campus USA).
"Washington College is, I think, really special. If there were ever a Bird Campus, I feel it is Washington College," said Pamela Kellett, the partnership's coordinator. "With its exemplary application, Washington College is leading the way for campuses across the state."
A major factor in Washington's successful application was the College's River and Field Campus, where Kellett presented the Bird Campus award during World Migratory Bird Day celebrations. The 5,000-acre campus provides considerable habitat for birds, and restoration efforts there enhance that. But the Bird Campus designation is for Washington College as a whole and includes the main campus and riverfront campus as well.
The College also earned points toward its Bird Campus designation for restoring bird habitat on the waterfront campus, offering bird-focused courses and senior capstone support, and conducting ongoing research on field sparrows, bird-friendly glass, and bird banding. Policies encouraging the planting of native plants, disallowing the use of invasive heavenly bamboo, and using integrated pest management techniques to reduce chemical use contributed to the Bird Campus recognition, as did the Campus Garden and the College's efforts to compost, recycle and use green electricity.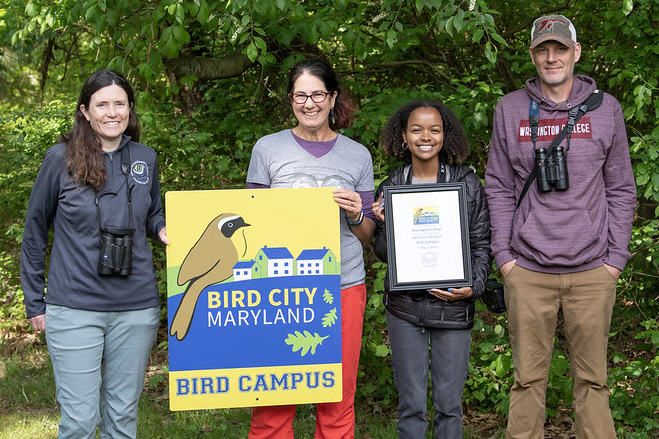 Posing with the Bird Campus recognition plaque at the World Migratory Bird Day celebration are (left to right): Maren Gimpel, Pamela Kellett, Fana Scott, and Dan Small.Kellett pointed out that there are many different paths to Bird Campus status, available to all kinds of schools, illustrated by the two earlier bird campuses in Maryland. The first was the College of Southern Maryland, a public, regional community college in La Plata that earned many of its points towards certification through its educational efforts: an apiary, a pollinator garden, murals around campus. The second school was Salisbury University, which has active nest boxes and both classes and clubs centered around ornithology.
"The application is a tool for cities and campuses to learn about all the ways it is possible to protect birds," Kellett said. "The hope is that people will move up in levels."
Certification has to be renewed every two years, providing ample opportunity to continually improve conditions and programs. Washington College's initial application was compiled and submitted, along with supporting documentation and photographs, by Fana Scott, a Washington, D.C., native and Chesapeake Conservation Corps worker at the Center for Environment and Society (CES) this year.
"People at Washington College are doing great work to protect and reduce threats to birds, and I wanted to help acknowledge and celebrate that," Scott said. "I also wanted to complete a project that would have a lasting impact on Washington College. Since my project set the foundation for the initial Bird Campus recognition, my hope is for the continual renewal of recognition based on my application and the resources I gathered as well as the annual celebration of World Migratory Bird Day that grows each year."
Working to prevent window strikes—when birds fly into windows because they haven't realized the glass is there—is something pointed out as an example for future efforts by both Scott and Maren Gimpel, associate director of Washington College's Foreman's Branch Bird Observatory on the River and Field Campus, who has worked closely with Scott during her time at the College. The River and Field Campus already has the bird-friendly glass testing tunnel, and the World Migratory Bird Day event included an opportunity for the students who attended to see the tunnel, as well as the bird banding operation.
As far as future opportunities go, Kellett said she would like to see Washington College bring Chestertown into the program, pointing out that the previous two Bird Campuses are in Bird Cities, La Plata and Salisbury, and that the coordination between town and college amplifies the impact of both.
Whatever the future brings, it will have to come together without the support of Scott, who wraps up her Chesapeake Conservation Corps posting in June and moves on to a 14-month Conservation Science Fellowship at Massachusetts Audubon. She leaves the College, its birds and its bird programs in better shape thanks to her efforts on the Bird Campus.
"Fana's work was integral to Washington College getting Bird Campus certification. Gathering all the information into one place was a daunting task, and no one had the time to devote to the process," Gimpel said, adding that the celebration of the designation and World Migratory Bird Day was an example of the benefits. "I think the event was a great success! It was fun to see some new faces among the attendees. There is a growing segment of students at the College who are interested in birds. Some of them just filed paperwork with the Student Government Association to become an official club on campus. Maybe they can team up with the Student Environmental Alliance or other student groups to brainstorm other ideas for changes to campus. I also hope more students become aware of all the bird-related opportunities at Washington College."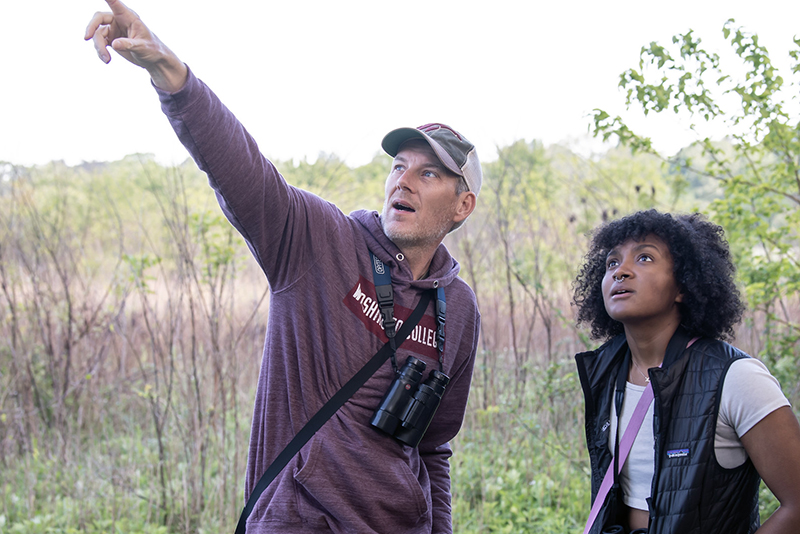 Natural Lands Project Coordinator Dan Small points out a bird to Shalis Hunt '23 during a bird walk before the Bird Campus presentation.