In May 2015, along with Trina Nusraty '15, we attended Berkshire Hathaway's 50th Anniversary Annual Shareholder Meeting in Omaha, Nebraska, capping weeks of study in preparation for seeing Warren Buffett, the Oracle of Omaha, in action. We were able to have this great experience through our membership in Washington College's Brown Advisory Student-Managed Investment Fund Program, and were accompanied by Richard Bookbinder P'10, the program's senior advisor and managing member of TerraVerde Capital Management. We earned the trip by winning an essay and investment research competition available exclusively to Brown Advisory SMIF Program members.
After we were selected, we extended our knowledge of Berkshire Hathaway, its subsidiaries, and the well-known Chairman/CEO, beginning our preparation began months before the trip. We read the company's 2014 annual report as well as prior annual reports, corporate news announcements, and as well as a Buffett biography. On a weekly basis leading up to the annual meeting, we met formally with Dr. Hui-Ju, the program's faculty advisor and finance professor in the Business Management Department, to discuss the content of the readings and develop insight into complex company aspects.
Since the Brown Advisory Fund and Berkshire Hathaway have some common investments including Wal-Mart, Coca-Cola, and Chicago Bridge and Iron, we were excited to learn more about the companies, take part in the "Super Bowl" of company annual meetings, and especially listen and learn from Warren Buffett and his partner Charlie Munger. Out of 40,000 plus shareholders from across the globe, along with large groups of students from MBA and graduate programs at Columbia, Yale, and Wharton, it was particularly exciting for three Washington College undergraduates to have the opportunity to participate.
Berkshire Hathaway Inc. is a multinational conglomerate holding company headquartered in Omaha, Nebraska that became very visible when Warren Buffett took over the company in 1965. Today, Warren Buffett is the third wealthiest person worldwide and is renowned for his philanthropy, frugality, and financial know-how. As Chairman, CEO, and largest shareholder, he has molded Berkshire Hathaway into the fifth largest publicly held company worldwide with a market cap of $320 Billion and that has also managed an average annual growth in per-share book value of 19.4% over the past fifty years.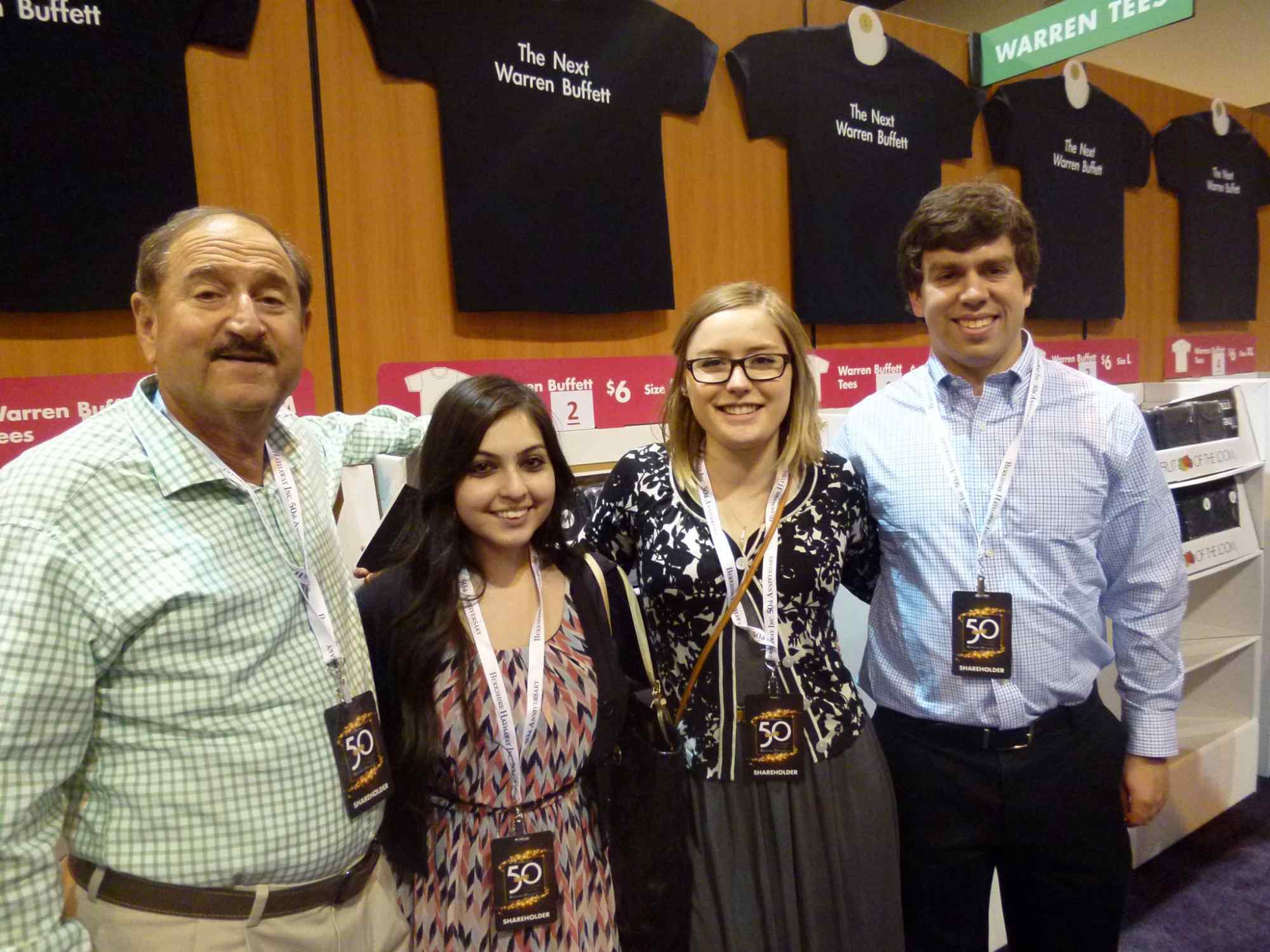 Brown Advisory senior advisor Richard Bookbinder and student members Trina Nusraty '15, Emily Summers '16, and Zachary Revak '16 attended the 2015 Berkshire Hathaway annual shareholders' meeting in Omaha, Nebraska.
Berkshire Hathaway earns a good portion of its revenue from insurance operations and because many of its insurance subsidiaries generate large cash flows up front, which Buffet terms "float", the company has the advantage of being able to internally finance many of its investments. The company holds large, non-insurance companies that he calls the "Powerhouse Five": Berkshire Hathaway Energy (an energy company), BNSF (a railroad freight company), IMC (formerly Iscar, a metalworks company), Lubrizol (a chemical company), and Marmon (an industrial company). As a result, Berkshire Hathaway has large subsidiaries in railroad, utility, power production businesses, as well as consumer companies, such as Heinz, in now privately owned companies and holding large public investments in some of America's top brands such as Coca Cola, American Express, IBM, and Wells Fargo.
Once in Omaha, we were thrilled to see Berkshire Hathaway's annual report come alive on the exhibition floor where dozens of the company's subsidiaries set up shop to demonstrate and sell their items throughout the weekend. We enjoyed eating dilly bars at the Dairy Queen cart, touring luxurious Forest River RVs, and eating Buffett's favorite See's Candies while taking pictures with Buffett's Geico Gecko. We also took a trip to Borsheim's Fine Jewelry, which Buffett owns and calls "the Tiffany of the Midwest," to get a glimpse at some of the fine products offered by one of the country's most esteemed jewelers.
While touring Omaha we visited a few restaurants frequented by Warren Buffett and made a trip to see Buffett's humble home which he bought for $31,500 in 1958 and in which he still resides today. We also had the opportunity to attend an exclusive talk by Eitan Wertheimer, named the wealthiest man in Israel and the former president of Iscar Metalworking, one of Berkshire Hathaway's Powerhouse Five companies. Wertheimer spoke about being a leader and how he developed a relationship with Buffett that grew into Iscar Metalworking, the first company based outside of the United States to be acquired by Berkshire Hathaway.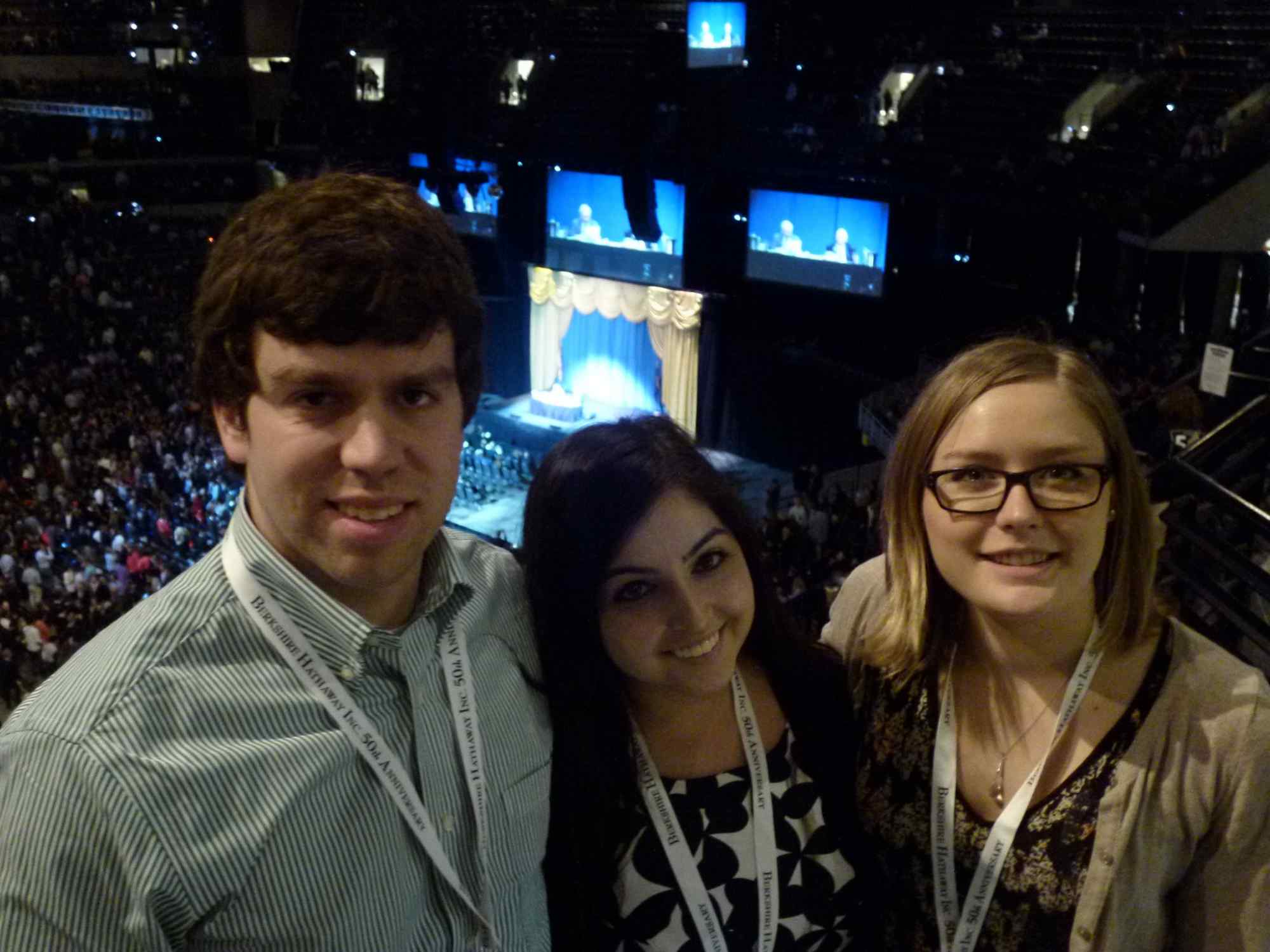 Zachary Revak '16, Trina Nusraty '15, and Emily Summers '16 against the backdrop of the CenturyLink Center in Omaha.
However, the most influential part of the trip was the six hour Q&A during which Warren Buffett and Vice-Chairman Charlie Munger took questions from the shareholders in the audience, three journalists, and three financial analysts. At this meeting, shareholders expressed concern over the conglomerate's partnership with 3G Capital, a Brazilian investment group. 3G is known for its hostile takeovers of other companies, often involving brutal layoffs to cut costs. Investors pointed out that this cutthroat culture clashes with Berkshire Hathaway's historic lower level of management involvement with portfolio companies, but Buffett showed his support for running businesses efficiently to boost profit margins and remain competitive in the marketplace.
Another point of contention concerned Burlington Northern, one of the Powerhouse Five companies, which had suffered poor earnings due to a hard winter that took a toll on insufficient equipment. Shareholders showed concern over Berkshire Hathaway's massive spending to improve Burlington Northern, an expenditure which Buffett expects to total $6 billion in 2015 to upgrade equipment and facilities. While Buffett boasts having the most loyal shareholders, who have consistently voted against obtaining dividends, many other questions underscored the uneasiness about the struggling freight company that still manages a 15% market share of inner-city transportation and needs high levels of capital expenditure.
In addition, there were numerous questions about the future of Berkshire Hathaway. How will the conglomerate react to the raising interest rates promised by the Federal Reserve? What should shareholders expect to happen when Buffett and Munger are no longer around to lead the company? Buffett admits that Berkshire Hathaway may not achieve the same results as it did in the earlier years, but that the conglomerate will always do better than most companies in every economy. He noted that Berkshire Hathaway does not bother with trying to predict macroeconomic factors and instead focuses on adding value for its subsidiaries for years to come. Buffett oozed confidence in his company as he explained that Berkshire Hathaway's culture runs deep and that the Board of Directors and leaders throughout the conglomerate and its subsidiaries are capable and committed to doing right for the shareholders.
Throughout the comprehensive Q&A session Buffett and Munger offered valuable advice for students and investors alike. Although Buffett did not reveal any of his trade secrets for investing he did advise that it is important to keep emotions out of the decision-making process. He pointed out that when evaluating any investment decisions, he asks himself if he would want to be in a partnership with that company's management. Buffett acknowledges that trust is vital to his success and that spending time and effort to do things right the first time around builds a positive reputation that will be valuable in the future. Buffett and Munger offered indispensable business insight in every answer.
The duo spoke with confidence, poise, and a smoothness that exemplified their experience as some of the most successful investors in history, although we noticed that Buffett's public persona differed significantly from what we expected of him from the biography. The biography makes notes of Buffett's secretive nature, almost to the point of paranoia, while Berkshire Hathaway's annual reports read to seem extremely inclusive and Buffett himself seems to talk quite bluntly about the issues affecting his outlook for Berkshire Hathaway.
In evaluating a potential purchase of the stock for the Brown Advisory Fund, we agreed that buying stock in Berkshire Hathaway would not be appropriate for Brown Advisory SMIF at this time simply because the objective of our program is to have us conduct due diligence on companies to invest in and not to have an external portfolio manager, such as Buffett, do all of the work. In addition, we think that the demise of either of the 85 or 91 year old executives might cause a temporary drop in stock price that could create an opportunity for a lower purchase price than the current market level.
More than anything, traveling to Omaha instilled a sense of passion in us. While Buffett attributes much of his success to timing and luck, his story is one that demonstrates his commitment to continuous learning, growth, and entrepreneurial spirit. As Chief Investment Officers of Washington College's Brown Advisory Student-Managed Investment Fund Program, we witnessed the importance of value investing and of researching the companies and industries we plan to invest in. This once-in-a-lifetime experience gave us the opportunity to not only see one of America's most influential people speak, but also witness the legacy he will leave behind.
We would like to thank Mr. and Mrs. Bookbinder for including us in the trip that would prove so influential to our future careers in finance and to thank Mr. Bookbinder in particular for all of his outstanding work and dedication to the Brown Advisory SMIF Program. That we gained a tremendous amount of knowledge from weekly meetings of the program led by Mr. Bookbinder, and additional preparation in study sessions with Dr. Tsai was apparent to a financial services professional who also attended the Annual Meeting and happened to meet Trina and Emily on the plane returning from the meeting. He was so impressed with them that he sent a letter to Interim President Jay Griswold, describing their "poise and intelligence," how their conversation revealed that "they were informed and articulate on a variety of complex subjects," and that he "should be very proud that students of this caliber and quality represent" Washington College.
The three of us, Trina, Zach, and Emily, are indeed proud to be representatives of Washington College and the Brown Advisory Student-Managed Investment Fund Program.
- Zachary Revak '16 and Emily Summers '16