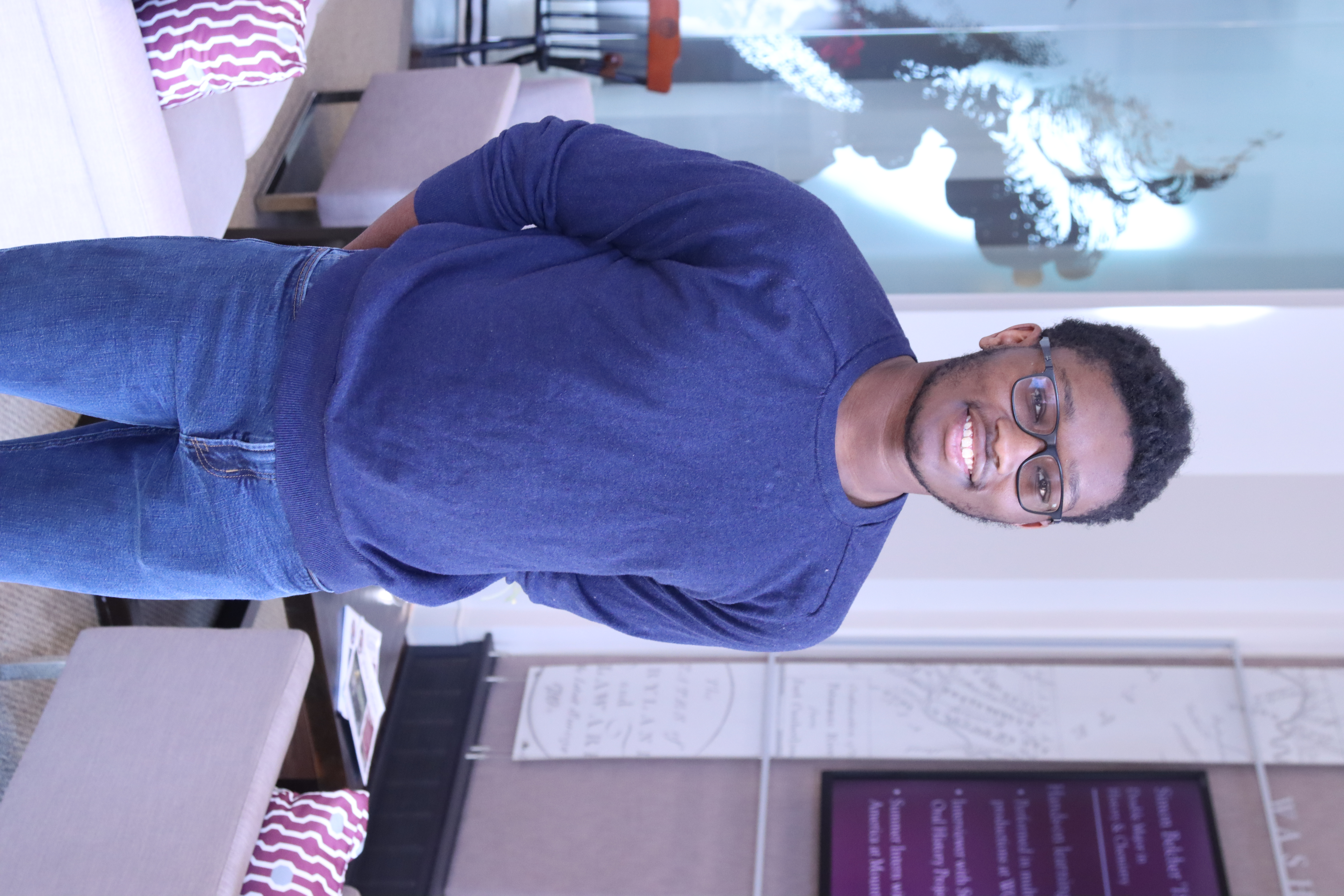 EXTRACURRICULAR ACTIVITIES
Black Student Union, Washington College Democrats, Kappa Sigma Omicron Phi, SGA Senate,
NSLS, PeerSMART Advocate, George's Generals, Residential Assistant, I.D.E.A. Working Group
SUPPORT FROM DONOR PROGRAM
RaiseMe Scholarship
External Scholarship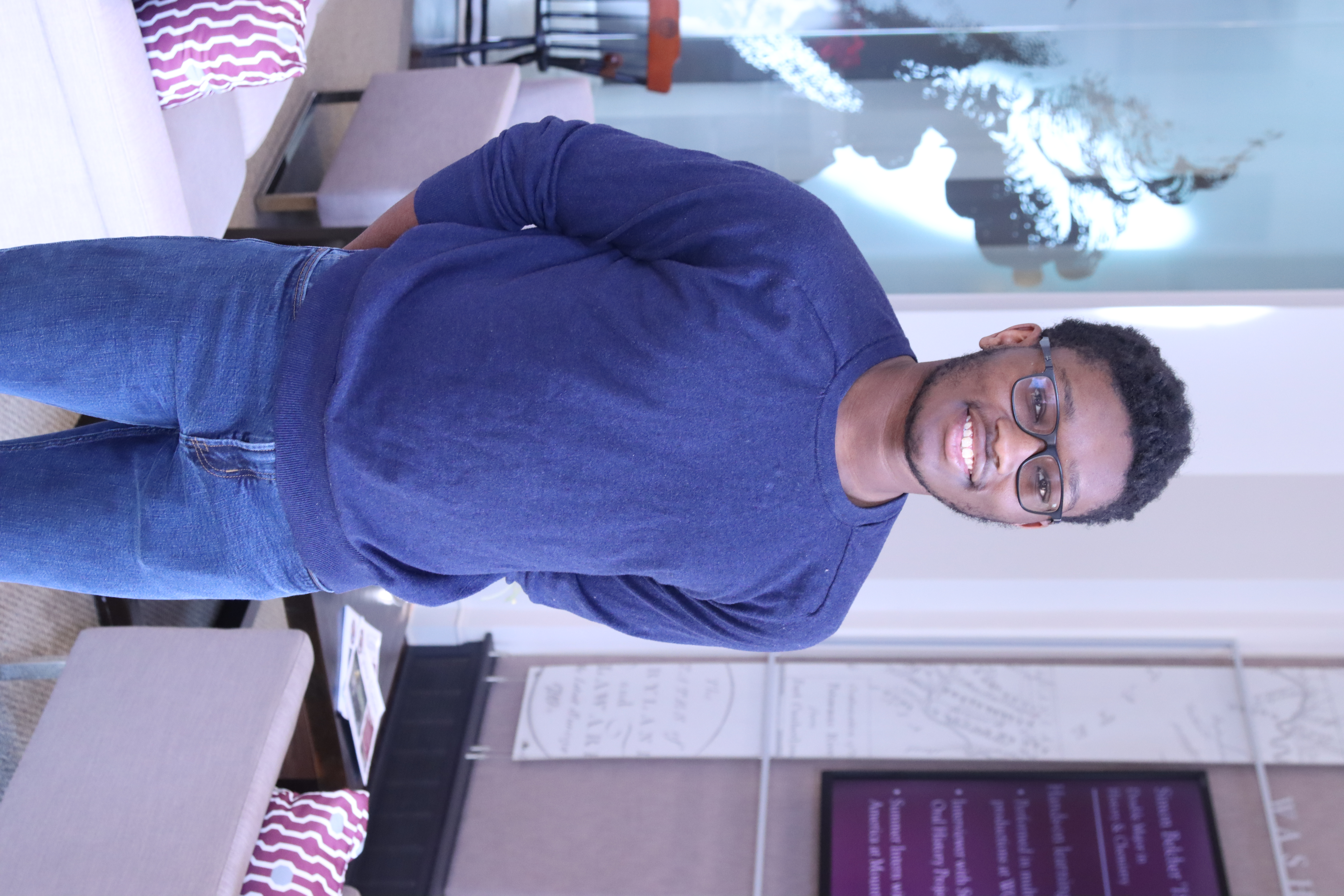 Close to the Action
Jonah Nicholson
Class of 2023 • Baltimore, Maryland
EXTRACURRICULAR ACTIVITIES
Black Student Union, Washington College Democrats, Kappa Sigma Omicron Phi, SGA Senate,
NSLS, PeerSMART Advocate, George's Generals, Residential Assistant, I.D.E.A. Working Group
SUPPORT FROM DONOR PROGRAM
RaiseMe Scholarship
External Scholarship
Jonah Nicholson '23 likes to be involved in campus life, whether as president of the Black Student Union, working as a residential assistant or peer advocate, or any number of other organizations and activities he gives his time to.
"I like to be involved because there are opportunities to make student life better, and I want to help with that," he said.
And when Jonah gets involved, he goes all in.
"When I'm involved in something, I want to be close to the decision-making. As a gay black man, I believe it's important to be represented and to be part of the decision-making process, to have a voice," he said.
It's been that way since middle school for Jonah–activism is part of who he is. At the moment, he especially enjoys participating in the Student Government Association as part of the Black Student Union.
"We help bridge the gap between students and the administration," he said. "Students have to live with the decisions the administration makes. They need our feedback to help them understand how programs and policies affect us."
Bringing together his many interests and activism under one umbrella might seem daunting. Jonah decided the best way to do it was by majoring in business management.
"I was thinking about how I could combine majors and subjects, and I realized I could do it under business management because it's so broad," he said. He paired his business management major with a double minor in Black studies and political science.
But Jonah also connected with the business management major on a personal level. As a kid, his mom constantly encouraged him to think bigger. Rather than simply working in an occupation, his mom often said, "Why not own the company?" That stuck with him.
"Combining business management with other disciplines could open a lot of opportunities for me and offer the ability to do a lot of good in the community."
Jonah's Four Year Plan
Year 1
Favorite Class
ENG 220-10: Introduction to Fiction
"Dr. Knight is quite honestly one of the best professors I have ever had. Now she is becoming the Associate Provost of Diversity and Inclusion/Senior Equity Officer which is a testament to her prowess."
Year 2
Learn by Doing
Getting Involved
During his second year, Jonah became involved in numerous campus extracurriculars and groups including BSU, SGA, Kappa Sigma, the Washington College Democrats, the Peer Mentor Program and George's Generals.
Year 3
Looking Forward to
Expanding Horizons
"I became President of the Black Student Union, Vice President of the Washington College Democrats, Judicial Vice President of the Kappa Sigma Omicron Phi Chapter, PEERSmart Advocate, Residential Assistant, Georges General, SGA Senator, Member of Model United Nations, Member of the I.D.E.A. Working Group, Member of NSLS. I plan on studying abroad in Montreal for Model United Nations in April."