Landing a job at National Geographic even before she had graduated, Rachel Brown '16 hit the ground learning and hasn't slowed down yet.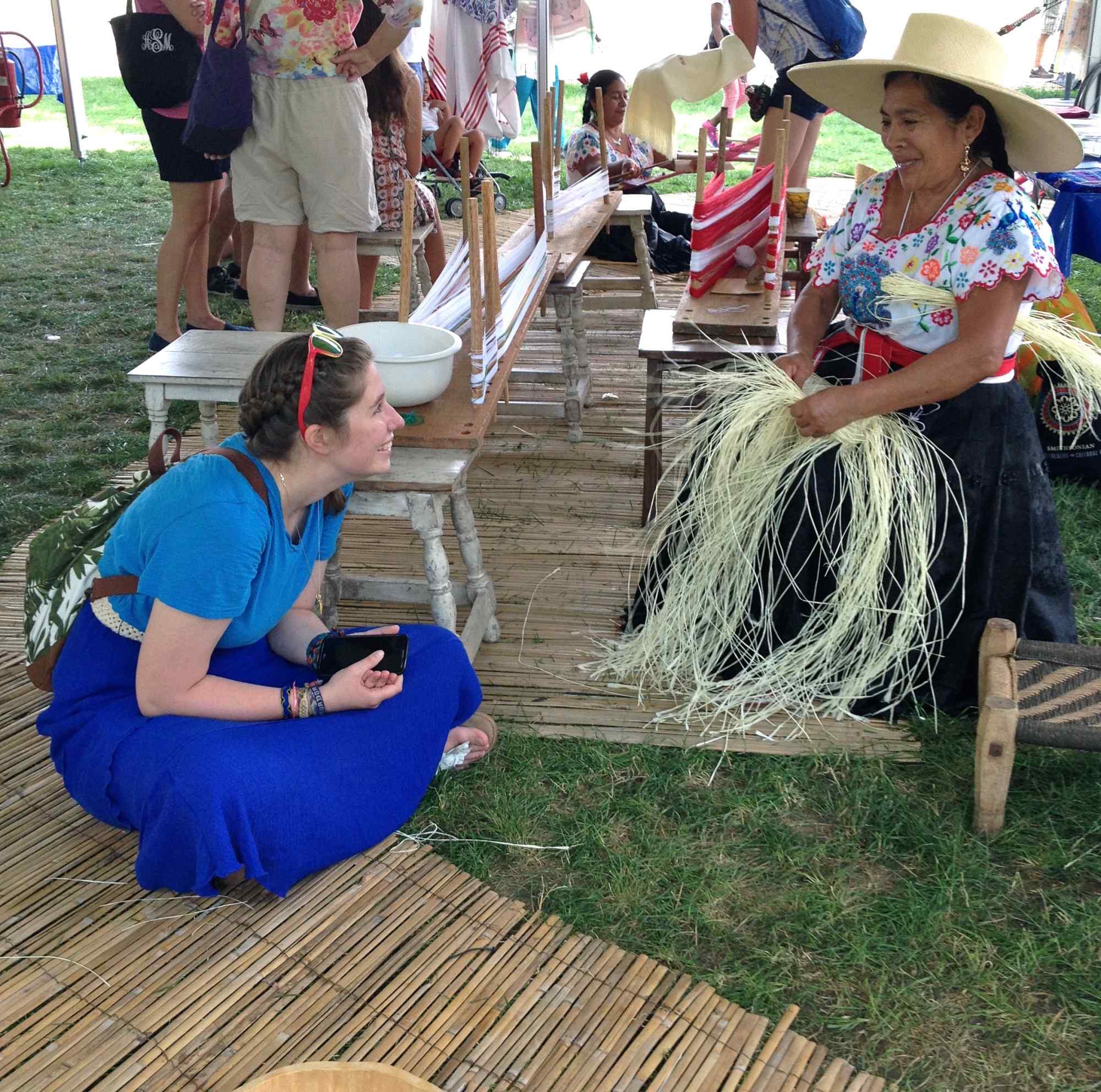 Rachel Brown '16 meets a craftswoman at the 2015 Smithsonian Folklife Festival in Washington, D.C.




Photo Credit: Rebecca Hale, National Geographic Magazine
When she was a student at Washington College, majoring in anthropology and Hispanic studies, minoring in creative writing, Rachel Brown's curiosity was quietly insatiable. No question was too obscure to explore, no path too long to find an answer, even if it led her down another path.
She traveled to the Navajo Nation to study contemporary Navajo poetry, how it relates to cultural identity, and what strategies of resistance the Navajo employ to keep their language alive. In Cuba, she wanted to compare perceptions of Havana from the points of view of locals and an American woman (herself), so she befriended three women, gave them cameras, and asked them to photograph what was important to them about their hometown.
Now, she's bringing that same open-minded curiosity and sense of story to her job as a writer, associate editor, and producer for National Geographic's digital travel team, helping create stories like that of the Emberá Katío people who live in La Puria in Colombia, where only women are left after the country's civil war killed all the town's men. Or how the 27 leather-bound volumes comprising a 19th-century photo archive of a wealthy young couple who traveled the world on an extended four-year honeymoon led to a story of their tumultuous lives. Or how a South African conservation biologist has dedicated his life to save Botswana's Okavango Delta since the first moment he saw it at age 21.
"I'm assigning and editing stories from other folks and also working my own stories," she says. "It's really fun to call someone and say 'I'm from National Geographic,' and everyone is so excited to talk. I am very grateful for it."
Brown '16 was a finalist for the 2016 Sophie Kerr Prize. Among many other things while at WAC, she was editor-in-chief of The Collegian, a leader of the Día de Fútbol committee, and part of the Starr Center's StoryQuest oral history program. It was through the latter, as well as classes she took at the Starr Center, that she worked with Adam Goodheart, the center's director. Goodheart, a New York Times bestselling writer, had written a cover story for National Geographic, and one day during her senior year, Brown sat down with him to talk about what might come next for her.
Brown knew she loved all forms of writing, but she was becoming interested in long-form journalism and nonfiction.
"We talked about National Geographic. He knew I was interested in that particular publication," she says. "So, when Susan Goldberg, who is editor-in-chief, came and spoke at WAC,
Adam gave me a heads up. [Goldberg was invited as part of the Harwood Lecture Series.] And I was able, with several other students and professors, to attend a dinner with Susan at the Custom House afterwards. Susan, to her credit—I really appreciated that she did this—she asked to only be seated with students at the table. And she talked with each of us individually, and then had a Q-and-A, and afterwards I was able to get her business card."
Brown wrote a follow-up email—"I had probably five or six people proofread that email, it was a well-worked-over piece of writing"—which ultimately led to an interview with National Geographic's digital director for a position as administrative assistant in Washington, D.C. With the job lined up a month before graduation, she began a few weeks after leaving WAC.
"I did that for a year and a couple of months, and I actually think that was a good way to start out because I was working with a lot of different teams and able to meet a lot of people in different contexts," Brown says. "I got to know a lot of people and figure out how things worked."
By early 2017, she started writing short news stories in addition to her regular responsibilities, and then moved into photo stories. "I would work with my friends on the photo team who had commissioned or licensed a portfolio of someone's work but needed a writer to write a story about it. I really enjoyed that because it was more aligned with my interests in anthropology and art."
Learning more about science journalism and the world of professional photography, Brown in August moved to the producer team, where she took on more technical digital skills, and then in April 2018 jumped at an opportunity to move on to the travel team.
"I'm a writer and associate editor/producer for digital travel. So I can choose the stories a lot more now. I'm writing only the stories I'm personally interested in. The ones I think should be published but can't do, I'll assign to a freelancer."
Brown says D.C. is "monstrously expensive" but fun, and she loves the breadth of world-class, free cultural opportunities there, where she's sharing a house with two friends from Washington College. Landing a job at a publication as dynamic as National Geographic has given her the ideal way to continue to feed that insatiable curiosity.
"I worked really, really hard, I did all my research, I had all my talking points, all of that," she says. "But I was also very lucky to have the connections that WAC had given me and to able to have the opportunity."