With their new album "Lifted," The High & Wides, whose members have deep roots in Washington College and the Eastern Shore, are creating an eclectic sound entirely their own that's getting some significant attention.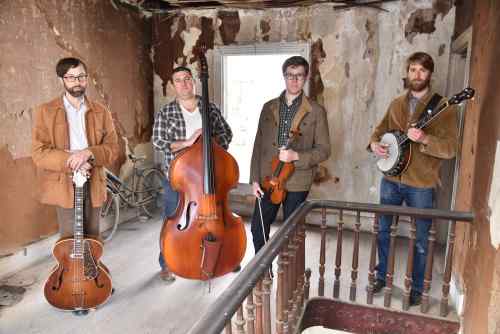 There comes a moment in the work of some artists when they begin to open doors in their craft in a way that makes people sit up and take notice. In the case of the group The High & Wides, whose roots are firmly entwined in Washington College, that moment seems to be coming now with their first album, "Lifted," which debuted at No. 10 on the Billboard Bluegrass Charts in mid-May.
"These guys are the apostles of hillbilly boogie," Washington Post music reviewer Chris Richards wrote in May.
"The High & Wides' first CD, 'Lifted' is quietly revolutionary." This, from none other than David Bromberg, the Grammy-nominated master musician, musical historian, and guru of eclectic, obscure, and traditional bluegrass and blues styles who has played with the likes of Bob Dylan, Jerry Jeff Walker, and Jerry Garcia. "I say 'quietly' revolutionary because the band doesn't make a big thing of their different approaches. Nowhere do they sound as though they're going out of their way to be different, but the music does sound different almost immediately … The most important thing I can try to impress on anyone is that the music is a pleasure to listen to."
"It's been really validating once we released this album this year to see that these ideas that appealed to us are also resonating with a lot of other people, including somebody like David Bromberg," says Marc Dykeman M '07, guitarist, lead vocalist, and a songwriter for The High & Wides. "Getting that review from him was just… What?! Because we did it all ourselves. We didn't go and get some big producer… this was just coasting off the energy of the band. He heard what we were trying to do."
Dykeman, who also engineered and mixed the tracks on "Lifted" ("I can't imagine how he did all that," Bromberg mused in his review), joins Sam Guthridge '04 on banjo, mandolin, and vocals, Mike Buccino '99, who writes songs and plays upright bass, and Nate Grower on fiddle. Guthridge and Grower are full-time professional musicians (Grower plays for Bromberg), while Dykeman is assistant director for planning and budget in the College's Office of Advancement, and Buccino, formerly in WC's Advancement team, is now director of major gifts at UMBC.
The band, which has been together for four years, emerged out of another popular local group, Chester River Runoff, for which Guthridge, Grower, and Dykeman played for about a decade. When the group started to dissolve, Dykeman says, some of the players had ideas about something different.
"Chester River Runoff was like a '70s bluegrass style, 'newgrass' kind of thing," he says. "We wanted to take a different starting point for this. So I decided to play guitar (he had played bass in Chester River Runoff), and Sam picked up mandolin as well as banjo, and we started listening to a lot of music from the '40s and '50s that's outside of the bluegrass genre. We really love old-time music, which is more mountain music prior to bluegrass, and there's this really cool point where a lot of these mountain music people started playing more hopped up, exciting stuff. Bluegrass was part of that, but there's also this kind of boogie influence, and hillbilly boogie is this genre from a very narrow time period … So there are these cool combinations of music that happened, and we took that as inspiration."
They teamed up with Buccino, whose discerning songwriting is alternately sly and poignant, and Grower, whose "fiddling is consistently brilliant and surprising," Bromberg writes, developing original compositions and working on the new sound. They recorded "Lifted" in Dykeman's living room. Then came the serendipitous disaster; traveling to Nashville for final tweaks with a mastering engineer, Dykeman's car was broken into, and his laptop and hard drive—with all of the mixed tracks—were stolen, a.k.a, lifted.
"It was very sickening to contemplate, but pretty quickly we decided to re-record it," Dykeman says. "At that point it had been a year since we first recorded it. And we said, we're a different band now, we need to re-state this. And as soon as we started re-recording we knew it was the right decision because it just felt different. Not many people get that chance to redo it, but it was the right choice."
Dykeman grew up in a musical household and studied trombone at Lenoir-Rhyne University in Hickory, N.C. He's really always had one instrument or another in his hands, but even so, the commitment required of being part of a viable band—time, emotion, creative energy, more time—has at times made him question his motivation. What's happening with The High & Wides is part of the answer.
"I really want to make something that's different. I would love for it to resonate and for people to hear it because that feels really good. But that act of creation, and that thing of you making something is just so great, it's like the best thing ever," Dykeman says. "It's a great feeling to make something and then to see what kind of life it has."
To see the band in action, check out https://www.youtube.com/watch?v=blWIzqC7Xw8 and https://www.youtube.com/watch?v=L0eu-pne2Hw
You can purchase the High & Wides album "Lifted" at http://www.thehighandwides.com/. They will be playing a free concert at 6:30 p.m. on July 26 at the Custom House in Chestertown as part of the Riverfront Concert Series, headed by the Starr Center for the Study of the American Experience.