WC alums rake in the awards at the annual gathering of the Maryland/Delaware/D.C. Press Association.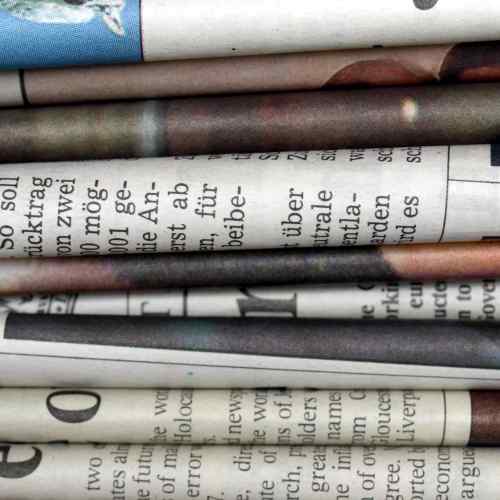 Washington College didn't get a communications and media studies major until last year, but you wouldn't know it by looking at this year's Maryland/Delaware/D.C. Press Association's editorial awards, in which WC alums took multiple top awards.
Brooke Schultz '18, now a reporter at the Newark Post, Katie Tabeling '14, a reporter at the Cecil Whig, Cat Righter '17, a reporter at the Carroll County Times, Trish McGee '81, associate editor of the Kent County News, and Dan Divilio, editor of the Kent County News and presently the adviser to The Elm, all took top awards at the annual event.
Nearly all of the daily and most of the non-daily newspapers in Maryland, Delaware, and D.C. are association members. According to its website, "the contest, governed by the Association's Editorial and Advertising Committees, admitted nearly 2,300 entries from 64 member publications among 95 categories. There are eight divisions in the contest, which group member publications into daily and non-daily print and online-only categories, then further group them by circulation… One Best in Show award is given in each category across all divisions."
Schultz, a former editor of The Elm and Sophie Kerr Prize finalist, "received a Best in Show award, topping dailies in the association including The Baltimore Sun, for public service reporting for her story 'Liquor permits under review,' '' according to the Kent County News story on the awards. She also was one of five nominees—across all association members—for the new Rookie of the Year award, which honors a journalist with fewer than 18 months of experience in the field.
Tabeling, a former opinion editor at The Elm, won first place in the Cecil Whig's circulation division in Public Notice Reporting for "County rethinks Port Deposit sewer plans," second place in Business Reporting for "Threat of global trade war stokes dairy farmers' fears" and second place in Best Photo Gallery for "Cecil County Fair."
Righter '17, a former Elm editor and Sophie Kerr Prize winner, was part of the team that won first in the category Wild Card: Guns in Communities, for "Carroll reactions mixed to bill that will allow certain school employees to carry firearms." She also won an individual first in the category Religion Writing for "Happy Birthday Lazarus."
Divilio earned four awards in the paper's circulation division, including first place for state reporting for "Hogan calls for state redistricting commission," first place for environmental reporting for "ShoreRivers highlights programs along the Sassafras," and first place for Best Photo Gallery for his online collection of pictures from last year's Legacy Day. He also won second in Editorial for "Redistricting a big need in Maryland."
McGee won first place in the paper's circulation division for local government reporting, "Councilman questions intent of surveillance cameras in Third Ward," and second in breaking news for her story "Firefighters' hair-raising rescue is Christmas miracle, sort of."
Students at Washington College now have the option of taking communications and media studies as a major or minor, and also pursuing the journalism field through a new minor in the Department of English, journalism, editing, and publishing.
This year's Maryland/Delaware/D.C. Press Association conference in Annapolis was called "Local News Builds Communities," and also saw a new award established, Courage in Journalism, in memory of the shooting deaths of five people at The Capital Gazette in Annapolis on June 28, 2018. The first winner of this award is Wendi Winters, who was killed while trying to distract the shooter to allow others to escape.
Learn more about the awards here: http://www.mddcpress.com/