When a WC alumnus learned about a faculty member's project at a museum in Belize, he jumped in to fund three students' travel there this summer as part of a global field experience in education.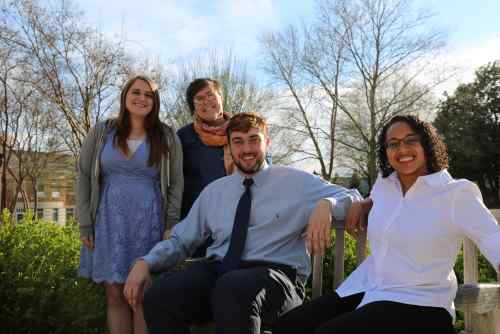 A year after helping launch the Crooked Tree Museum and Cultural Center in Belize, Assistant Professor of Education Sara Clarke-Vivier is returning this summer to the inland lagoon community, this time with three Washington College students whose travel has been funded by an alumnus who made an instant connection to Clarke-Vivier's work.
Thanks to the support of Bob Stewart '60, Colin Levi '21, a communications and Spanish double major with a minor in secondary education, Holly Schaffer '21, a human development major and psychology minor, and Kayla Mehrtens '21, a chemistry major and secondary education minor, will travel with Clarke-Vivier for two weeks in June to work and learn first-hand at the museum that's dedicated to educating local students about Belize's Kriol culture and history.
"Having worked in museums and libraries, I know that they're very important educationally," says Stewart, who works at the Asbury Park Library and earned master's degrees in library science at Rutgers and in public administration at Fairleigh Dickinson. "People don't think of it like going to school, but they're important, so maybe the students will help the museum be part of the education in that area, but also they'll learn that museum work is a profession unto itself and there are a lot of job opportunities in that field."
"I was so touched when Bob reached out to me to say he had been to Crooked Tree, and that he intended to visit the museum on his next visit," says Clarke-Vivier. "The generosity that he has shown our program after his visit is truly amazing. It has made it possible for three bright, ambitious students to undertake their own independent research and contribute in meaningful ways to the Crooked Tree Museum and community with barriers related to the cost for that experience. That is huge."
Though students in education have studied abroad in other programs, Clarke-Vivier's Belize research trip is the first program designed to bridge formal and informal learning environments.
"Future classroom teachers, like Kayla, Colin, and Holly, can learn a lot about curriculum design, assessment, and high-impact teaching practices from museum environments," Clarke-Vivier says.
Stewart had only a brief career at Washington College, transferring from the University of Delaware as a senior and getting his undergraduate degree in political science. He says he hasn't been a very active alumnus—at least, not until he saw a story in the fall 2018 Washington College Magazine about Clarke-Vivier's work helping develop the museum and curriculum at Crooked Tree. An avid birder who travels to Central and South America on birdwatching trips, Stewart had been to Belize four times, even to Crooked Tree.
"We have some interesting connections, and right away that was my interest. I contacted Sara right away and asked about the museum."
Clarke-Vivier explained that one of her goals was to get WC students to Belize as part of an education study-abroad experience, in which they could see first-hand how education happens in another country and also participate in some of the museum-based curriculum development. Stewart asked how he could help, and ended up funding all three students' travel with a gift of $6,700, acknowledging that, "I haven't been particularly generous to any school I've gone to, so I thought maybe I can make up for a little bit of lost time."
He also visited the museum during a previously planned trip in January, after talking with Clarke-Vivier. "I thought the museum is quite good for a small, remote museum, it's a well-done set up," he says.
For the students, it's a once-in-a-lifetime experience. They will spend time observing teachers at the Crooked Tree Government School working with K-8 pupils, and during the evenings they will be in residence at the museum helping develop programs for a teachers' workshop being held in June, Clarke-Vivier says. They'll also tour some other local schools, taking in some sight-seeing along the way.
Also, Instructional Technologist Raven Bishop, whose specialization in virtual museum tours earned her the 2018 Innovation Award from the National Digital Stewardship Alliance, will spend a week at the museum helping Mehrtens create a virtual tour of the space, and she will support Levi in designing and implementing a community curation/digitization day. Meanwhile, Brian Palmer, director of digital media services, is also helping Schaffer create some laser cut wood teaching objects for a travelling trunk project.
"It is a great place for students," Stewart says. "Besides the nature and the extensive Mayan ruins and the people who are still there, with their culture and languages, if they take a pair of binoculars and a bird book they will see all kinds of wildlife and birds."