The Mother of Freshwater Ecology
In honor of Women's History Month, we pay tribute to a former biology professor who pioneered freshwater ecology. We asked student historian Andrew Darlington '19 to investigate the WC teacher and environmental groundbreaker Kathleen Carpenter.
While Kathleen Carpenter has largely been forgotten in the modern day, her work in higher education revolutionized many aspects of modern science. In a society that spurned professional women, Carpenter fought to receive a doctoral degree from the University of Wales in the 1920s and fought for the acceptance of women into graduate schools. In a field that neglected freshwater biology in favor of marine biology, Carpenter's 1928 textbook Life in Inland Waters marked the first freshwater ecology textbook ever written in English; as a result of her studies and publications, Carpenter become known as "the mother of freshwater ecology." And in a world that provided her research opportunities at countless institutions—the University of Wales in Cardiff, the British Ministry of Agriculture and Fisheries in London, and Harvard University in Cambridge—Carpenter's desire to teach brought her to Washington College, where she was head of the Department of Biology from 1931 to 1936.
Kathleen Edithe Zimmermann was born in Gainsborough, England, on March 24, 1891. Her mother was Victoria Boor from Cambridgeshire and her father, Francis Zimmermann, was a successful businessman from Germany. Unlike many other fathers of his time, Zimmermann believed in the education of daughters, and Kathleen enrolled in the University College of Wales Aberystwyth, one of the first colleges in Britain to provide all-female accommodations, in 1907.
Kathleen earned her bachelor's degree from Aberystwyth in 1910 and studied for her master's and doctoral degrees, focusing on the impacts of lead and zinc mining in the area around her university. She produced the first detailed assessment of British running-water fauna and discovered that toxic salts from nearby mines had suffocated countless fish and caused the extinction of two species of mollusks. At the same time, however, tensions from the start of World War I began to rock the British community; after one German lecturer was run out of town by a mob in 1914, Kathleen changed her last name to Carpenter–the English translation of Zimmermann.
After receiving her master's and doctoral degrees in the 1920s, Carpenter published Life in Inland Waters in 1928. The book's publication provided her with countless research opportunities in the U.S., from further research in metal toxicity in fish while at Illinois State University, to performing physiological research work at Radcliffe College, the female equivalent of the all-male Harvard College. Yet Carpenter's first official teaching role came in the fall of 1931, when she came to Washington College as the head of the biology department.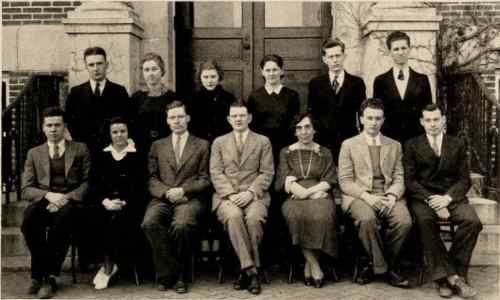 Throughout her time in Chestertown, Carpenter became an integral part of the Washington College community. In the fall of 1934, she founded and directed the College's Biological Society, a program whose purpose was to "encourage interest in the less technical aspects of biological science." She coordinated the addition of new display cases for biological specimens and local insects, and she welcomed all students to help increase the collection.
Carpenter served as a member of the Sigma Delta Epsilon society, where she advocated for women in what are now called STEM fields and fought for increased status of women in scientific careers. Perhaps most importantly, in true Washington College tradition, she fostered strong relationships with her students. Elected into the honor society in 1934-35, she attended the students' monthly discussions to "promote scholarship" among juniors and seniors. And upon her illness-related resignation in 1936, the Biological Society was renamed the "Carpenter Biological Society" in her honor.
In the preface of Carpenter's textbook, she writes "[freshwater life] is a world of infinite beauty, infinite variety, infinite charm… yet how many, even of professed biologists, have penetrated beyond its threshold?" In 1939, years after her resignation from Washington College, the only known personal description of Carpenter came from a war correspondent named Michael Moynihan, who wrote that "it was the study of freshwater fish that kept her from despair."
Professor Kathleen Carpenter was a pioneer in environmental science.This overwhelming passion for ecology not only motivated Carpenter in her research but inspired her to share her love for biology with her students and with the world. And while her scientific career seemed to abruptly end during World War II, Carpenter's work and legacy continues to instruct and inspire biologists around the globe.
Read more about Kathleen Carpenter in this story in The Royal Society of Biology: https://thebiologist.rsb.org.uk/biologist/158-biologist/features/1968-who-was-kathleen-carpenter