With a career as a medical doctor—quite possibly in cardiology—firmly in her sights, Maija Adourian '18 is basing her Senior Capstone Experience on a poster presentation she co-authored with biology professor Mindy Reynolds and presented in March at the annual meeting of the Society of Toxicology.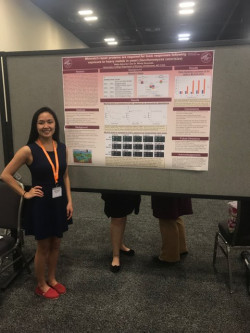 Maija Adourian '18 was in high school the first time she witnessed open-heart surgery. And this wasn't watching from behind some theater glass; she was in the room and close enough to have touched the patient, were that permissible.
"I absolutely loved the environment, loved everything about it," she says. For a long time as a student, she says, she was "tunnel-visioned with gaining all this clinical experience" in her goal to become a medical doctor. But working with Mindy Reynolds, co-chair and associate professor of biology, has broadened her field of vision so that now, she says, she feels like a much more well-rounded candidate for med school.
"She pushed me in both cell biology and biochemistry to really think critically," Adourian says. "Her tests can be tough, but after making it through those courses with her, you develop as a student and come out of them with a new perspective on problem solving type situations you might experience in the real world … There is almost no better feeling in the world than Dr. Reynolds getting excited about a piece of data you produced or a paragraph that you wrote well. I would probably not have even sought out any research opportunities in a lab if not for her."
Adourian, a biology major with emphasis in cell/molecular biology and infectious disease, and a chemistry minor, co-authored with Reynolds a poster that Adourian presented in March at the Society of Toxicology's (SOT) annual meeting in San Antonio, Texas. Entitled "Mismatch repair proteins are required for toxic responses following exposure to heavy metals in yeast," the poster presentation was the result of Adourian's research with Reynolds—including last summer as a Toll Fellow in the Summer Research Program—and is the basis for her Senior Capstone Experience project.
The research focuses on the effects of certain heavy metals—cadmium, cobalt, and nickel—on two types of yeast, which either have properly functioning mismatch repair, a required process to fix DNA damage, or are lacking the necessary proteins. Their results found that a particular type of yeast was more resistant to cadmium, a known carcinogen.
"Yeasts have homologous proteins with humans," Adourian says. "So when we look at the yeast model, one, they are pretty similar as mismatch repair, and two, our findings are helpful because we can use what we learn from the yeasts to see if we get the same results in cell culture. It's important because we want to know more about the exact pathways that metals use to cause cancer in humans… because we're exposed to them with batteries, cigarettes, contaminated air, water, soil."
Having completed and presented her poster at the SOT conference, Adourian is now working on the written aspect of her SCE, which will be researched and composed much like a paper that would be submitted to a peer-reviewed journal.
Adourian has wanted to be a doctor since she was a youngster. Her mother is a cardiac anesthesiologist, "so from a young age I have been exposed to that idea." Equally influential has been her younger sister, who at only two years old underwent open-heart surgery. After graduation in May, Adourian plans to take a gap year and work as a medical scribe, while taking her MCATs this summer and applying to medical schools.
A four-year member of the WC women's swimming team, Adourian is also a peer tutor in biology, and she works in the Office of Academic Skills where she helps with study halls and success seminars. The former president of the WC chapter of HOSA (Health Occupation Students of America), and vice president of Gamma Sigma Epsilon National Chemistry Honor Society, she's also a member of Phi Beta Kappa National Honor Society, Beta Beta Beta National Biology Society and the Cater Society, which, along with a grant from the Louise and Rodney Layton Fund, helped fund her travel to San Antonio for the SOT conference.
"I have had several talented students in my research lab over the years, and it was a true pleasure to work with Maija," Reynolds says. "She is a great listener, intellectually curious, and meticulous with her work. I look forward to watching her after she leaves WAC because I have no doubt she is going to do exceptionally well."