Former Starr Center Fellow Wil Haygood returns to WC on Nov. 15 to speak on his stirring new book Tigerland, 1968-1969: A City Divided, a Nation Torn Apart, and a Magical Season of Healing.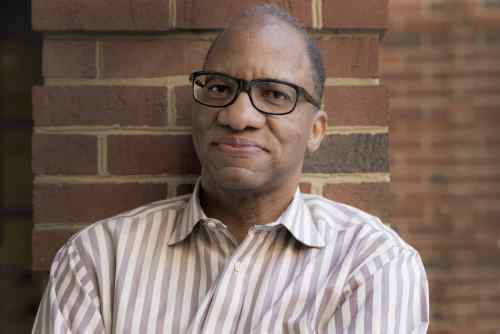 Critically acclaimed writer and journalist Wil Haygood, whose new book Tigerland is both an inspiring sports story and an illuminating social history, will return to Washington College on November 15 for a reading, book signing, and discussion of his work.
The free, public event begins at 5:30 p.m. in Hynson Lounge, Hodson Hall, and is cosponsored by the Starr Center for the Study of the American Experience, Rose O'Neill Literary House, Sophie Kerr Committee, Black Student Union, Cleopatra's Sisters, Washington College Athletics, American Studies and Black Studies Programs, and the Departments of English and History.
Haygood is the 2017 recipient of Washington College's Patrick Henry Writing Fellowship, and Tigerland, 1968-1969: A City Divided, a Nation Torn Apart, and a Magical Season of Healing, was written largely during his sojourn at the College's Starr Center.
The book traces the difficult contours of America in the late 1960s, when race relations across the country were especially fraught. The assassinations of Martin Luther King Jr. and Robert F. Kennedy sparked public outcry. City neighborhoods burned. Black Olympic athletes protested from the medal stand. Citizens marched for civil and human rights. And, in racially segregated Columbus, Ohio, two athletic teams from a poor, black, high school set out to win baseball and basketball championships, against all odds. This is the powerful and inspirational story recounted in Tigerland.
While in Kent County, Haygood will also meet with Kent County High School students and instructors to hand out copies of Tigerland for the One School/One Book Program. As part of this initiative, the community has raised close to $10,000 to ensure that that every student in grades 8 through 12 receive a personal copy.
"The embrace of Tigerland by the campus, community, and public school system is a testament to this book's beauty and relevance," says Patrick Nugent, Deputy Director of the Starr Center. "Here is a civil rights narrative set in one community and one school, the story of how one locker room carried out the ideals of self-determination and self-definition in the face of de facto segregation."
Since its debut in September, Kirkus Reviews has hailed it as "an engrossing tale of one shining moment in dark times." Publishers Weekly praises the author: "Haygood is a passionate storyteller as he expertly captures this period of civil unrest in an American city." The book has been recently named to the 2019 Longlist for the ALA's Andrew Carnegie Medals for Excellence.
About the Patrick Henry Fellowship
Launched by the Starr Center in 2008, the Patrick Henry Fellowship aims to encourage reflection on the links between American history and contemporary culture, and to foster the literary art of historical writing. It is co-sponsored by the Rose O'Neill Literary House, Washington College's center for literature and the literary arts. The Patrick Henry Writing Fellowship's funding is permanently endowed by a grant from the National Endowment for the Humanities, with further support provided by the Starr Foundation, the Hodson Trust, and other donors.