Recycle, Reuse, and Relieve
With help from Dixon Valve, Washington College is donating 44 sets of bedroom furniture to help furnish new homes for military veterans who are transitioning out of homelessness. It's yet another example of similar donations that College employees and the community have collaborated on for several years.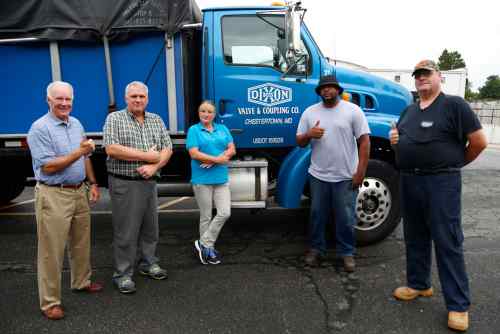 Farley says that this year, with such a large quantity of furniture, he contacted the Department of Veterans Affairs to see where there was a need. According to Rosemarie McGee, program manager at the Veterans Multi-Service Center (VMC) Thrift Store in Philadelphia, the furniture will be stored there until it is needed by the HUD-VASH program to help furnish a new home for a veteran. According to the HUD website, the HUD-VASH program combines rental assistance for homeless veterans with case management and clinical services provided by the Department of Veterans Affairs.
The VMC Thrift Store itself is a jobs program to help transitional veterans move to permanent, full-time positions, McGee says.
"While training at the VMC they help other transitional veterans move to their new homes and/or deliver their furniture from the Thrift Store," she says. "Trainees are responsible for picking up, processing, displaying, then delivering furniture, household items, and linens. We have a very good success rate with our program, with 83 percent moving on to better positions."
The bedroom sets came from the Cecil and Dorchester residential buildings—part of what's known as the Quad buildings—which will receive newer furniture from the Cullen building, which comprises Worcester, Wicomico, and Somerset. The Cullen building is undergoing a yearlong renovation, and it will get new furniture as part of that project, Farley says.
The collaboration with Dixon Valve helped reduce shipping costs, Farley says, while recycling the furniture itself—rather than simply taking it to a dump—saved the College at least $2,300 in hauling fees. This latest donation comes on the heels of a donation in early July of four bedroom sets to the New Life Recovery House in Kingstown, which was furnishing a new home for people who were overcoming addiction.