The first Community Unity Day aimed to bridge the gap between WC students and local Chestertown community members in a street fair-style day of activities.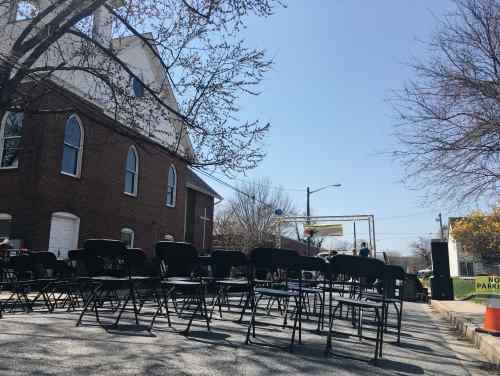 Chestertown and Washington College celebrated their first Community Unity Day in the warm sun of April 14 with a variety of food, music, kids' crafts, activities, and games. Held on the corner of Campus Avenue and Calvert Street, the day resembled a street fair with live concerts, food trucks, and crafts. The streets themselves were decorated with chalk drawings and community members and WC students alike perused booths of local business alongside school clubs and organizations.
Community Unity Day was jump-started by Elena Deanda, Assistant Professor of Spanish and Director of the Black Studies Program at Washington College. She envisioned a day to bridge the gap between College students and faculty and the local Chestertown residents. Deanda said she "wanted to put together student and college organization and office with local organizations and make them speak, learn from each other."
The event welcomed all WC students, faculty, and staff as well as any and all local residents of the greater Chestertown area. Parents had fun with their kids, students hung out with friends, and all felt a sense of camaraderie.
Emily Dobson '20 appreciated the chance to get to see what the local community had to offer WC students and vice versa. "It facilitated several future collaborations between different organizations who didn't know the other existed," she said. The day promoted mingling and learning more about the unfamiliar.
Rose Adelizzi '18 from the Student Environmental Alliance applauded the emphasis on the building of relationships between organizations and businesses, appreciating that it wasn't all about vendors bringing in money, but more focused on future collaborative opportunity. "There were giveaways of free books, plants, and cookies, and organizations generally spoke about their events and free services that they provide," she said.
As people of all different backgrounds came together for an afternoon of festivities, Deanda felt the gap narrow between locals of Chestertown and members of WC. "For a first time community day, the event managed to draw students, students' friends and family members, WAC staff, and faculty, as well as our local neighbors, and people from all different backgrounds and zones of Chestertown," Deanda said. "I felt involved as the Black Studies program director, but also as a Spanish professor."
Looking towards the future, Deanda hopes next year's event strikes the same note and even more students come out to participate and get involved.