To raise awareness about substance abuse and the resources available to help individuals and families struggling with addiction, Washington College is "going purple" as a sign of solidarity with the Kent County initiative.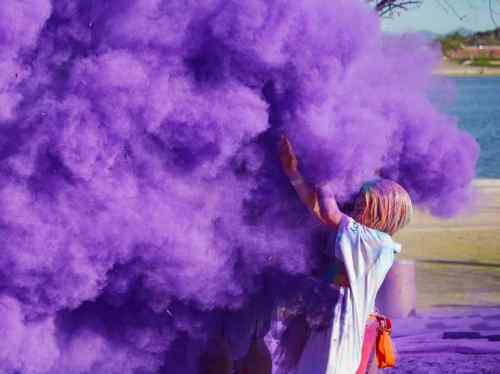 Washington College stands with Kent County by going purple in support of Kent Goes Purple – a county-wide initiative meant to alert the community about substance abuse. From lighting and decorating sections of the campus purple to participating in the 5K Color Fun Run on September 9, Washington College plays a significant role in educating students on prevention and intervention on all forms of substance abuse.
"We support this initiative because any level of awareness we could generate for the community helps our students," says Washington College president Kurt Landgraf. "It's important for all of us to have an appreciation of the destructive nature of substance abuse, and for those who are addicted to misuse – there is help."
The Washington College Office of Prevention, Education and Advocacy requires all first-year students, along with individuals who may demonstrate substance use and/or misuse, to take online courses for substance abuse prevention and intervention. The College also provides a personalized intervention and prevention course for those who may be using illicit drugs and/or misusing prescription drugs. The information provided specifically in this course aims to: recognize how psychoactive drugs affect the brain; identify types and categories of psychoactive drugs; understand addiction, tolerance, dependence, and withdrawal; and learn what to do in case of overdose.
On campus, most of the College's public safety officers have received NARCANâ training to administer naloxone, a medication that can counter-effect opioids, in the event of an accidental overdose.
To learn more about Kent Goes Purple, register for the Kent Goes Purple 5K Color Fun Run, or to donate, visit www.kentgoespurple.org. Follow Kent Goes Purple on Facebook at www.facebook.com/KentGoesPurple/.