Graduating from pharmacy school in May, Brittany Palasik '12 has already been accepted for a residency at West Virginia University.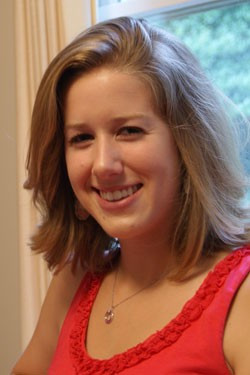 Brittany Palasik '12 knew early on that she wanted a career in pharmacy—she is, after all, the daughter of two pharmacists—but as she's progressed in her studies, she's honing in on not just practicing the craft, but teaching it, too.
For that reason, Palasik, who will graduate in May from the University of Maryland's School of Pharmacy with a doctor of pharmacy degree (Pharm.D.), after earning her undergraduate degree in biology at Washington College with a minor in chemistry, will head off to a two-year residency at West Virginia University.
"It's not mandatory, but it's recommended if you want to do hospital pharmacy," she says. "I eventually want to become a clinical faculty member, so I will be splitting my time taking care of patients at the hospital, and the rest I will be teaching pharmacy students."
Washington College's dual-degree program in pharmacy has enabled Palasik to earn—in seven years—a bachelor of science degree and a doctor of pharmacy degree. The added benefit of the writing-intensive, liberal-arts-based undergraduate work at WAC put her one step ahead, she says, of students from other schools.
"Washington College prepares you in a more well-rounded fashion than other institutions, I think," she says. "You get all of those communications pieces, and other places don't necessarily do that. It's a huge benefit especially in health care. I was perfectly prepared for everything coming into UMD."
She's also counting on that background to help her take the pharmacy degree one step further so that she can teach. "I'm going to be in academia, so I'm going to have to write a lot publications. That will be a big part of my job as well, so it was important to have that foundation."
WAC's small classes and intensely engaged faculty were critical to her success, she says, especially because she had to manage her course load correctly to get her prerequisites for pharmacy school, as well as her undergraduate work, done in three years.
"Dr. Martin Connaughton [pre-pharmacy advisor and associate professor of biology] was the one who really got me on my feet to help me finish undergrad in three years. That was huge. The mentorship is such a big piece at Washington College," she says. "He was instrumental in getting me where I am today."