Peer Mentor Program is Perfect Way for Senior Crystal Jones to Share Her Love for College
"As a Peer Mentor, you give so much of yourself for others; honestly it can be a hard job unless you care really deeply. But this doesn't feel like work to me," said Jones. "Because when I hear these good stories, I really feel like I've done something right. That feels good."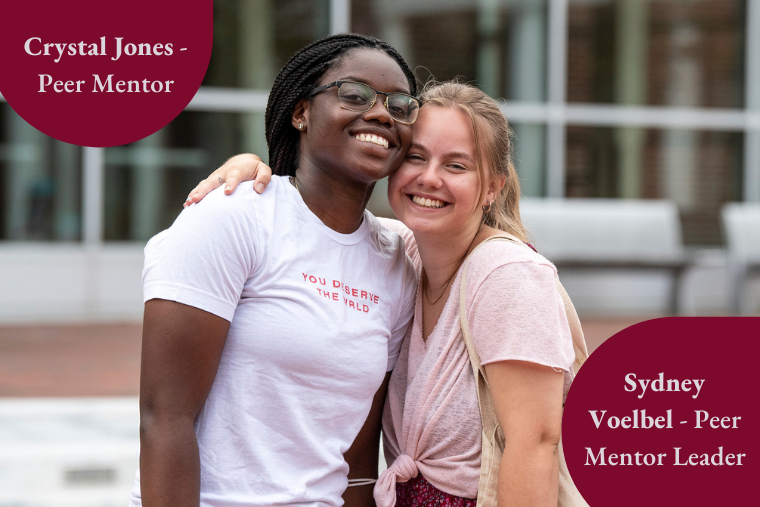 Crystal Jones knows that you only get one chance to make a first impression, which is why the graduating senior and veteran Peer Mentor is so dedicated to helping new students have a great experience at Washington College, right from the start.
"I know so many students who have really, really good Washington College experiences, but there are also some who don't," she explained. "I'm one of those who loves it, and I want everyone else to feel the same way. And if you have a really good first week on campus, that's the best way to start because that first impression matters."
Jones came in as a basketball recruit and for her, being part of that team meant that she has an instant support network upon arrival. "I guess in a way by being a part of the Peer Mentor program, I'm trying to recreate that same system…just without the basketball!" she added.
Now a senior and planning to graduate in May with a degree in Biology and a Chemistry minor, the Silver Spring, MD resident is happy to give back to her beloved Washington College community by helping to make sure that incoming students have a really positive experience. And this year, she actually gets to work with her mentees in-person, a nice change after serving her first Peer Mentor cycle virtually.
As a Peer Mentor, her responsibility is to help incoming students feel comfortable with the transition from high school life to college life. This includes keeping tabs on their mental health and social health, submitting CARE reports as needed or providing follow-up with a student with a CARE Report from another source, and just general check-ins. "I think it's kind of like parenting," said Jones. "I honestly feel responsible for my group."
It's about helping students not just find their way to class, but find their way at Washington College as a whole. "This transition is scary no matter what," said Jones. "Knowing what that feels like, my approach is to be friendly, approachable and just as cool of a resource as possible. I try to keep it really informal and comfortable."
The Peer Mentor Program is designed to provide individualized support for first year students' collegiate experience. Peer mentors are trained student leaders who assist with pre-orientation communication, help facilitate the orientation experience, collaborate with students' First Year Seminar faculty advisor, and check in with their mentees regularly throughout the year. Peer Mentors serve as a go-to resource for mentees, offering information, support, and connections to college and community services.
This year there are 22 Peer Mentors and each one was assigned a group of 8-15 new students, who are also classmates in the First Year Seminar (FYS). Peer Mentors go through a selective application and screening process in the Spring. Rising sophomores, juniors and seniors can apply. Successful Peer Mentors are welcoming, supportive, and community minded. Important characteristics in a peer mentor include, empathy, social and relational strengths, initiative, school spirit, and organizational skills. Peer Mentors gain valuable leadership skills and receive a stipend for their work.
The most intensive aspect of a Peer Mentor's work with the incoming class occurs during New Student Orientation. During that important first week on campus, the Peer Mentors groups follow a full schedule of mandatory events, sometimes starting at 7 AM and going until 9 or 10 PM. "We're a pretty tight group that first week," said Jones. "That's really our bonding time with the mentees and their time with each other."
"A lot of this is just them wanting to talk, which is how it is in college," she said. Therefore, her philosophy as a Peer Mentor is to be really open. "I told them, 'say what you want to say, ask what you want to ask' and everyone got comfortable really quickly." That doesn't work with everyone right away, but as someone who is naturally outgoing, Jones has developed ways of prompting students to open up and to keep them talking.
And while she didn't require her mentees to sit together at every meal during Orientation, they did it anyway. "That was really nice, because then the conversation during the meal became an extension of what we'd just covered in a session," said Jones.
"This can actually be tough because when you think about it, I'm just three years older than them, and if they wanted to, they could probably just blow me off," she added. "You have to have the confidence to say, 'OK, right now you're going to listen to me.' You have to have a presence."
She also made it fun by catering to what her group liked and what they had in common. Turns out, everyone in her group is a Marvel fan – including Jones – so one night they watched a Marvel movie together. Another time she modified the walking tour to make time for an extended visit to the Cat Colloquium, knowing that everyone in the group would enjoy that visit.
Once classes start, Peer Mentors are still responsible for checking in with their group on a regular basis, though for Jones this happens naturally almost daily in D-Hall over breakfast. "It's great because now we see each other and start talking as friends, which is the peer part. The peer part really comes before the mentor part," she said.
As a Peer Mentor, you give so much of yourself for others; honestly it can be a hard job unless you care really deeply. But this doesn't feel like work to me," said Jones. "Because when I hear these good stories, I really feel like I've done something right. That feels good."
The Peer Mentor program is sponsored by the Student Affairs department and overseen by the Assistant Dean for Student Engagement and Success. Learn more here.