National Suicide Prevention Week
WC students and staff marked National Suicide Prevention Week with a candlelight vigil, resources, information, support, and enthusiasm for students' efforts to form a College chapter of the national group Active Minds.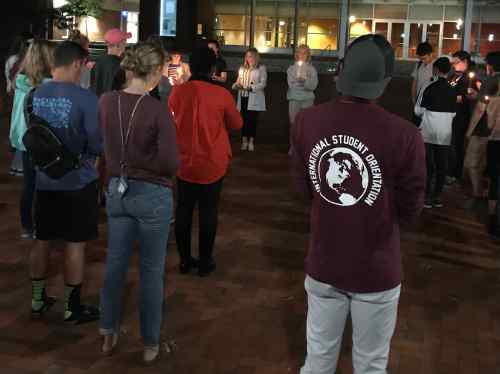 Students were happy to see Puck, one of WC's four therapy dogs, who was helping out at Health and Counseling Services' information and resource table in Hodson Hall, part of the College's recognition of National Suicide Prevention Week.
Counseling's outreach to students followed a candlelight vigil in Martha Washington Square to mark World Suicide Prevention Day. Students who are working to form a campus chapter of the national organization Active Minds encouraged everyone to help change the way mental health is talked about, reduce the stigma associated with mental health, empower those who need to talk, and enlighten those who need to listen.
If you or someone you know needs support, contact Health and Counseling Services Monday through Friday, 8:30 a.m. to 12 p.m. and 1-4:30 p.m., at 410-778-7261, or the local Mobile Crisis Response Team 24/7 at 1-888-407-8018. You can also call Public Safety 24/7 at 410-778-7810. Two other national resources are the Crisis Text Line (text 741741), which will connect students to a crisis counselor, and the National Suicide Hotline at 1-800-273-8255.