Just over a year after graduating from Washington College, Tyler Brice '13 is loving his new job as a rescue technician for the Maryland State Police's Aviation Command.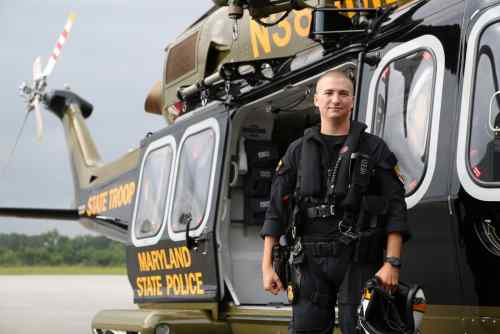 Mile-High Medic
Tyler Brice '13 thought he knew what he wanted to do with his life well before he came to Washington College. An Emergency Medical Technician (EMT) for Kent and Queen Anne's County Rescue Squad while still a high school student, Brice figured that he'd go premed at WAC and then become a doctor.
But during the course of his study as a premed biology major and chemistry minor, he realized that only part of his WAC education was about academics, internships, and job shadowing with local doctors. He realized that more of it was learning about himself and his choices.
"I wasn't sure I wanted to spend all that time and money going to medical school. I'd rather settle down and have a house and a family and not just be starting my career in my 30s," Brice says. "But I knew I wanted to do something within the field of medicine. And trauma medicine is what interested me to begin with."
Brice thought about attending a physician assistant program, or just entering the workforce for a while after graduation until he could re-evaluate. Then his father, a Maryland State Trooper, came up with a revelatory idea. What about working on one of the state's medevac helicopters, operated through the Aviation Command division of the Maryland State Police?
Do the job he loved, add skills, and get to fly in an awesome machine? Brice, who is a rather understated young man, puts it this way: "It seemed like the best route."
So during his last semester at WAC he applied to the Maryland State Police and was accepted to the academy even before he graduated from Washington College.
"I had a month off, then I went to the police academy, which was six months, like military boot camp and college all combined together," Brice says. He graduated as a State Trooper and took to the road as a patrol officer at Centreville Barrack, waiting for an opportunity to transfer to the Aviation Command. It came sooner than he expected, since the state was in the process of replacing its helicopter fleet with new AW-139 helicopters that required a crew of four instead of two. The new crew consists of a pilot in command and second in command, a crew chief who is a paramedic, and a rescue technician. Due to the upgrade, the command was accepting transfers.
Brice was transferred, finished his three months of medical operations training, and this summer began his new job as a rescue technician, working at Trooper 6, which is stationed at Easton airport. He plans to continue his medical training to become a paramedic, then eventually certified flight paramedic, the highest level of certification for a flight medic.
"It's been a blast," he says. "It's one of those things that the first fly-out we had, I said, I can't believe I'm actually getting paid to do this!"
Brice's four years at WAC were busy: He was president of the Trap and Skeet Club, worked at the GIS Lab, served as president of the College's chapter of Beta Beta Beta, the national honor society for students of biology, and was a member of Kappa Sigma.
His experience in the College's biology program was "wonderful," not only for the premed work but also in his summer research with Aaron Krochmal, asociate professor of biology, and his long-term research project radio-tracking Eastern painted turtles. From the start, Brice says, the small classes and faculty support created an incredible learning environment.
"If I had questions about something, their doors were always open, they were always willing to help," he says. "They gave back as much as you put in, plus some."