Making the Most of All of Your Food
Just in time for the season of huge holiday meals, Italian Culinary Institute Master Chef John Nocita will teach creative ways to make zero food waste at the Eastern Shore Food Lab on Nov. 20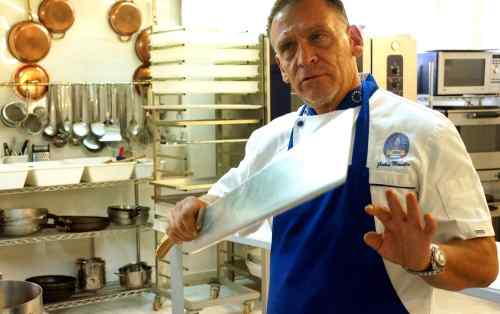 John Nocita, master chef and president of the Italian Culinary Institute, will visit Chestertown on Nov. 20 to lead two presentations at the new Eastern Shore Food Lab about how to make the most of every bit of your food by not wasting any of it.
Nocita, who is among Europe's leading consultants for menu development and is a certification specialist for the European Community's Product Authenticity Program, will demonstrate advanced and conventional cooking techniques to transform refuse into luxury. While necessity ignited the creativity in peasant communities, and what they created from all parts of their meals became the basis for most traditional cuisine, fully 40% of food in the United States goes to waste. Nocita's presentation, "The Day After: How to Make the Most of Your Food Waste," will teach a zero-waste approach as you plan the big meal.
These are free events but registration is required. One event has already sold out, but some space remains on Nov. 20 from 10 a.m. to 1 p.m. Reserve your spot here:
https://www.eventbrite.com/e/the-day-after-how-to-make-the-most-of-your-food-waste-tickets-51975915362
Nocita is an award-winning chef, a member of the Italian Olive Oil Masters, and a sommelier. He founded the Italian Institute for Advanced Culinary and Pastry Arts to constantly update cooking techniques and menu development for chefs and pâtissier in the world's increasingly competitive environment. In 2001, he was awarded for Outstanding Contributions to Promote Fine Dining from the Distinguished Restaurants of North America, whom Wine Spectator describes as "the authority on fine dining."
The Eastern Shore Food Lab is a one-of-a-kind teaching, learning, and production space, led by Bill Schindler, associate professor of anthropology and a world expert on primitive technologies and ancient foodways. Drawing international chefs and food innovators to rethink our food systems by using ancestral food knowledge and technologies, the ESFL aims to create food for today's palate that is more nutritious, meaningful, and sustainable. Schindler calls this "learning to eat like humans again."
While working for global food system change, the ESFL will be grounded in the local, propelled by the notion that environmental and cultural sustainability should be at the forefront in our approach to food. By researching the resources unique to the region based on weather, climate, soil chemistry, and microbial biology, and fusing ancient and historic foodways with modern technologies and methods, faculty, students, community members, and collaborative researchers will re-envision our food system, from how we define food to how we grow it and prepare it.