With a new cross-campus collaboration and international students leading the way, the College's celebration of the Lunar New Year was the largest and most energetic ever.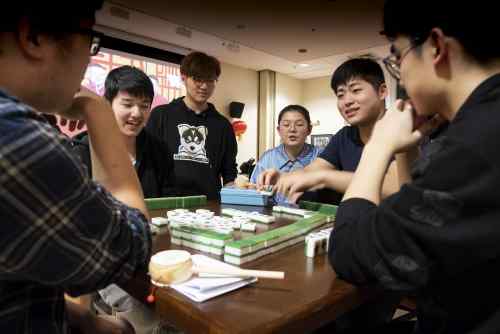 WC's dining hall and Hodson Commons took on a distinctly Asian flavor and flare to celebrate the Lunar New Year, with authentic foods prepared by students and dining hall staff served at a campus-wide dinner, followed by games, activities, and live streaming of the celebrations from China.
It was the biggest celebration of the Lunar New Year the College has ever seen, thanks to a wide-ranging collaboration among the Chinese Culture Club, led by Yue Sun '20, the Global Education Office, Dining Services, the Student Events Board, and the Department of World Languages and Cultures.
"The Lunar New Year is the most celebrated holiday of the year in China and in Vietnam, two countries that have sent many students to us," says Andrew Oros, professor of political science and international studies and associate dean for international education. "Our largest group of international students is from China—68 presently on campus. We realize they are away from family and friends on this big holiday and we want them to see WAC as their family away from home."
Nearly 700 students, faculty, and staff attended the dinner at the dining hall, which was a first-time collaboration among students from the Chinese Culture Club and dining hall staff. Students suggested the menu, helped prepare it, and served the meal, said Sarah Lyle, the Global Education Office administrative assistant who drove several students to Philadelphia to find the foods, treats, and decorations to make the meal authentic.
After dinner, about 150 students, mentors, staff, and faculty headed to The Egg and the Goose Nest where they could watch a livestream of the gala on Chinese television and try their hand at calligraphy and decorating traditional lanterns, and join in games including foot shuttlecock, Chinese jump rope, traditional knot-tying, mah-jongg, the game five in a row, a.k.a. "Go," and Chinese checkers. The students also set up a tea bar with snacks and sweets.
"For our domestic students, a chance to experience how this major holiday is celebrated helps expand the College's mission of increasing global awareness among our students, and to help some prepare for study abroad in China in the coming years," Oros says. "For me personally, it was heart-warming to see the Goose Nest full of students from all over the world playing a wide variety of games, doing craft projects, watching streaming video from Chinese TV, and simply enjoying each other's company."