A song written by U.S. Air Force Lt. Col. John Stea '81 as a tribute to Gold Star families is recorded by top musicians from the 101st Airborne, produced by Belmont University in Nashville, and expected to be released Dec. 20.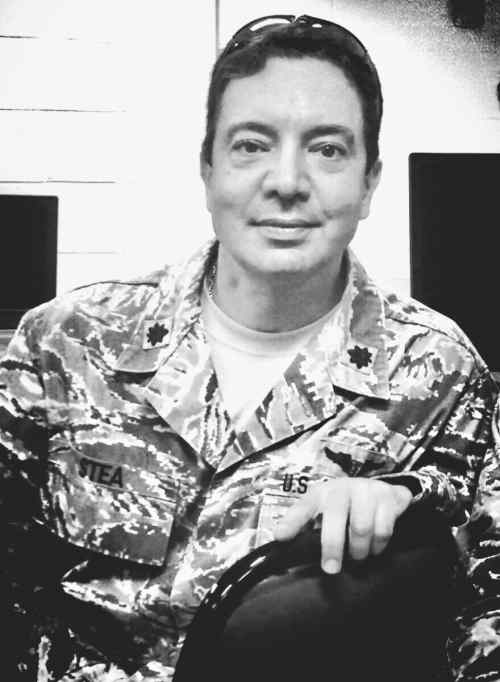 John Stea '81, a biology major with a minor in history at WC who earned a medical degree and joined the military, has some advice for today's students.
"I want to encourage young people to take English, writing, and music classes because you never know where those pearls will take you," says Stea, a practicing psychiatrist and flight surgeon with the Kentucky Air National Guard who picked up guitar in medical school. "I wish I could go back in time and take more music classes. Things open up that you can't imagine."
For himself, he never imagined that his childhood interest in poetry and music would reemerge decades later and that the personal connections he made through the years would lead to this moment: growing recognition as a songwriter among Nashville's musical elite and the release of what promises to be the next "evergreen" song celebrating patriotism and military service. "Light of a Gold Star," recorded by the 101st Airborne Division's Big 5 rock band, pays tribute to service families who have lost a loved one in combat. (Listen to the original demo version performed by Nashville artist Jordyn Mallory here.)
"I was very fortunate to go to Washington College and get a scientific education, but I always had the artist in me," he says. "I was always interested in poetry and music. And when I think of all my professors, [English professor] Rich Gillin and [history professor] Guy Goodfellow were the most influential in terms of forging my thinking and preparing me to serve my fellow man."
If Rich Gillin had had his way, Stea says, he would have focused more on writing in college.
"A lot of these things occur by happenstance, and the liberal arts fosters creativity," he says. Washington College really prepared me for that."
During his medical training in New York City, Stea audited a few English literature classes at Columbia University and met some kindred spirits, including a musician who taught him how to put a song together, outlining verses and chorus on a paper napkin in a Greenwich Village restaurant. Stea committed himself to guitar lessons and songwriting for a time, but that phase of his life closed during his military service and marriage. After moves to Florida, Ohio, and Texas, Stea divorced and began a new chapter, this time with music and songwriting at its core.
"I was trying to find myself again and—remember MySpace?—I happened to meet Megan Connor, now a successful singer/songwriter who had gone to Baylor University and then moved to New York as an aspiring actress. We both yearned to write and create, and we started sharing ideas. When the opportunity arose for me to work as a psychiatrist in Kentucky, I moved to Madison, Tennessee, just outside of Nashville. Months later, Megan made her move to Nashville and we began writing songs together."
The two artists were working in the recording studio when prominent songwriter Don Goodman and music publisher Robert Resnik—perhaps best known as publisher of the songs "Stay" and "Ol' Red"— took notice.
"Don was extremely impressed by Megan, who went on to become really big, and Rob took a liking to me because I had been in the military," Stea says. "Working with Goodman and his crew, including Rich Alves, we learned how to put a decent song together."
Stea began writing on his own, with Robert "Buddy" Resnik as his mentor and publisher. About two years ago, Resnik asked Stea to write a song about Gold Star moms. Stea recalls how "Light of a Gold Star" came to him.
"I was alone, on call, sitting in my cottage struggling with my song. I couldn't imagine a parent losing a child. I wanted something that would honor a fallen soldier, but how do you do that without glorifying war? I needed a line, but nothing was coming. It was late at night, and there had been a ferocious storm. At 4 a.m., I get the call. 'Dr. Stea, you have a patient.' I walk outside and there's a mist. The storm had broken. And then I see stars emerging from the cloud. 'Golden light falls from a star-spangled sky.' The song started to write itself. I was thinking about loss and pain, and the struggle within ourselves from a loss. That really drove the song."
Other connections led Stea to Katherine Bolcar, a vocalist with the U.S. Army and lead singer with the 101st Airborne Division's Big 5 band at Fort Campbell. And she has connections at Belmont University, where Brent Hauer, former 101st Airborne Division Band member who is now an audio engineering graduate student. It seemed only fitting that the Big 5 band record "Light of A Gold Star" at Belmont's Columbia Studio A for release.
"It's a huge honor for me to have the Big 5 band record this song," Stea says. "Those who have heard it are thinking it could become an evergreen song, a patriotic song that helps us realize there's something bigger than ourselves."