Washington College's first electric vehicle charging stations come on line this week, marking a step forward in the College's commitment to sustainability and encouraging students, faculty, staff, and others who want to switch to electric vehicles by making charging at the College easy and affordable.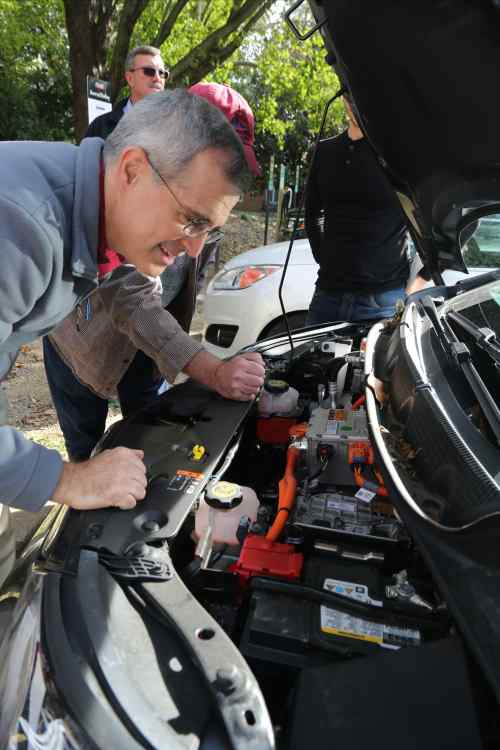 Washington College fired up its first electric vehicle charging stations this week, hosting a cruise-in that drew half a dozen electric and hybrid-electric vehicles to plug in behind Bunting Hall, as car owners, faculty, staff, students, and local residents stopped by to learn more about electric vehicles, compare notes, and even go for a test drive.
"The plan at the Center for Environment & Society, which started this concept, was to build forward," says Greg Farley, the College's director of sustainability. "This is the infrastructure that students and parents will come to expect. I've already had one parent call me and say, 'Can I charge my car while I'm here visiting with my student?' and it was great to be able to say, 'Yes!' ''
The network, comprised of four chargers behind Bunting Hall, one in the Gibson parking lot near the footbridge, and another in parking lot D next to the residential halls known as the quads, marks a great step forward for the College's sustainability efforts. The charging network was made possible by $10,000 in donations, while Tesla donated four of the six charging units. Chesapeake College also donated two non-Tesla units. Three of the units are for charging Tesla model vehicles specifically, while the other three can charge all models of electric vehicles including the Chevrolet Bolt and the Nissan Leaf.
Students, faculty, staff, visitors, and others will be able to use the chargers for up to four hours at a time after purchasing a $25 annual permit from the Department of Public Safety (the fee helps offset the electricity use).
"The College's commitment to creating this charging network sends the message to everyone in the College community, from parents and students to faculty and members of the Board of Visitors and Governors, that if they choose to make the switch to EVs, we will support them in that," Farley says.
Shane Brill, assistant director of the College's Eastern Shore Food Lab, showed up at the charge-in with his Chevy Bolt, which he purchased in June. He says that using the Bolt has enabled him to save about $150 a month in fuel, while the power to charge the car at home costs about $50 a month. Other than rotating the tires on a typical schedule, he says, the car is virtually maintenance-free.
Joining Brill with another Chevy Bolt was Jon Hanley, chair of the Chestertown Environmental Committee, and other car owners included math Professor Gene Hamilton, who topped off the charge on his Ford C-Max hybrid, and Mark Emon of Easton, Md., who brought his Tesla Model 3.
Also in attendance were two officers from the College's fledgling Automotive Club, Xaeza Olt '20, a physics major and club president, and Jared Kovacs '20, a pre-med biology major and club secretary.
Many people are choosing electric vehicles over traditional internal combustion engines to reduce the country's reliance on fossil fuels, improve air quality, and lower greenhouse gas emissions that contribute to the accelerated warming of the planet. However, finding places to charge the vehicles, especially in rural areas like the upper Eastern Shore, can be a challenge. Farley says that while he expects usage at the College's stations to initially be low, he predicts it will accelerate rapidly as more people choose electric vehicles—a decision that the College' new network may encourage. Farley also has a vision to expand the charging network in the future.
To obtain a charging pass for the EV charging network, contact Public Safety at 410-778-7810. For more information about the charging network and the College's sustainability initiatives, contact Greg Farley at gfarley2@washcoll.edu.