Unhurried Conversations: How Dr. Jim Windelborn's success translates to his students' success in the classroom and the lab
"Dr. Windelborn is the exact image of what a professor at Washington College should be. He truly makes every student feel like they are a part of the flock," Senior Emilee Cramer said.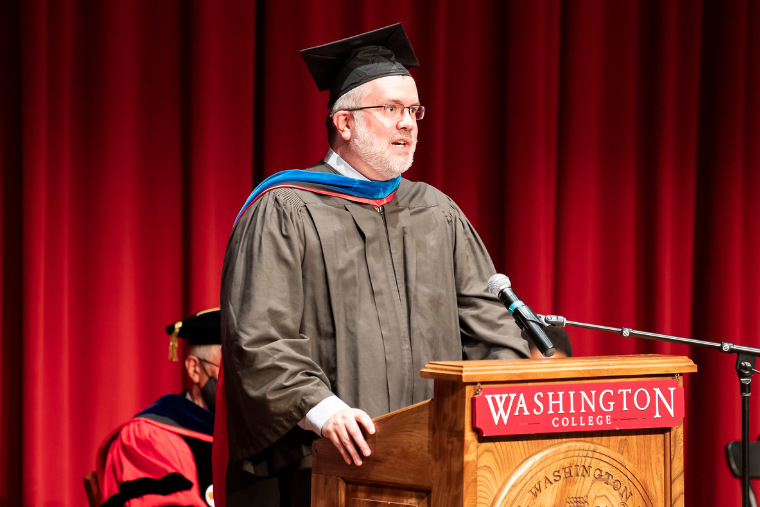 The recipient of Washington College's Award for Distinguished Teaching in 2021, Dr. Jim Windelborn's driving motivation has been an experience within itself. From the Midwest to Boston and now to Chestertown, Maryland, his empathetic approach to Biology and engaging with his students in meaningful ways has set both him and his students up for success at Washington College.
"Dr. Windelborn is the exact image of what a professor at Washington College should be. He truly makes every student feel like they are a part of the flock," Senior Emilee Cramer said. "He delivers every aspect of a well-rounded education: providing rigorous coursework, fostering creativity, offering support, instilling confidence and creating connections."
Now serving in his eighth year as the director of the Neuroscience program and an assistant professor of Biology at Washington College, Dr. Windelborn's hands-on research has given students the tools to succeed both inside and outside the classroom and the lab. While focusing on the impacts of strokes, spinal cord injuries and muscular dystrophy, the knowledge gained from that research and translating it into his lectures is what makes his work so exciting, with all of it having an extraordinary impact on his students.
"It was not only eye-opening in terms of what real-life lab work entails, but it is so exciting to do research that may one day be published and go on to be the framework for future research," Cramer said. "He has also taught me how to be comfortable with myself, and honestly, this is just a result of seeing him always be so unapologetically himself. It's hard for that kind of mindset not to rub off onto people."
The Alumni Association Distinguished Teacher award is presented annually, and the honoree is announced during Commencement. The recipient also has the honor of giving remarks to new students during First Year Convocation in the fall. When Dr. Windelborn gave that speech back in the Fall, the response from alumni and peers was overwhelming. He doesn't usually bask in the success but it's hard not for him to feel that impact and those emotions from his peers.
"That response felt really good," Dr. Windelborn said. "That was kind of my favorite part of this whole thing because that's my goal — to have an impact on people and to have people reaching out because of this and say that I helped them. I don't know what would be bigger."
Graduating from the University of Illinois and continuing in academia through his Ph.D. program at the University of Wisconsin, Dr. Windelborn regularly studied spinal cord injuries in the lab. For his post-doctoral research, he moved to Boston to expand on his work that included studying muscular dystrophy at the Boston Biomedical Research Institute. It was there that the lightbulb went on over his head, realizing that he not only wanted to continue his research but also to educate students in a real-world setting.
"The research that I chose to do here is because I knew it would be accessible to students," Dr. Windelborn said. "The students who come and work with me in my lab have very much driven the research in different directions because in the end, there's so many directions for questions to move in. For me, it's motivating to have students helping to decide which way to go. That's something that I really appreciate about Washington College."
That hands-on experience remains a vital component of his classes, as he encourages students to explore new and unanswered questions in the world of Biology. And his students are the first to say that he's had a monumental impact on their lives, going as far as helping them get into graduate school.
"When we weren't at the pavilion bird watching or talking about anime, we spent time discussing my graduate school plans and the necessary steps to get there," Kramer said. "He helped me arrange all the critical tasks to complete during my junior year that are essential in optimizing the chances of getting accepted into veterinary school."
"He stayed in touch with me when I put college on pause for a year for my Air Force enlistment," Sabrina Mendez, a 2021 graduate, said. "While I was away, there was a change in a chemistry course requirement, which meant that I was going to be stuck in the middle of a transition and would have had to take two extra classes when I came back. Dr. Windelborn helped me to work out a solution. He also checked in a lot and just asked me how things were going."
When Windelborn was first interviewing for the job at Washington College, he recalled a phrase that was consistently repeated to him: unhurried conversations. That motto has stuck with him, and it became the cornerstone of his work in Chestertown.
"As faculty, we make time for each other and for our students. And we really try and make this a classic, liberal arts experience where you're coming here and getting a chance to apply yourself," Windelborn said. "You're exploring questions and you're going to have faculty who are willing to join you on that. But that's my dream as well — the fact that applying yourself was what the school was promoting, it was a no-brainer. I was like 'Is this real?' But that's the thing — it was."