International Scholars Discuss "America First"
Washington College's Goldstein Program is inviting international scholars on Feb. 13 to discuss the global response to and perceptions of the Trump doctrine of "America First."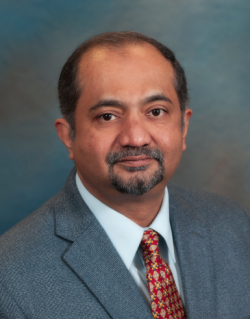 Washington College's Goldstein Program in Public Affairs is hosting a panel of four international scholars who will discuss how President Donald Trump's "America First" doctrine is being perceived in their countries. The event on Feb. 13 at 7 p.m. will be held in Hynson Lounge and is free and open to the public.
Muqtedar Khan, Professor of Political Science and International Relations at the University of Delaware, will moderate the panel. Panelists, who are part of the U.S. State Department's Study of the U.S. Institute (SUSI) on U.S. National Security Policymaking at the University of Delaware, are Maria Ryan of Nottingham University, UK; Qiang Yang of China Foreign Affairs University; Giorgi Bilanishvili, Director of External Security, Georgia; and Alejandro Frenkel of the University of Buenos Aires, Argentina.
Along with discussing how their countries are responding to Trump's new foreign policies, they will reflect on the future of America as the leader of the world and the future of the global order that was built under Pax Americana.
Muqtedar Khan is a professor in the Department of Political Science and International Relations at the University of Delaware. He is also Senior Fellow at the Center for Global Policy. He founded the Islamic Studies Program at the University of Delaware and was its first director, from 2007-2010. Previously, Khan was a Senior Nonresident Fellow with the Brookings Institution (2003-2008) and a Fellow of the Alwaleed Center at Georgetown University (2006-2007). Khan has been the president, vice president and general secretary of the Association of Muslim Social Scientists. He is the author of "American Muslims: Bridging Faith and Freedom" (Amana, 2002), "Jihad for Jerusalem: Identity and Strategy in International Relations" (Praeger, 2004), "Islamic Democratic Discourse" (Lexington Books, 2006), and "Debating Moderate Islam: The Geopolitics of Islam and the West" (University of Utah Press, 2007). Khan frequently comments on BBC, CNN International, Fox, VOA TV, Bridges TV, NPR and other radio and TV networks. His political commentaries appear regularly in newspapers in more than 20 countries. He has lectured in North America, East Asia, the Middle East and Europe. He earned his Ph.D. in International Relations, Political Philosophy, and Islamic Political Thought, from Georgetown University.
Maria Ryan is an assistant professor at the University of Nottingham in the United Kingdom. She specializes in post-Cold War U.S. foreign policy, in particular the development of neoconservatism; intellectuals and foreign policy; humanitarian interventionism; the Bush administration and the "Global War on Terror;" and the history of the CIA. For over a decade, she has been researching, publishing, and teaching historical and contemporary aspects of U.S. national security policy. She is currently researching her second monograph, which is provisionally titled "Beyond Iraq: The War on Terror on the Periphery," and is supported by an Early Career Fellowship from the Arts and Humanities Research Council.
Qiang Yang is a lecturer at the China Foreign Affairs University. His research interests include American foreign policy, climate policy, and politics. His courses, which fall under the Department of English and International Studies, include U.S. foreign and national security policy. In addition, he has been researching a ministerial-level project on U.S. climate policy sponsored by the Ministry of Education.
Giorgi Bilanishvili is the director of Georgia's Department of External Security at the Office of State Security and Crisis Management Council. He specializes in international affairs, national security strategies, NATO, and Russian foreign policy. He has been working in public service for almost 18 years, and completed the National Security and Public Policy Program, a year-long leadership and training course at the Georgian Foundation for Strategic and International Studies (GFSIS), the most well-respected think-tank in Georgia.
Alejandro Frenkel is a lecturer at the School of Social Sciences at the University of Buenos Aires in Argentina. He researches Latin American politics, defense and security, and regional affairs. He also coordinates a research group at the University of Buenos Aires called "Security and Defense in the 21st Century." The project engages undergraduate and graduate students of political science seeking to expand their academic training. He previously served as an advisor for the Secretary of International Affairs of the Argentine Ministry of Defense.
The Louis L. Goldstein Program in Public Affairs was established in 1990 to encourage students to enter public service by introducing them to exemplary leaders in and out of government. It has hosted journalists, political activists, foreign policy analysts, diplomats, military commanders and government officials of national and international stature. It also sponsors lectures, symposia, and visiting fellows, as well as student participation in models and conferences and other projects that bring students and faculty together with leaders experienced in developing public policy. Its current curator is Christine Wade, Associate Professor of Political Science and International Studies.