These political science grads are making their mark as campaign strategists, fundraisers, communicators, and coalition-builders on both sides of the aisle.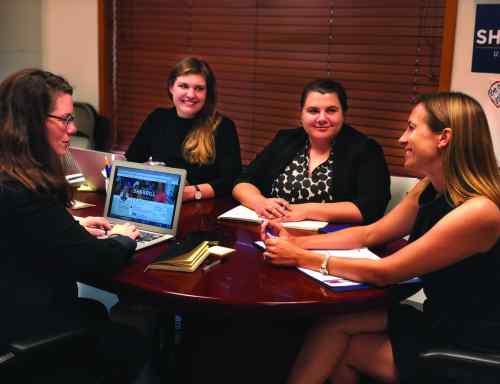 MONTCLAIR, NJ - Former Vice President Joe Biden is on his way, and all anybody wants is a minute of Mollie Binotto's time.
"Is Mollie here?"
"Ah, here's Mollie."
"Excuse me, Mollie?"
"Mollie, I need you."
It's early September, just after Labor Day, and Mollie Binotto '07 is the campaign manager for a first-time candidate, retired Navy pilot and former federal prosecutor Mikie Sherrill. A Democrat running for a Republican-held seat in northern New Jersey, Sherrill is locked in one of the most expensive and hard-fought congressional campaigns in the country—among the top two dozen that will determine control of Congress.
That's where Biden comes in.
The former vice president is the headliner at Sherrill's campaign kickoff to the general election, which leaves Binotto with a long and challenging to-do list: pack a ballroom with 700 people on a Wednesday afternoon, work on the candidate's remarks, and oversee logistics involving security, state power brokers, and national media. Oh, and she had to give her own speech to rally new volunteers.
I find Binotto a few hours before the event in a conference room on the side of the ballroom, where the stage, press risers, and lighting are under construction. She unwraps a breakfast bagel while simultaneously reading and talking to the swarm of staffers and volunteers buzzing around her.
Binotto's uneaten bagel is in hand while she walks to the stage to configure the VIP seating/standing situation. A Biden staffer pulls her aside to discuss his schedule and preference for entrance and exit music (Jackie Wilson's "Higher and Higher"). Back in the conference room, her bagel has to wait for a review of the press list, a quick phone call, a discussion of available parking spots, securing a backup American Sign Language interpreter, and looking at no fewer than three laptops placed in front of her to make snap decisions.
"I need a small army of humans, doing all of the things," Binotto says jokingly to all and none of her staff at once. By all appearances, she is leading one.
"This is a tough district," New Jersey Globepublisher DavidWildstein tells me over where the press is setting up, "and Mollie is running the best campaign in the state."
When Binotto joined the campaign in 2017, the race was against House Appropriations Committee Chairman Rodney Frelinghuysen, a 12-term congressman so entrenched that political provocateur Michael Moore once ran a ficus plant against him to highlight unchallenged incumbents. But Frelinghuysen quit the race in January when faced with political headwinds and the Sherrill campaign's impressive early fundraising hauls.
As of late September, Sherrill raised a total of $7 million, an eye-popping amount for a non-incumbent House candidate. In fact, the newcomer Sherrill outraised Frelinghuysen in consecutive fiscal quarters before the chairman of the committee that determines who gets what from congressional coffers decided to retire a champion rather than risk defeat. According to analysis by The New York Times, Sherrill raised more money than any other non-incumbent woman running for Congress this year. Only five men outraised her, and three were self-funding.
That intimidating war chest was built under the leadership of Hilary Badger '14, the campaign's finance director, who got her start in Washington College's alumni office. I meet Badger at a well-appointed house a mile from the Biden rally site, where she is making sure supporters get a chance to speak with the ex-vice president. Keeping everyone happy in a small room with demanding donors and a potential 2020 presidential candidate is the pinnacle of political fundraising. Yet Badger, all of 26 years old, handles it with confidence.
Badger arrived in Chestertown with a passion for swimming, a budding interest in politics, and a determination to make her own way. As an undergrad, Badger went to Washington and interned on Capitol Hill, where she first met Binotto through the alumni network. After graduation, Badger served as an assistant director of chapter programming and alumni networking until a job at the Center for American Progress came up. She was working in the House when a women's group recruiting campaign staffers highlighted the candidacy of Mikie Sherrill.
Badger was intrigued and called Binotto for advice, not knowing she had already signed onto the campaign.
"I heard about this woman in New Jersey," Badger remembers saying in the call.
"Tell me about it," Binotto replied. "I'm on the ground right now."
Back on Capitol Hill and on the other side of the aisle, Republicans have controlled Congress since the start of the decade, and graduates of Washington College are in the thick of the daily decision-making that steers the federal government.
One of them is Dan Holler '05, deputy chief of staff to Republican Senator Marco Rubio of Florida. As a member of the Senate committees on Foreign Relations, Appropriations, and Aging, as well as the Permanent Select Committee on Intelligence, Rubio is regularly at the hub of America's security and domestic priorities. Holler's job is to make sure the message is coordinated, consistent, and conservative.
Holler's work experience is atypical for the millennial generation, and especially for what can be the vagabond existence of a political professional. After Washington College, he landed at the Heritage Foundation, Washington's marqueeconservative think tank, and stayed there for the next 13 years. Holler got an education in grassroots activism from the ground up, working his way from an intern to launch their powerhouse political advocacy arm, Heritage Action, where he served as vice president in charge of communications.
Heritage Action was built to implement the policy ideas of the Heritage Foundation by sending experts to work with members of Congress in Washington and exert political pressure back in their home districts through campaign-style organizing. On topics such as health care, judges, and taxes, Heritage provides activists with tools to let members know how they feel and spends millions on outreach and advertisements to spread the word. Within months of its launch, Holler's group became a leading indicator of what the conservative base would and would not accept from Republican leaders. Their sights extended beyond the individual election cycles.
"There's far too much short-term thinking and not enough long-term thinking," as Holler sees it.
But change eventually comes for everyone in Washington, and this year, a former colleague who had joined Rubio's staff saw a natural role for Holler and his skills to build coalitions around a policy agenda and use it to pass laws. And so he reports to work in the Russell Senate Office Building where Senator Rubio relies on him to find new partners and build bridges around their ideas.
Holler looks back to the heated debates in his political science courses as lessons in uniting divergent views.
"What I learned through that," Holler says, "was if you're going to convince somebody, you have to meet them where they are. And then the question is, 'How do you bring somebody along and move them closer to you?'"
Holler says the friendships he made with students of various political stripes helped develop that skill—and that the debates started more than a decade ago continue to rage over email and inform his views.
"Something that always sticks out to me, especially given the times we live in," Holler recalls of his days in Chestertown, "is I distinctly remember when [Democratic campaign strategist and CNN Crossfirehost]James Carville was invited to campus in 2002. And my last year, [President George W. Bush's deputy chief of staff] Karl Rove was there. The ability to have competing voices—those different voices—pushed everyone to grapple with ideas outside of their comfort zone."
Matt Sparks '07says that his Washington College experience motivated him to be seen—which is important when you lead the press office for the House Majority Leader. Sparks joined the staff of Congressman Kevin McCarthy in 2012, shortly before the California Republican rose to become the second-most powerful member of the House.
"Of all the positive attributes of Washington College, I look back with appreciation to the accountability it demands from everyone," Sparks says of the small class sizes and personalized education. "You can't get lost and that's a good thing because more likely than not, you won't be hired by an employer to blend in."
As the old saying goes, "If you want a friend in politics, get a dog." One might add: "Or go to Washington College." Through an assortment of friends made in the alumni network, Sean Rapelyea's political career stretched from one end of the country to the other, and then right smack in the middle, where he became one of Chicago's—and now Illinois's—top operatives. Rapelyea '08 serves as political director for Democratic nominee J.B. Pritzker in the Illinois governor race, a battle between two billionaires and the most costly race of the cycle.
In his role, Rapelyea manages a team that spans 30 offices and coordinates with elected officials and Democratic Party leaders on the state and local levels. Rapelyea also has to keep up with progressive organizations, advocacy groups, faith leaders, and labor unions. These are the groups that get out the vote and make or break successful campaigns. The strength of their statewide voter contact operation and surrogate support is at times all on Rapelyea's shoulders.
Rapelyea gained his bosses' enormous trust after his Washington College classmates put their faith in him.
"The Washington College alumni network played a major role in my post-collegiate career at two very critical points," Rapelyea writes over email. After graduating, he went to work in Washington, where he ran into Mollie Binotto at an alumni happy hour. Binotto shared that she was headed to Montana on the 2008 Obama campaign.
"I was really excited about that and she connected me to our former colleague from the Student Athlete Mentor program, Brandon Riker '10," who joined the Obama campaign early on and later ran his own campaign for lieutenant governor in Vermont. "That was the start of my political career."
He went on to southwestern Arkansas and a hard-fought race for Sen. Blanche Lincoln in 2010. From there, Rapelyea connected with another alumnus, Richard Yost '04, who facilitated a meeting with staffers for Rahm Emanuel in his first run for mayor of Chicago.
"This connection got me from southwestern Arkansas in a difficult Senate race, to the third-largest city in America for a big win."
Rapelyea has been in Chicago ever since, and with this latest marquee race, new opportunities are likely to come his way. Rapelyea, and all the graduates I spoke to, seemed grateful and ready for whatever comes ahead.
"When you leave the quiet confines of Chestertown, you face a far more chaotic world that requires creative thinking and decision-making," Sparks says. "I am positive it prepared me for a career in political communications at a time when information moves fast and opinions are formulated even faster."
Binotto tells me of all the Washington College grads she knows in her field, "I think we were honestly really lucky with our political science department."
Back in New Jersey, I'm behind the press riser, talking to my NBC News colleague on the Biden beat, Mike Memoli, when the Sherrill campaign's communications director, Jackie Burns, gets behind the podium to test the mics. I abruptly raise my phone to take a video to send to Burns' boyfriend, Albin Kowaleski '07, who is back in Washington where he works as a historian. I excuse my behavior to Memoli and explain the Washington College connection.
"For a small college," Memoli says, "you really pack a lot of punch."
The room is full and noisy, and Binotto kicks off the rally with a speech to recruit volunteers. Her remarks trace her path to political activism, putting the experience into the terms of a clipboard she carries when canvassing voters.
"I took out my first clipboard ten years ago last July. I moved to Montana to work for Barack Obama and Vice President Joe Biden." The audience cheers, claps, and whistles at her mention of the guest of honor.
"I was 23 years old and I'd never been west of the Mississippi. It was the most exciting, crazy four months of my life. I got on an airplane, I didn't know anybody. I got a rental car, I wasn't even old enough to have insurance for a rental car—so that was real."
The audience of college students she is trying to convert into campaign volunteers for the next eight weeks laughs. Binotto goes on, "I drove halfway across the state of Montana, which, by the way, is very long. I showed up in Bozeman. I walked into a coffee shop. I met my first boss in politics, and I haven't looked back."
Binotto looks completely at ease and earnest in what she is saying.
"We need you," she says to the students. "Join us. Grab that clipboard. Let's go knock some doors together. Let's go register some voters together…. Let's do this."
Jack Bohrer '06 is a reporter, historian, television news producer, and the author of The Revolution of Robert Kennedy, published in 2017 by Bloomsbury Press.