The Starr Center's freshman Orientation Explore trip introduced ten intrepid young mariners to the history and lore of the Chesapeake.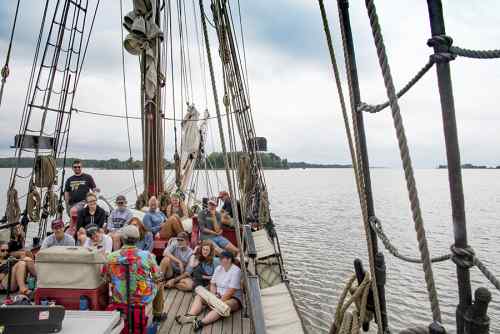 Learning to sail a replica 18th-century schooner was just part of the fun and adventure awaiting a group of incoming students who signed up for the Starr Center's Orientation Explore program, "Sail the Sultana: History on the Water." The three days were filled with fishing, crabbing, canoeing, games, storytelling, hiking, and camping under the stars.
Under the direction of Starr Center staff and with the help of Sara Underwood '19 and Elizabeth Cassibry '20 and the crew of the
Sultana
, the ten student participants learned about the Bay's estuarine ecosystem and rich history. There was also time to play 18th-century baseball, explore the Chesapeake Bay Maritime Museum, and fight an epic water-gun battle on Langford Creek.