Dylan Grimes, Class of 2019, Turns Involvement with Campus Club Into a Thriving Career
Dylan Grimes, Class of 2019, was recently promoted to the position of Director of Development for Central Delaware Habitat for Humanity (CDHFH), after starting with the non-profit as a Volunteer Coordinator right after her college graduation.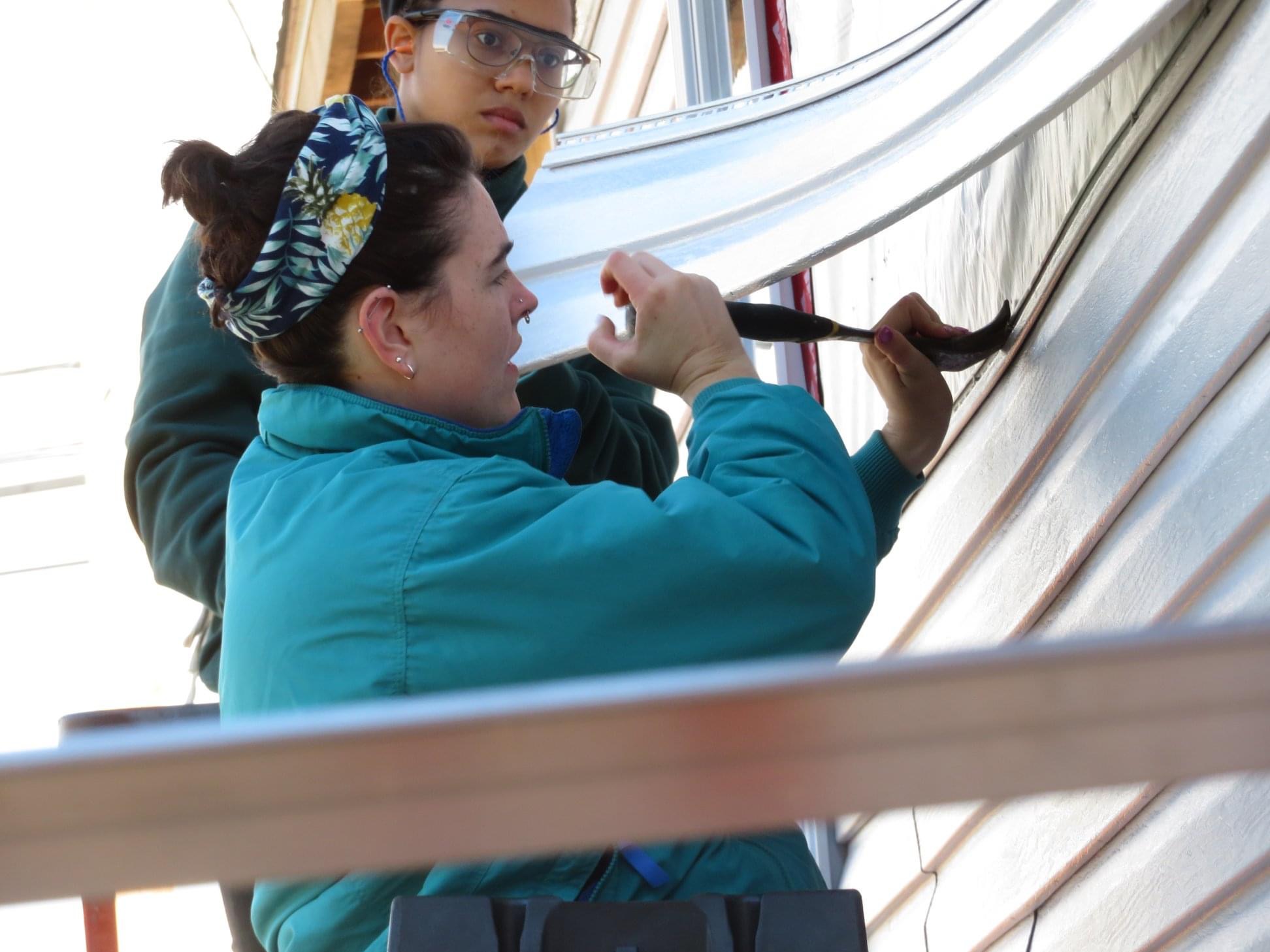 A double major in Biology and Studio Art, Grimes was actively involved with the Habitat for Humanity Club when she was a student, eventually serving as the fundraising chair on the Executive Board during her senior year.
While she was a student, the HFH Club was celebrating its 20th anniversary, and the members marked this important milestone with both a dinner/gala event, and a major service project. As it turns out, the service project would lead Grimes to her current professional position.
The student-led club partnered with CDHFH for a project called a Framing Frenzy, which is when the Habitat for Humanity chapter brings lumber onsite (for a minimum fundraising commitment), and volunteers then use those materials to frame out the first floor of a future Habitat home. It was during that event, in which Washington College HFH Club volunteers framed a house on the campus grounds, that Grimes first met, Tim Bailey, the person who is now her supervisor.
He mentioned that they were hiring for a Volunteer Coordinator, and given her passion for the type of work they do, Grimes applied. She landed the job and officially began as an employee of CDHFH in June 2019.
"The most fulfilling thing about working at Habitat is actually getting paid to help people," said Grimes. "Our future homeowners in our program and the people I get to meet through my job are the best. I am so thankful to work in a space that I can be myself and make a difference."
"I felt well-prepared for my current job, in part because I worked a variety of part-time jobs on campus while I was a student," added Grimes, who worked as a graphic designer for the theater and for dining services, among other jobs. "These roles helped with my communication skills and my comfort level in meeting and working with new people."
"The College's focus on writing also helped me," she said. "I'm writing press releases, announcements and other communications for CDHFH and my Washington College education absolutely set the tone for me in this area."
Given her science and art educational focus as an undergrad, Grimes still has aspirations to become a bio illustrator, though this work requires a Master's Degree, something she plans to pursue one day in the future. As a bio illustrator, she would draw for science textbooks, illustrate surgeries and apply her studio arts background to other medical resources. She is also actively pursuing art residencies, an option which will allow her to continue to work full-time for CDHFH.
In the meantime, she is thriving in a role that allows her to feel connected to a larger purpose, noting that fundraising during a pandemic certainly has had its fair share of challenges. "But we are doing well and getting back into the swing of things," she added.
Grimes has a couple of pieces of advice for students, including encouraging them to take advantage of the one-on-one time with faculty and solicit feedback on how to improve. "College may feel short, but take the time you need to explore and let things unfold," she said. "And know that now matter what your plan is, it will probably change -- and that's a good thing!"
She also strongly encourages all students to get involved with campus organizations outside of the classrooms. "I know I'm biased, but consider joining the Habitat for Humanity Club! Being a part of HFH really made my college experience," she said. "Even if it's not that one, find what does interest you and get involved, because that's where you'll find your family and the people that support you."