Golf Cart Adds a Little Flair and A Lot of Fun to Sally Snover's Day
When Head Softball Coach Sally Snover traded her SUV for a golf cart, she had no idea how functional and fun it would be.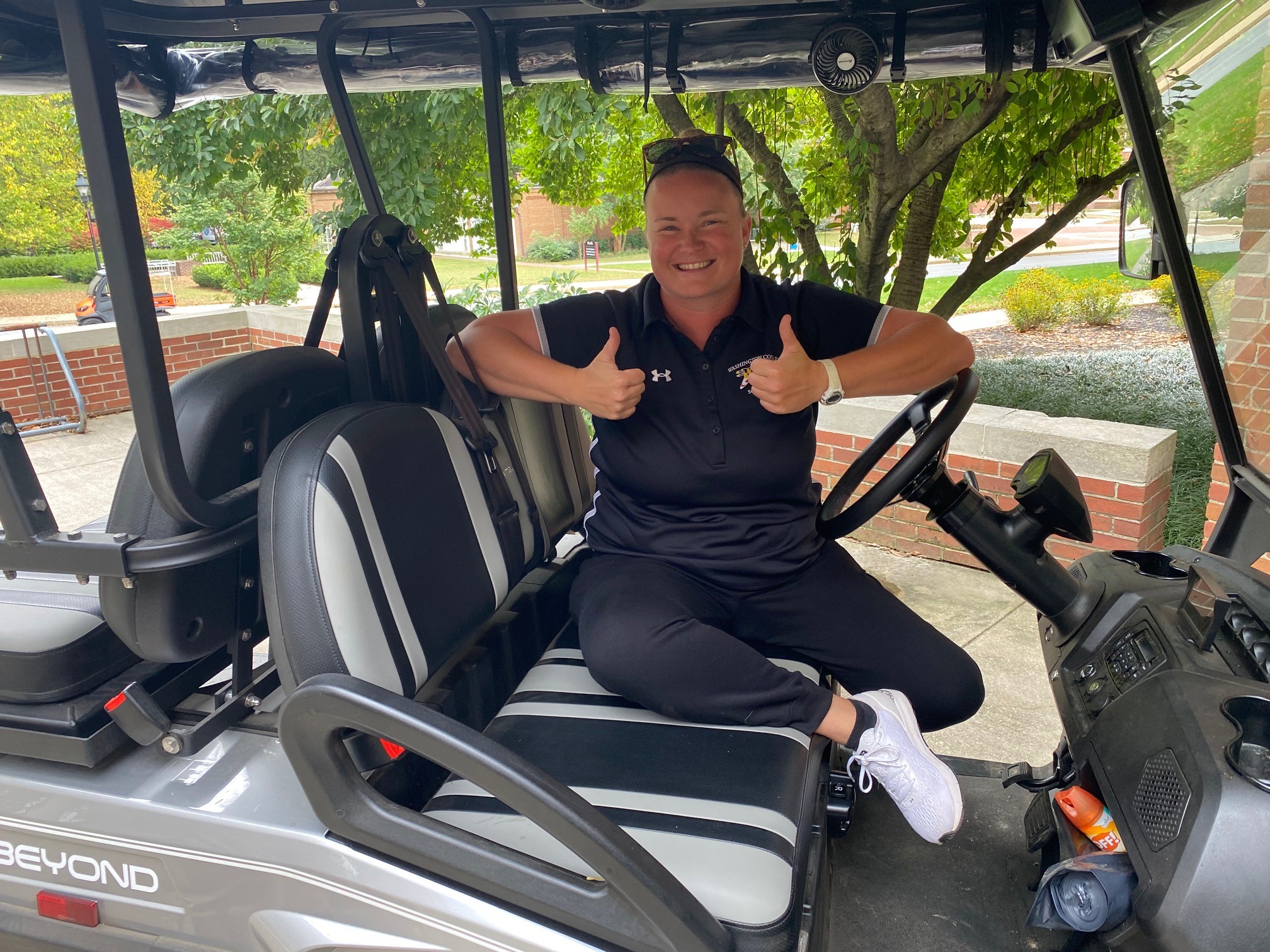 What started out as a joke about a better way to get out to the softball field has turned into Sally Snover's primary mode of transportation -- and the Washington College alum and head softball coach couldn't be having any more fun with it.
Snover's road-legal golf cart has been getting plenty of use since she got it in August – so much so that she jokes that she doesn't even remember the last time she put gas in her car.
"I live in town, and I was driving my SUV these short distances, having to find parking, and then still having to walking all our equipment out to the fields," said Snover. "Getting the golf cart went from a joke to just making a ton of sense."
While it wasn't necessarily a major factor in the purchasing decision, she does now appreciate the environmental benefits in making the electric cart her primary vehicle. She drives it to and from work, out to the fields, out for a lunch or coffee run and for general travel around town. It even has a rain hood so she can take it out in inclement weather.
The cart's been useful in carting equipment and even when she has secondary duties assisting at other team's events. "It's really a huge time-saver, plus it's so much fun," she said. "I really love going to work in it."
But the cart has served another purpose for her and other Washington College coaches – driving recruits around campus. "They love it!" enthused Snover. "It's just something a little extra, and it adds some flair to their visit here. So whenever anyone asks about taking recruits around I'm like, 'Yes, let's ride!'"
Snover even had occasion to escort President Sosulski on one of his first official outings on campus. She picked up Sosulski, Provost Harvey, and Dr. Feyerherm, VP of Student Affairs and drove them to the residence halls on the morning that new students moved onto campus.
The cart is road-legal for all 50 states, which means it has all the features of a regular vehicle; this includes windshield wipers, turn signals, headlights, and even a backup camera. She noted that people do recognize her now around town, and friends will tell her that residents were talking about that lady who drives the golf cart.
Snover, a 2012 graduate, served as Assistant Softball Coach for four years after she graduated, before departing to take an Associate Head Coach position at Oberlin College. She happily returned to the Athletics Department as the Head Coach of the softball team in August 2020.