Get to Know the 1782 Society
"When you're a part of the 1782 Society at Washington College you're part of a very special group," said Fannie Hobba Shenk '84, 1782 Society and Alumni Engagement Director. "You've not only shown the College your love and support, but you've also let us know how much this place means to you."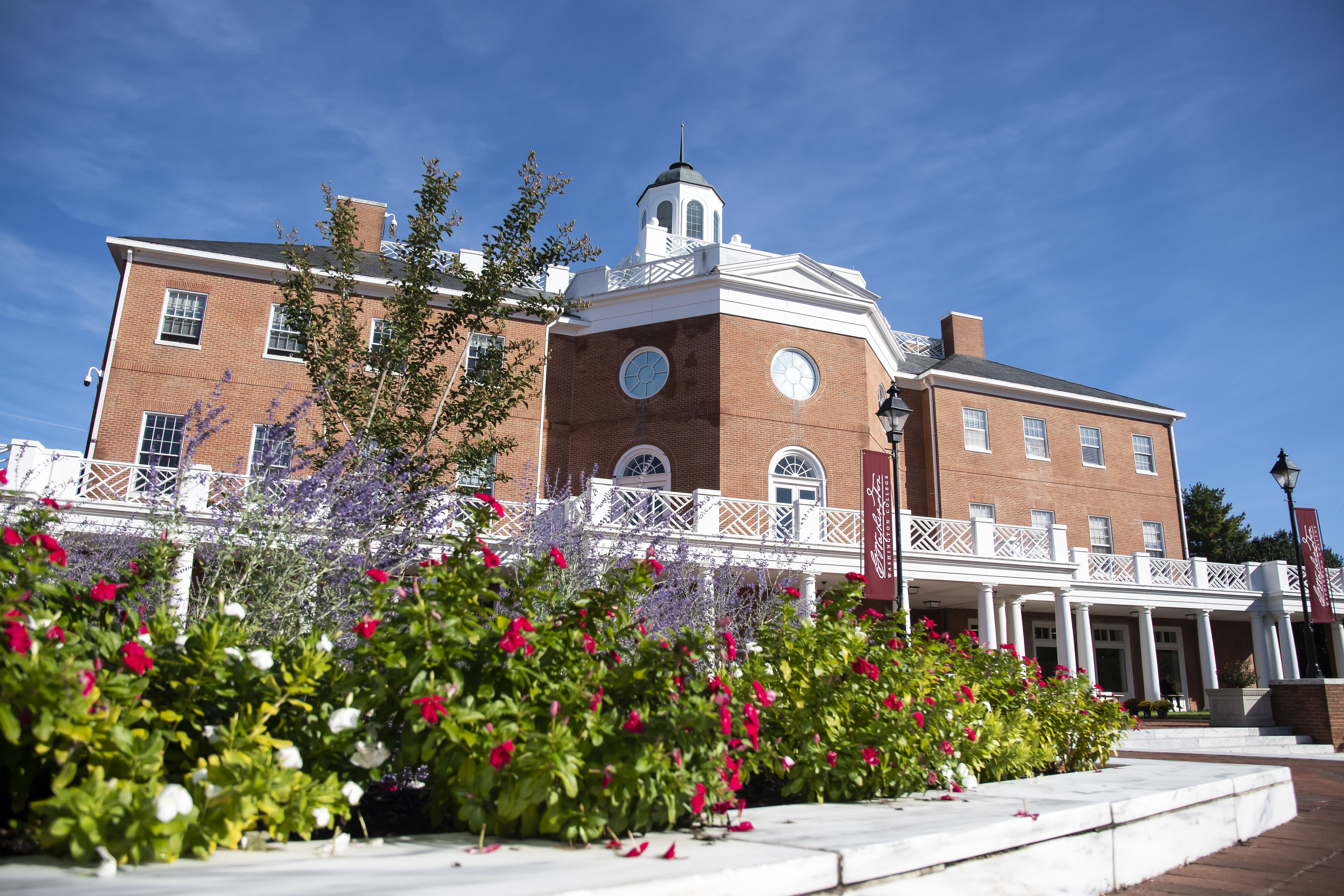 The College's premier giving recognition society, the 1782 Society is a community of like-minded individuals who demonstrate their strong belief in the values of the institution by participating at one of the Society's defined giving levels.
The name, of course, is a nod to the year that Washington College – the first college chartered in the sovereign United States – was founded, courtesy of a donation of 50 guineas by George Washington himself.
Members of the 1782 Society enjoy unique benefits that reflect their generous support of the College, including use of the campus athletic facilities and Miller Library, parking permits, reserved or preferred seating at select campus events and invitations to select lectures, receptions, and programs.
"When you're a part of the 1782 Society at Washington College you're part of a very special group," said Fannie Hobba Shenk '84, 1782 Society and Alumni Engagement Director. "You've not only shown the College your love and support, but you've also let us know how much this place means to you."
All perks aside though, ask the members for their "why" and it's primarily about connection with the College and the its community and the shared sense of purpose.
For newly named Co-Chairs, Thad and Renee Bench, being a part of the 1782 Society is a great way to stay connected to the College, a place that they came to know and love when their daughter was an undergraduate student. Morgan Bench graduated in 2018 with a degree in environmental science, and since that time, the Bench family's personal support for the institution has only deepened.
Now full-time residents of Chestertown, they made the move to the rural town in part because of the College. "Washington College brings a cultural vibrancy to this community, adding a whole new dimension to an already charming Eastern Shore town," said Thad.
As the CEO of Benchworks, a family of companies that specializes in the health care and pharmaceutical industries, Thad also looks to the College when hiring new talent at the company, noting that he's hired ten-plus graduates and all are extremely well-qualified.
Thad and Renee are big believers in the value of a liberal arts education but also recognize that the College continues to evolve. Becoming co-chairs for the 1782 Society is a way for them to be a part of that evolution and continue to work to educate others about the College. For example, they want to make people aware that you don't have to be a graduate to be a part of the 1782 Society. "You just have to be a fan of Washington College," said Renee.
Renee Bench P'18 and Fannie Hobba Shenk '84 draw raffle prizes at the 2022 Preakness Party
James Smith and Michael Singer are prime examples of the Society's far-reaching membership. Neither of them graduated from Washington College, but the couple happily signed on for a 1782 Society membership shortly after settling on a home in Chestertown in 2019. It was meant to be a weekend getaway for the D.C. residents, but the global events of Spring 2020 turned that plan on its head. Instead, they now spend most of their time in Chestertown, visiting DC on the occasional weekend.
And as mostly full-time residents of Chestertown, it became important to both James and Michael that they make the effort to be a part of their adopted community. "The 1782 Society is really a door into the College for us," remarked James, who finds walking around campus to be invigorating. Now that in-person events have returned, they have enjoyed attending things like the Preakness Party, and a get-together hosted by President Mike Sosulski at Hynson-Ringgold House.
More than just a door to the College though, the 1782 Society turned out to be a lifeline for Michael in particular. "There we were, confined to our houses, and not going to the gym or anywhere, when I found out that we had the option to swim at the college," he said, reflecting back on the national shutdown in 2020. "It saved me during the pandemic. It got me out of the house and was something to look forward to."
With both now working remotely full-time, they enjoy showing off the campus to visiting friends and sharing its history, and they look forward to furthering their relationship with the College community. "I see myself as a goodwill ambassador for Washington College," said Michael, who last year also joined the board of the National Music Festival, an event that has been held at the College and made its return this past summer.
Many festival performances were staged at the College's Decker Theatre and Hotchkiss Recital Hall. More than 100 professional classical musicians performed during the 10-day festival. "We brought out-of-town guests to several concerts, and all remarked on how excellent the performing arts center is at Washington College. As a 1782 member and an NMF board member, hearing that made me particularly proud of how the College contributes to the life of our new community."
1782 Society members James Smith (L) and Michael Singer (R) at the 2022 Preakness Party.
Re-invigorating the Membership
As chairs of the Society, one priority for Thad and Renee is to raise funds to support the College, but another is to foster a sense of community with alumni and those who didn't attend Washington—like James and Michael—but care about the College. And just as important, they like to have a little fun.
"I know I sure could use a little more fun in my life right now," joked Thad.
To that end, they are planning a number of social events for 1782 Society members and prospective members, to include a farm party, tailgates, a boat trip on the Chester River, guest lectures from experts around the region and maybe even a trip to Europe.
"Washington College is a place that warrants our attention, and we need to care for it," said Thad. "To share in this community and to have this special place to rally around is really a gift."
Gifts made through the 1782 Society can be unrestricted or directed to a specific program. All unrestricted gifts support the Washington Fund, an annual fund that directs money to scholarships and other high priority areas and has a direct impact on the student experience.
Standard giving levels start with the Founder's Club ($1,500 – $2,499), but Associate memberships for graduates of the last decade recognize giving at more modest levels. This model allows recent graduates to remain connected with their alma mater in a meaningful way.
President Mike Sosulski meets Lauren and David Michalski '84 at a 1782 Society event
David Michalski '84 is a big believer in that "give what you can" approach, as it was something he personally adopted very early on in his own career with GE Appliances. The company offered a 100% match of any employee-directed contributions, so even though it wasn't a big number, it was a check that the American Studies major and Varsity lacrosse player made sure he wrote annually.
"Giving back was a great feeling for me, I felt pride in it," said David. "Over time, I was able to grow that contribution and that felt just as good."
Though David and his wife, Lauren, have been longtime supporters of the College, they only recently became members of the 1782 Society. While attending the annual Fish Fry—a fundraiser for the lacrosse program—they stopped by a table advertising the Varsity Club, an athletics-focused initiative that includes automatic membership into the 1782 Society. Given David's lacrosse background and his enduring affection for the program, it made sense to them to learn more. And once they did, they were sold.
"We love everything about Washington College, and my ties to the lacrosse community are a major part of the equation," said David, who was a part of the 80's squad that made it to the playoffs three years in a row. Energized by the arrival of both varsity lacrosse Coach John Nostrant and President Sosulski, the Michalski's are enthusiastic about this new level of involvement.
"Seeing this energy and momentum really made us decide that it's the right time, because we think Mike is the right person, and giving more is the right thing to do," said David. They appreciate that their gift can be directed towards the men's lacrosse program, given how much it means to them both. The Michalski's get together often with many of his former teammates.
"It represents the glory days, but it's also a way to keep us all linked together," he said. "We laugh, use our same old nicknames and tell the old stories. So we see it as friends getting together, but it's now just as much a service to the College."
Lauren concurred, noting that they had the opportunity to hear the president speak and meet him at an alumni cocktail party this spring. His remarks sparked something in them, and they found him to be both personable and positive. "We are in a position now to do more, so we started to ask, how can we help?" she said. "We are looking forward to learning more, and really feel like we're just getting started."
To learn more about the 1782 Society contact Fannie Hobba Shenk at 410-810-5764 or fshenk2@washcoll.edu.