Washington College Celebrates the Start of the New Academic Year with Traditional Fall Convocation
Ceremony ushers in new year, marks first official event for the Class of 2026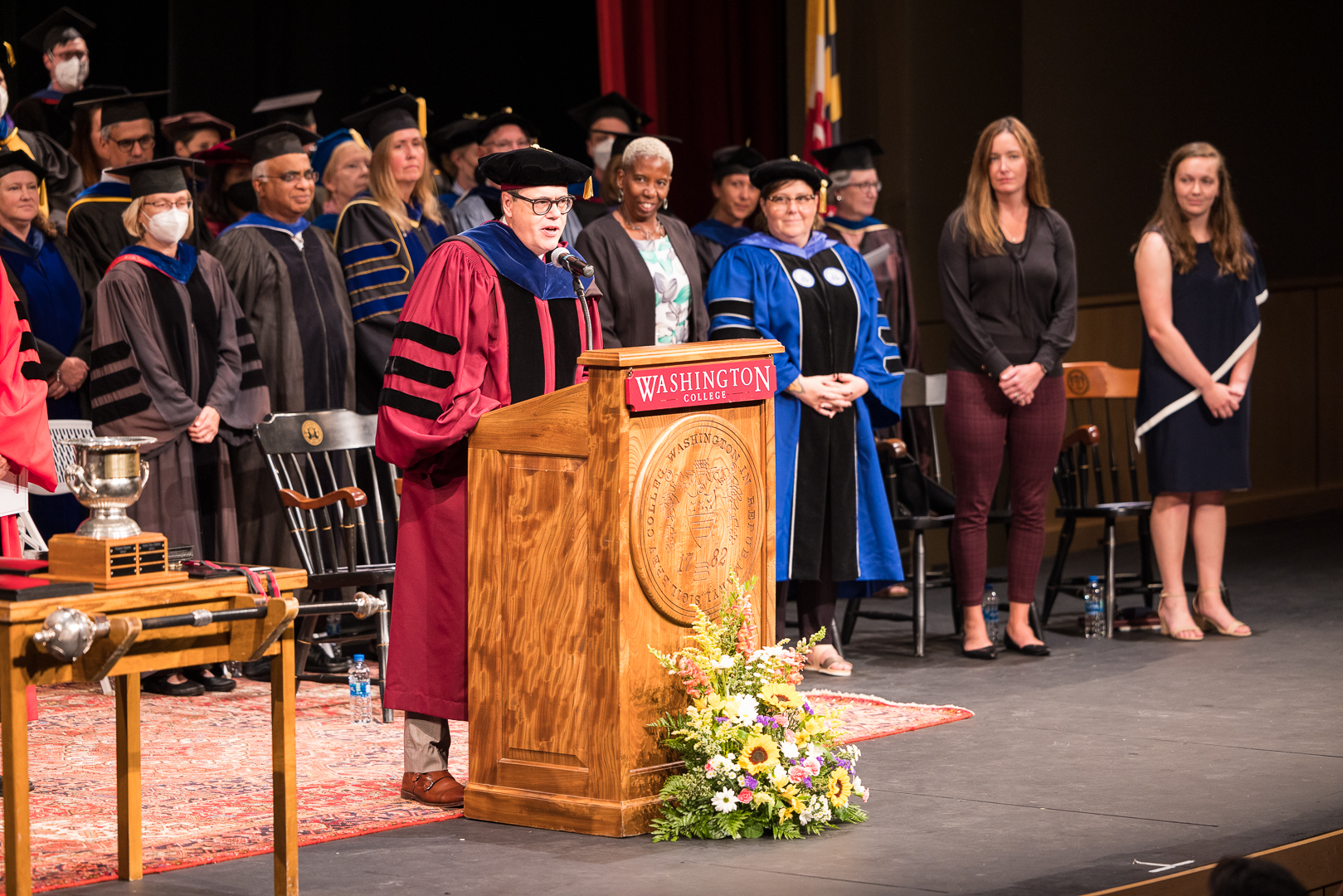 Washington College students, staff, faculty, alumni, trustees, and family members came together on September 1 to celebrate the official start of the 2022-23 academic year with the Fall Convocation in Decker Theater.
President Mike Sosulski welcomed the students to campus and spoke with them about seizing the opportunities before them by being present, demonstrating intellectual curiosity and staying open to exploring and sharing new ideas. He also talked about personal growth, saying, "While you are here, you should expect to grow and stretch and change. It's a critical part of the learning process, both academically and personally. That means embracing all of it, including the hard stuff … especially the hard stuff in fact, because that's when you learn the most."
Vice President for Enrollment Management Lorna Hunter officially presented the Class of 2026. Hunter shared information about the composition of the new class, which includes about 260 students who range in age from 17-36, and hail from 27 different states and 10 countries. Nearly 25% of new students are first-generation, 40% are student-athletes, 40% are Presidential Fellows and 4% are Washington Scholars. The top academic interests expressed by new students include environmental science and studies, business management and biology.
In addition to first-year students, there are about 20 transfer students and 20 international exchange students who are new to the College this fall.
Valarie Sheppard '86, secretary of the Board of Visitors and Governors also welcomed guests seated inside the crowded theater and then introduced Alex May '23, student government association president, who welcomed the new students and offered advice for how to make the most of their Washington College experience.
The hour-long ceremony also featured numerous awards presentations, and concluded with remarks from the 2022 recipient of the Alumni Award for Distinguished Teaching, Sara Clarke-De Reza, Ph.D., associate professor of education and director of the museum, field, and community education minor. The Distinguished Teaching Award is announced each year during the commencement exercises in May, and the honoree is invited to offer the keynote address at Fall Convocation.
Clarke-De Reza's address centered around what she called "an idea at the heart of my conception of educational excellence—the idea of teaching as a vulnerable privilege." She added, "Participation in the Washington College community is one of the privileges we all hold, and the knowledge of the roots of this privilege is something to which we all must hold ourselves, and each other, accountable."
For Clarke-De Reza, vulnerability in teaching requires both autobiography and personal sharing. "We teach what we care about, and because we care," she said. "This means that teaching can, and should be, a daily exercise in showing yourself to the world." But, she admitted there are days she experiences great doubt, "about my skills, about my impact, about the purposes and value of education at all." For her, being vulnerable creates opportunities for the connections, collaborations, and interdependence that ultimately make her a better teacher.
Among the awards highlights were two accomplished alumni who received the Alumni Horizon Ribbon Award, which was established in 2009 as a means of recognizing alumni of the last 15 years who have demonstrated outstanding scholarship, leadership, or service through their career or another area of interest. This year's recipients were Rachel Glasser '11 and David Melnick '09. Jennifer Svehla '03, who currently serves as the chair of the Alumni Board, presented these awards.
Other awards that were announced at the event included:
Phi Beta Kappa First Year Award of Excellence in Liberal Learning and First Year Medal: presented to high-achieving students of the freshman class at the College who have demonstrated exemplary academic performance during the first two semesters. Recipients included:
Victoria Baker
Rachel Beall
Vani Chauhan
Katherine Esposito
Noah Gentry
Elisabeth Hartmann
Matthew Hutter
Jason Ikenaga
Kami Lentzsch
Jeremy Liberman
Reagan Longridge
Andrey Perez
Halina Saydam
Anna Treadway
Bailey Vogt
Alumni Medal: awarded to the members of the sophomore class who achieved the highest academic average for the year. This award was presented to the 10 students who earned a GPA of 4.0 last year as sophomores. Recipients included:
Sneha Vireshwar Dixit
Jordan Fairchild
Abigail Laubach
Kaitlyn McCaffery
Holly Myers
Delaney Runge
Julia Stanley
Rachel Thiem
Libby Witham
Samantha Wolfgang
Visitors and Governors Medal: awarded to the members of the junior class who achieved the highest academic average for the year. This award was presented to the nine students who earned a GPA of 4.0 last year as juniors. Recipients included:
Zeeta Abubakar
Rachel Chatfield
Emilee Cramer
Kyra Heap
Destiny Hunter
Sharon Niedringhaus
Takeyah Selby
Max Tucker
Emily Turfitt
Panhellenic Council Awards: presented annually to the sorority and fraternity achieving the highest scholastic average for the preceding year. The organizations honored were:
Fraternity – Kappa Sigma
Sorority – Zeta Tau Alpha
Middendorf Scholars: presented annually by the Middendorf Foundation to rising seniors for academic excellence and leadership qualities. They are:
Queen Cornish
Tamara Dyer
Benjamin Horgan
Alexandra May
Kathryn Ruppert
Tatum Schatt
Daria Shirokova
Dylan Snow
Nicholas Splendoria
Maegan White
September 1 also marked the first anniversary of Sosulski's tenure as president of Washington College. During her welcome remarks, Sheppard praised his leadership and expressed the community's gratitude for his accomplishments over the previous 12 months, inviting the packed theater to join her in a round of applause in recognition of this milestone.