Fall Convocation Welcomes Students, Honors Achievements
Official start to academic year featured administration, student and community speakers who addressed the Class of 2027, while alumni and more than two dozen returning students were honored for their achievements in 2022-23.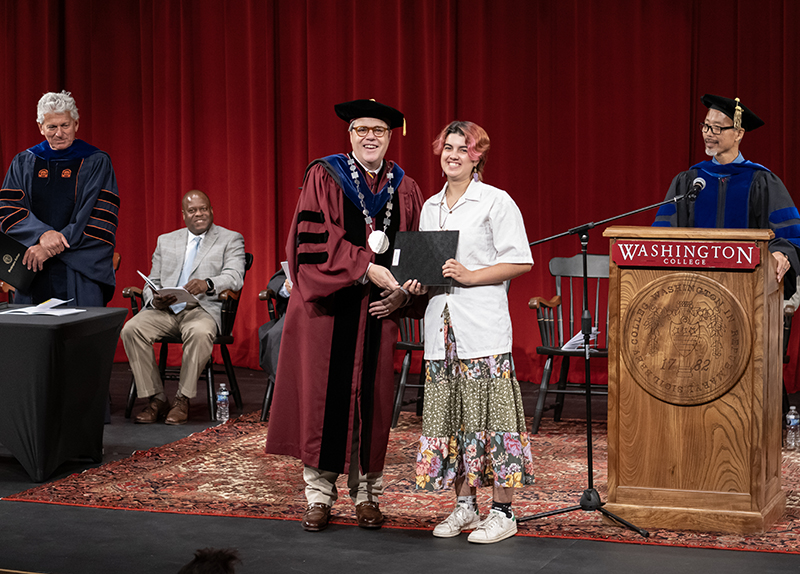 Zoe Brookbank '25 was one of 14 juniors who accepted the Alumni Medal at Convocation in recognition of their 4.0 GPA last year.During the Fall 2023 Convocation on Aug. 31, the Class of 2027 was welcomed by a variety of campus leaders, and Provost and Dean of the College Kiho Kim recognized 30 students for academic excellence, along with the fraternity and sorority with the highest scholastic averages last year.
Fourteen members of the Class of 2025 were recognized with the Alumni Medal for achieving a perfect 4.0 GPA during their sophomore year. Six members of the Class of 2024 had perfect GPAs last year and received the Visitors and Governors Medal. Ten other rising seniors were recognized as Middendorf Scholars for their academic excellence and leadership qualities. And Phi Delta Theta and Zeta Tau Alpha were honored as the fraternity and sorority that achieved the highest scholastic averages last year. All student honorees are listed at the end of this article.
Kim connected the welcomes and the awards before calling up the students to receive their awards.
"It gives me great pleasure to congratulate the newest cohort of young people who have been accepted into our academic community and to formally embrace this intellectually curious, creative, and socially committed Class of 2027 into our companionship of learning," Kim said. "The students we recognize now are models of exemplary academic performance—and I know they would be delighted to share with our first-year students how they have learned to effectively balance their studies with campus life and social activities."
During the welcomes preceding the awards, Vice President for Enrollment Management Johnnie Johnson shared some details about the group: the new first-year students hail from 28 states and five other countries with an average GPA of 3.76.
Student Government Association President Miranda Parrish '25 welcomed the students with some advice, encouraging them to embrace new opportunities while remembering "The most important lesson that you will learn is grace—giving grace to others and more importantly to yourself—when you are struggling or something didn't go the way you expected, is what will help you to grow the most. 
The aspirational and practical advice continued at the end of the ceremony in Bin Song's keynote address focusing on the history and place of the liberal arts approach to education in both Western and Eastern traditions and modern societies. Bin Song, assistant professor of philosophy and religion, delivered the keynote in recognition of his Alumni Award for Distinguished Teaching, announced at May's Commencement ceremony. His full speech can be viewed on the Cromwell Center for Teaching and Learning website.
"By fostering a robust democracy anchored in meritocracy, we pave the way for every individual to achieve their fullest potential, thereby ensuring the co-thriving harmony of human civilization," Song said. "Amidst the immense challenges confronting American society and the wider crises of our civilization, it's clear that the U.S. is still on its journey towards the ideal of a cosmopolitan, meritocratic, and harmonious democracy. The path isn't always bright, and current events can be disheartening. Yet, history reminds us: it's during the darkest times that hope shines its brightest. Let us embrace our true selves, ever aiming higher. With the steadfast support of each of you, my esteemed colleagues and cherished students, I am filled with hope."
In addition to the students, two alumni were honored at Fall Convocation. Jennifer Svehla '03, chair of the Washington College Alumni Board, presented the Horizon Ribbon and Alumni Service awards to Cara Koontz '15 and Jay Young '81, respectively.
The Alumni Horizon Ribbon Award was created in 2009 to recognize alumni who have demonstrated outstanding scholarship, leadership, or service within 15 years of their graduation. Koontz is currently the director of campaigns at Crooked Media, where she sets the strategy for all voter mobilization work. In her still young career, she has served in digital communications leadership roles for the Democratic Congressional Campaign Committee, Commonwealth Communications, the Michael Bloomberg 2020 presidential campaign, and the US House of Representatives.
"Cara's professional commitment to civic engagement exemplifies core values of Washington College," Svehla said while presenting the award. "She has taken what she learned here and applied it to a career that encourages Americans to fulfill our shared responsibility: to understand the issues and politics of our society, to discuss them openly and respectfully with one another, and to act in ways that will strengthen our nation."
Young received the Alumni Service Award in recognition of "selfless dedication and longstanding service to Washington College." Young served on the Board of Visitors and Governors from 2004 to 2021, working on the academic affairs, student affairs, and legal affairs committees. He previously served as chair of the 1782 Society and as a member of the Alumni Council, the Garry Clarke Tribute Committee, and the Visiting Committee.

Student Recipients of Awards at the Fall 2023 Convocation
Alumni Medal
Marycatherine Anson
Jocelyn Aquilino
Nora Beebe
Zoe Brookbank
Hannah Choi
Michael Daniello
Quinley Hammon
Sabine Harvey
Michael Hudak
Morgan Link
Stevie Lyles
Savannah Nies
Lauren Paules
Brooke Thomas

Visitors and Governors Medal
Rachel Beall
Melinda Kern
Kami Lentzsch
Reagan Longridge
Rachel Morgen
Halina Saydam

Middendorf Scholars
Liv Barry
Nicole Chimezie
Rodger Ecker
David Estes
Jordan Fairchild
Kennedy Jones
Dori McMenamin
Tseyang Pewa
Kamden Richardson
Natalie Wisnoski