Everyday Treasures, Extraordinary History
As an intern at the National Museum of African American History and Culture, Paris Young '21 is helping develop an innovative project that will digitize and preserve African American history.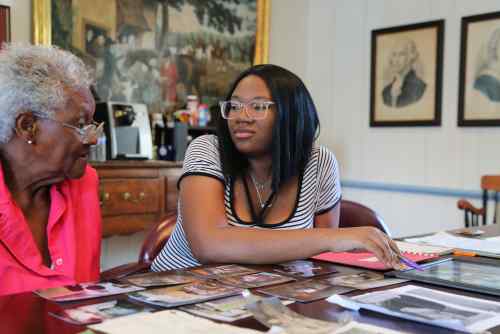 The first time she set foot in what was then the brand-new National Museum of African American History and Culture, Paris Young '21 was in high school, and she knew that she wanted to work there one day. She just didn't think that opportunity would come as soon as her freshman year of college.
"At one point in time, African American history wasn't preserved. And we didn't have documentation," says Young, who is majoring in political science with minors in justice, law, and society and black studies. "A lot of people don't even think what they have is something special. It's just sitting in people's attics. People don't think, 'This is important for my great- great-grandchildren.' But once those pictures are gone, they are gone. And that's why I think this project is important."
Young's work is also laying the groundwork for a major Starr Center initiative. During two visits to Chestertown, Lonnie Bunch, founding director of the new Smithsonian museum, began working with the center and local leaders to develop what has been dubbed the Chesapeake Heartland Project, an innovative digital archive that will preserve and share Kent County's African American history.
"While still in its initial phase, this project has brought the College and community together to celebrate the unique African American history of the Chesapeake Bay region," says Pat Nugent, deputy director of the Starr Center. "And Paris is right there at the middle of everything, meeting with church members, store owners, and community organizers in Kent County, as well as program directors, curators, and historians on the National Mall in Washington, D.C."
One community member, 80-year-old Irene Moore of Georgetown, covered the table at the Starr Center conference room with photos and newspaper clippings. Many of them documented a racially segregated one-room schoolhouse in Worton Point, built in 1890, that she attended from kindergarten through fifth grade.
Young says she didn't even know the internship at the museum existed when she received an email from Nugent encouraging her to apply. History Professor Carol Wilson and College Dean Patrice DiQuinzio had recommended her based on her enthusiasm and talent for interpreting African American history, whether in her pre-orientation program focused on Harriet Tubman or Wilson's introductory history course on the Underground Railroad.
Now that Paris is an intern at the National Museum of African American History and Culture, she's soaking up all she can while constantly meeting new people and making new contacts.
"I'm working with curators and conservators because I have to actually know what I'm doing with the materials. And I'm talking to community members," she says. All the interns work in the same room, so they share stories with each other about what they're working on. "It's really fun, it's really hectic. The line of visitors always wraps all the way around the corner, every single day, and my boss is super cool, super open. It's just very fun."
A member of the Black Student Union and Cleopatra's Sisters, Young wants to be a lawyer specializing in civil rights. She says the internship is teaching her communication, team-building, and public outreach skills she knows will be helpful in the future.
"I like to work by myself, I'm a very self-sufficient person, so by doing this I've noticed that I have other skills that I haven't tapped into yet. It's possible for me to work with 20 people and not go insane because there's so many people talking to me at once. I'm actually balancing everything well for myself because I usually don't do this type of work," she says. "This project has made me more outgoing and given me abilities I will most definitely use when I go to law school."