Walter Shaub, the fiery former director of the U.S. Office of Government Ethics, will give a talk on what he calls the nation's ethics crisis at Washington College on April 5.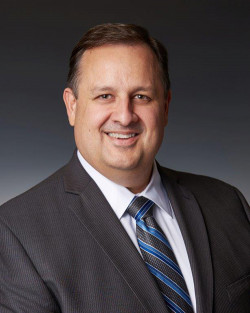 Walter Shaub, the no-holds-barred, outspoken former director of the U.S. Office of Government Ethics, will be the guest speaker on April 5 in Washington College's Holstein Program in Ethics. Shaub, who says that the United States has almost overnight transformed from the international gold standard in ethics to a laughingstock, will speak on "Ethics in Crisis: The Threat to the Government Ethics Program and the Path Forward."
The free, public event begins at 5 p.m. in Decker Theatre, Gibson Center for the Arts. A reception in the Underwood Lobby will follow the talk.
Shaub, an attorney who first joined the Office of Government Ethics in 2001 and in 2013 was appointed to a five-year term as director by then-President Barack Obama, resigned in protest last year over what he has described as an ethics crisis in the federal government. In an interview with PBS after his resignation, he said that the Trump administration has "set a tone from the top that ethics don't matter."
Since his resignation, he has joined the non-partisan Campaign Legal Center, a Washington, D.C., as senior director of ethics. He has also continued to call for tighter ethics rules and more transparency, unleashing his own storms on Twitter, where he calls out instances of dubious ethical behavior in government. In his talk at the College, Shaub will discuss the problem now facing the government's ethics program, which he argues is the proverbial canary in the coalmine portending even bigger problems to come if left unaddressed. He will also offer his proposals for stemming the erosion of ethics in government.
About the Holstein Program in Ethics The Holstein Program in Ethics was established in 2014 thanks to the $5 million legacy gift of Richard Holstein '68, a pediatric dentist. In addition to bringing national leaders in ethics to speak with students and the community about current issues, the program supports and enhances the study of ethics throughout the curriculum and fosters interdisciplinary research on a broad range of ethical issues. Its goal is to spark an appreciation for the importance of moral courage as a foundation for leading a life of purpose and meaning. For more information about the Holstein Program in Ethics see https://www.washcoll.edu/departments/holstein-program/ .