Newly Named Director of Public Safety Finds Home Away from Home at Washington College
"I felt like I knew the campus already, because it was very similar to where I had been," said Hoffmann. "It felt like a place that felt like home."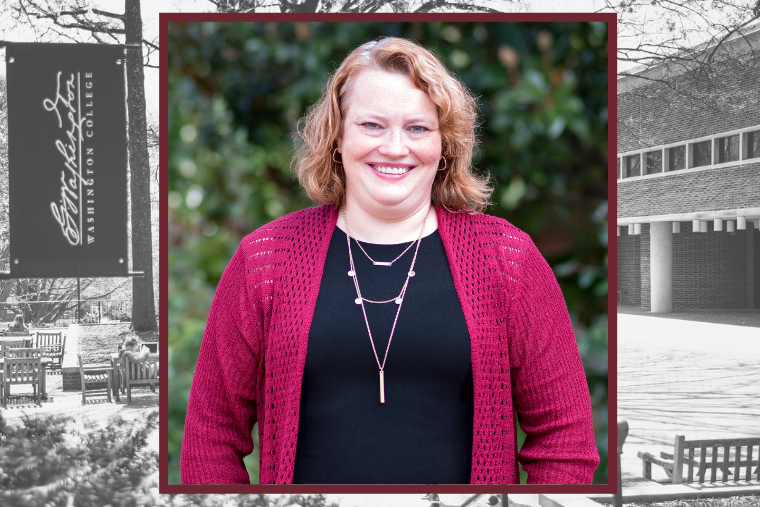 In her new role as Director of the Department of Public Safety, Pamela Hoffmann – a life-long Midwesterner – has found a home away from home.
Born and raised in Minnesota, Hoffmann spent 24 years with the Public Safety Department at St. Olaf College in Northfield, MN before making the move east and beginning her new post with Washington College this August.
So how does a Midwesterner end up in Chestertown, MD? A self-described "4-H kid", Hoffmann had the opportunity to visit the D.C. area on a program field trip years ago, and fell in love with the area. "I actually got back from that trip and told my mother that I was going to live or work on the East Coast," she said. "I didn't know how or when at the time, but several decades later, here I am!"
The familiar feel of the campus and community made the decision to make Washington College her new professional home a fairly easy one. "During the interview process, as I'm talking to people and hopefully addressing all of their concerns and questions, I'm thinking 'I can do this, this is a good fit'," she said. "I felt like I knew the campus already, because it was very similar to where I had been. It felt like a place that felt like home."
Hoffmann's career in law enforcement began somewhat less intentionally, when she decided to move into an off-campus apartment during her sophomore year at the Minnesota State University - Mankato and subsequently had to get a job to cover the rent. A good friend of Hoffmann's was working at University Security and mentioned that they were always looking for good candidates. She applied and got the job.
"I'll be honest, I was young and naïve, but I jumped right in to learning the ropes," she said. And just two months in, in the wee hours of the morning, what started as a way to earn rent money became her calling.
The A-Ha moment came when Hoffmann responded to a serious car accident in the middle of the night. "I would up riding in the ambulance to the hospital with one of the patients," she said. "I didn't make it back to campus until after 8 AM and didn't get home until Noon. But that incident was a turning point for me because I realized that I wanted to be the person who – if someone was in trouble and they called – could respond and be there to assist them."
As she evaluated career opportunities within law enforcement, she found staying in the higher-education environment appealing, and decided to stay on that path. After graduation, she officially began her law enforcement career at St. Olaf College.
Now, over two decades later, one aspect of her job that Hoffmann particularly enjoys is that no two days on a college campus are alike. "I like that my day is driven by individuals who stop in with a request or needing assistance with something," she said.
Her early impression of Washington College is that it's a warm and welcoming place, and she especially appreciates the energy and excitement surrounding the full return to campus life. "I really enjoy seeing the campus and how it comes alive," she said. In fact, Hoffmann sees coming out of the 'pause' of the pandemic as a great opportunity for a reset of sorts.
"As we start to move forward and shift back to a more normal life and me being new in my role here, I feel like it's the perfect time to look at our systems and processes and take a look at what works and what does not—making changes where necessary and strengthening the areas that do work," said Hoffmann. Step one of course is learning the job fully. "Then I can step back and see what's working and what isn't," she said.
Learning the campus and meeting the students, faculty and staff have been her primary short-term focus. She feels that getting to know the other parts of campus and seeing how the various parts of the College fit and work together is critical in helping to set attainable long-term goals for her department. "When I meet new people, I like to ask a two-part question: What is one thing that you absolutely love about WAC, and conversely, if you could wave a magic wand, what is one thing you would change?"
The responses so far have provided her with some great insights into what's important to this community and what Public Safety can do to adjust and improve.
Hoffmann considers herself fortunate to be working alongside a Public Safety team that includes long-time veterans and new staff alike. "I have a team with this really good mix of new energy and excitement, paired with the knowledge and experience of a core of veteran team members," she said. "It's really exciting to get the chance to lead them."
In the big picture, she hopes to continue the legacy she established at St. Olaf, as someone who is forthright and open. "I actually didn't realize the true impact I had at St. Olaf until I was leaving and got some notes thanking me and expressing appreciation – and from the people I least expected to hear that from!" She added, "As I begin my career here, I'm mindful that I'm setting the groundwork and foundation for a positive relationship between Public Safety and the entire community."