Showcasing its work across multiple platforms and disciplines, Washington College's marketing and communications team lands five top awards in the international Hermes Awards competition.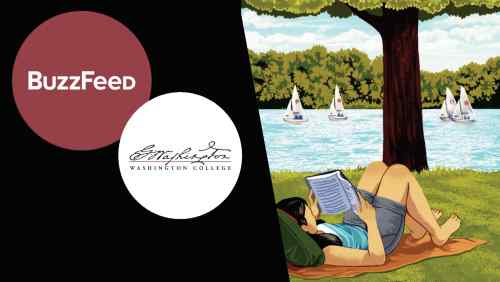 Washington College's Communications and Marketing team swept up five honors—three platinum and two gold—in the 2018 Hermes Creative Awards, showcasing its work across multiple disciplines and platforms, from the Washington College Magazine to the innovative BuzzFeed campaign to generate college awareness and support enrollment efforts.
Going up against some 6,000 entries in 195 categories from the U.S. and internationally, from sources including marketing and communications departments, advertising agencies, PR firms, and production companies, the College's CRM team won:
Platinum (scores of 90-100) for the College's strategic co-branded content BuzzFeed campaign, for electronic media, social media, and interactive media in content campaigns;
Platinum for the spring 2018 issue of the Washington College Magazine, "Like a Boss," in print media and publications for magazines;
Platinum for the customized yield piece for enrollment, "Read This, We Dare You," for print media, marketing, and collateral branding;
Gold (scores of 80-89) for the video "Washington College: You'll Love This Place," in electronic media, social media, and interactive media for recruitment, used during the BuzzFeed campaign;
Gold for the River and Field Campus video "Washington College: The Year of the Bird," for electronic media, social media, and interactive media for videography.
"This competition put our creative team in CRM up against some noteworthy agencies and industry giants with big budgets, names like AARP, Hilton, PepsiCo, UPS, Deloitte, Harvard Business School, the University of Maryland, Penn State, and the University of Pittsburgh," says CRM Vice President Rolando Irizarry. "I am so proud of the work we have produced for Washington College. This team possesses that perfect strategic and creative balance necessary for successful marketing and communications tactics. All this while working on tight deadlines for constituencies across the College campus. They are true professionals and these awards just confirm that."
The Hermes Creative Awards, administered and judged by the Association of Marketing and Communications Professionals (AMCP), honor creative professionals involved in the concept, writing, and design of traditional and emerging media. According to a media release, judges "are industry professionals who look for companies and individuals whose talent exceeds a high standard of excellence and whose work serves as a benchmark for the industry."
The College's co-branded content BuzzFeed campaign came in for special strategic recognition early on in the awards cycle, when it earned a "2018 Hermes Creative Awards Spotlight." In a blogpost on "this year's most noteworthy Hermes Creative Award entries," the AMCP noted the collaborative WC-BuzzFeed campaign's "overwhelming success" of gathering more than 82 million impressions across various social media and web platforms—including BuzzFeed, Facebook, Snapchat, and Instagram—that reached a targeted audience of prospective college students now in high school.
The Hermes Awards come on the heels of another award for the CRM team this spring, a Communitas Award for a story, video, and local and regional media coverage about the College's Food Recovery Network project, led by the Student Environmental Alliance (SEA). The organization stated that, "Our judges found that your nominee clearly exhibits the spirit of communitas, a Latin word that means people coming together for the good of a community. Communitas winners are recognized for specific programs involving volunteerism, philanthropy and ethical, sustainable business practices."
Here are some of the award-winning entries:
BuzzFeed: https://www.buzzfeed.com/washingtoncollege
You'll Love This Place: https://youtu.be/JfFvbF9BjyU
Year of the Bird: https://youtu.be/L2EDSsyII6Q
We Dare You to Read This:
https://issuu.com/washcolladmissions/docs/samson_admitbook?e=33078122/59699083
Like a Boss:
https://issuu.com/washingtoncollege/docs/washingtoncollege_alumni_mag_spring?e=30560835/59851447
Food Recovery Network: https://www.washcoll.edu/live/news/10629-good-eats
For more on the Hermes Creative Awards, visit https://hermesawards.com/