Celebrating Día de Fútbol 2018
The annual family picnic of the Washington College students and local community brought people together through the celebration of food, reading, soccer, language, and culture.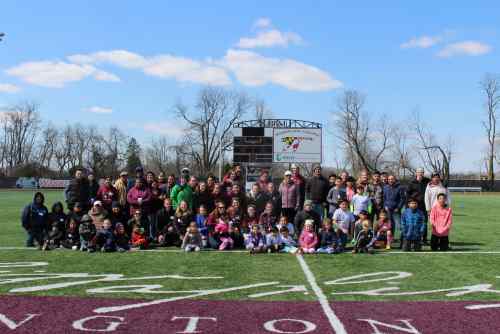 Heber Guerra-Recinos '19 said participating in an event like this was "rewarding".
"I'd say it definitely helps the campus become more aware of the surrounding Hispanic/Latinx community, and what we can do to help them feel acknowledged."
For some families, this event hits home. A few families return yearly, making Día de Fútbol a recurring tradition marked in their calendars. "There will be families here in April that have been to all 11 events," said Dr. Bunten, Chair of the Education Department, making the day special for returning families and students.
The day promotes community-student relationships and encourages literacy in both Spanish and English throughout the day of collaborative activities.
After an introductory icebreaker, the 80 people in attendance were encouraged to view reading as a language-learning opportunity and a fun way for parents and their children to interact with language. The student volunteers reminded parents that reading at home is an incredibly helpful way to embrace language immersion and support literacy. Every child chose a picture book or novel to take home with them.
WC students were paired with a student from the community in a buddy system, where they read books in English, Spanish, or both together and participated in a soccer clinic. Members of the men's and women's soccer teams gave a helping hand in the organization and lively participation in the event.
As a celebration of culture and tradition, a local community member prepared chicken tostados with queso and frijoles for a family-style picnic in the Skybox following the soccer clinic and game. With full bellies and happy hearts, those in attendance were encouraged to mingle and continue to engage with flexibility in language through authentic conversation. Donated t-shirts and soccer balls were then raffled off to the children and their families.
In all, the day was a successful celebration of family, literacy, and community that bridged the WC student and faculty community with the Spanish-speaking community of Kent and Queen Anne's Counties.