Every Wednesday evening, members of the College's Caring for Kids Club meet to fill bags with food for local kids who need a helping hand.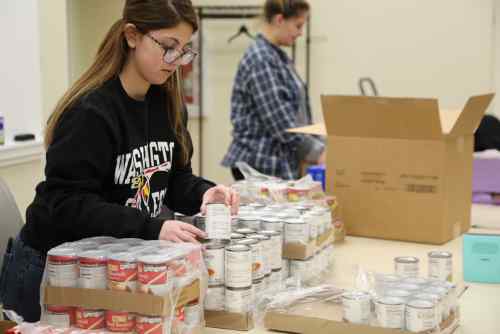 It's Wednesday evening, and the Student Events Board resource room looks a little like a grocery store stockroom as about half a dozen students pull foodstuffs from cardboard boxes, stacking them neatly on the tables in the center of the room and counting as they go.
Chicken noodle soup, tomato soup, ravioli, fruit cups, juice boxes, milk boxes, cereal, macaroni and cheese—all get stacked and counted. And then begins the coordinated ballet of bagging, as the students circle the table over and over, filling small black plastic bags with one of each item.
"It's a pretty whirlwind kind of a thing," says Hanna Flowers '21 of the weekly job of the College's Caring for Kids Club. "You just come in and get stuff done."
On Friday morning, two of the club's representatives will deliver the bags to Maureen Ranville, the guidance counselor at Garnet Elementary School, who will then distribute the packages to students from pre-K through fifth grade who qualify for the Weekend Backpack Program.
"Right now we have 65 students on the program," Ranville says. "They are free- and reduced-lunch students or students who are homeless … who have a need for extra food on the weekends."
For Courtney Vicisko '19, a biology major and French minor who is co-president of Caring for Kids, it's something that she'd never even thought about until she joined the club as a freshman. Now, she says, "It's become something I care so much about."
"It really puts things into perspective for people," she says. "It's really hard to wrap your head around the idea that this could even be a problem, that there are kids in Chestertown without enough food to eat."
Ranville says there's definitely a need. Garnet has 370 students, and although 65 are signed up for the program this fall, that number is frequently higher. The limit the school can manage, she says, is 75.
"Most of the kids' parents receive assistance for food stamps or food assistance, but this just helps give them extra for the weekend," she says.
The club coordinates with the Maryland Food Pantry, which provides the food. The students meet to pack that week's delivery, also stockpiling bags for the weeks when they are gone over winter break. Sometimes, the WC students throw a little something special into the bags, like cookies or notes.
"It may seem like a small thing," Vicisko says of the backpack program, "but it's a huge deal to the people it's helping."