Busload of Books Tour Reaches Kids, Collects Data, Proves Impact
On Thursday, Sept. 14, the Chestertown illustrator-writer couple who undertook the tour and the College research team that studied it will share "Lessons from a Year on the Road," starting at 4:30 p.m. in Martha Washington Square with treats and a chance to check out the bus, followed by a talk in Decker Theatre in the Gibson Center for the Arts.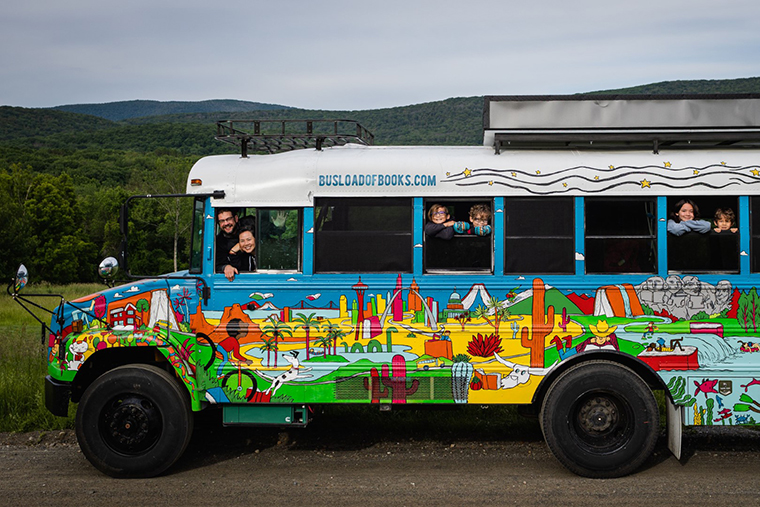 Robbi Behr and Matthew Swanson, children's book creators, and their children smile from the windows of the colorful bus they drove to schools across the country.
When Chestertown children's book creators Robbi Behr and Matthew Swanson realized there was a need for Title I schools to experience the kind of high-quality author visits they had provided better-resourced schools, they found a spectacular way to make it happen.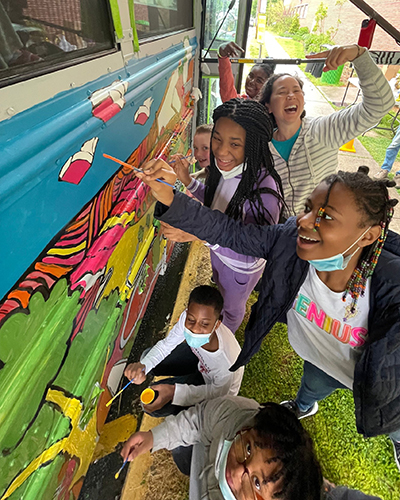 They got donations to cover the cost of tens of thousands of books to give away and waived the speakers' fees such events usually provide the writers and illustrators, then visited 53 schools in high-need communities while traveling —with their four children and grumpy, lovable dog—in a converted school bus covered in a literacy-themed mural. They dubbed the trip the Busload of Books tour, and planned a route that took them to all 50 states and Washington, D.C., specifically to visit Title I schools, defined by at least 35 percent of the families they serve being low-income.
Washington College faculty members Sara Clarke-De Reza, Bridget Bunten (both in education) and Nick Garcia (sociology) had a similar flash of insight and wholehearted commitment when Behr and Swanson approached Clarke-De Reza before their yearlong bus tour to ask about research data showing the value of school visits by authors and illustrators. While there are innumerable anecdotes about the power of such visits, shared by everyone from the authors to teachers, there has not been a formal research project to prove the impact.
"In a matter of 25 minutes, we had just stormed up 1,000 unanswered questions that their book tour provided the natural experiment to answer. And it didn't take much convincing for them to think that it would be smart to partner with Washington College and try to get some answers to these questions," Clarke-De Reza said. "It got big fast, and it was really obvious to me in those early conversations that this was certainly not work that I wanted to do by myself, nor was it work that I could do by myself."
To ensure a Busload of Books research project would have the necessary expertise, Clarke-De Reza recruited Bunten and Garcia, joining her research specialty of informal learning experiences with Bunten's focus on reading in education and Garcia's experience investigating place-based inequities through large-scale surveys and data analysis.
Behr and Swanson wrapped up their tour over the summer, returning to Chestertown on August 15. Thanks to their connection to Washington College, their successful trip not only helped to excite children in schools everywhere from within the Grand Canyon to downtown Minneapolis, it also collected information from roughly 5,000 students, 500 teachers and 100 administrators that will allow the Washington College research team to study many different questions about what's happening in Title I schools as it relates to literacy and children over the coming months and years.
An Answer to a Fundamental Research Question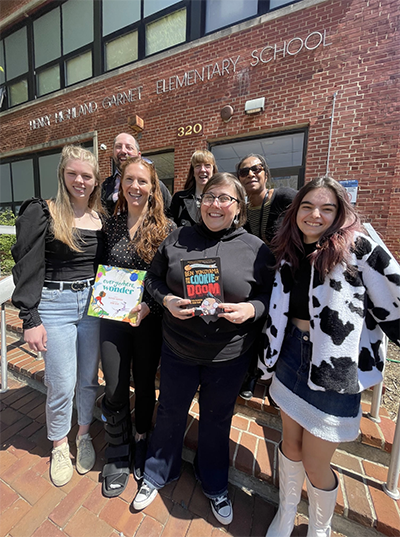 Preliminary results from the project have already answered the initial research question—whether author events affect students' attitudes, beliefs and motivations regarding reading, writing and drawing.
"We see a statistically significant, positive change in student's literacy attitudes and motivations. And we know that that effect is related to attending and participating in the assembly," Clark-De Reza said. "Folks have for a long, long time said this is what's happening. Robbi and Matthew have lived it. And now we have the demonstrable evidence that helps reinforce those claims."
That kind of data can help win grant support for similar events in the future and convince school boards or administrators to devote time and resources to hosting them. And continued analysis of the data collected, and potential follow-up events, will reveal more details. Garcia pointed out that while the schools all share economic challenges by definition as Title I schools, they also have a great deal of variety in everything from class size to teacher experience to racial and ethnic diversity of schools because they are in urban settings and rural settings, different regions of the country, and unique cultures. Combining the thousands of data points from the surveys with information about their communities and their schools could illuminate even more information about what makes a difference in schools in high-need communities.
While the future potential made possibly by the Busload of Books tour is exciting, Garcia still said what they have already learned is the most compelling and impactful right now.
"All of our data says don't give up on Title I schools because they're full of eager readers, kids who want to read more, draw more, write more. I mean, all the data is conclusive on that," Garcia said. "And even with that baseline measurement, student excitement about reading and writing and drawing goes up from author events."
Just as the researchers and their students on the project will share details about their findings at the event on campus, Behr and Swanson will also be sharing some of what they learned on a more personal level.
Not giving up on Title I schools is high on their list as well, although that was more of a motivation for the trip than something they learned on the way; Behr, Swanson and their four children have all attended Title I schools and know the dedication of their teachers and quality of their instruction. (According to the National Center for Education Statistics of the U.S. Department of Education, in the 2020-21 school year, nearly 60 percent of public schools were Title I eligible.)
But driving across the country, several times, in a 23-foot school bus, they learned some surprising things about the United States and the people who live here.
"We believe all kids should have the same opportunities, no matter where they go to school. We think supporting teachers is incredibly important. We believe driving a colorful bus across the country is a great way to start conversations with people we might not otherwise talk to." Swanson said. "We keep saying this tour restored our faith in humanity. We've been getting fed this dialogue, for the last few years especially, that we're all so intractably different, but we have a lot more in common than we realize."