As part of the Goldstein Young Alumni Series, Caryn York will speak on Oct. 8 on "The Fight for Economic Justice and the Black Middle Class."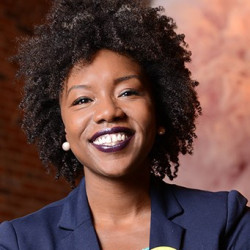 Fifty-three years ago, millions of Americans descended on the National Mall for the "March on Washington for Jobs and Freedom" to hear Martin Luther King Jr.'s famous "I Have a Dream" speech, in which he called for racial and economic justice denied to millions of black Americans. Today, 50 years after King's assassination, the same fight continues for millions of Americans, even in the blue-ish state of Maryland.
In an Oct. 8 visit as part of the Goldstein Program's Young Alumni Series, Caryn York, executive director of the Job Opportunities Task Force, will discuss the implications of prior and existing public policy decisions that threaten the possibility of King's dream ever fully becoming a reality.
The event in Hynson Lounge, Hodson Hall, begins at 5:30 and is free and open to the public.
York is the first African American woman to lead the Job Opportunities Task Force, an independent, statewide nonprofit organization that promotes policies and programs to help low-wage workers advance to high-wage jobs. In her role, York encourages key policymakers and stakeholders to adopt and support policies and programs that eliminate educational and employment barriers and facilitate the successful entry, or re-entry, of low-wage workers.
She has been instrumental in leading numerous state and local policy reform efforts including, but not limited to, "Ban the Box" on job and college applications, expansion of criminal record expungement and shielding laws, postsecondary access and affordability, and reducing the impact of incarceration on working families through development, passage, and implementation of the Maryland Justice Reinvestment Act and statewide bail reform.
York majored in international studies at Washington College and has worked within state and local politics for over 10 years.
The Goldstein Program's Young Alumni Series was established in 2011 to highlight the accomplishments of talented alumni working in public affairs, and to foster connections between alumni and current students. Once a semester, the program sponsors a tea and talk for students and alumni and a public lecture featuring a recent alumnus.