A fledgling collaboration between two WC faculty members and teachers at Garnet Elementary School is bringing new connections and experiences for Chestertown youngsters and WC students.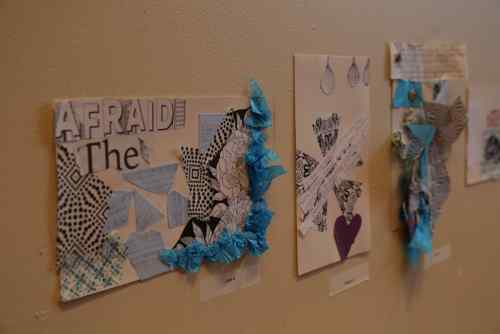 A whole new kind of exhibit opened at Washington College's Kohl Gallery this week, when local fourth-graders invited their families to see their work on display in Gibson Center for the Arts. The exhibit, "Artworks by Fourth Grade Students at Henry Highland Garnet Elementary, inspired by the collage works of Jo Smail," will be up Dec. 4-9 in conjunction with the final week of "Clippings, Voids & Banana Curry," featuring work by Smail, who teaches at the Maryland Institute College of Art.
At the exhibit opening on Tuesday, Dec. 4, students and their families joined Julie Wills, assistant professor of studio art and Kohl Gallery's interim director, Benjamin Tilghman, assistant professor of art history, and Sara Clarke-Vivier, assistant professor of education, for a reception and showing. Students excitedly pointed out their work for their moms, dads, and siblings, posing for photos and snacking on cookies and veggies.
The exhibit is the result of a collaboration between Clarke-Vivier, Tilghman, and Garnet teachers that began last year, when two classes from the second and third grades came to Kohl Gallery to create art in response to an exhibition of works inspired by Islamic art. This year, the entire fourth-grade art class—45 students—studied Smail's collage art, which addresses the racism and social violence she witnessed as a child in South Africa though collages that combine family recipes with newspaper clippings and other material.
Students learned about Smail's art in class, then traveled to the Kohl Gallery to see it in person and engage in a conversation facilitated by Tilghman. Then, Clarke-Vivier and several Washington College students, some of them majoring in art or education, helped the students create their collages using their own family recipes, assorted newspaper clippings from the present day, and other materials.
Clarke-Vivier and Tilghman, whose children attend Garnet, came up with the concept to help to bring more art into the lives of local kids, and to bring them to the campus and introduce them to the Kohl Gallery—for some, one of their first art museum experiences. Clarke-Vivier also wants to give her students a hands-on opportunity to see the challenges and rewards of teaching in an informal education environment, such as a museum. And together, as parents and as College faculty members, they want to show direct support for Kent County schools.
"A broad goal is for the students at the schools to not only have this encounter with the artworks and learn some things from that, but to come on campus, to feel welcome on a college campus, to imagine themselves on a college campus, since a lot of the students are coming from families that maybe don't have anyone or few people who have gone to college," Tilghman says. "And, overall to foster a feeling of Washington College being a part of the Chestertown community."
"We want them to know that both art and the College are available to them, and they are there for everyone, and they can have both those experiences here," Clarke-Vivier says. "We reinforce to students that it's free and it's open and they can bring their families back."
Both professors have backgrounds in museum-related work. Clarke-Vivier's research relates to school-museum partnerships for learning (some of this research led her to help create a new cultural museum in Belize.) Tilghman worked at the Walters Art Museum in Baltimore for four years, and worked in children's museums throughout high school—a touchstone for his understanding of museums as welcoming, joyful places.
"That has always been a part of how I think about museums, that it's not just a repository for old beautiful things you can't touch, but that it should be flexible and lively," he says. He and Wills hope projects like this will broaden the purpose and popularity of Kohl Gallery.
"One of the barriers to entry to museums is people think they are stuffy places," Clarke-Vivier says. "We want [students] to know they can talk, and ask questions, and interact, it's not like a library where they have to be quiet. And those preconditions allow for pleasurable learning experiences related to art. That's really important too, to helping people feel like it's something for them."
Colin Levi '21, a Spanish major minoring in secondary education, was among the WC students who sat on the floor outside the gallery and worked with the pupils on their collages. Thoroughly engaged with the fourth-graders, and an experienced older brother to a nine-year-old sister, he says, "It's always fun to see what they come up with."
"It's refreshing," agrees Meg Klink '20, an art history major. "It's nice to have kids up here. Kids' minds are far more refreshing than adults' minds when it comes to art."
Clarke-Vivier says the project is already yielding results that she and Tilghman had hoped in terms of forming new bonds between the College and Garnet.
"Now when I walk to Garnet there are kids who are like, 'Dr. C-V, from the art museum! Hey, remember me?' They've made a connection with us as part of the people they know in their existing community at Garnet, but also transition people between the College and the school," she says. "I think there's something really important about that in terms of creating this sense of accessibility."