Washington College's Eastern Shore Food Lab opens its doors for the first time with Italian Culinary Institute Master Chef John Nocita giving two presentations on no-waste traditional food preparation.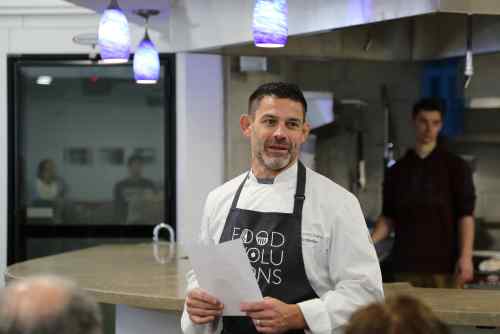 Bringing traditional nose-to-tail cooking techniques from Calabria, Italy, to local residents and Washington College students, Italian Culinary Institute Master Chef John Nocita opened the College's Eastern Shore Food Lab today with two delectable presentations focused on preparing ancestral meals while leaving nothing to waste.
"When we talk about no waste, it's because traditional people could not afford to waste," Nocita told some 50 people at the hours-long morning presentation. (He would follow it up with a second presentation to a packed house later in the afternoon.) "Living in a war-ravaged country [post World War II], not knowing if you're going to find food, it's one reason we don't waste anything. And it's not just a matter of being conscious of not throwing things away; it's our creativity. We love to cook!"
Nocita was the first chef to visit the brand-new Eastern Shore Food Lab (ESFL), an innovative, one-of-a-kind teaching, learning, and production space, led by Bill Schindler, associate professor of anthropology and a world expert on primitive technologies and ancient foodways. Drawing international chefs and food innovators to rethink our food systems by using ancestral food knowledge and technologies, the ESFL aims to create food for today's palate that is more nutritious, meaningful, and sustainable. Schindler calls this "learning to eat like humans again."
Schindler met Nocita two years ago when he traveled to Italy to take one of Nocita's classes in charcuterie, and the two worked together again last year as Schindler was in Europe gathering information for the ESFL as part of his Food Evolutions project. As soon as he met Nocita, Schindler says, "I knew right away I had found a mentor … this was the information, the techniques, and the approach I wanted to bring back here.
"John is always looking for understanding into traditional foodways," Schindler added. "Our approach is the same, even though our backgrounds are very different." He said that as soon as Nocita heard that the lab was ready to open, he offered to be its first guest chef.
"This is a beautiful town," Nocita told the audience. "For us in Italy, it really personifies what we think about America. It seems a little more in touch with the earth and nature than some of the big cities."
The pair and members of the ESFL team—which included assistant director Shane Brill '03 M'11, student intern Melia Greene '20, administrative coordinator Eden Kloetzli '17, students from Schindler's Food, People, and the Planet class, and Schindler's son Billy and wife Christina—had butchered a pig from Kent County's Langenfelder Farm and created a series of dishes from every part. Nocita started with "bollito," boiled meat served over stale focaccia with a salsa verde made of parsley, olive oil, lemon, and salt.
"It's the worst cuts of the meat," Nocita explained. "It's peasant food. People did not have a lot of money, and the best cuts of meat went to wealthy people." Students served the flavorful, tender dish in small bowls to the visitors as Nocita answered questions. He followed with a variety of other dishes, including seared beef tenderloin and a pork dish made with boiled nerves, fat, and parts of the head.
Nocita said the trendy buzzwords around food—local, sustainable, fresh, in-season, for example—are not trends in Italy.
"It's what we live every day. In Italy, we are blessed with terrible distribution … we're able to retain our regional identity," something he says it seems much of the U.S. has lost as food has become more culturally homogenized. "When we identify with our cuisine, we identify with ourselves."
Between courses, Schindler answered questions about the food lab, which he has been conceptualizing for about eight years. The fundamental goal, he says, is to reconnect people to their food. Although some of the lab's work will be focused on more cutting-edge foods like insects as sustainable sources of protein, he initially wants to connect people to what they are already eating every day.
"You should know what you are eating, but the reality is, how many of us have eaten a hot dog? How many of us have actually made a hot dog? From scratch? From choosing the pig?"
While ultimately working for global food system change, the ESFL will be grounded in the local, propelled by the notion that environmental and cultural sustainability should be at the forefront in our approach to food. By researching the resources unique to the region based on weather, climate, soil chemistry, and microbial biology, and fusing ancient and historic foodways with modern technologies and methods, faculty, students, community members, and collaborative researchers will re-envision our food system, from how we define food to how we grow it and prepare it.
Marguerite Miller, who had taken a class with Nocita in Italy, drove from Washington, D.C., to attend the morning event. Nocita had told her about Schindler, knowing D.C. wasn't far from Chestertown.
"I went to Italy to learn to make artisan cheese," she said. "He said, 'You gotta meet Bill,' so here I am.''