As a PhD student in entomology, Ellie Field '14 is focusing on mosquitos that are responsible for vector-borne illnesses like dengue fever, chikungunya, and the Zika and West Nile viruses.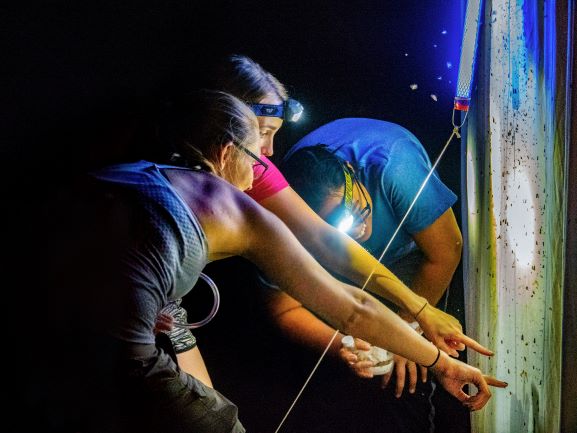 Most of us do all we can to avoid mosquitos, but Ellie Field '14 is not like most of us. Now in her third year of a five-year PhD in entomology at Iowa State University, Field is studying various mosquito species' roles in vector-borne illnesses like dengue fever and the Zika virus.
Field, a biology major with a philosophy minor, grew interested in public health and epidemiology when Donald Munson, now professor emeritus in environmental studies, suggested that for her Senior Capstone Project, she study schistosomiasis. A disease caused by parasitic worms that live in certain freshwater snails, schistosomiasis is an NTD—neglected tropical disease—which the Centers for Disease Control (CDC) notes is second only to malaria as a devastating parasitic disease.
Her interest in public health took further root when she attended Georgetown University where she earned a master's degree in global health. While in that program, she traveled to Pondicherry, India to research mosquito distributions and dengue fever awareness, and she became interested particularly in vector-borne illnesses like dengue, Zika, and malaria.
"Mosquitos are obviously one of the most important vectors out there, so that's where I ended up," she says. "After I got back from India I was really interested in mosquitos." She applied for a research scientist position at the lab of Ryan Smith, an assistant professor in Iowa State's Department of Entomology. "It was already taken, but he had just gotten funding for an opening for a grad student. He said I would be working with West Nile and mosquito immune systems, and asked if I would be up for it. I said, absolutely."
With that, she enrolled in the PhD program and has been working with Smith ever since. Among other topics, she is studying how certain species of mosquitoes are expanding their ranges in the United States and overwintering in places where they had not before. For example, Aedes albopictus—also called the Asian tiger mosquito—most well-known for transmitting dengue and chikungunya, has been well established in the southern U.S. but is now showing up in Iowa.
"We've collected it for the first time in the last few years and now we're collecting them earlier in the season," Field says. "We think they are starting to establish themselves in more northern areas of the country, somehow finding ways to survive the winters."
Working with Culex pipiens, which is a vector for West Nile virus, she's studying how its population is changing, how its immune system responds to different seasons, and how that may impact disease transmission.
"This mosquito hibernates, so although they remain in the same area all year, their physiology in and out of hibernation is different" Field says. "We're curious how their immune system is changing under these conditions that might make them more or less susceptible to the virus and then able to pass it along."
Ultimately Field hopes to work for the CDC, focusing on outbreak reduction, "going to an area struggling with a vector-borne disease, finding out what is responsible for the transmission and then helping them reduce the transmission."