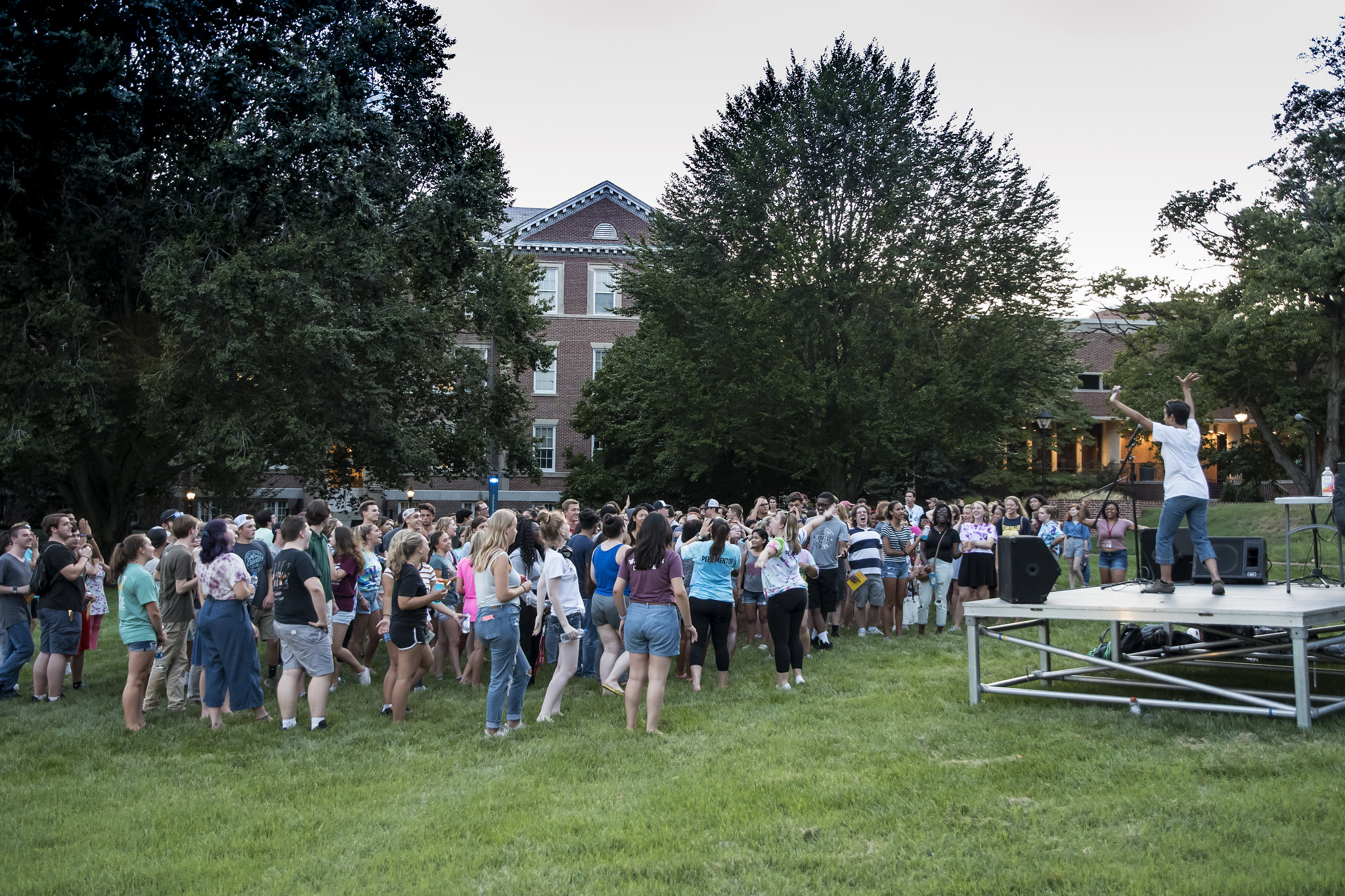 Interested in Becoming a Peer Mentor?
We are looking for students…
…who want to join a college-wide team to help new students become:
Informed about Washington College
Prepared for college life
Connected to the school community
…with the following characteristics:
An interest in helping new students understand college life
An appreciation for people from diverse backgrounds and lifestyles
An enthusiasm for Washington College
An ability to serve as a positive personal and academic role model
An eagerness to become more knowledgeable about campus resources
A desire to develop leadership skills through new challenges
…who will:
Make a commitment to being involved in the program from the Spring 2022 until you graduate.
Participate in training during the week prior to graduation, generally the middle of May, right after finals week.
Mentor a group of 12-15 new students during a summer EXPLORE Program, orientation week and the fall semester with on-going support from the Washington College staff.
Return to campus in August 2022 (Mid August) and actively participate in all aspects of EXPLORE and orientation week.
…and gain the following benefits:
A stipend
Membership in an elite team of trained student peer mentors
Recognition from the Washington College community for service and leadership
Leadership skill development and résumé-worthy experience
An opportunity to work with other outstanding Washington College students and staff
A T-shirt - maybe a few T-Shirts.
New Peer Mentor 2021 Applications are CLOSED - on JobX
The deadline for applications for the 2021-2022 academic year was March 1st, 2021. Please consider applying to be a peer mentor for the 2022-2023 team.
Please note that in addition to some basic information about you, the application also asks for two brief essays. You may want to type these essays up ahead of time and cut and paste them into the form. The essay questions are:
1) In 300 words or less, describe a specific study skill or technique that you have developed at Washington College that has helped you succeed academically.
2) In 300 words or less, describe (with at least one concrete example) how you believe you act as a positive role model for other students at Washington College.
3) In 200 words or less, describe why you want to be a Peer Mentor.
Each application must be supported by two references which are submitted electronically by the person completing the reference. Your reference can write a letter for you, or fill out the following form -https://washcoll.co1.qualtrics.com/jfe/form/SV_byhyjefT1wetN5j One must be from a faculty or staff member and another from a student leader who has seen you interact with your fellow students. You should request that a recommendation letter be sent directly to Lisa Jones at ljones6@washcoll.edu no later than March 1st.
Click Here to Complete a Peer Mentor Application on Job X
For More Information
Contact: Sarah Feyerherm, sfeyerherm2@washcoll.edu, Vice President of Student Affairs and Dean of Students.
Peer Mentor Applications due spring 2022