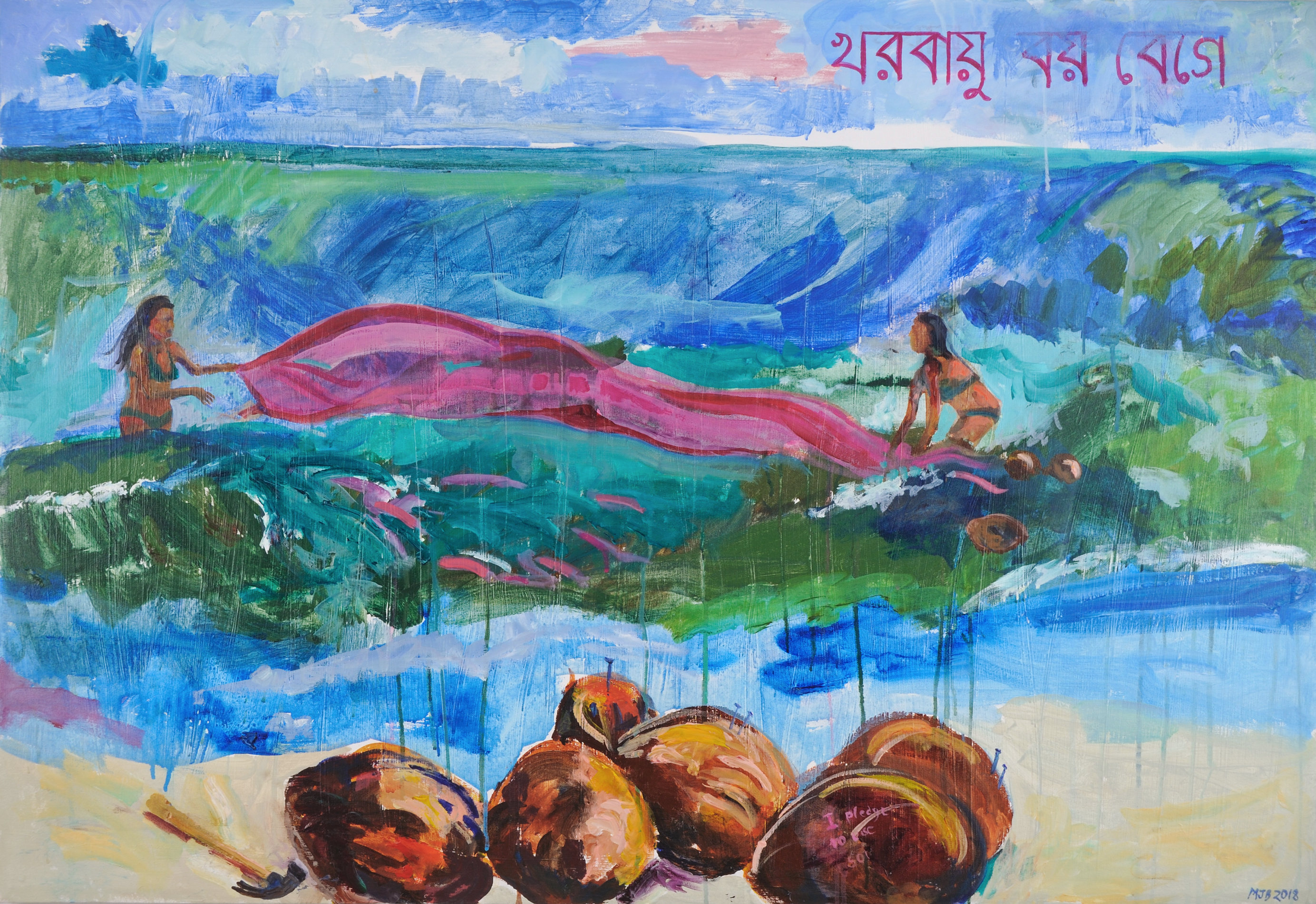 CURRENT EXHIBITIONS AND PROGRAMS:
Make an appointment HERE.
Jahan Bose
'
s paintings, works on paper, performances, workshops, and installations are symbolic narratives. She moves strategically across media and disciplines - often incorporating science and policy into her work to address complex issues that address gender, women's literacy and sexuality, and climate change. The sari is a recurring symbol in her work, standing in for herself, the female body, and women's place in the world. Water is also an enduring theme, speaking to life, climate, sustenance, death, and renewal. She is a Bangladeshi and American artist, lawyer, mother, and activist on women's issues and the environment.
Jahan Bose's Kohl Gallery exhibit, RENEW, will include a selection of saris, paintings, prints, sculptures, artist books, and performance videos that represent her wide-ranging socially engaged practice and recent work exploring issues surrounding climate change within the context of COVID quarantine with communities in Bangladesh and Washington DC. The exhibit will be accompanied by an artist talk and a climate pledge workshop in which our community's pledges will create a new climate sari.
Learn more about Jahan Bose's work and community engaged process here:
_____________________________________________________________________
UPCOMING EXHIBITIONS AND PROGRAMS:
Mapping Meaning
brings together artists, scientists and scholars to explore new modes of acting in the face of social and ecological emergence(y). Inspired by a photograph from 1918 depicting an all-female survey crew,
Mapping Meaning supports the creative work and scholarship of those working at edges and ecotones, who are pushing against traditional disciplinary boundaries. Since 2010 this multi-generational collective has been gathering together around experimental knowledge practices.
The project is rooted in five-day experimental workshops that take place biennially at biological field stations in the US American West. Selected women come from across the Americas representing a wide diversity of perspectives and disciplines including: visual art, geology, American Indian Studies, entomology, film, ecology, architecture, American Studies, dance, creative writing, visual anthropology, geography, GIS-land surverying, ethnobotany, permaculture, business, civil & environmental engineering, and folklore.
In a deeply fragmented and discipline-based world, Mapping Meaning creates a space to encounter divergent approaches toward "surveying" human, ecological, and technological landscapes, and ardently resists oversimplification. Through workshops, exhibitions, and transdisciplinary research, Mapping Meaning promotes a radical reconsideration of the role humanity plays in a more than human world.
*The Mapping Meaning exhibit and events are made possible by generous support from the Hedgelawn Foundation and Maryland State Arts Council.
______________________________________________________________________
On the Black History of Kent County and Washington College, by Jason Patterson
Washington College's First Three Black Graduates from left to right:
Thomas Edgar Morris, Class of 1962
Patricia Godbolt, Class of 1964
Shirley Dale Patterson, Class of 1965
This important project by Jason Patterson is the culmination of 2 years of work Patterson completed during a Frederick Douglass Visiting Fellowship at The Starr Center for the Study of the American Experience, and the result of a year-long collaboration between Patterson, Kohl Gallery, and The Starr Center. The project was additionally awarded a 2020 Chesapeake Heartland Fellowship and the virtual exhibit is hosted and supported by Chesapeake Heartland.
Kohl Gallery fosters the study and understanding of art through a diverse range of exhibitions and public programs. Embracing its liberal arts context, Kohl Gallery presents fresh perspectives on historical and contemporary art and promotes interdisciplinary conversations about historical, social, and cultural issues of significance to Washington College, Chestertown, and beyond.
Each year, Kohl Gallery presents a series of curated exhibits that emphasize a broad range of aesthetic and intellectual concerns of relevance to our current society. Each spring, Kohl Gallery also hosts two student exhibits: the '100 Proof' juried student exhibition, and an annual senior capstone exhibition presenting the works of graduating Studio Art seniors.
Kohl Gallery organizes diverse programming throughout the academic year. With each exhibit, the gallery hosts a combination of artist talks, public receptions, and scholarly presentations. Kohl Gallery also partners regularly with Washington College classes and groups from the Chestertown community to create unique, interdisciplinary opportunities for engagement with the works on view.
---
Location
Gibson Center for the Arts
300 Washington Avenue
Chestertown, MD 21620
Kohl Gallery is located on the first floor of the Gibson Center for the Arts. Parking is available in the lot behind Gibson and in the lots next to the Roy Kirby, Jr. Stadium. Please use the spots marked Visitor if parking prior to 3pm.
---
Visitor Information
Kohl Gallery on Washington College's campus is OPEN TO THE CAMPUS COMMUNITY AND THE PUBLIC BY APPOINTMENT ONLY.
Hours:
Tuesday, Thursday, Friday 1:30-5pm, Wednesday 4:30-7:30pm
Visits are scheduled in 30 minute time blocks (20 minutes with 10 minutes in between each appointment).
Appointments can be made HERE via calendly.
COVID PROTOCOL:
*Masks are required for entry into Kohl Gallery, while in Kohl Gallery, and inside all Washington College buildings at all times covering both the nose and mouth.
*Reservations can be made for parties between 1-10 people.
*Your reservation is for your party only. We will not mix parties.
*Names and contact information will be collected from visitors for contact tracing purposes.
Please note: Kohl Gallery is closed between exhibitions and during all college breaks.
General Information:
Admission is free.
Photography may be permitted on a show to show basis.
Cellular phones may not be used in the Gallery.
Bags and backpacks may not be worn inside the Gallery.
Pencils only.
Eating and drinking are not permitted in the exhibition space.
For security reasons, all bags may be subject to search upon entering the Gallery.
Accessibility:
Kohl Gallery aims to adhere to all ADA guidelines in its exhibit preparations and installations. For more information or to make an accommodation request please contact Gallery Director, Tara Gladden.
---
Contact Kohl Gallery
Tara Gladden
Director and Curator for Kohl Gallery
Email: tgladden2@washcoll.edu
---
Follow Us!

Follow Kohl Gallery on Instagram: @kohlgallery

Follow Kohl Gallery on Facebook: @kohlgallery