Giving

Blake Erdmann
Blake Erdmann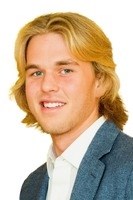 Blake Erdmann '22 majored in business management and minored in marketing while playing varsity lacrosse for the Shoremen. He led a full life, always surrounded by close friends, family, and teammates who loved and cherished their time with him. He was fiercely loyal and quick to stand up against what he saw as unfair or hurtful.
Blake loved spending time in the Bahamas for fishing and diving, or the wilds of central Florida to hunt. He was fortunate to have traveled the world with his family. Over the years Blake earned a number of accolades and awards, including the William Smith Academic Scholarship at Washington College.
The Washington College family will remember Blake and all he brought to our community. We are fortunate to have known him. You can help to honor Blake's remarkable life with a memorial bench on the campus he loved. Thank you for your gift of remembrance.