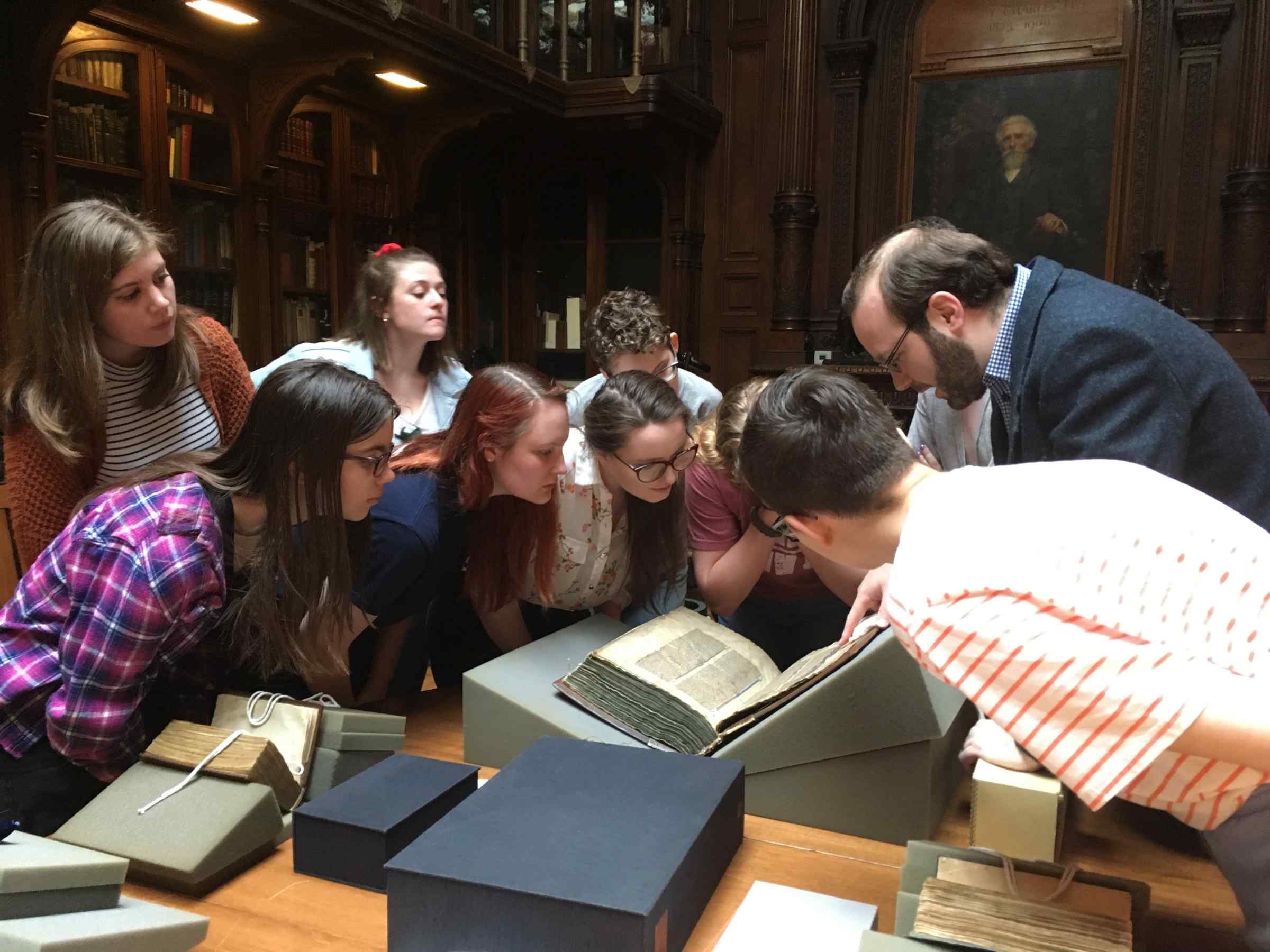 A minor in Medieval and Early Modern Studies furthers our liberal arts mission of shaping students to be informed, active citizens of the world. This interdisciplinary, multi-period minor cultivates students' deeper understanding of the past, dispelling old myths as they examine the rich diversity of cultures in Europe, northern Africa, Asia, and Latin America from the fifth century to the eighteenth. Given the profound interconnectedness of multiple modes of artistic production and cultural expression across the medieval and early modern worlds, this minor offers a valuable opportunity to further contextualize their studies in majors such as Art History, English, French Studies, German Studies, Hispanic Studies, History, Humanities, Music, Philosophy and Religion, and Theatre.
Medieval and Early Modern Studies Minor Courses Fall 2022
ART 312: Depicting Difference: Race and Ethnicity in Medieval Art (Tilghman)

TTh 1:00-2:15


Fine Arts Distribution

ENG/PHL 294: Global Wisdom and Literature (Rydel and Song)


MWF 10:30-11:20


Humanities Distribution

HIS 111: Harry Potter's World: Renaissance Science, Magic, and Medicine (Sorrentino)

MWF 11:30-12:20


Social Science Distribution

HIS 357: Early Islamic Civliization (Sorrentino)


MW 2:30-3:45

HPS 494: How to Make Love in Early Modern Spanish America (Deanda-Camacho)

MW 2:30-3:45

Academic Requirements
The minor in Medieval and Early Modern Studies would be six courses (24 credits) chosen from the list below. Special topics courses can be approved by the director.
Please note: Many courses which apply toward the minor may have additional prerequisites. Students are encouraged to discuss their program with their academic advisor and the MEMS Minor Director.
One course must be a 100-200 level course in the Medieval or Early Modern periods, which will serve as students' gateway course into the minor. These courses also count for the College's general education distribution
No more than two courses at the 100/200 level total may count towards the minor.
Courses must be taken in at least three different departments.
At least one course must be in each time period, broadly construed (medieval versus early modern); some courses will contain content for each.
Short-term study abroad courses led by faculty affiliated with the Medieval and Early Modern Studies can potentially count towards the minor as well, subject to the approval of the faculty member leading it and the Director of the minor.
Applicable courses taken in study abroad programs approved by Washington College may be counted towards the minor at the discretion of the Director of the minor.
The MEMS minor places no restrictions on double-counting courses with a student's major