Love, Lust, and Literature
Conducting collaborative research in the great libraries of Britain and Ireland, Spanish professor Elena Deanda and English major Shannon Neal '19 examined forbidden literature from the Spanish Inquisition and manuscripts from a 17th-century poet.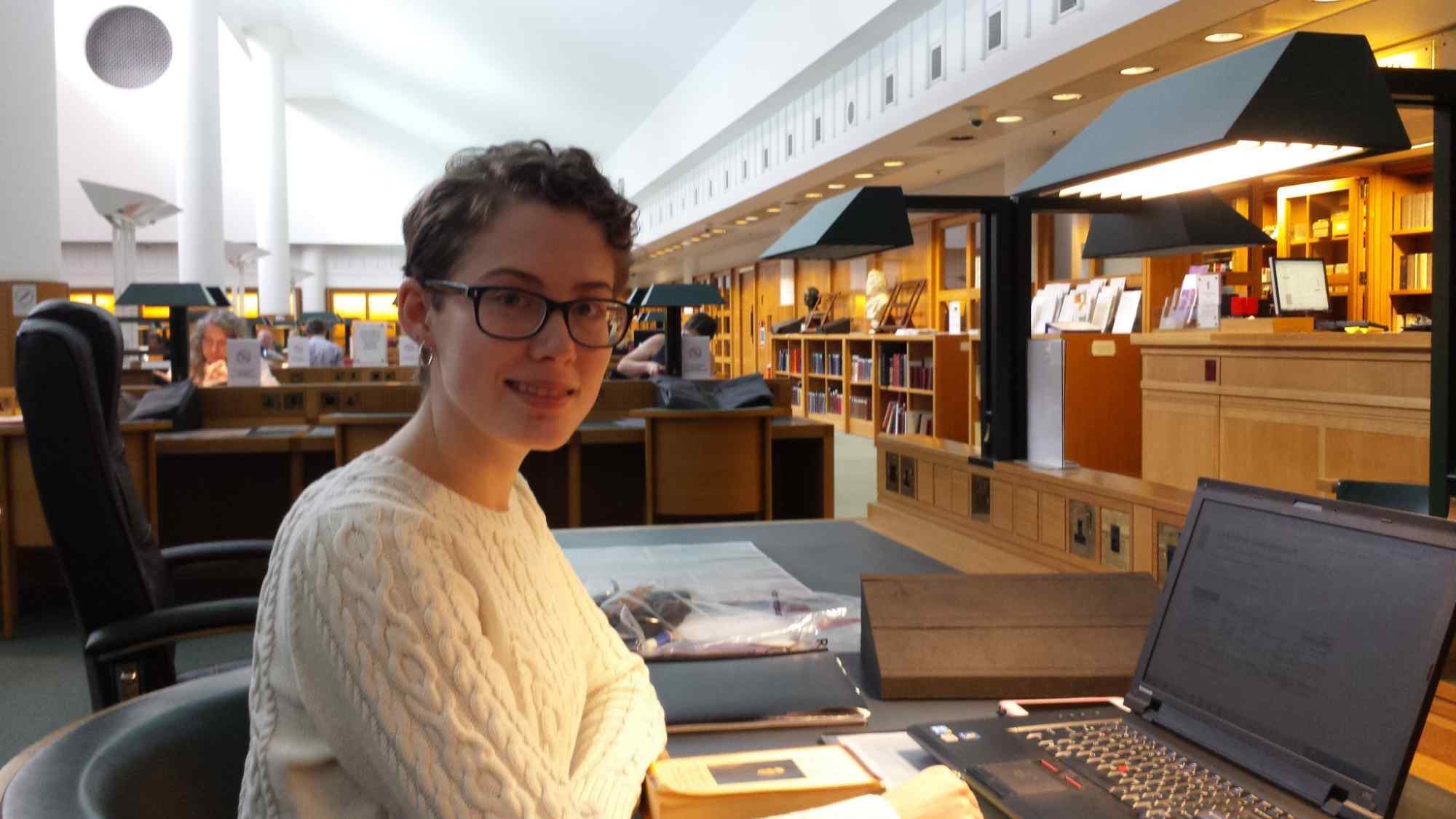 Shannon '19 working in the British Library
It's difficult to know just what will spark a successful cross-disciplinary collaboration between teacher and student. Pornography is probably the last element that comes to mind, but in the case of Elena Deanda, associate professor of Spanish, and English major Shannon Neal '19, it's the historical study of precisely that loaded word in early modern literature that formed the basis of a summer of research and exploration.
The two teamed up for four weeks overseas—three weeks in England and one in Ireland—studying primary texts in special collections of The British Library in London and the Trinity College Library in Dublin. The work was twofold: To advance Deanda's ongoing study of pornography as an emerging genre in the 18th century, and to support Neal's independent project on 17th-century poet Katherine Philips, who sometimes is referred to as "the second Sappho."
Both were supported by a Faculty-Student Collaborative Research Grant, which is funded by the Hodson Trust and provided money for all travel and expenses, as well as a stipend.
Neal, who has already completed a minor in Hispanic studies and is also minoring in creative writing and, potentially, gender studies, learned of the opportunity while studying in Deanda's provocatively titled seminar "How to Make (Love) In Early Modern Spain." Seeking a research assistant for part of the summer, Deanda asked interested students to develop a project they could pursue while in one of the two libraries where she was conducting her studies into the Roman Inquisition and its relationship to the sub-genre of pornographic or "forbidden" literature, especially with regards to sexual crimes of the clergy.
Neal, whose career goal is to become an archivist or librarian, proposed a research paper on Philips, whose "friendship poetry" she'd learned about in a class with Courtney Rydel, assistant professor of English, during her sophomore year.
"Shannon has a great plan," Deanda says. "She wants to interrogate the ways in which this poetry of friendship makes queer women find outlets for expression. And how problematic it is to read friendship when there is queerness, and to read queerness when there is friendship … We looked at different traditions but we are both analyzing queer theory and sexuality and gender studies."
For a portion of their time at The British Library, Neal conducted primary research on Philips, some of whose original work is archived there.
"I got to actually look at one of the original manuscripts that her poetry was published in, and that was pretty fantastic," Neal says. "I got to see it and hold it, and I have pictures of it now that I can use to help me in writing my paper."
That electric excitement at accessing primary documents is one of the elements that Deanda wanted to Neal to experience first-hand. She knows the feeling, having spent time in some of the world's most obscure and hard-to-access collections of Inquisition records, including the Secret Archives of the Vatican Library and L'Enfer—literally "The Hell"—a collection of historically forbidden literature in National Library of France. While researching in the Vatican archives, Deanda learned that the Roman inquisitorial documents were unavailable, and that the only place to find Roman Inquisition records was Trinity College Library in Dublin.
"The documents in Trinity College Library include papal letters but more importantly, for my research, records of the Roman Holy Office," Deanda says. "We had access to denunciations, examinations of witnesses, and sentences of people who were accused of polygamy, sodomy, or lewdness, and especially the cases against priests who were accused of sexual solicitation in the confessional—a crime punished in canonical law that intersects the making and censoring of 'forbidden' literature."
Deanda paired the Trinity College trip with a visit to the Private Case in the British Library, a special collection of erotic books that was originally segregated on grounds of obscenity and kept in lockable book cases. Today the collection is available to registered readers in the Rare Books & Manuscripts Reading Room with fewer restrictions. In London, Neal pored through a list of works Deanda assigned to her, summarizing and transcribing anything she believed would be helpful to Deanda's work.
"I shared with her the scope of my research," Deanda says. She told Neal, for instance, "This is what I'm looking for every time I read a 'forbidden' text. If you see a reference to economy just keep an eye in its development and my approach to the 'economy of sex,' for example, how much this prostitute costs, what is her 'value' in the market, and so on. It was great to have someone who was also in the literary field because she knew how to spot my interest and gather the information."
In Ireland, Neal was primarily recording microfilms of pertinent texts in Latin, "which I completely can't read," she says. "I did read some of a manuscript for her that was in Spanish, two letters from and to a Mexican poet. I read that and transcribed as much as I possibly could. That was arduous because old Spanish is a lot harder to read than modern Spanish."
While Deanda's work is ongoing, she will be helping Neal finalize her project this fall, to be presented at the Undergraduate Conference in Medieval and Early Modern Studies in December at Moravian College in Bethlehem, Pennsylvania. Neal and Deanda also are working together to publish Neal's research paper on Philips. Both say that while the research was exciting, it was thrilling just to walk into the libraries each day.
"To go to work in Dublin, we had to pass through the Long Room and see the Book of Kells every day," Deanda says.
"It was absolutely awesome," Neal says. "I got to do a lot of things I've dreamed of, things I never thought I'd get to do."
Last modified on Nov. 27th, 2017 at 11:02am by Taylor Fields.